As a new The Race Members' Club exclusive, we thought that you might want to get to know the team on a bit of a closer level. So, we're going to be doing a new series of 'Meet the team' profiles across the people that make The Race. For our third instalment, we have Sam Smith to tell us about how he got into motorsport and his career highlights.
Sam Smith, Formula E Writer
What is your specialised motorsport?
Formula E, sportscars and random/obscure tales of the unexpected from F3000 and F1!
Why do you love motorsports?
Sportscars has always been a fascinating discipline for me since I went to the Silverstone 1000km races in the mid-80s. I was lucky then that it was during the Group C pomp when Jaguar battled it out with Porsche, Sauber, Nissan, Toyota and others. It was a glorious time to be watching those amazing long strategic races play out.
I still to this day haven't seen a car quite like the Jaguar XJR14 of 1991. It was supersonic and left your mouth open in sheer awe every time it went past you.
I have worked at 18 Le Mans 24 Hours, which I reckon has easily taken a decade off my life! A brutal event that has that curious appeal of getting into your soul whereby on the Sunday after the race you vow never to go near it again and then a day later you are already planning for the next one!
I love Formula E, not necessarily for its higher purpose and its relevancy for tomorrow – although they are very strong attributes – for me it's more about the sheer competition and quality of the teams and drivers within it.
Pound for pound it's arguably the strongest on earth and the racing is really good, you don't often get a dud race.
It's one of the most misunderstood series ever. Most of that is based on a lot of old tweedy guff from 'better back in my day' types, which is odd because racing should always be about tomorrow and the cutting edge, in my opinion.
I'm an unashamed F3000 anorak too with knowledge of the 1985-1995 period sometimes described as 'defiantly savant-like'.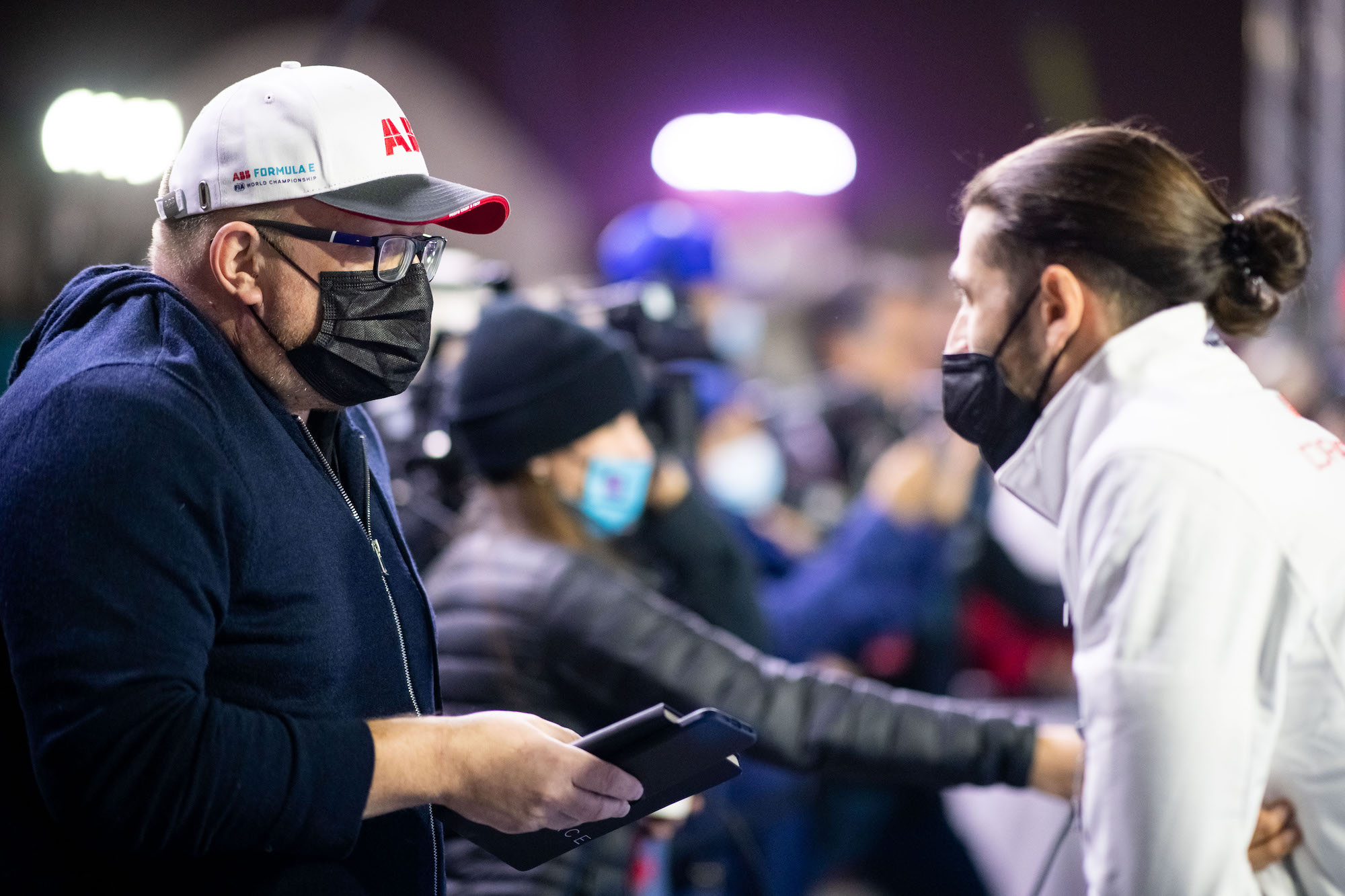 How did you get into motorsport?
Through my Dad, who took me to my first race when I was five and my first F1 race at the 1983 British Grand Prix.
Then when I was 15 I worked in the summer holidays for F3000 team CoBRa Motorsport. I washed wheels, swept the garage, and did pit boards at a time when the likes of Damon Hill, Allan McNish, Heinz-Harald Frentzen and Eddie Irvine were making their way to F1.
It was an invaluable experience, and although it made me realise I was useless at anything technical, I just loved the competition and the atmosphere so much that I knew I had to be involved somehow.
Do you remember your first ever race or have a first memory of motorsport?
My first memory was the 1979 Monaco Grand Prix when Didier Pironi shunted Niki Lauda off at Mirabeau. The sheer shock of seeing an accident like that in vivid colour means I know exactly where I was. It was on a smoke-filled pub barge on the River Ouse in York! I was four years old!
The first race that I can actually really remember was the 1981 F2 race at Donington Park. Geoff Lees won in that gorgeous Ralt RH6, but they were too noisy for me, and I had to retreat back to my Dad's Opel Monza in the car park!
That day there was also this quick Brazilian kid in an FF1600 Van Diemen called Ayrton Senna da Silva. I vaguely remember seeing him at McLeans.
He won the race at a canter and my dad went back to the pub that night and declared he'd seen a future world champion!
How did you get into your career?
I met John Mangoletsi, the brains behind the BRM Group C car in the early 1990s, and he offered me a job with his nascent International Sports Racing Series idea, which quickly became the FIA Sportscar Championship.
It was a real hard slog, as the championship was really strapped for cash for most of its existence, but it was a great formative experience.
I did that as the press officer until 2002 and then met Martin Birrane, who asked me to become Communications Manager at Lola.
That became a fantastic decade-long experience of working in the F3, Sportscars, ChampCar and (almost) F1 arenas where I met so many great people who are still great friends.
Since 1998 I have made my living through my absolute passion, so I'm very lucky.
What is your favourite part about your job?
Talking to racing people about racing and getting paid to do it. It's that simple really.
What is the most challenging part about your job?
Balancing relationships with teams and drivers to get what I need in my job and ensuring you don't piss people off unnecessarily while doing that.
Inevitably you will but if you can do it in as nice a way as possible then all the better.
Journalism has changed a great deal over the last 20 years and I'm kind of sorry I didn't do it more before I did my comms and PR roles because I think actually uncovering stories and getting to the truth of often-intricate situations was appreciated much more a few years ago.
The cult of the personality and what I think are peripheral matters, for example, the changing of helmet liveries or the personal lives of drivers, seems to be what interests most consumers more than actual news and feature generation these days. That kind of baffles me.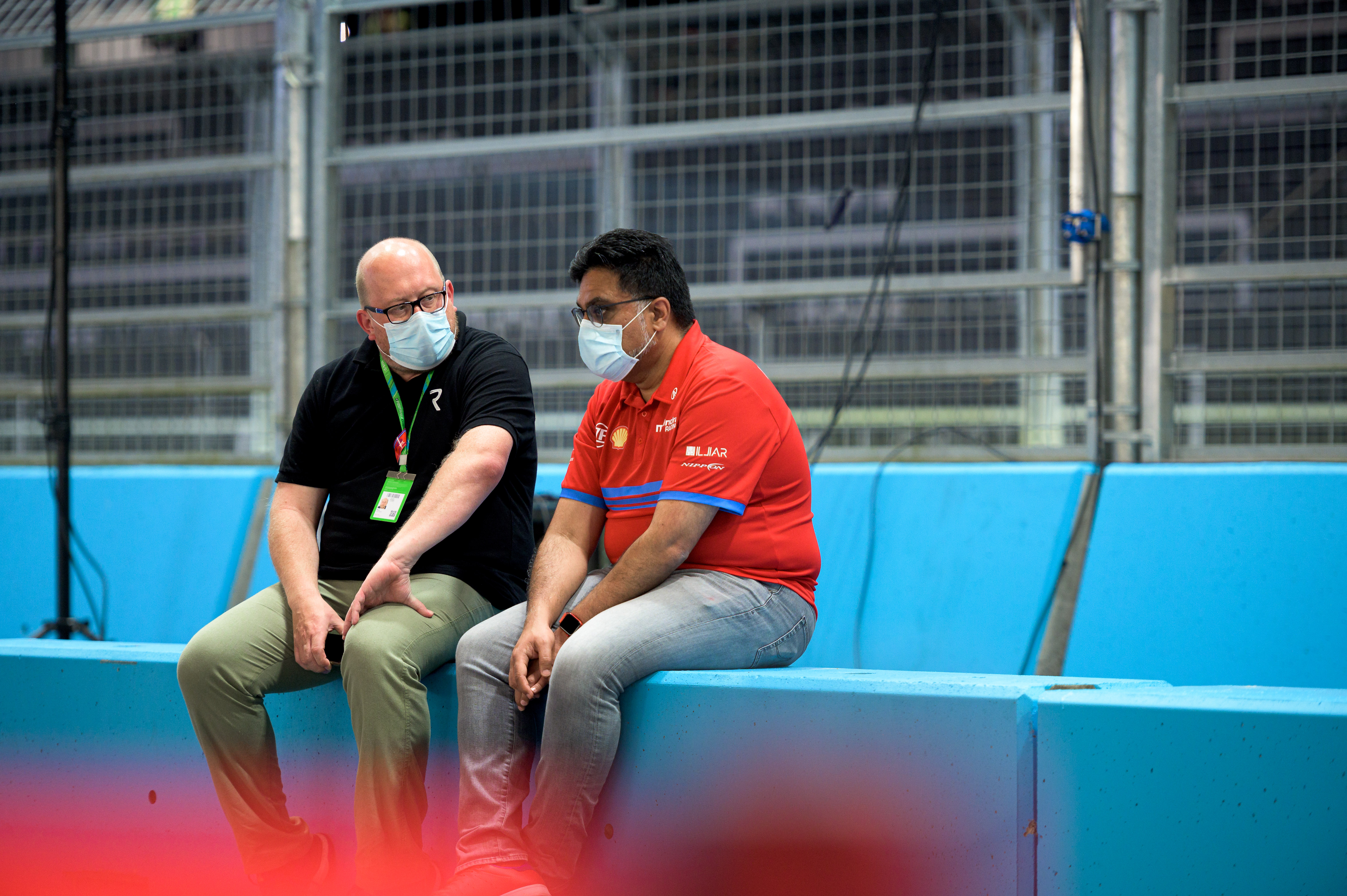 What is your favourite race or racing moment you've watched?
Live, it has to be a few laps from the 1993 British Grand Prix. I was standing at Bridge Corner and the ferocity of the Senna v Prost battle that day was unbelievable.
It was one of the last duels they had, and it was electric. On one occasion Senna chopped across Prost at around 170mph as they turned into the corner and my mate who was with me thought I'd had a fit as I made a strange noise of mostly fear but also excitement.
My absolute favourite race was the Mexico City E-Prix in 2019 when di Grassi snatched the win from Wehrlein by going sideways on the line.
Is there an exclusive paddock moment or interview moment that you'll never forget?
Yes, interviewing Allan McNish about his awful F3000 accident in 1990. I witnessed it as a kid, and it affected me quite a bit, but nothing of course compared to Allan who had to process the death of a spectator.
30 years on he spoke incredibly eloquently and movingly about it all. The fact he thanked me for the piece afterwards for the sensitive way it was handled meant a great deal to me.
I also broke the news of Extreme E being formed back in 2018 which was quite a big deal, but I have absolutely no interest in the series at all.
What's a small piece of advice that you'd give someone wanting to work in motorsport?
If you haven't got thick skin then start getting one. Never give up and always be authentic and truthful.
But most importantly, enjoy the job. But always remember it's a job. Keep the fan side of it all in check; never lose it, but keep it below the surface.