Factory Audi driver Carlos Sainz has added another unusual story to the 2023 Dakar Rally's bouquet of oddities, by calling off a helicopter trip to hospital midway through in order to continue the marathon.
Sainz – who earlier in the event had his entry under investigation due to a case of extremely minor 'aid' received by his crew from his Formula 1-driving son Carlos Jr – was already a non-factor coming into Tuesday's stage, the rally's ninth, after a crash earlier in the marathon.
And, with a nearly 30-hour deficit in the general classification at the start of the day, Sainz then crashed and rolled his Audi RS Q E-Tron E2 mere kilometres into the stage.
🎥 First footage of @CSainz_oficial and @LucasCruz74's crash, after only 6km in the special. 🚗#Dakar2023 pic.twitter.com/se7SKV27YD

— DAKAR RALLY (@dakar) January 10, 2023
With the car then turned over with the aid of spectators but having been damaged substantially, Sainz, complaining of pain in his torso, boarded a helicopter to head to a hospital in Riyadh – the capital of host country Saudi Arabia – for checks.
He then had a change of mind and reportedly asked the helicopter pilot to return to the crash site so that he disembark and continue to wait for the Audi race assistance truck, with the intention to continue in the race.
According to Spanish media, Sainz's Audi has now been repaired sufficiently to get moving again. And though it has abandoned Tuesday's timed stage, it can still continue the following day – with, naturally, another massive time penalty assessed – as long as it makes it to the Haradh bivouac.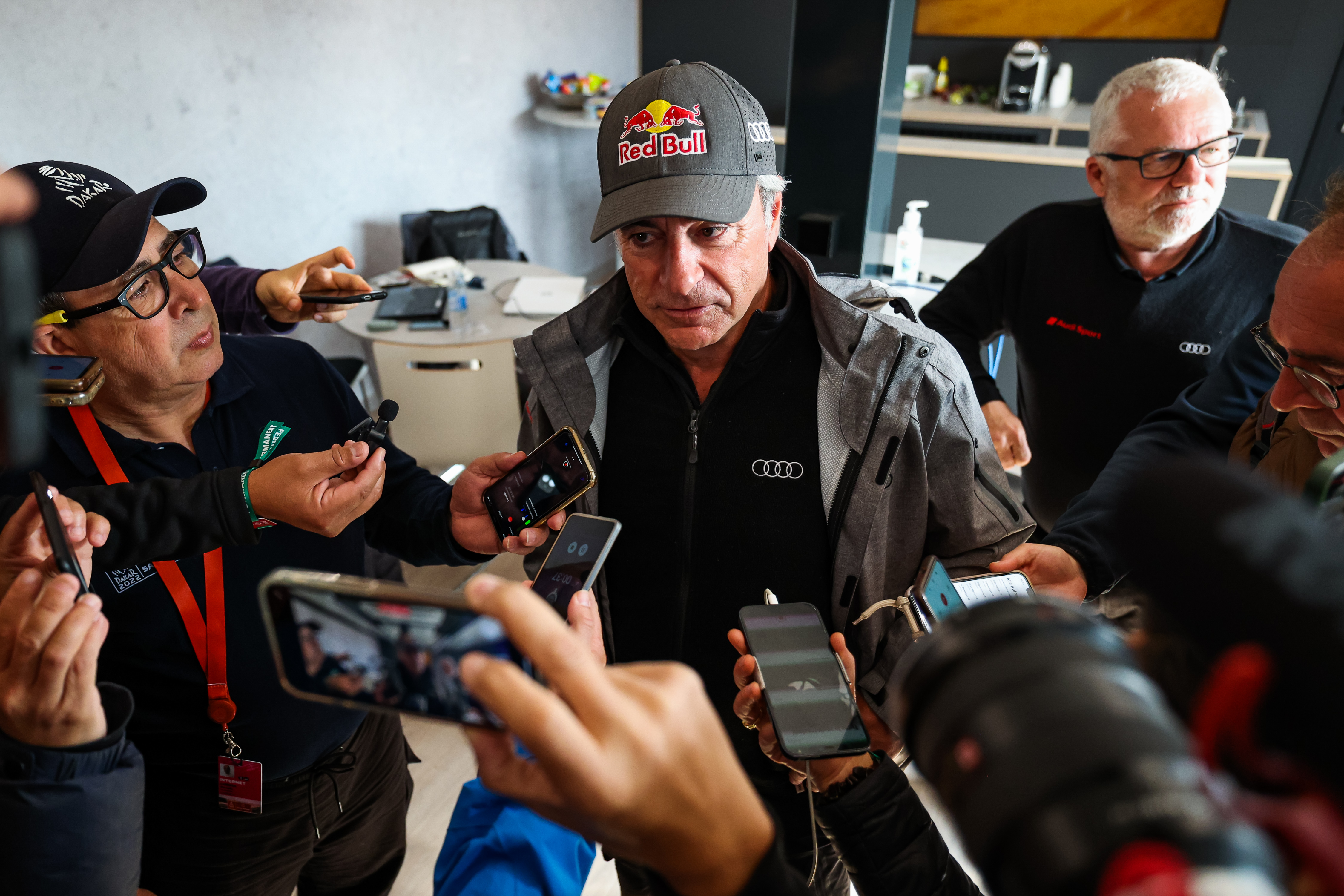 The 2023 marathon has been a complete mess for Sainz's Audi team. Alongside the dramas for the Spaniard, 'Mr. Dakar' Stephane Peterhansel had to exit on stage six after a crash left co-driver Edouard Boulanger with a vertebrae fracture, while Mattias Ekstrom is seven hours off the leader, having suffered a seventh-stage mechanical problem that effectively ruled him out of the fight for meaningful positions.
Defending champion Nasser Al-Attiyah leads comfortably in his Toyota with five stages left to run, preserving a buffer of over an hour relative to his nearest rivals – standout rookie Lucas Moraes and World Rally champion Sebastien Loeb.