For all the global, superstar-level attention awarded to Kevin Magnussen after his move to the IMSA SportsCar Championship, there's an under-the-radar star that will ultimately be vital to any success Magnussen earns this year. It's his season-long team-mate Renger van der Zande.
The 34-year-old Dutchman is a symptom of the recent boom of drivers perhaps worthy of a higher standard, but running out of momentum or funding, consequently finding a home in endurance racing where paid drives are more frequent.
It means the standard of racer in the World Endurance Championship and IMSA in recent history is fantastic across all classes, and van der Zande ticks all of the above boxes.
Van der Zande's chances of carving his way to Formula 1 came to an end after his 2010 GP3 season in a sub-par Mucke squad where he scored points once in the season.
He found his way to the American Le Mans Series with DragonSpeed back in 2013, scoring a drive with Starworks in the single-make IMSA Prototype Cup for the next season. He won the class title in 2016.
Despite bouncing around series all over the world – honestly, from the NASCAR Whelen EuroSeries to Auto GP, his CV is far more interesting than most – it took until 2018 for van der Zande to get his big chance in IMSA with Wayne Taylor Racing.
He'd scored his first overall win the previous year at Laguna Seca with VisitFlorida Racing, which some of you may know as Spirit of Daytona Racing.
Since then, van der Zande has become one of the fastest and most consistent sportscar drivers in the States (even if he's still based in Amsterdam) winning the Petit Le Mans and the Rolex 24 at Daytona twice each since 2018.
You probably saw how his bid to win three Daytonas in a row failed last weekend, with a brilliant drive alongside Magnussen and six-time IndyCar champion Scott Dixon halted by a puncture in the last seven minutes.
With the team getting its new Cadillac on track for just eight total days before the race, it was a fantastic fighting drive by all three pilots and that came with the added pressure of having ex-Haas F1 ace Magnussen making his sportscar debut.
"Kevin is a fantastic guy," van der Zande tells The Race in an exclusive interview.
"First of all, I don't feel I'm dealing with a superstar, but on track, he is. He is a superstar.
"So that's all I need for my team-mate, is a guy who wants to cooperate and win races together and be a superstar on the track and that's what he's doing.
"So I have nothing more to ask for. I don't see any pressure from his Formula 1 past towards himself or towards our cooperation so it's good, so far it's very good."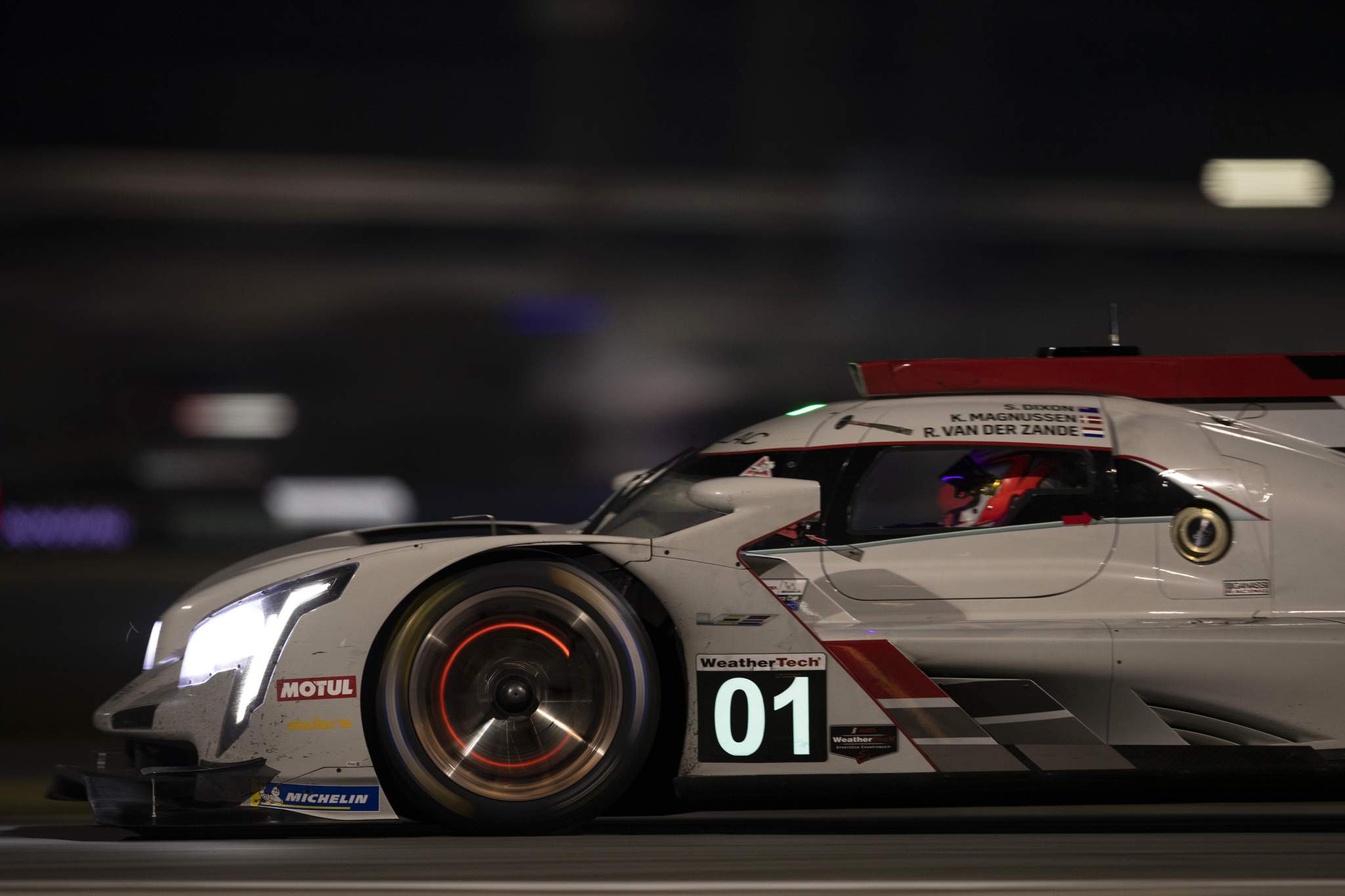 Not only was it Magnussen's debut, but it marked Ganassi's first prototype race since 2016, as from then to the end of 2019 it helped run Ford's GT programme in partnership.
That meant a rushed debut for the team also, which got eight days of on-track action before the biggest endurance race of the American season, which means even little things like learning how to fit parts and rebuild components was a learning experience with the Cadillac.
That made losing a potential race win – the puncture coming while van der Zande was stalking the number 10 WTR entry he'd raced himself last year – all the more hard to swallow.
Asked how he copes with that – having come from a single-seater background where you often have a 20-minute race and then you're quickly competing again – and losing 24 hours worth of hard earned effort, van der Zande is bullish.
"We call it incasseren [in Dutch]," he explains. "To collect. To collect yourself.
"Basically you have learn how to take a punch.
"I think that's something, if you can't handle that, you're in the wrong business.
"That's the same what happened on Sunday. We've been working incredibly hard to get the car where it was. It was the eighth day that the car was on track. It was lightning fast, like the car was flying.
"And somewhere in the night we lost a bit of speed in the car because of a ride height thing.
"We were still able to fight for the win. Until that seven minutes before the end, it was a perfect story.
"I was driving one of the best races of my career. We were actually chasing for the win of the biggest race of the season. And with seven minutes to go you blow a tire and whatever reason that is, it happened.
"But we can take so many positives out of that race, that's way more important than what the negative was, that we lost and losing is part of what we do. So, I just look forward to a great season with the people I'm working with now because they are real racers.
"They know how to put a car on the track which is fast and reliable – it was nothing to do with reliability in that case, the loss at Daytona. So, I just see a lot of positives. I'm very much looking forward to go to Sebring."
In some ways it's amazing that in an age where preparation is paramount, Ganassi and its squad was able to perform as it did.
But the fact they could take 80 people to a test at Sebring across its DPi and IndyCar programmes before Daytona shows you its resource, and it's an organisation that should be able to cope with the difficulties based on its various experience and success.
Let's not forget, it has six 24 Hours of Daytona wins.
"It's a very impressive team," van der Zande adds.
"Especially the build of the car was very impressive; how they put the car together. And on top of that, the Ford GT programme that they ran was very successful. We have those people. So, they have experience from endurance racing.
"You saw yourself what kind of strategy curveballs they were throwing at the competition in Daytona for the last hour. With those last three pit stops they just kept curve-balling it towards the competition and we got out in front, all the time to give it a chance to win.
"We almost got it done.
"So that was purely strategy moves with bold decisions to make it happen. I think that showed really, not being there for two years, straight back at it, they know how to perform so I'm very impressed with it."
Naturally, having three fast drivers also helped Ganassi's performance!
Magnussen and Dixon recorded the fifth-fastest and seventh-fastest laps of the race respectively, while van der Zande was fastest outright, outpacing Magnussen's best by 0.316s.
However, anyone who has watched sportscar racing will know that there's far more to it than just driving a quick lap, especially over a day-long race.
"Setting the fastest lap shows something about the performance of the car and the performance of the drivers and how you can compare between drivers, but we're not in it to qualify, we're in it to win endurance races," van der Zande adds.
"So, if anything, you should be looking at the averages.
"For example, one of the most important things that we need to do is cut through traffic. So if you're looking at the laptimes, in terms of fastest laptime that's pretty irrelevant.
"It's really about, what kind of laptime can you pull out under a field of traffic with multi-class racing? And I think that's something that makes a difference in the series that we are in."
Van der Zande is morphing the perfect blend of rapid one-lap pace and consistent traffic management, even if the numbers point towards him being much stronger at Daytona and Road Atlanta as opposed to some of the other tracks on the calendar.
Dixon may look inferior from the fastest laptimes at Daytona but for the reasons van der Zande describes, that's not a stick you should use to beat the Kiwi with.
In fact, van der Zande has some alternate words to describe Dixon.
"I'm a little bit of a fan and I get to race with the guy as well, which is incredible," he says. "He's a legend, who is still racing.
"I think for the rest of my life, I'll be talking about him having been my team-mate and how cool he is to work with.
"So, if there's anything I can tell you about Scott, it's that I'm very proud to be racing next to him and I can actually say he's the best team-mate I've ever had as well.
"We are really in a team sport and he understands that like no other, but it's also genuine. It's not like he's doing it because he knows. It's because that's how he is. Really cool."
So it's all happy families at the moment, even though Magnussen's arrival has added a huge amount of pressure to the drivers and team – even if they don't openly admit it.
The rest of the season will be only be 50 percent in the hands of the team and its drivers. Balance of Performance will no doubt make up the other 50.
Cadillac has won the previous four Daytona 24 Hours but in the last two years, Acura has won the title. Perhaps Acura's win in the 2021 24 Hours of Daytona will flip the script and Cadillac will have a chance of taking a first IMSA title since 2018.
Van der Zande says Daytona has given the team so much confidence given the whole organisation's lack of time with the car, but BoP is important and "hopefully it will be a fair BoP for for the races coming up – I fully trust IMSA, that they understand how to do that".
Put simply in sportscars, as a driver there's no point worrying about factors out of your control no matter how frustrating BoP can be. The only thing you can do as a driver line-up is to focus on extracting the maximum.
It's Magnussen that's put the spotlight on this squad but Dixon and particularly van der Zande will be revealed, if anyone needed proof, as the top drivers they are thanks to Magnussen's arrival. More than that: they'll be crucial to any of Magnussen's successes.