Unless you've been in a life-changing situation as an elite athlete, I don't think any of us can truly understand what Robert Wickens has gone through.
The narrative of his racing career was taken totally out of his hands with his life-threatening 2018 Pocono IndyCar crash, and not only did he face a fight to regain the feeling and function of his legs, the narrative became about his recovery and what it would mean for his qualify of life, racing firmly placed in the background.
The mental implications of that must have been huge.
But now, Wickens has turned that narrative around again. He's won a race.
The Bryan Herta Autosport driver has been knocking on the door of a win in the IMSA Michelin Pilot Challenge in his Hyundai Elantra N TCR for some time, but things have not yet gone his way. Until at Watkins Glen last weekend, where he took his first victory since a Nurburgring triumph in DTM back in 2017 (pictured below by XPB Images), in what is his first full season of racing since 2018.
"It makes me feel pretty damn good," said Wickens when asked by The Race about taking control of his own racing story once again.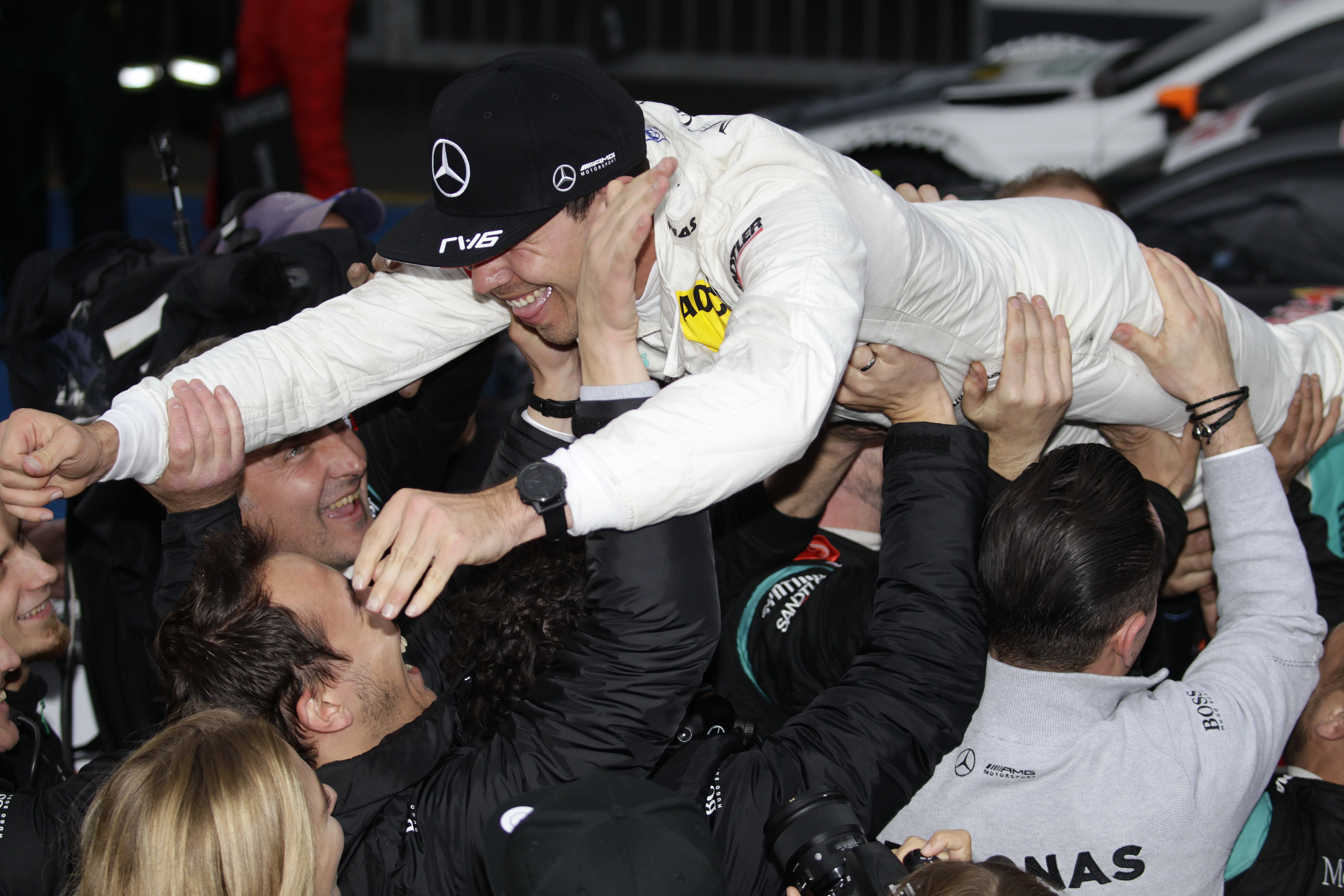 "For so long in my recovery, when I was in the hospital beds, and then struggling through rehab, trying to get muscle regeneration and just trying to get back to quality of life, I knew I wouldn't have forgotten how to drive.
"I think the important thing was, how can we get a race car to suit my needs to show everyone that what I can still do?
"I've said it time and time, but the ingenuity from Hyundai and Bryan Herta Autosport, the men and women involved there- It's a very simple system, but it's so effective.
"And the feeling I'm gaining with the brake, it's continuing to improve and hopefully this is just the beginning."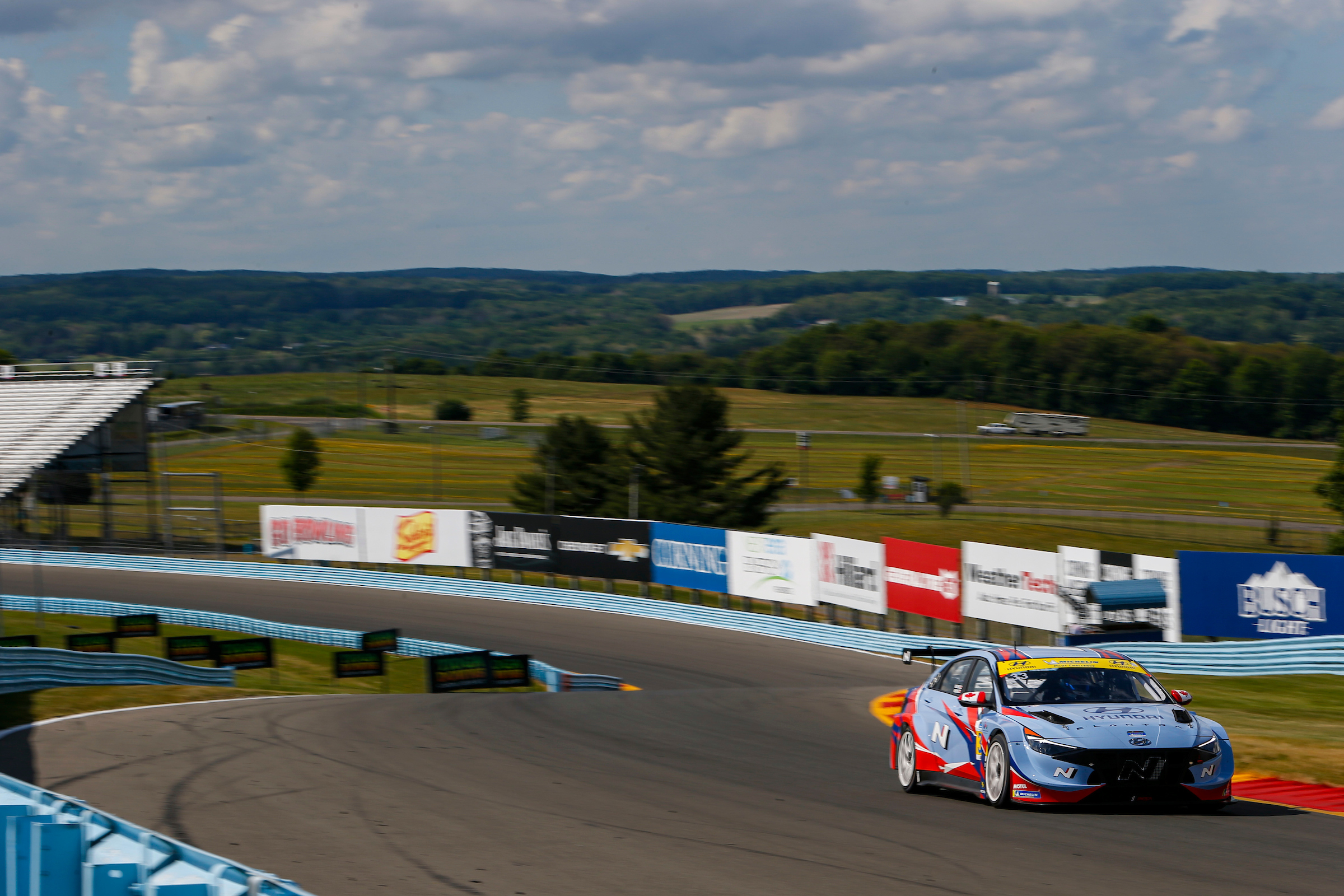 Wickens drove the penultimate stint in the Watkins Glen race on Saturday, which meant he was on the pitwall to watch Mark Wilkins bring the car across the line to a chequered flag.
It came on a wonderful weekend for showing what impaired motorsport athletes can do, as Wayne Rainey – the motorcycle champion paralysed from the chest down – rode his 1992 title-winning bike again at Goodwood, and in the same location, Wickens' old IndyCar team boss Sam Schmidt improved his own record time in a car specially designed for the ex-racer, who became a quadriplegic after a crash in 2000.
Wayne Rainey pulls the front wheel off the ground as he sets off for a Hill run! It must feel amazing to be back on the Grand Prix bike after so many years. #FOS @WayneRainey60 pic.twitter.com/f3jfE4phhn

— Goodwood Road&Racing (@GoodwoodRRC) June 25, 2022
Asked if he had allowed himself time to process the gravity of his win or if the focus had already switched to the future like for most racing drivers, Wickens added: "When we crossed the finish line it was just like immediate goosebumps and there was definitely internal happy tears and a lot of screaming internally.
"But it very quickly switched to the next race. While we were doing our our debrief after the race, it was kind of talking about the car balance and immediately on how we're going to set up the car for Canadian Tire Motorsports Park this weekend and there's no better way to get our championship back on track than to continue winning.
"We had a pretty shaky three races in a row. Now we're halfway and we really only have two good points finishes.
"So the fact that we're sixth I think is a blessing and hopefully we can start getting a run at consistency here and start plugging away at this."
Wickens is sixth in the championship, 150 points off the lead, with 1750 remaining available over the second half of the season (five races).
---
Wickens' season so far
Daytona – podium on debut, 3rd
Sebring – taken out by an incident, not his team's fault, 13th
Laguna Seca – leading before pitstop, taken out by an incident, not his team's fault, 9th
Mid-Ohio – slow pitstop, 11th
Watkins Glen – 1st
---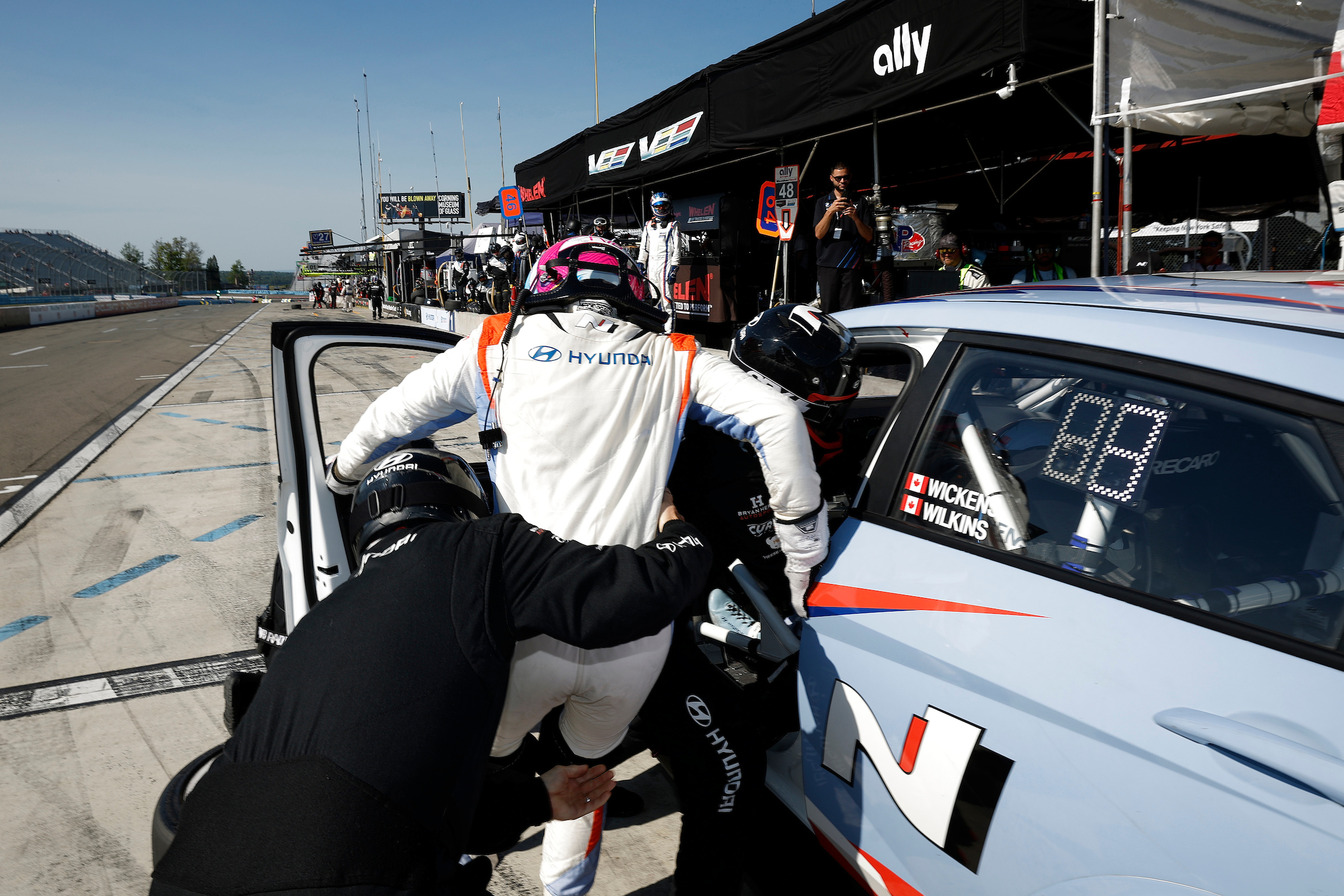 It's been a tricky season underlined by adapting to the hand controls on his Elantra and also trying to find pitstop consistency, where the process of exiting the car and changing drivers is often successful in practice but then in race conditions things can go awry.
Wickens reckons pitstops are key as he's shaved an amazing 17 seconds off from the first one in Daytona to his Watkins Glen stop that kept Wilkins in the lead – 45 seconds at Daytona down to 28 at the Glen, with the aid of Jim Leo (below centre).
Leo helps remove Wickens from the car following the admission by Wickens in January that he doesn't think he will regain full use of his legs without advances in medical science.
"We focus a lot on pitstops like any team does," Wickens adds.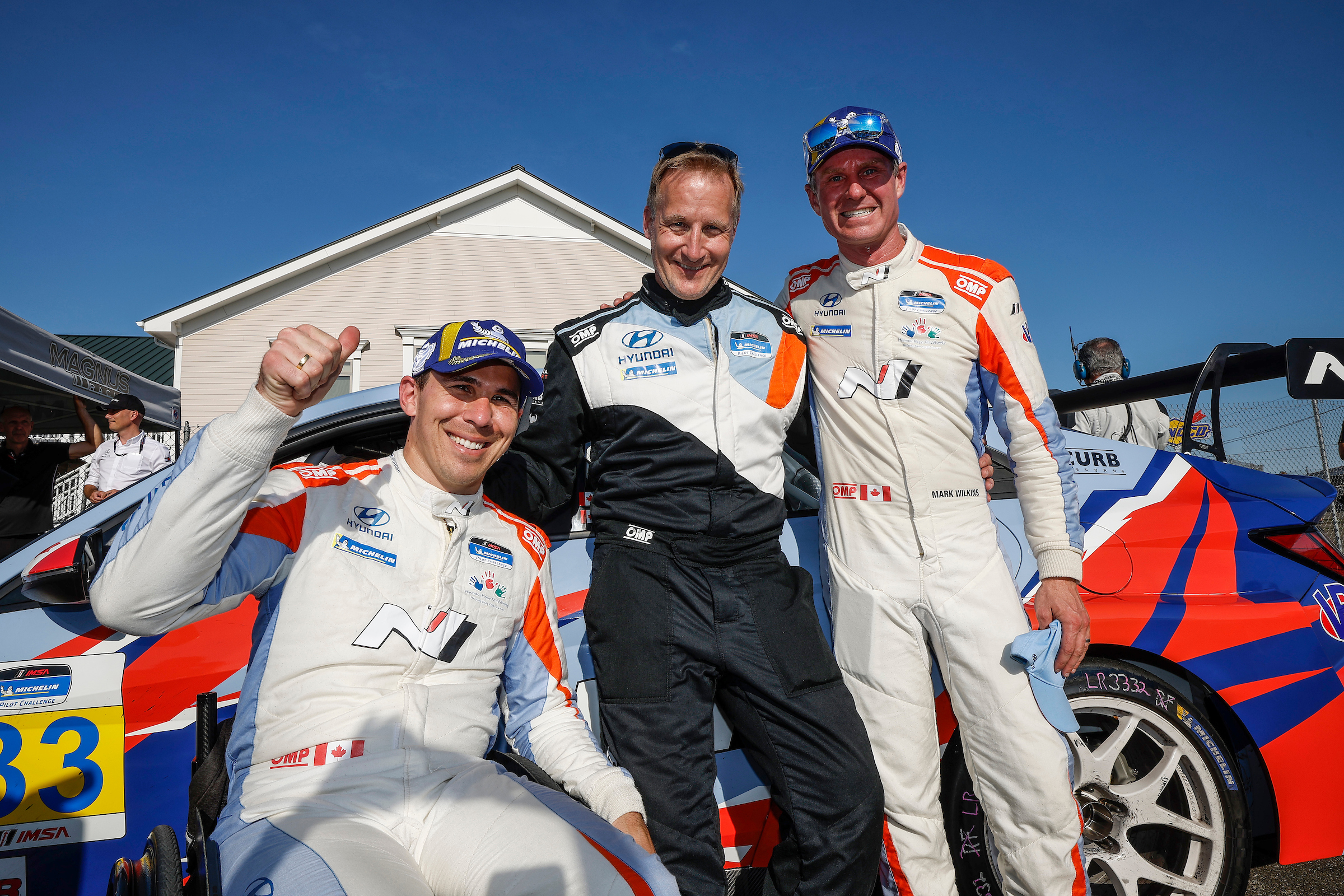 "With myself, Mark Wilkins, Jim Leo who's helping extract me from the car, we've been really focusing on our driver change because it's been a weak point of our of our season so far.
"Most of our bad luck that we had in the previous three races came because we lost positions in the pits, we came in from the lead in Sebring and we came out in 10th because just circumstantially, the way the pitstop rotated.
"So we knew we had to do a lot of focus on it. We finally did one as good in the race as we've done in practice and it was it was a great feeling, just to see the car leave nice and quickly and to cycle back through into lead, it was an amazing experience."
"I think anytime I compete, I compete with the intent to win" – @robertwickens, who suffered a severe spinal cord injury in 2018.

Wickens and fellow Canadian, Mark Wilkins, finished 1st in the No. 33 @BHA Hyundai last weekend @WGI.

For full reaction: https://t.co/kpxhSTxlVd pic.twitter.com/KqoZY32bG4

— #IMSA (@IMSA) June 29, 2022
Wickens operates the car with a disc system positioned behind the steering wheel which he uses to brake, and a paddle to apply the throttle.
He still believes he has a long way to go in many areas, but also feels he has ideas hwo to tweak the system – but there isn't testing time to trial his suggested upgrades.
The hand controls are also a potential limitation for stepping up – something Wickens is constantly asked about: could he return to IndyCar in the future or another similar series like Formula E he has mentioned before? Needing brake by wire and power-assisted steering would immediately provide a challenge for an IndyCar return, for example.
"Each category has its own complications," Wickens says.
"If you look into a faster car with more downforce, it also requires more braking force, which then requires more pneumatic assistance for me to achieve the same brake pressure as an able-bodied driver.
"Where the TCR car, our Hyundai Elantra, to put it into into simple terms, for me to match the brake pressure that Mark Wilkins can achieve, my team-mate, I'm having to pull the brake ring with roughly around 100 pounds of force.
"So imagine, everyone has done those, like, grip test things at some point in their life, imagine squeezing 100 pounds, and I get to do that 11 corners in Watkins Glen, I'll get to do it for 10 corners in Canadian Tire Motorsports Park this weekend.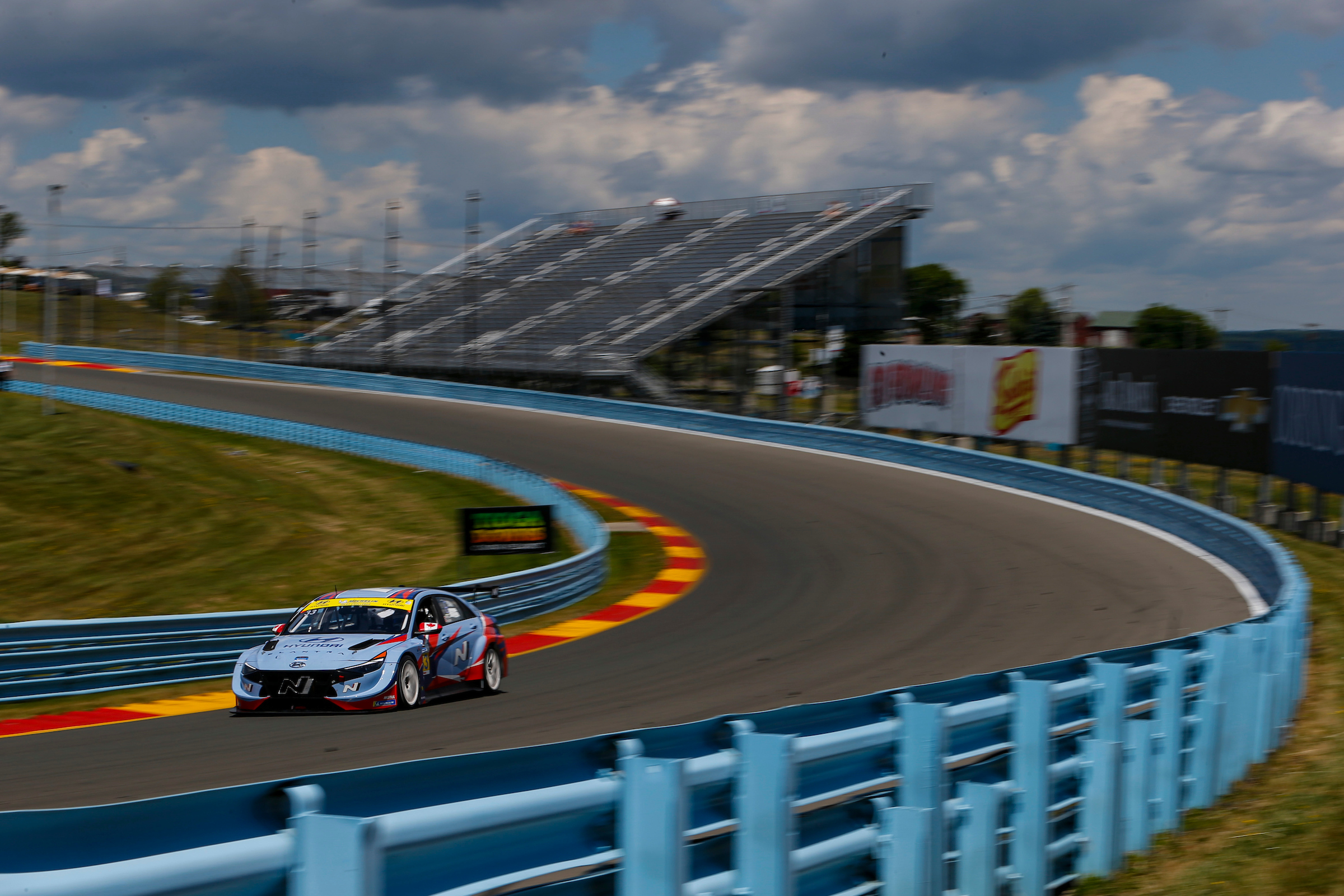 "So it's no easy task and moving forward in other categories there's always different demands."
Off the track, Wickens has morphed into this inspiring character credited for helping people with their own trauma – battling serious illness or rebounding from an injury like his.
The selfless Wickens still looks – from outside perception at least – a little uncomfortable with taking on labels like "hero" and "inspiring" etc, but that's just a sign of his nature.
What he has never done is lost sight of his goal to continue racing, from the very next day after his accident. While he has been driving this season, it felt like Watkins Glen was the rightful return to the proper competing we all know and remember from Wickens before the crash.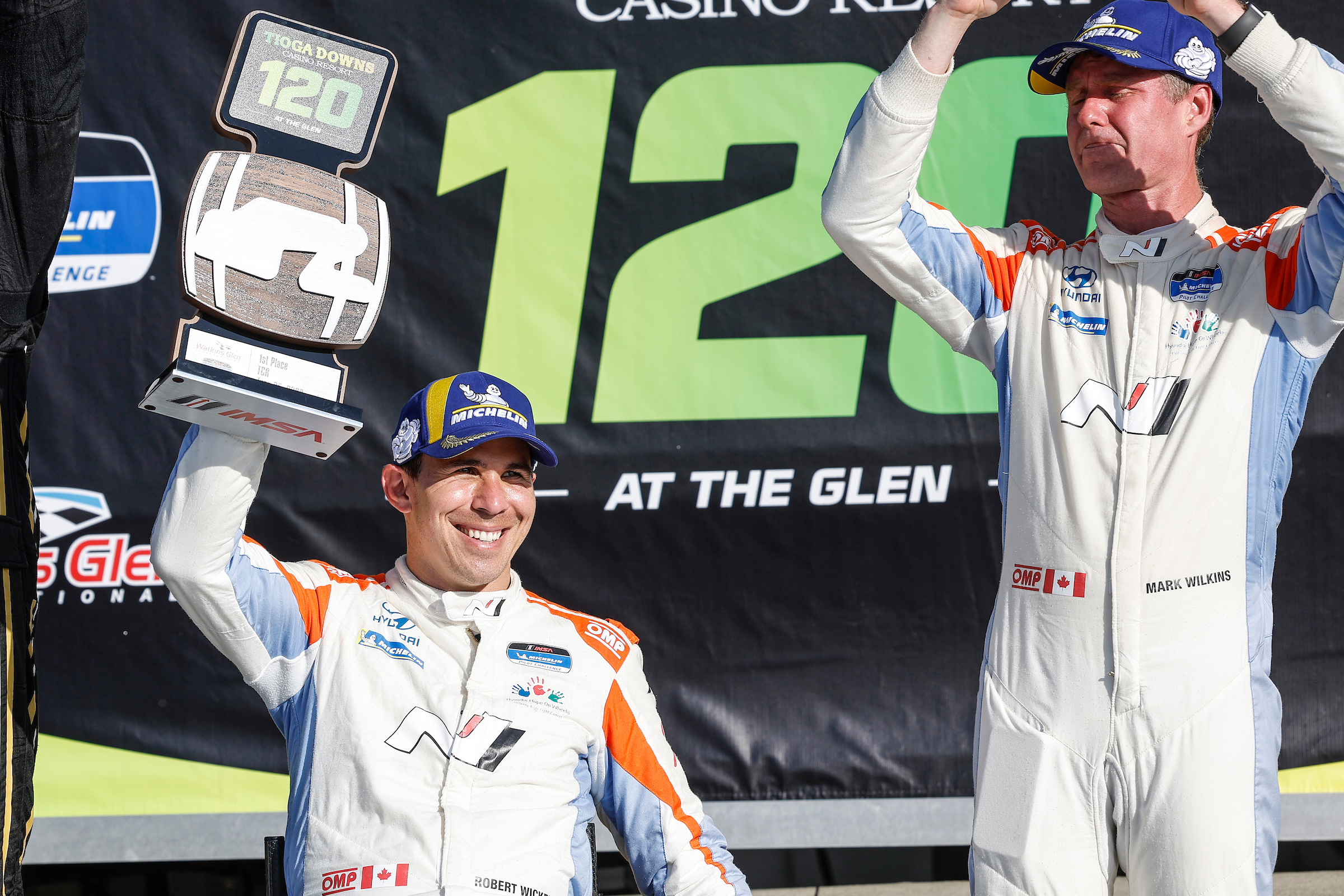 "At the beginning of all this, people thought I was dreaming, right?" he adds.
"Everyone knew I was probably still capable of driving a race car, but it's how do you adapt a race car to still be competitive? I knew some way somehow it was possible, but I didn't even myself know what that looked like."
Right now for Wickens, it looks like winning. And it's the feel-good story we all need right now.
Back where we belong… VICTORY LANE! Unbelievable day. We've known we could do this from the start. Mega work by @MWilkins to keep us out front in the final laps.

Thank you to @BHA and @Hyundai for a fast race car!

This isn't the finish line. We want more!@IMSA | #ImBack pic.twitter.com/8ybk9WppLs

— Robert Wickens (@robertwickens) June 25, 2022
There's this weekend's race to get out of the way and then the real work for 2022 kicks in; he and his partner Karli are expecting their first child together.
He's preparing to not miss any races with the new arrival, and then the focus will be turning his championship around.
All images courtesy of IMSA – LAT Images, unless otherwise credited