The 2022 MotoGP roster is currently set to feature five rookies – two at Ducati, two at KTM, one at Yamaha. All five have been placed at satellite teams, and all five are graduates from lower classes – albeit one is moving up directly from Moto3.
All five were in action in the sole post-season test at Jerez, which offered a first glimpse at what promises to be a pretty great rookie of the year battle in 2022.
But was there a clear winner? Here's our rundown of what the five riders got up to.
Fabio Di Giannantonio
Gresini Ducati
19th, 1m38.528s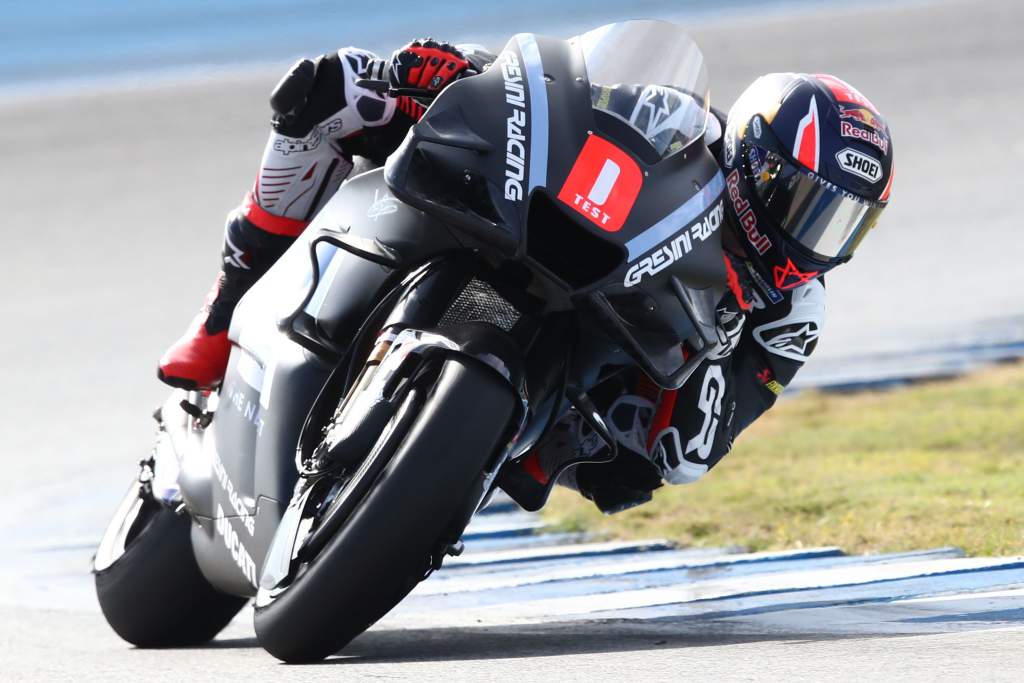 Seventh in one's third year of Moto2 competition isn't the kind of result that screams 'get them to MotoGP!', but it's believed that Di Giannantonio's premier-class foray was contractually set in stone even before his 2021 Moto2 campaign.
Ultimately, Gresini will have had enough faith in the Italian after three years together in Moto3, which culminated in finishing runner-up to one Jorge Martin, while Di Giannantonio's sole Moto2 season with the outfit was effectively its best since Sam Lowes' pre-Aprilia run in 2016.
---
Test laptime count

1m38s: 3
1m39s: 17
1m40s: 16
1m41s: 8
Total flying laps: 69
---
In any case, whatever questions remain about Di Giannantonio's MotoGP aptitude have been put to bed for the winter break by 'Diggia' setting the quickest time of the rookie test. Though he would lament the way the wind interfered with Ducati's aero on the second day, he described his first taste of the bike as "the best day of my life".
One good laptime proves little – and Di Giannantonio was still 1.7s off test-topper Francesco Bagnaia and a second off Gresini team-mate (former and current) Enea Bastianini – but the underlying performance looks consistent enough to where it's not unreasonable to theorise whether 'Diggia', on the taller side among young riders, is better suited to MotoGP than the lower classes.
Raul Fernandez
Tech3 KTM

20th, 1m38.691s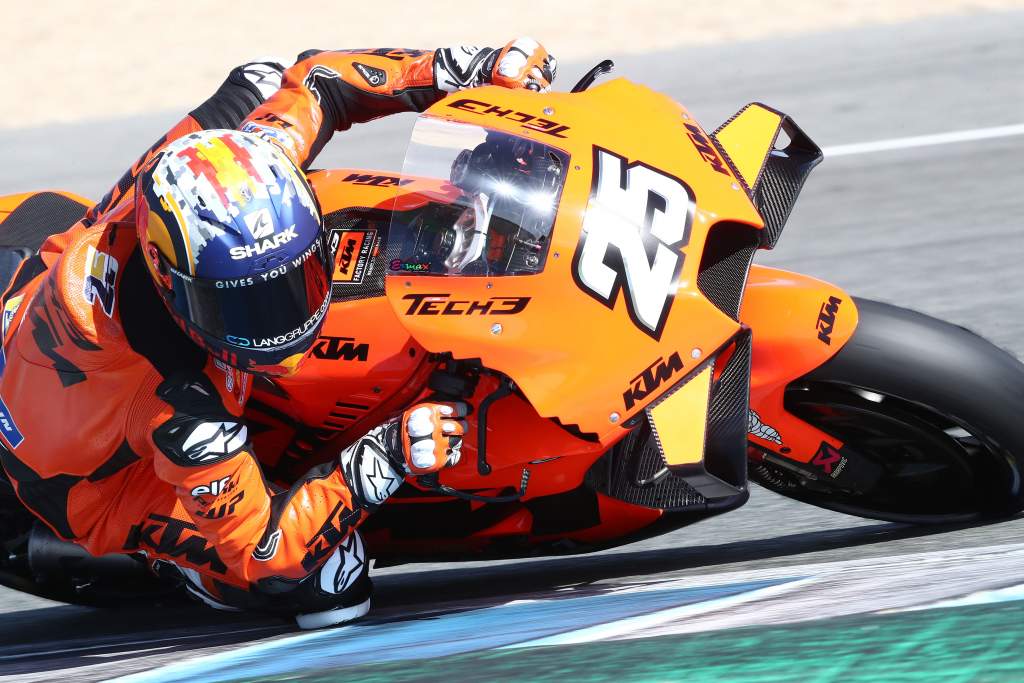 Fernandez graduates to MotoGP as the author of either the greatest or the second-greatest Moto2 rookie campaign ever, depending on how you view Marc Marquez's efforts in 2011.
Either way, that's insane company to be in, and Fernandez is definitely the most hyped of this year's MotoGP debutants. He's also been kept in the news by a Yamaha bid for his services, which might be still ongoing and might have at least partly turned the Spaniard's head despite KTM's desperation to hang on to him.
But first, Fernandez needs to confirm that he's worth a massive tug of war by hitting the ground running in MotoGP. And it looks like he's done just that.
---
Test laptime count

1m38s: 2
1m39s: 25
1m40s: 20
1m41s: 17
Total flying laps: 72
---
"I'm really happy but I'm dead, no?" he told MotoGP.com after the two-day test concluded. "It was really difficult and really physical, especially because the first day all was new and I was really tense on the bike, maybe for that was really difficult to relax on the bike, and today it was a difficult day for that, because I was dead and sometimes I couldn't move the bike like I wanted or I couldn't brake like I wanted.
"But anyway I'm really happy."
Di Giannantonio's laptime proved just a bit out of reach, but Fernandez – who did stress he "did a lot of laps with the used tyre" – provided the more consistent pace.
The Spaniard is also on a bike that's simply not as competitive as the 2021 Desmosedici. Peak test laptimes are always murky, but being just over seven tenths of the top KTM is a decent sign.
Remy Gardner
Tech3 KTM

22nd, 1m38.728s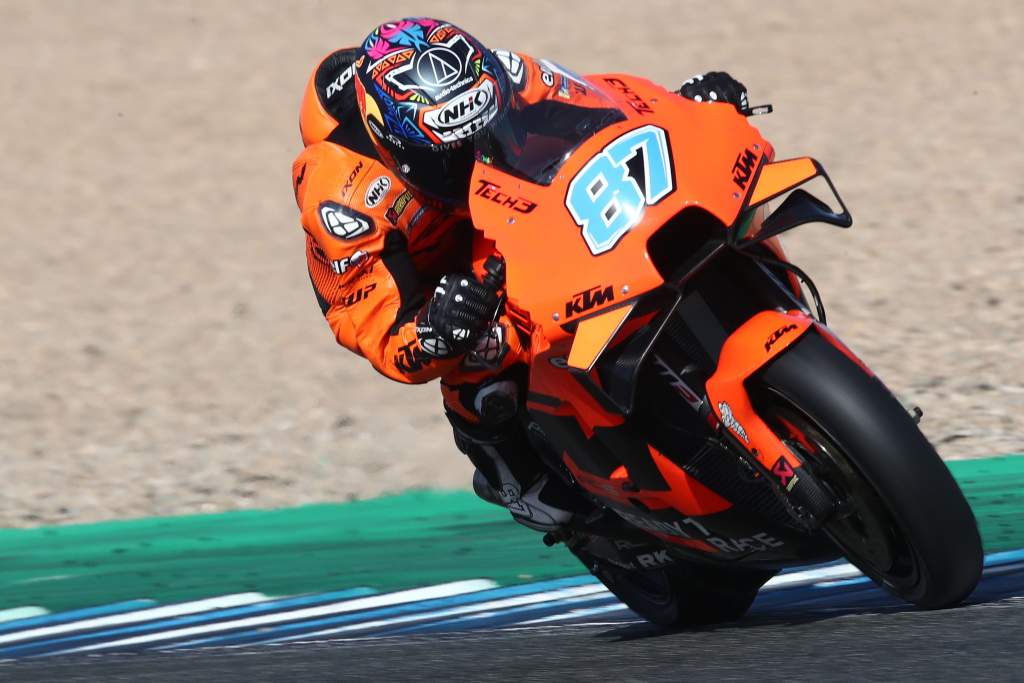 Copy and paste that final par for Gardner, who was just a few hundredths off Fernandez in the test, days after beating the Spaniard to the Moto2 crown.
The son of former 500cc champion Wayne, Gardner is the tallest of the rookies and took his time coming to the fore in the intermediate class after a very swift jump up from Moto3. But he broke through last year, and put together a supremely managed campaign on the Ajo KTM in 2021, even if team-mate Fernandez often looked to have that extra burst of pace.
It is worth noting that both Fernandez and Gardner had already made their debuts on the KTM RC16 in the in-season Misano test, once their signings became official. But for Gardner it is also worth noting that on the first day at Jerez he heard a "crack" in his ribs, and spent the rest of the test in pain.
---
Test laptime count

1m38s: 1
1m39s: 10
1m40s: 24
1m41s: 15
Total flying laps: 79
---
"I'm trying to hold everything together, riding stiff, so that my ribs weren't moving around or whatever it was, whatever's going on," he said on the second day.
"Just trying to brace myself more than anything on the bike at the moment and definitely not letting me ride nice and loose and how I'd like.
"And also it's not the day to be crashing at the moment, especially with an injury like that, it's not the time to be doing anything stupid."
The whole bulk of the laptimes confirms that Gardner wasn't quite operating at Di Giannantonio and Fernandez's level, but you have to make stamina concessions for the injury, and the peak laptime is right up there.
Marco Bezzecchi
VR46 Ducati

26th, 1m39.312s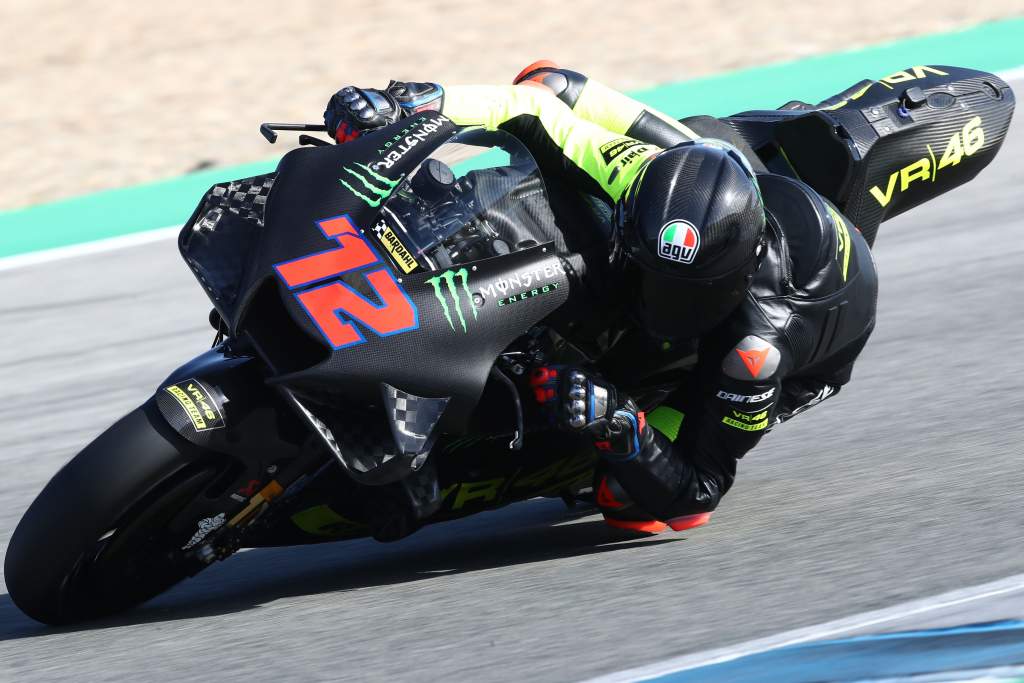 A former title rival of Martin and Di Giannantonio in Moto3, Bezzecchi could've well been in the premier class this year already – had there been space at Yamaha or had he taken up the Aprilia offer that was known to be on the table.
But having got quite close to the Moto2 crown last year, he was unable to get near in 2021, with the KTM Ajos in spectacular form and leaving the Valentino Rossi protege as best of the rest.
In graduating to MotoGP with VR46 Ducati, Bezzecchi will ride for his mentor's operation for a third straight year.
In the test, he was noticeably off fellow Ducati newcomer Di Giannantonio and the KTM duo, simply appearing to be less physically attuned to premier-class machinery for now.
---
Test laptime count

1m38s: 0
1m39s: 5
1m40s: 19
1m41s: 21
Total flying laps: 82
---
"Of course the learning process is very long but I took these two days with a lot of calm, just to adapt my riding a little bit to the bike, adapt to the position. I was not impressively fast, but the important thing is I took some confidence with the bike," he told MotoGP.com.
Darryn Binder
RNF Yamaha

27th, 1m39.941s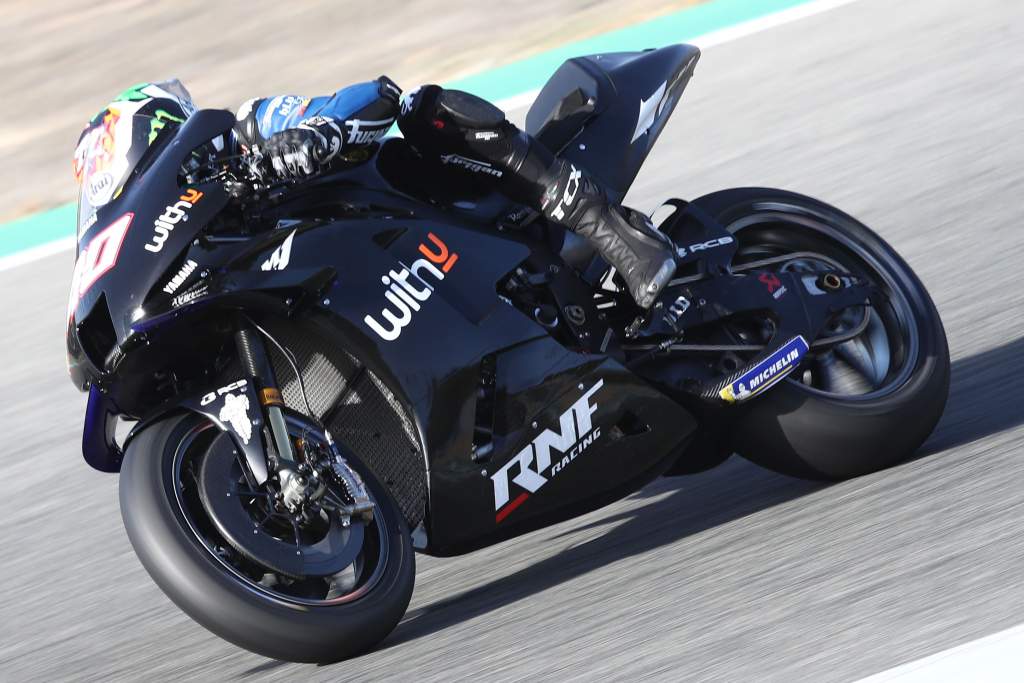 Much has been said and written about Binder's Moto3-to-MotoGP move, and his pace in the test won't have done much to change anyone's prior assumptions.
The South African ultimately ended the test a perfectly acceptable three seconds off, and 1.4 seconds behind top rookie Di Giannantonio. He found nearly two seconds, more than anyone, between day one and day two.
---
Test laptime count

1m38s: 0
1m39s: 1
1m40s: 10
1m41s: 17
Total flying laps: 73
---
He also had one big crash that compromised him on the second day. Binder's got something of a reputation for shunts, but his first MotoGP shunt was a cold-tyre highside, which makes sense for a rookie and doesn't say anything about whether or not he's getting close to his limits.
"At least now going into the winter break I know exactly what I'm in for," Binder told MotoGP.com. "Really, it's been two amazing days, what a bike to ride."
The winner
None of the rookies acquitted themselves poorly, but it's clear that Bezzecchi still has a big step to make and Binder is an entirely different situation to the others given his background.
But for each of the other three, a good case can be made to say they were the most impressive MotoGP 2022 newcomer at Jerez.
---
Day 1 laptime shares (% of total flying laps)
| | | | | | |
| --- | --- | --- | --- | --- | --- |
| | Fabio Di Giannantonio | Raul Fernandez | Remy Gardner | Marco Bezzecchi | Darryn Binder |
| sub1m39s | 0.0 | 0.0 | 0.0 | 0.0 | 0.0 |
| sub1m40s | 8.1 | 15.8 | 0.0 | 0.0 | 0.0 |
| sub1m41s | 21.6 | 44.7 | 16.7 | 10.8 | 0.0 |
| sub1m42s | 35.1 | 84.2 | 44.4 | 32.4 | 5.6 |
Day 2 laptime shares (% of total flying laps)
| | | | | | |
| --- | --- | --- | --- | --- | --- |
| | Fabio Di Giannantonio | Raul Fernandez | Remy Gardner | Marco Bezzecchi | Darryn Binder |
| sub1m39s | 9.4 | 5.9 | 2.3 | 0.0 | 0.0 |
| sub1m40s | 53.1 | 61.8 | 25.6 | 11.1 | 2.7 |
| sub1m41s | 87.5 | 88.2 | 67.4 | 44.4 | 29.7 |
| sub1m42s | 96.9 | 94.1 | 79.1 | 73.3 | 70.3 |
---
Di Giannantonio was outright fastest and carried a wide smile that complemented the idea he'd found an instant connection with the Desmosedici.
Gardner braved it out despite the rib pain, and was remarkably competitive given the circumstances.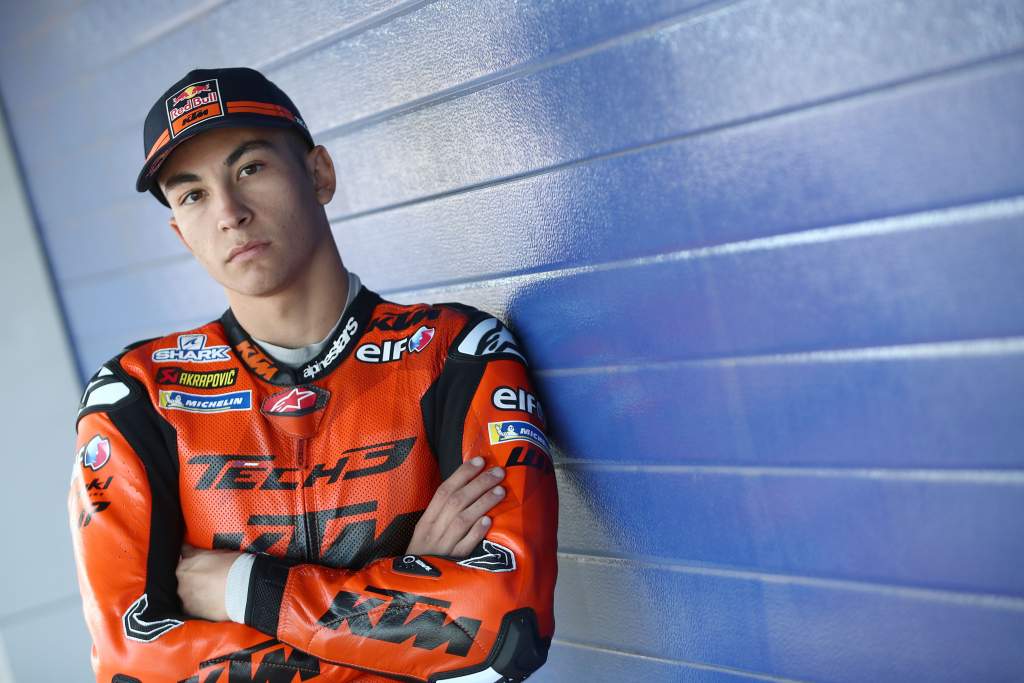 Ultimately though, it was Fernandez who assembled a body of work that most resembled competitive MotoGP pace. And it's hard to look past that, even despite the caveats of 'Diggia' not having had the Misano test or Gardner being hurt.
So while the only post-season/first pre-season (depending on your preferred nomenclature) tests has promised a captivating rookie of the year battle, for now the guy who has looked the brightest talent coming into Jerez still looks that way coming out.