It's no secret that 2021 MotoGP world champion Fabio Quartararo isn't delighted with Yamaha's pre-season work so far, complaining about the lack of development since winning his title and putting the Japanese factory under pressure to deliver a better bike for 2022.
He's even, for the first time, hinted that he's not adverse to a switch of manufacturer when his current contract expires at the end of next year. "For the future, I have an open mind to listen to all manufacturers," he told MotoGP.com in an interview released this week.
"It's not a goal of mine to win with two different manufacturers, but I want to go to the best project as possible.
"I'm an open-minded person, the people around me are like this too, and that's why I'm open to listen."
But where does he have options? There are five other factory teams open to him, all of whom will have free seats for 2023 as 80% of the grid's contracts expire simultaneously.
Quartararo might be open to going elsewhere, but does that mean he actually has a chance to do it? Are there other places where he'd fit in? Here are his non-Yamaha options.
Aprilia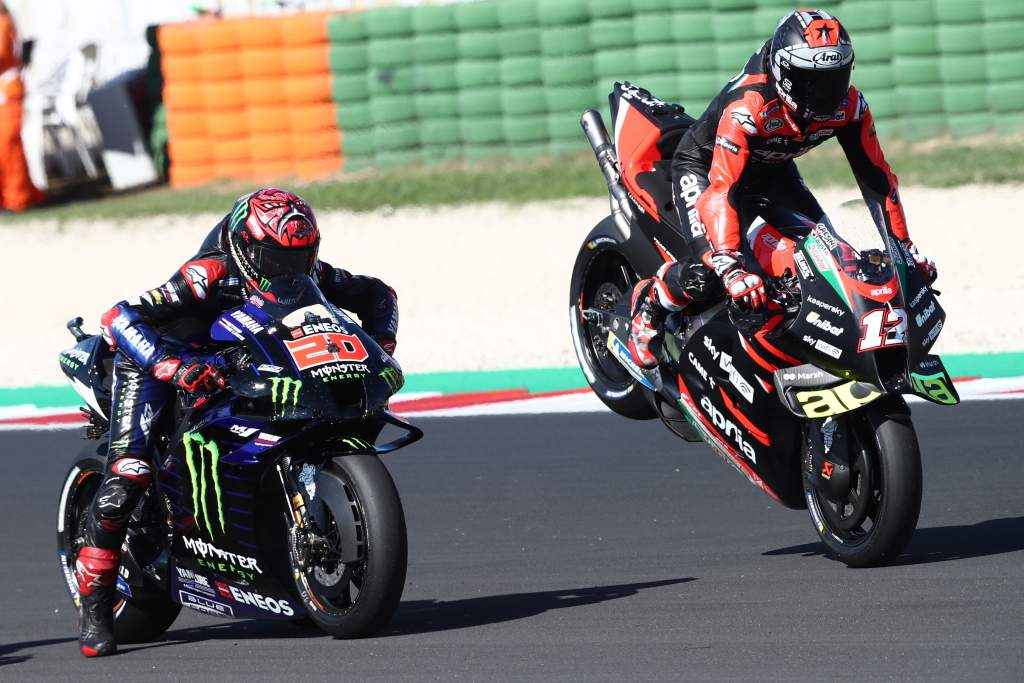 Aprilia has one thing in its favour when it comes to courting Quartararo, and one thing against.
In the plus column is a huge theoretical budget, thanks to its place within parent group Piaggio – and if the Frenchman's primary motivation was money, Piaggio would likely be able to make a pretty convincing pitch, even if the RS-GP wasn't the best going in MotoGP.
But he's still young and hungry, and the time for perhaps taking a big payday to step onto a lesser bike is a long way off for the 22-year-old. And the problem is, Aprilia's machine still isn't quite up to speed despite considerable progress in recent seasons.
It could well be that 2022 is the year that, with Quartararo's former team-mate Maverick Vinales onboard, Aprilia makes the breakthrough to have a winning bike – but it's likely that any huge step will come too late in the year to impact '23 deals.
Ducati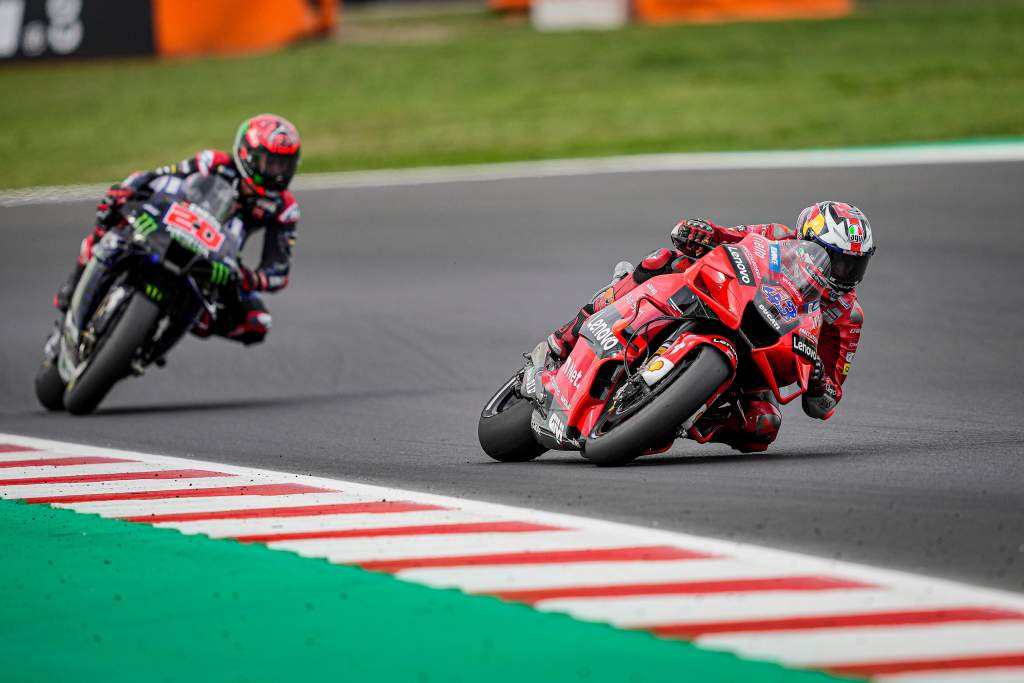 It's no secret that in the past few years Ducati has aggressively courted top riders from other brands. Without the development programmes of some of its rivals, Ducati has been left to poach names like Jorge Lorenzo in an attempt to throw itself back into contention for a riders' title for the first time since 2007 – but it never quite worked out, despite Ducati also being on the hunt for Quartararo's signature as recently as the last round of contract negotiations in late 2019.
But with almost-universal rejection of that plan two years ago, it prompted a rethink inside the brand, with a new model of developing its own stars finally put into place – and if we learned anything in 2021, it's that it's paying off in dramatic style.
It's honestly quite hard to see anyone else lining up for the factory team in 2023 and 2024 than Pecco Bagnaia and Jorge Martin, given just how much both impressed in 2021 – and should either of them fail to maintain their consistency in 2022 or be lured away elsewhere, the likes of Jack Miller and Enea Bastianini will be the first to get the call, severely limiting any chances for Quartararo.
Honda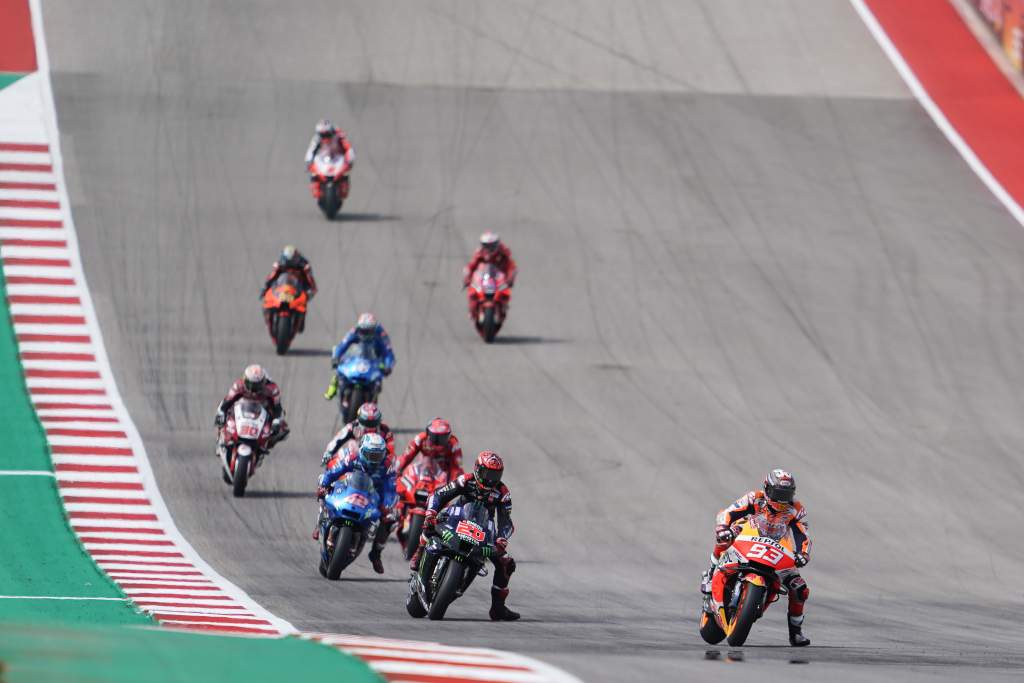 Honda already has one rider secured for 2022 and beyond, thanks to the remarkably unusual four-year contract extension offered to Marc Marquez to keep him in place until at least the end of the 2024 season.
Yet Marquez has shown his fallibility since then, getting injured shortly after that deal was signed and losing the best part of a season and a half recovering from arm injuries.
With this finally highlighting to Honda that relying on one rider alone to pilot its difficult RC213V isn't a very smart strategy, it's going to be looking elsewhere for a strong rider to join Marquez.
There's also the added benefit of signing Quartararo to deny him to anyone else, a strategy that Honda has also used in the past. But the Frenchman is surely smart enough (and perhaps more importantly, advised by people smart enough) to know that the RC213-V isn't likely to be one that's particularly suited to his style, meaning that he might be best to avoid Honda if he wants to continue winning.
KTM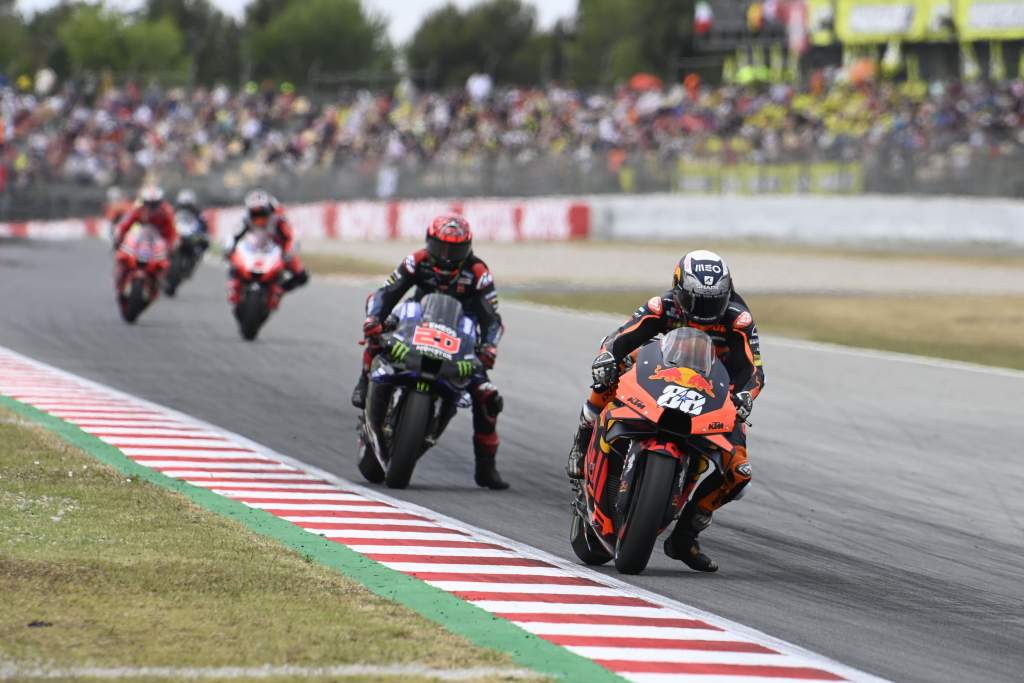 The Austrian brand almost has the opposite problem of where Ducati found itself a few years ago – it's got so much hot young talent in the pipeline that it doesn't quite know where to put all the riders it's already signed, let alone where it'd add Quartararo into the mix.
KTM has already got Brad Binder signed up on a deal similar to Marquez's, in place until the end of 2024, and while Miguel Oliveira might not be the happiest camper on the other side of the garage, even if he decides to look elsewhere there's plenty of other options to fill his shoes without KTM needing to pay Quartararo what he'd want – if he's even happy to ride an RC16 given KTM's disastrous 2021 season.
The manufacturer's first priority is most likely going to be keeping Raul Fernandez within the family, even if he's considering other options (ironically most likely at Yamaha, albeit with only a satellite ride available should Quartararo stay in place). But if Pedro Acosta repeats his stunning rookie season in Moto3 again in Moto2 in 2022, then a promotion directly to the factory team isn't an unreasonable reward.
Suzuki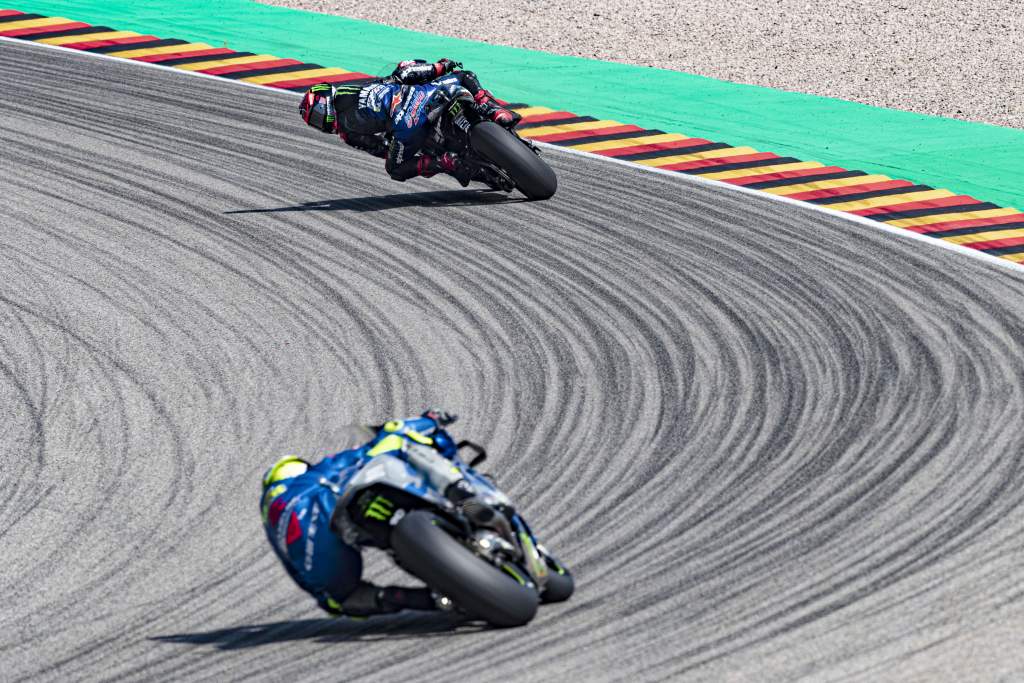 The 2020 world champions are perhaps the most interesting option on the cards for Quartararo in 2023, should Suzuki manage to make things look a little rosier with its new bike next season. Not the best-funded team and not able to compete with rivals in terms of paycheques, that doesn't mean that Suzuki won't be an appealing offer to Quartararo.
Like we've already said, he's here to win not to earn millions, and should Hamamatsu fix the issues with the GSX-RR for next year, then it's a bike that would very much complement the Frenchman's style.
Similar to his Yamaha M1 in its flowing nature and high corner speed – a characteristic of the inline four engine configuration the two brands alone share out of MotoGP's six manufacturers – the Suzuki has the added advantage of not being short on power, an area where Quartararo is finding the Yamaha particularly lacking.
Suzuki might even have a space and some budget for him, too, should the likes of Honda be able to lure away Joan Mir – a rider whose style is much more suited to joining Marquez than Quartararo's.