It's never been a secret that Honda's MotoGP bike is the hardest to ride machine on the grid – but the publication of compiled crash data from the 2021 season highlights why the Japanese factory is finally moving to fix the fundamental flaws in the RC213V before it has no healthy riders left to pilot it.
Overall, the 2021 season saw MotoGP's gradual increase in the number of falls continue to creep up. Short of the all-time record from 2017 of 313 crashes across the season (an average of 17.4 per event), the year just finished nonetheless saw 278 crashes for an average of 15 per race weekend, or just shy of two every session.
That's a long way removed from a decade ago, with only 134 recorded in 2010. Since then, though, the number has consistently crept up and up, with the average number of falls per weekend doubling in the intervening time.
Of the 278 crashes recorded in 2021, it's a rather dubious honour for Tech3 KTM rider Iker Lecuona that he recorded almost 10% of them, with the young Spaniard falling 26 times in 18 race weekends – a record number not just in MotoGP but across all three Grand Prix classes.
---
Most crashes in 2021
Iker Lecuonda KTM MotoGP 26
Marc Marquez Honda MotoGP 22
Pol Espargaro Honda MotoGP 20
Alex Marquez Honda MotoGP 19
Aleix Espargaro Aprilia MotoGP 18
---
Yet it's not Lecuona, riding an unruly KTM and often pushing beyond his own limits, who is the most notable entry on the championship table of crashes, but rather the three names who follow him – and the common trend between all three of them.
The dubious honour of second, third and fourth all goes to Honda riders, with Marc Marquez rather remarkably finishing in second place with 22 crashes despite competing in only 14 of the season's 18 races as he first continued to recover from the injury which derailed his 2020 season and then missing the final two rounds through fresh problems sustained in a training crash.
He's only two crashes ahead of Repsol Honda team-mate Pol Espargaro on 20, with the junior Marquez brother Alex chalking up 19 of his own. Only Alex's LCR Honda team-mate Taka Nakagami had a relatively safe year but was still comfortably inside the top eight with 12 falls of his own.
And within those numbers lies the reality about just how hard to ride Honda's bike is. Aggressive, rider-unfriendly and requiring a racer to spend the maximum amount of time possible on the absolute limit to find speed – it doesn't make for a safe time for its riders.
To be fair, most of those crashes do come when risk is at the lesser end of the scale, normally on corner entry when riders are at their slowest and have the most amount of gravel trap possible available to slide through – probably the reason why Espargaro's failure to start at Valencia following a practice crash is the only time this year the RC213V has hurt a rider enough to force them to sit out of a race.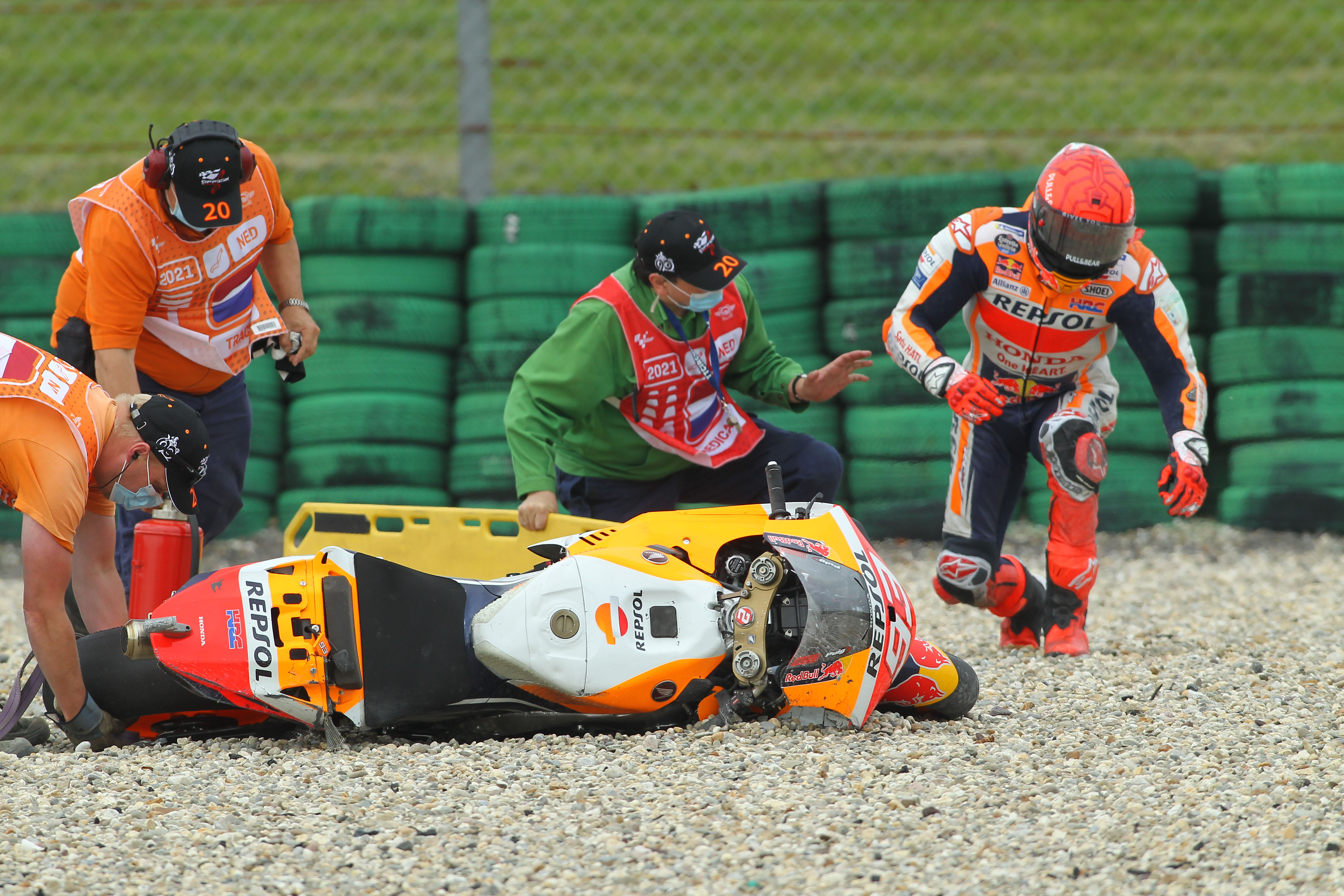 Yet as we saw last year with Marc Marquez's broken arm, or with Jorge Lorenzo's broken back in 2019, if you're crashing every single weekend your luck will eventually run out in a bad way.
That's an issue further compounded by Honda's complacency towards the issue for the best part of 15 years. Honda was comfortable hiring supremely talented riders like Marquez and Casey Stoner and then letting them get on with the job of using their skills to take the bike to its limit.
But it learned how short-sighted that strategy was last year when their six-time MotoGP champion spent the entire year recovering from injury.
That's why it sounds like we're finally seeing a move away from that strategy towards something more friendly and forgiving for 2022, starting by building in more rear grip – something that Espargaro in particular has been demanding for some time.
Using the rear brake to help turn the bike into corners has become more and more common among the grid's V4-engined riders in recent years, a way to help manage hard braking that the inline-four riders (with their higher corner speed) don't need to worry about in the same way.
But without rear grip, there's no using the rear brake, meaning it's been a key mission of Honda's to deliver on it for next year. Whether or not it works remains to be seen, and whether it's the first step in making the bike a safer one is perhaps an even bigger question that only time will tell.