For some months now, Maverick Vinales has been talking the talk about his MotoGP future with Aprilia, confident that, even if it hasn't been reflected in his results, he will go on to big things with the manufacturer.
Having heard similar things from him during his time at Yamaha, those comments have always been taken with a pinch of salt – but does his fight for the podium at the Sachsenring prove that he's ready to walk the walk?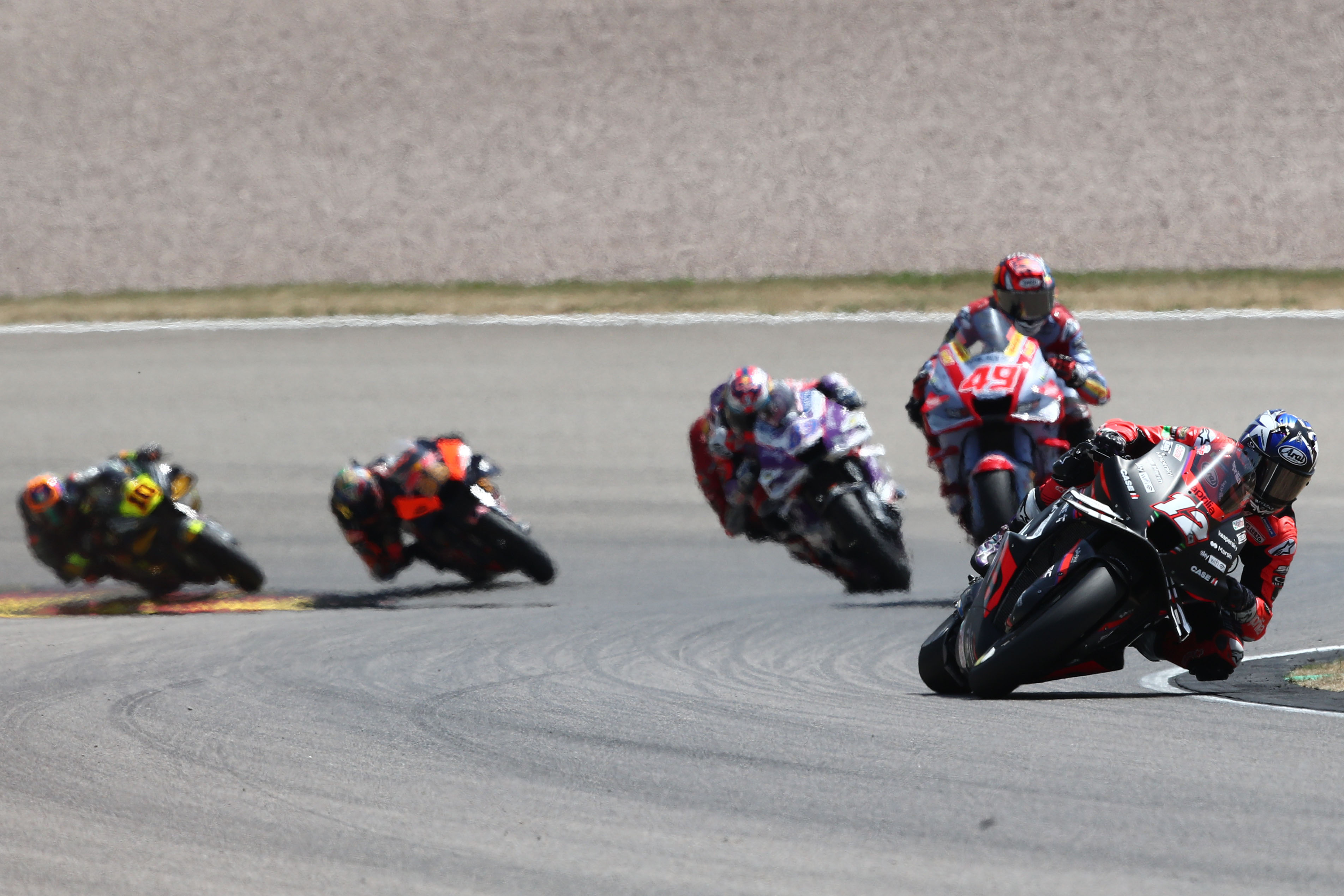 Vinales was harshly denied what looked set to be a likely podium in Germany when his rear holeshot device stuck on, rendering his RS-GP unrideable and taking him out of the battle for third with team-mate Aleix Espargaro and Ducati rider Jack Miller.
And yet, despite the race ending with disappointment, Vinales was adamant that such a strong performance means that he's finally achieving the steps he needs to be fast on the Aprilia. Vinales has worked hard to adapt to the bike since joining the team late last season, a process that's been slow, but with results finally starting to back up his sentiments it's no longer a huge leap of faith to consider him a podium contender.
"Actually, I'm very happy because I enjoyed riding," he insisted after the DNF. "We made a good start, and I was strong.
"I had many black marks on my leathers from the first corner! Then, I was just keeping the pace from the first lap, because I knew the last 10 laps would be the strongest. All weekend I've been keeping a good performance, keeping the spin down.
"The rear device broke and my chance of staying on the track became very difficult. It got stuck down, it never came back up again, and I tried many times to lift to try and make it come back up again, but it never did. I lost the front in Turn 8 because of it, and I realised it was more dangerous to be on track. It was impossible to ride.
"But I've already forgotten it. We've got the positivity of this weekend, and even if I still don't feel like I am at the maximum with the bike, we are there. I am very happy, very pleased."
The past year has been far from an easy time for Vinales, but he's also found it highly useful – saying that the lessons he's learned during his time in the "jungle" of the MotoGP pack on opening laps is something that will make him a more complete rider.
The nine-time premier class race winner has always struggled on lap one of races, even in his Yamaha days, unless able to immediately get clear track in front of him. But it's one of the areas where he has most dramatically improved in 2022 – and that should worry some of his rivals now he's on a bike that's supremely stable under braking.
"I need to improve qualifying," he said of the one area where he still believes he has a weakness, "because as soon as we can start with them [the leading pack] we can go with them.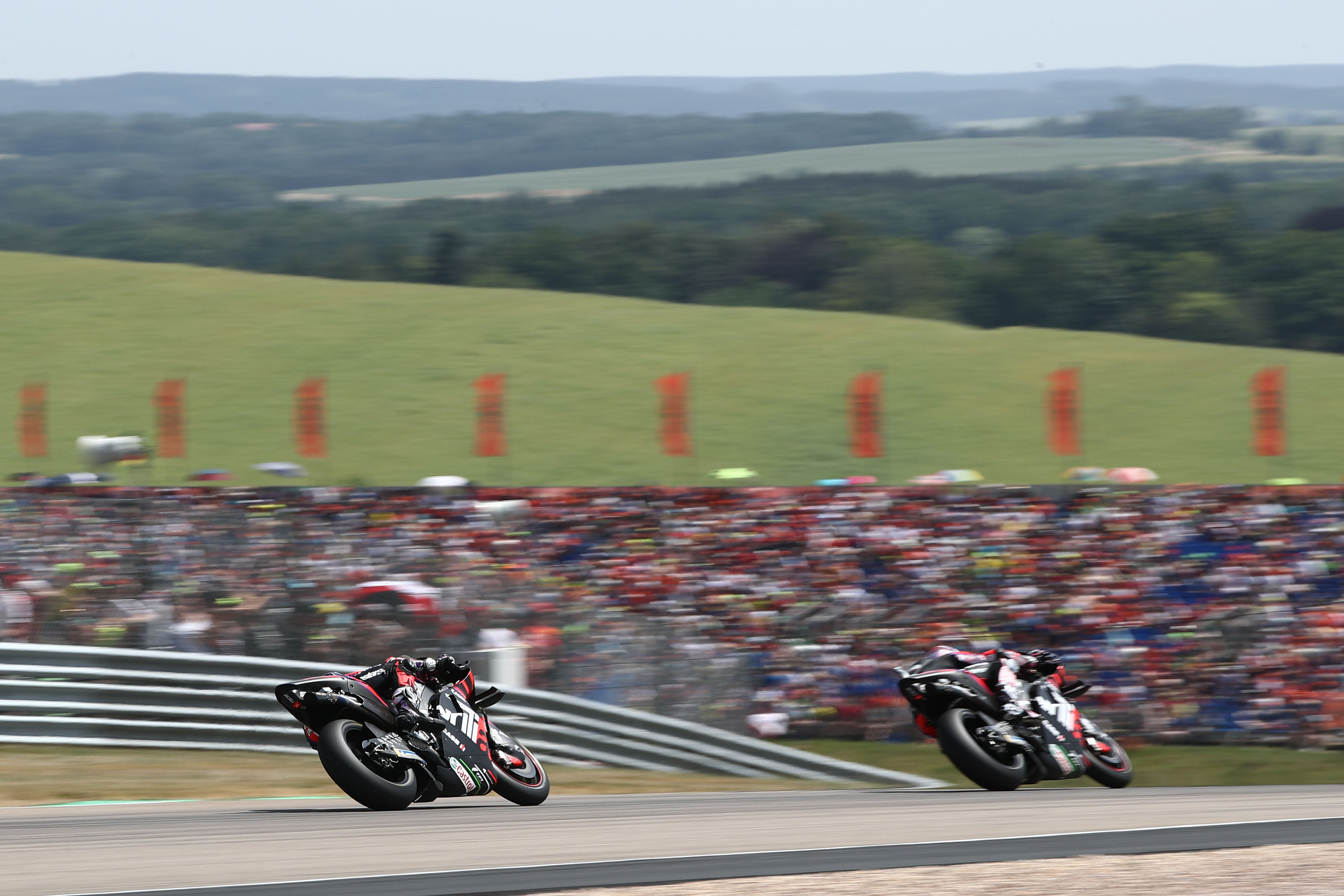 "But I think I passed [Luca] Marini and [Jorge] Martin on the start, and then I went into Turn 1 and I didn't want to give a space. I got bumped many times, but it's OK. Turn 1 here is usually like that – there is no space.
"I'm used to starting on the front row, and everyone there is nice and gentle. But at the back, it is the jungle! You just need to open the elbows and go wherever you want, and I think all these races have been super training to make myself even stronger.
"I feel stronger, that I can overtake easier, I'm better on the first laps. All these steps backwards will make me jump forward; they'll make me a better rider. I'm very happy to see myself able to push, and I was at least battling for the podium."
There was a big significance to Vinales showing such potential at the Sachsenring, given the 2021 race was perhaps the single-worst performance of his Yamaha career, but he is not getting too excited about the sequence of back-to-back races MotoGP is currently right in the middle of.
Vinales was a podium finisher last year at Assen, even as things fell apart around him and the first rumours of a defection started to leak, but he is trying his best to treat this weekend's race as just another, rather than his best chance yet of a first Aprilia podium.
"Even if we go to any other race, I feel like every weekend we're more close and more ready," Vinales insisted.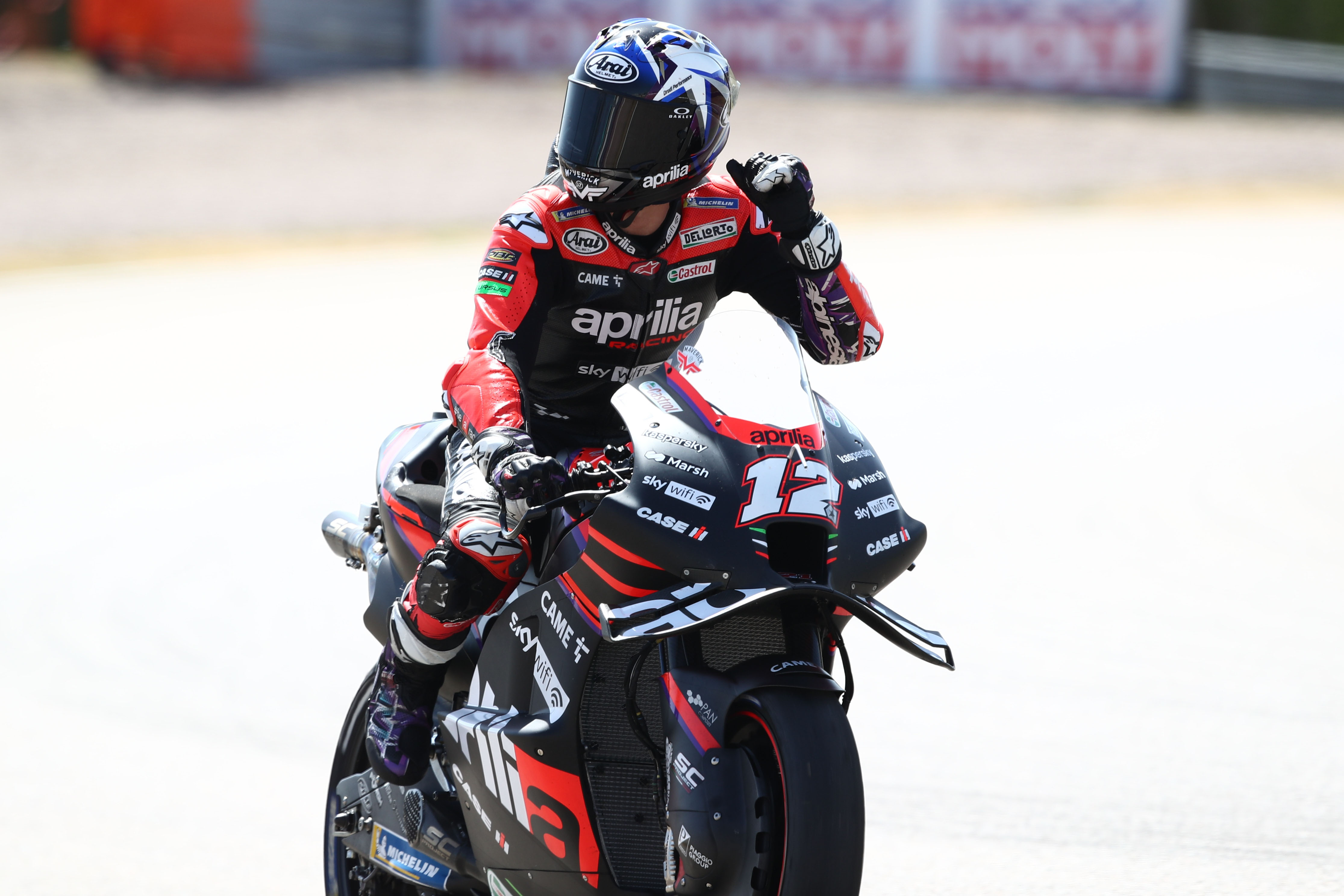 "This weekend was very important because the last weekend here was a very down moment, and in one moment this year it was going to be the best race of the year for me. Actually, it is. One year can change a lot.
"We need to maintain the concentration, we need to keep working in the correct way, but we are making a lot of steps very fast. We just need to keep calm, because when we, the bike and myself, make it, then we will go for it."