Ducati will almost certainly not win its long-awaited first MotoGP riders' title since 2007 this year. That alone means that its 2022 season will not go down as an unalloyed success – but it's clearly no failure either.
The Desmosedici will surely win Ducati a third consecutive constructors' crown. That was to be expected, given it has eight riders in its roster. But it can and should take heart in the fact that all eight have already had their moments this season, proving Ducati's talent pool is indeed as deep as having eight riders suggest.
It has had Enea Bastianini with three races. It has had Marco Bezzecchi dazzle early on to establish a potentially-unassailable lead in the rookie of the year battle. It has had another rookie in Fabio Di Giannantonio take pole at Mugello and back it up with his performances is the weekends after.
And now, it has had Luca Marini produce his best weekend as a MotoGP rider yet, one that showed he can have a meaningful premier-class future after his muted start to the season had seemingly cast doubt on that.
Seventh on the grid and fifth in the race, Marini unquestionably impressed. He'd had a fifth-place finish before – last season, in the Red Bull Ring race remembered for the slicks-on-wet Brad Binder masterclass – but this was clearly more representative. Especially as it marked a third successive top-six finish.
"I would have liked to be able to fight for this position sooner – but at the beginning of the season [it] was difficult," Marini said.
"The crew was new, the team [VR46] was new, the bike [the 2022 Ducati] was new. We struggled a bit, we lost a lot of time. But then after we found a good base setting, and my confidence is getting every time better, every race it's better.
"We are getting there, we are getting closer – and this race is was the first race that I had the potential to go on the podium. And I was believing it. In the other races, thinking on the race, I knew it was really difficult to go on the podium because my pace was not so good. While here, it was like – not like Fabio [Quartararo] and Pecco [Bagnaia], but to fight for the third position, yes."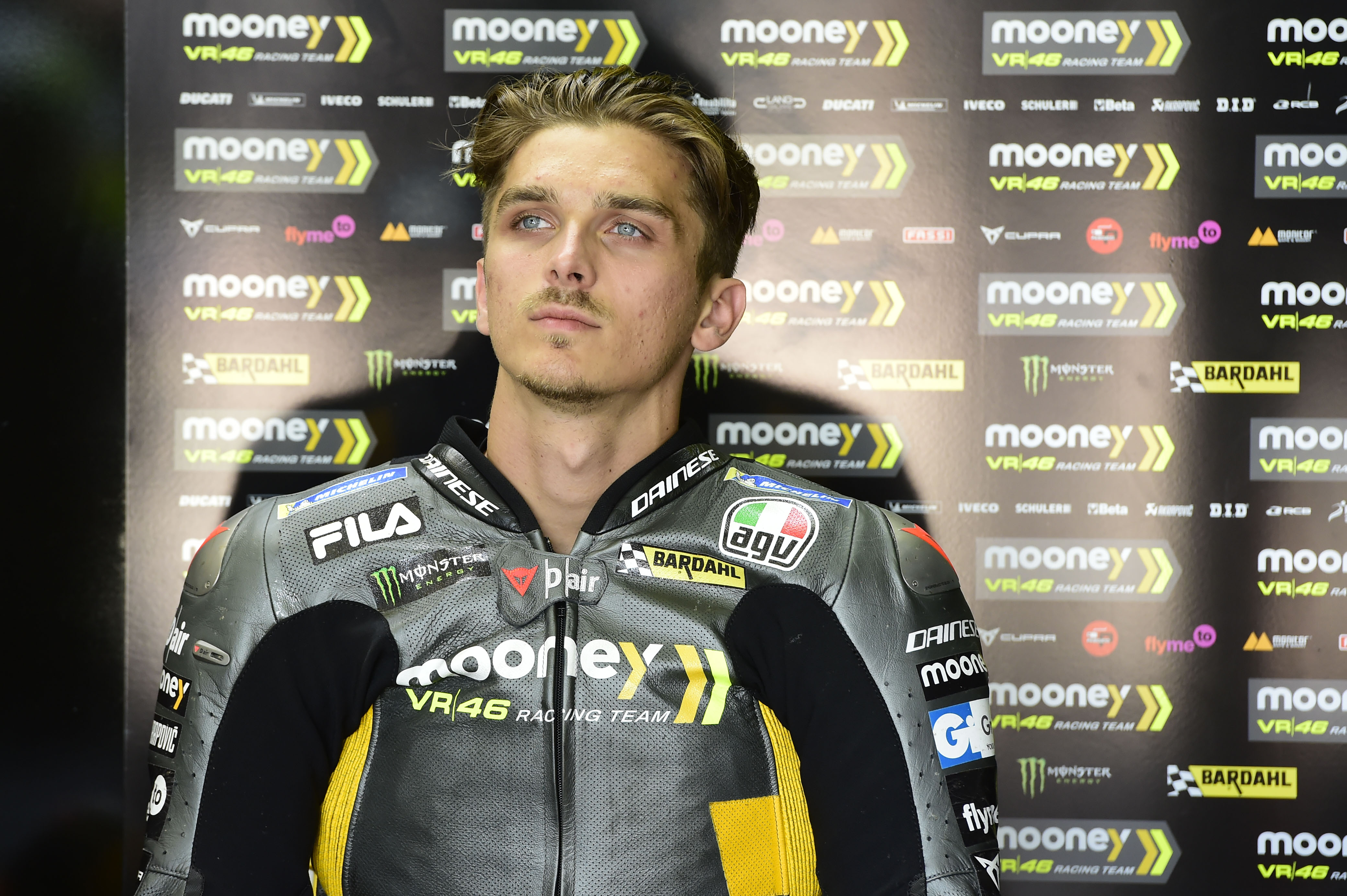 Marini put down his strong Sunday to crew chief David Munoz – who formerly worked with Marini's half-brother Valentino Rossi – making a change that helped him turn better, with more corner speed.
This came after Marini, viewed as something of a workaholic, "looked at the data of every rider" within the Ducati camp during the German Grand Prix, coming to the conclusion that Bagnaia was "making an impressive difference" in carrying more speed through corners despite leaning less.
Marini would not have beaten Bagnaia, who got himself out of the way on the fourth lap. He would also likely not have beaten Maverick Vinales, who dropped out due to a rear ride height device failure.
Yet that's still seventh in a hypothetical attrition-free race, and even then Marini felt he was hampered by a below-par seventh-place qualifying.
This was of note because that had not been the story of his MotoGP career so far. He was a much better qualifier than a racer in his rookie season last year – his qualifying was about on par, maybe even slightly better, than that of then-team-mate Bastianini, but he was getting blown out by the fellow Avintia rider on Sundays.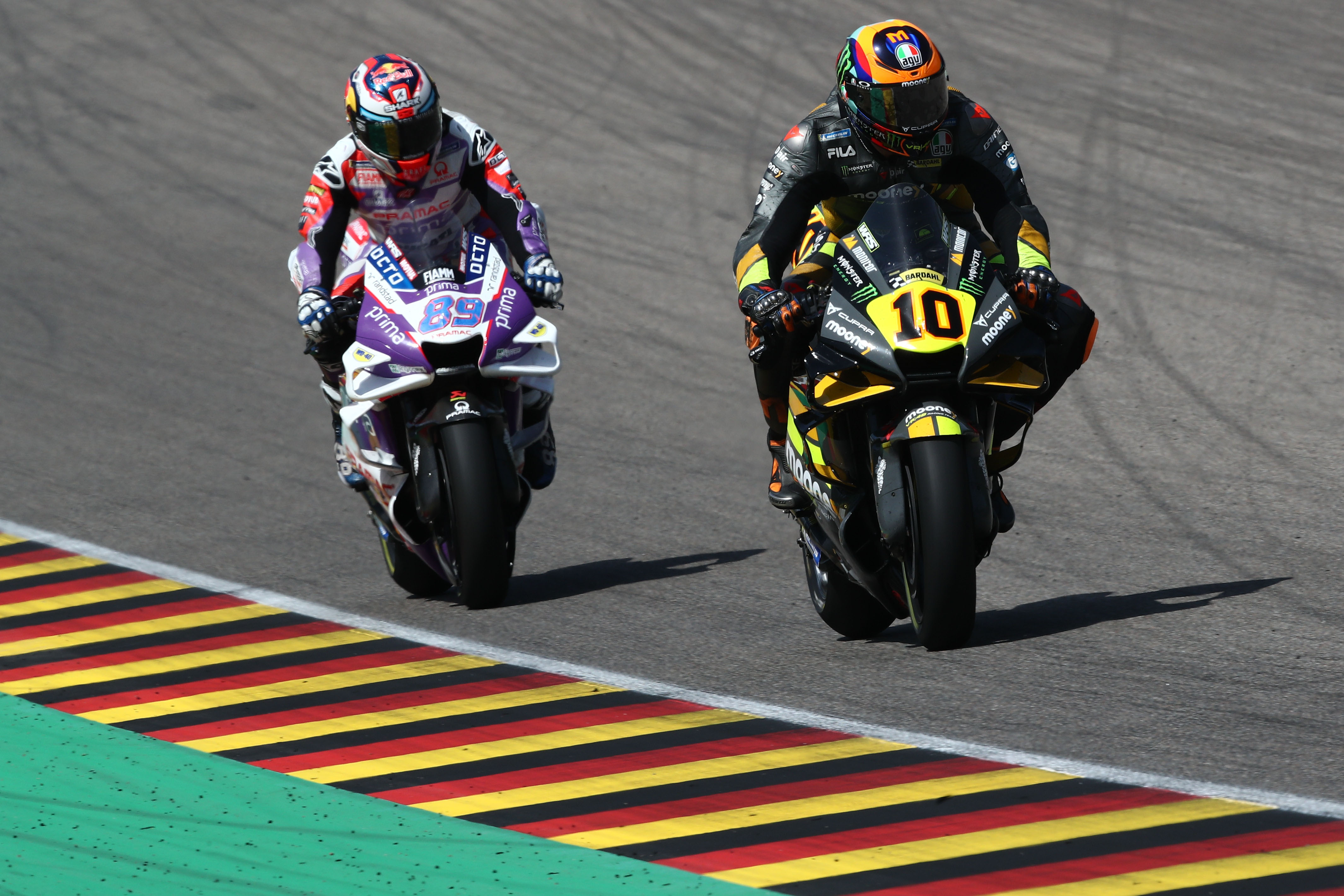 Marini put that down largely to stamina issues on the relatively unwieldy 2019-spec Ducati he was campaigning. He worked on that over the off-season, but he was also upgraded to a 2022-bike – controversially so, given team-mate Bastianini stayed on the 2021 spec despite a pair of podiums.
But the 2021 spec was the spec to have in the early stages of this season. The GP22 runners – both those running a slightly older version of the engine (works duo Bagnaia and Jack Miller) and those staying with the absolute newest spec (Pramac duo Jorge Martin and Johann Zarco, and Marini) all struggled to varying degrees, Marini perhaps more than anyone. Yet now the latest version of the Desmosedici finally looks like the bike it was intended to be, and Marini is getting to properly introduce himself to the premier class.
It was particularly encouraging that a Sachsenring race of gruelling heat and 30 twisty laps didn't leave Marini overmatched. "For me it was not so difficult, on the physical side. Because with this lot of wind, the heat is not so high. And it's very dry here. It's not like Malaysia and Thailand.
"For me – yeah, was a tough race, but, sincerely, nothing compared to Malaysia or Thailand. Nothing. Much easier."
Marini's position for 2023 never looked under much threat. The VR46 programme has Moto2 points leader Celestino Vietti waiting in the wings, but he doesn't look quite ready and is overwhelmingly likely to remain in the intermediate class for next year. Whatever MotoGP links there have been for Vietti as of late have been with the new RNF Aprilia squad rather than VR46 Ducati.
But while Marini's familial ties to Rossi could be cynically – but somewhat understandably! – viewed as the main reason for his job security before, that is no longer a fair assertion.
"Last year I worked on myself, tried to adapt to the new category, to the new tyres [from Dunlop to Michelin], to the Ducati bike, and tried to improve my riding style and adapt it to the MotoGP. While this year, especially during the test, I was able to change also the bike, and have a setting that let me ride in an easier way without thinking on what I have to do, just ride more natural, with my instinct.
"I think that I gain more confidence every race and we need to continue with this trend and then we will jump on the podium."