When Tech3 KTM rider Danilo Petrucci got wiped out of his final-ever home MotoGP race on Sunday at Misano, you'd have forgiven the Italian for displaying a bit of anger in the gravel trap towards Suzuki's Joan Mir. But it's testament to both of them that Petrucci's response, after an initial raising of the hand, was then to put his arms around his rival and hug it out; and it's actions like that that mean Petrucci's legacy in MotoGP will far surpass his results – even though he's a two-time race winner.
Petrucci looked to be set to have one of his best races of the season, and one of his best so far for KTM after a horribly disappointing season with the Austrian manufacturer, after rain in practice very much played to his strengths and gave him one of his best qualifying performances of the year.
Yet it all came to an end on only lap three of his final race, when a mistake from Mir during a not particularly aggressive overtake brought it all to an end for him.
Bad news for @JoanMirOfficial, he has a Double Long Lap penalty for a jump start 😲

Even worse news, he's out after contact with @Petrux9! Good to see no hard feelings between the two 🤝#MatchPoint | #EmiliaRomagnaGP 🏁 pic.twitter.com/4q4B5BTxgR

— MotoGP™🏁 (@MotoGP) October 24, 2021
"Unfortunately at the second corner, Joan tried to pass me," Petrucci explained, "but he fell and we crashed together. He tried to overtake, but I was really fast [entering the corner], and there's not many more words to say. These things happen.
"It would have been lovely to finish my last grand prix here in Italy, to say hello to all my friends from the circuit, but I think we didn't have a lot of luck this year. I'm very sad. We knew that I couldn't have been so fast, but it would have been lovely to say hello one last time."
But, with the emotion of his farewell by far the biggest factor of the weekend for the Italian, he says that there was no point in holding any resentment against Mir, hence his immediate forgiveness of the former world champion – even after taking him out of his home race on his 31st birthday!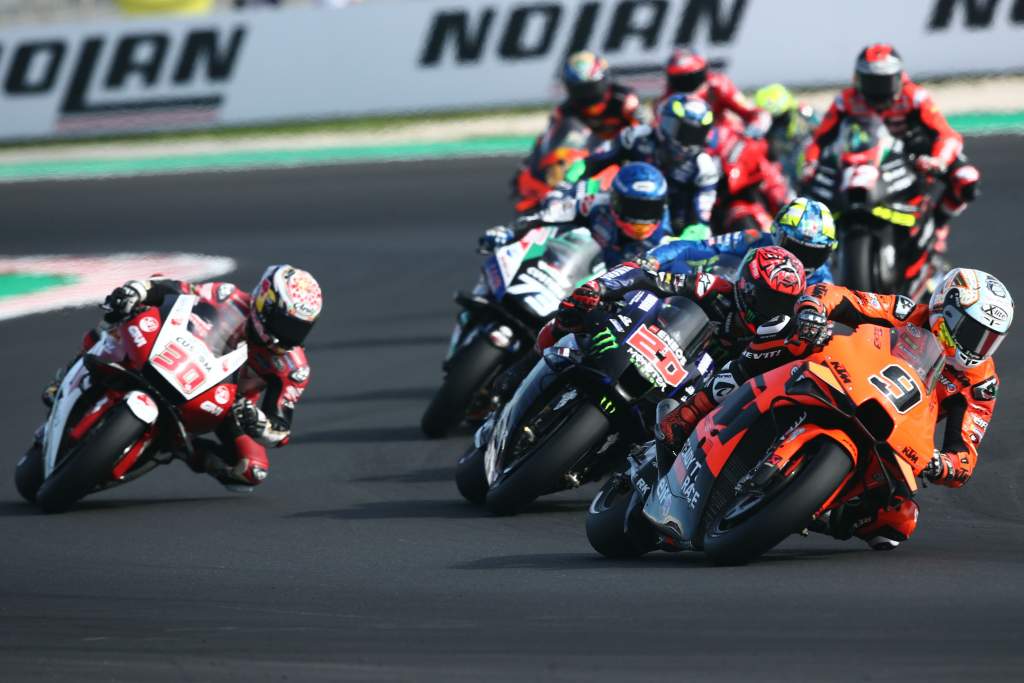 "He asked me 'sorry', but I understood the situation," he explained. "He is very young, he is very fast, and maybe he knew that he could have the pace to stay much more in front. Then they told me he had even got two long-lap penalties [for jumping the start].
"For sure I was much slower than him, and he was in a hurry to pass me. If we were fighting for the top places, he would have been penalised, but I'm not someone who likes to ask for this."
And that really is a hallmark of the legacy that Petrucci will leave behind when he heads off to pastures new with KTM's Dakar Rally project at the end of the season. Not just one of the funniest and wittiest guys in the paddock but also among the friendliest and most chilled out, it says a lot that his biggest takeaway from his weekend was not the crash but the crowd.
"No one can give me back the emotion to say emotion to the public like I did all weekend," he admitted after the race. "It was so nice. It was one of the biggest emotions of my life when you say hello to the grandstands and everyone stands up to say hello back. It is an incredible emotion.
"But everything is gone and I'm so sorry for myself and the people who came to watch me. I want to thank all the people, and I would have liked to have done one more lap at the end of the race to say hello but it wasn't possible [because the bike was too damaged]."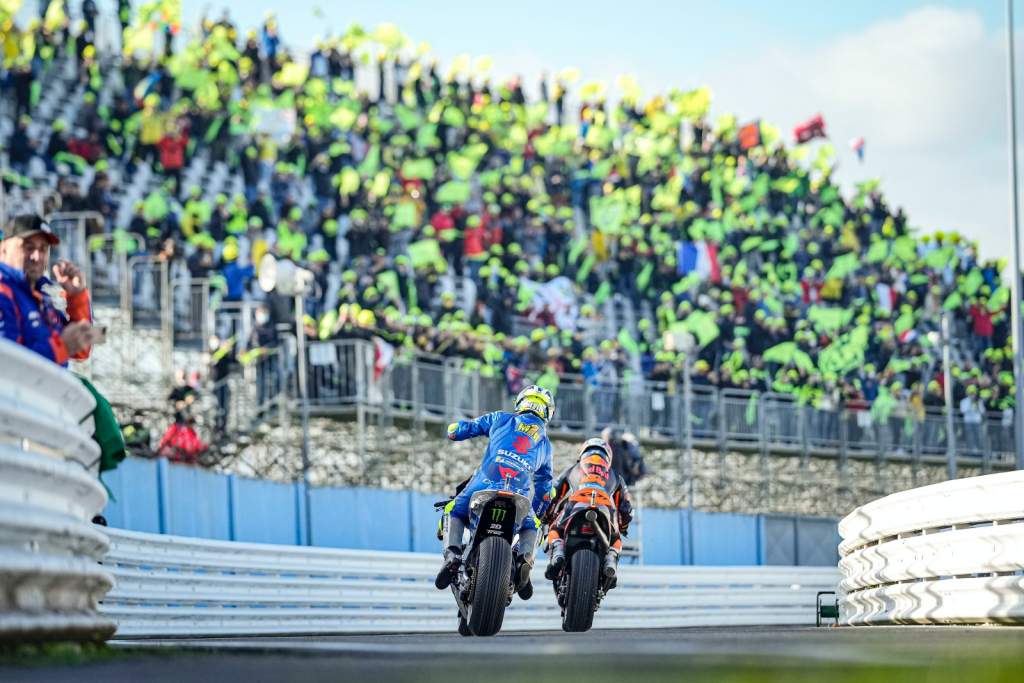 For his own part, it's perhaps no surprise that Joan Mir, a man very much cut from the same cloth as Petrucci, was contrite about his role in ending the Italian's home race prematurely.
"The mistake was completely mine," he conceded, "because in the race I didn't know how to manage the situation, and I'm not happy about that. When I was overtaking him it wasn't a crazy maneuver, but with the temperature you have to be careful with the left side [of the tyre] in the early laps.
"When I changed direction, I just lost the front. It was the type of maneuver where I wasn't going to hit him or do anything crazy, and I think that's why he wasn't angry with me. I apologised to him, because it's the type of thing that I don't want to do.
"Although I have to say as well; starting MotoGP in 18th is another race. All the riders closing lines… It's crazy. It is what it is when you start in 18th; a lot of riders in front and a lot of confusion.
"And I'm happy that Danilo is fine. It's not the birthday present I wanted to give to him!"