Among all the drama of the 2021 MotoGP title-deciding Emilia Romagna Grand Prix at Misano, it was almost easy to miss the significance of Marc Marquez's race win.
But it's one that sent a significant message, representing the latest step on his long road to recovery from the potentially career-ending injuries he suffered in July last year.
Sunday's race, won by Marquez ahead of Repsol Honda team-mate Pol Espargaro after both Pecco Bagnaia and Jack Miller crashed out in front of the duo, marks his first back-to-back victory since he took victory at Motegi and Phillip Island at the end of the 2019 season, almost two years ago.
It was an exceptional result and his first win since the injury at a clockwise circuit that hasn't traditionally been one of his strongest rather than at an anti-clockwise track where he's previously dominated like at the Sachsenring and Austin.
Is it a sign he's back to full fitness, though? No.
Rather, it's the latest step on the journey – something he admitted after the race when he said that in reality it wasn't a rapid improvement in form that had allowed him to win but the conditions all weekend during rain-struck practice and qualifying days.
"In the last laps the distance between me and the others was very big, which is important because I had this margin to ride in a good way," Marquez explained.
"In the last laps I was struggling a bit with my physical condition.
"The fact that all weekend was in wet conditions gave me the chance for this to be the first Sunday where I arrived fresh, with energy.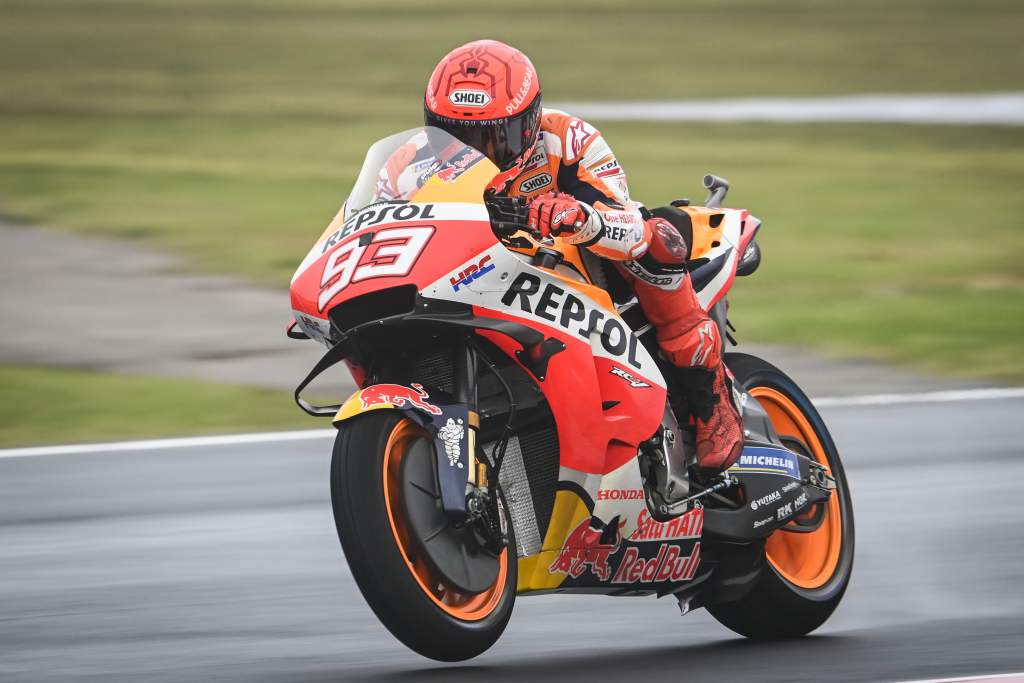 "When I woke up I felt that the arm was there, that I had power. This helped me.
"The biggest difference this weekend is that we rode all the time in the wet. You don't push, you don't force, and today I was fresh and I didn't have a lot of pain in the arm before I started the race.
"I was able to ride in a good way, and I was coming from a feeling in the test where I was tired and wasn't riding well.
"It's what I've saw all season. When I am fresh, the feeling is there. But the problem is that we can't start on Friday and race on Sunday. There is still a margin to improve."
Yet it's no doubt still an important step in his progress, given that even as recently as a month ago he wasn't able to be anywhere near as competitive at Misano when MotoGP last visited the Italian circuit for the first of 2021's two races there.
There are still significant physical limitations on what his body is capable of – and he remains far from the incredibly physically aggressive Marquez of old for now.
"It's true that in the braking points I'm starting to feel like I can ride well," he said, "and it's true that it's in the fast areas where I am struggling more.
"For example in Misano all like T3 [sector three], when the bike is shaking a lot and playing with your body, I can't play there.
"With the high speed it's something difficult, but I know that behind another bike, my bike becomes more stable and I'm able to ride well.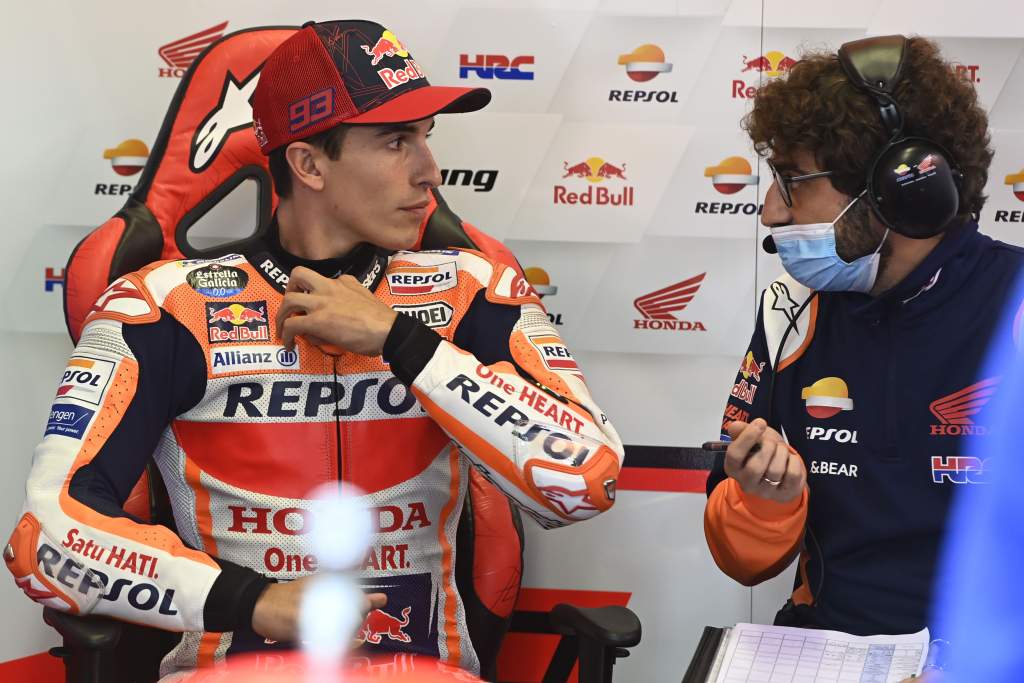 "It's progression, it's a natural thing, a natural way to improve this year.
"I started in one place, and step by step. It looks like there I was struggling even more than when I started, but in the second part of the year the feeling is good.
"The mistakes I made in Austria and Silverstone were not related to my physical condition, they were related to the physical circumstances."
There is an obvious metric of his improvement of late, with his race results dramatically improving since the five-week MotoGP summer break gave him a chance to rest up.
Marquez admits that in his head he's running his own championship since the action resumed, and it's one that he's not doing badly in -scoring only one point less than title contender Bagnaia since the Red Bull Ring races in August.
"I'm riding my own championship, from Austria to here," said Marquez.
"And in that I'm not far from the best riders in terms of points.
"There are some targets inside my mind, inside the team, just to keep motivated and to prepare well for the 2022 season.
"I don't feel comfortable on the bike, but step by step I feel better and my physical condition improves. As soon as it improves, the results are coming."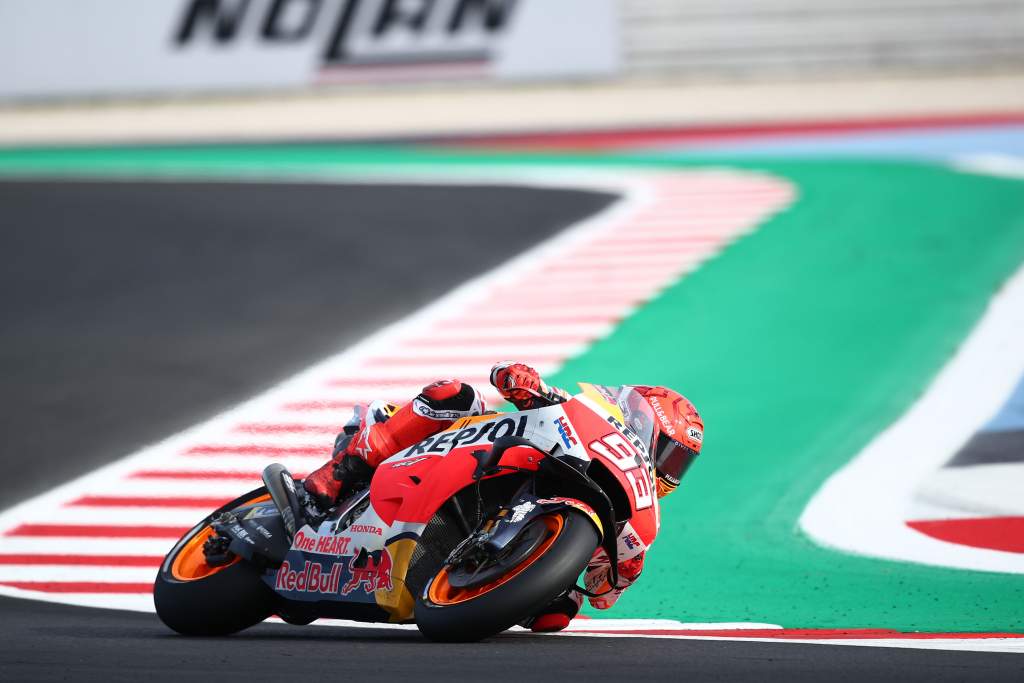 So what comes next in Marquez's masterplan for improvement?
Thankfully for him and his body, there are only two more rounds of the 2021 season left, even if they do present a new challenge to him by being back-to-back over consecutive weekends.
Keen to use that fresh challenge as his final measuring point of the season, there's no doubting that the 28-year-old is very much looking forward to the series' winter break and an all-important chance to see what improvements more rest brings to his body.
"The next step of course is to try and concentrate on the last two races, and I would like as a minimum to try and finish in the top five of both," Marquez said when asked by The Race about his targets.
"It can be a conservative mode, but they are two races in a row and I don't know how I will feel.
"But top five is a good target, and if we can do better we will push.
"In the winter time first of all I need to take a rest, and just try to understand if just by taking a rest I can improve.
"We are trying to analyse well the situation, to make a good plan, and try not to be 100% in February.
"I want to be 100% when the season starts in Qatar. That will be the main target."