Luca Marini, now the tallest and heaviest rider on the MotoGP grid, has become the latest in a series of tall and heavy riders to call for the premier class to mirror the rules already in place in the Moto2 class and introduce a new minimum weight that incorporates not just bike but the combined weight of bike and rider.
Marini, who is 184cm (6ft) tall and weighs 69kg (152lb), is far from particularly heavy or tall by general standards, but with racers increasingly becoming smaller and lighter as they more and more conform to a similar physical model of small and light, it means that he believes that he lines up every weekend at a considerable disadvantage to his rivals.
That issue came to a particular head at last weekend's French Grand Prix where he was left struggling with traction issues: an unusual complaint to hear from a Ducati rider.
"Maybe because I'm taller than the other riders," he said when asked about his grip problems. "Maybe we should have a minimum weight for the rider and the bike, if [MotoGP CEO] Carmelo [Ezpeleta] and Dorna would like to do this. For me it would be better, and I know for [Danilo] Petrucci it was the same.
"In my opinion, it can be more fair, because in other sports it is like this. It's like this in other categories of motorsport, for example, Moto2 is like this. It can be more fair. I don't know if this is the problem or not, but it can be a start."
Currently, MotoGP's minimum weight only accounts for the bike, which must clock in at at least 157kg. However, in both Moto2 and Moto3, the rules include the complete weight of the rider in full protective equipment as well as the bike, with the combined minimum for those two classes coming in at 217kg and 152kg respectively.
With Moto3 bikes coming in at around 83kg, that allows riders to weigh as much as Marini without facing a huge disadvantage in terms of their size.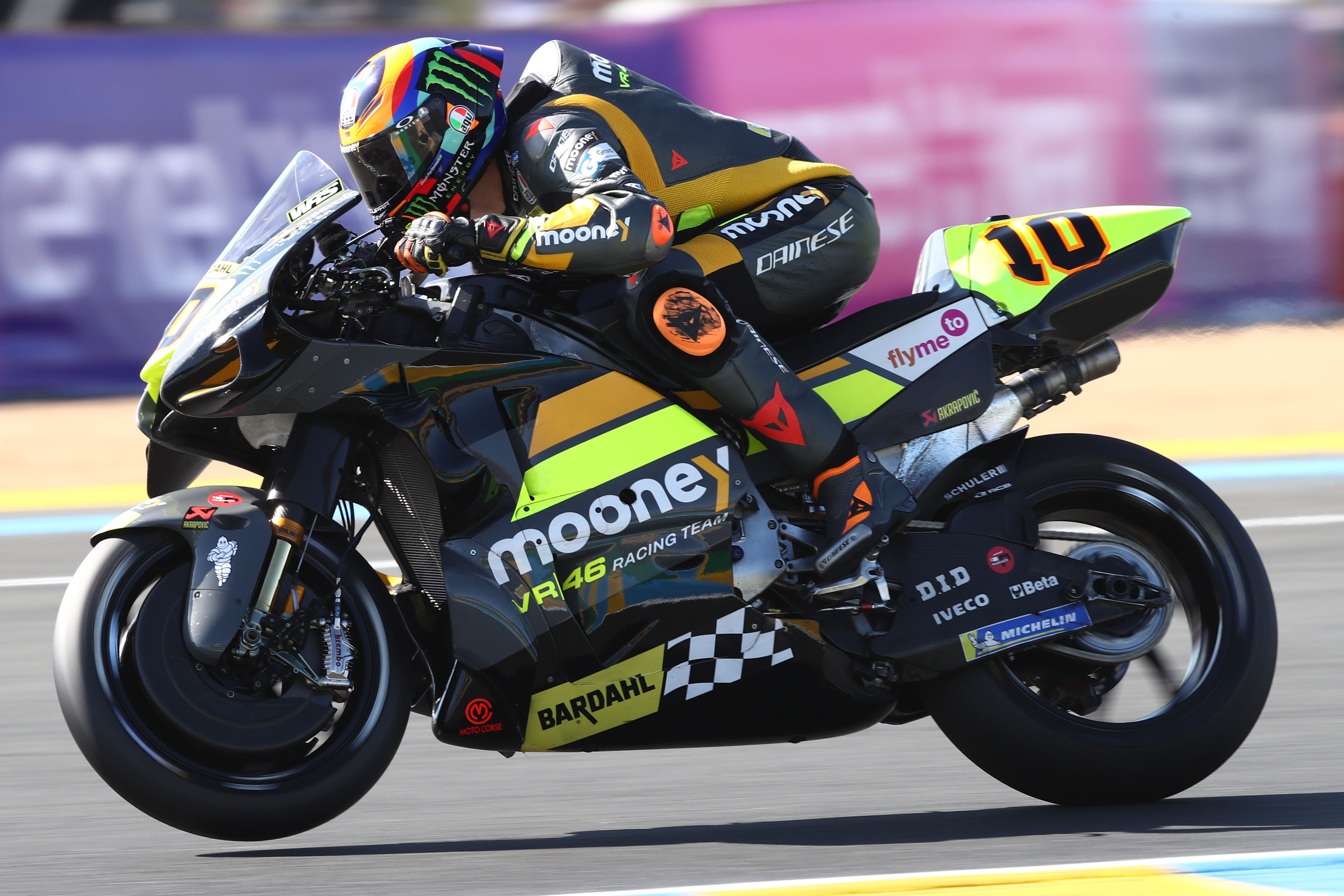 Of course, even if they are under, it still hands an advantage to the lighter riders in the class. If you're under the minimum weight, the difference needs to be made up with ballast: but with that additional material (normally lead blocks) able to be added anywhere on the bike, it means that it in itself can give a performance advantage by helping to tune the machine's centre of gravity.
However, what it does prevent (by being generous in its allowances, with the average Moto3 rider without leathers and helmet coming in at around 55kg) is the rush to become as light as possible.
That had become a real issue before the new rules on combined weights were made – especially in Moto2 where rumours of illegal drug use, eating disorders and incredibly damaging and unhealthy diets had become commonplace.
That, of course, has also happened in the premier class, with former Ducati race winner Andrea Iannone banned from the sport for four years after testing positive for a steroid that helps athletes lose weight, at a time when his then-employer Aprilia had the only bike on the grid that didn't have to have ballast added to it to meet the 157kg minimum.
Altering the rule to mirror the smaller classes in MotoGP is likely to have a limited impact on those at the sharp end of the championship, but with others like Iannone, Marini, and (as he stated) Petrucci coming up against their natural limits of weight loss, it's perhaps a small but important concession to make that would have an outsized impact to some racers.