The 2021 MotoGP season ended last Sunday in pretty textbook manner for Suzuki rider Alex Rins: with a crash out of a good position while chasing down the riders in front of him.
That habit has become an ever greater problem for him over the past few seasons, and it's one that he needs to fix sooner rather than later if he wants to keep his job beyond 2022.
Rins' crash in Sunday's Valencian Grand Prix came almost as consistently as thunder after lightning.
The 25-year-old made a strong start, got into a good position alongside team-mate Joan Mir and amongst a trio of Ducati riders, with a podium and potentially even a victory in sight.
And then he did what he does – he overextended himself chasing down Jorge Martin and tucked the front, finishing out the 2021 season in the gravel trap.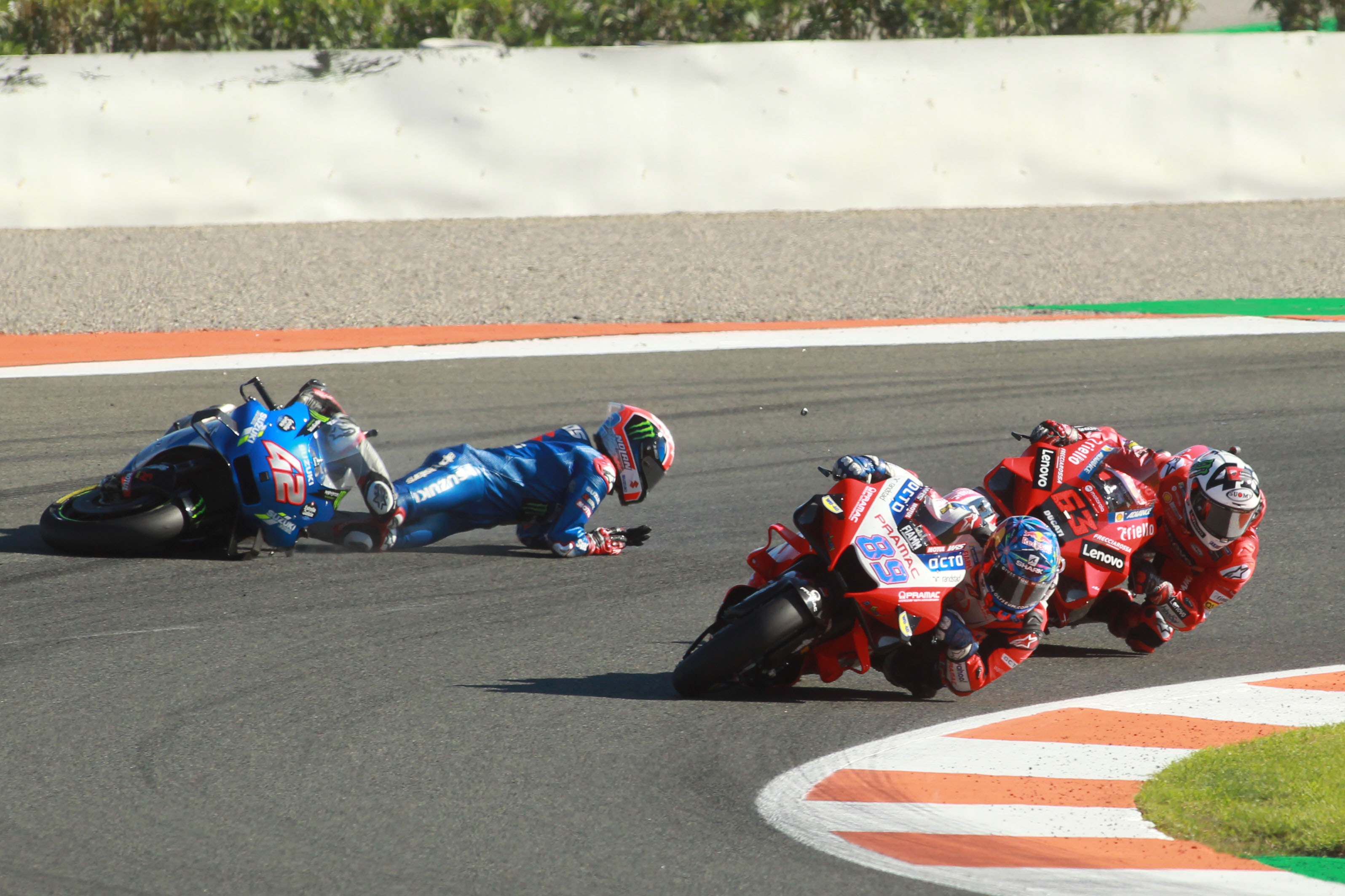 "It was a very frustrating race, because as everybody has seen, we were there fighting with everyone," Rins said.
"I was waiting, our strategy was to wait until the tyres went a little down, then attack.
"But I modified the line a little bit in corner six and I lost completely the front tyre.
"It's a big shame, but we need to think on the next year."
That next year can't come soon enough for Rins.
He crashed in a third of 2021's 18 races – and of course missed another at Barcelona completely after rather stupidly crashing his bicycle into the back of a parked van when he was texting rather than paying attention while cycling on the circuit.
But 2022 is particularly eagerly awaited by both Rins and Mir because it's no secret that the 2021 GSX-RR has somewhat stood still in development compared to Suzuki's rivals.
Partly due to the tiny Suzuki race department in Hamamatsu being considerably harder hit by the COVID pandemic than its European rivals in particular, and partly due to something of a lack of direction within the management following the departure of team principal Davide Brivio for the Alpine Formula 1 team at the end of 2020, it's perhaps the key factor in Mir's rather lacklustre title defence on the other Suzuki.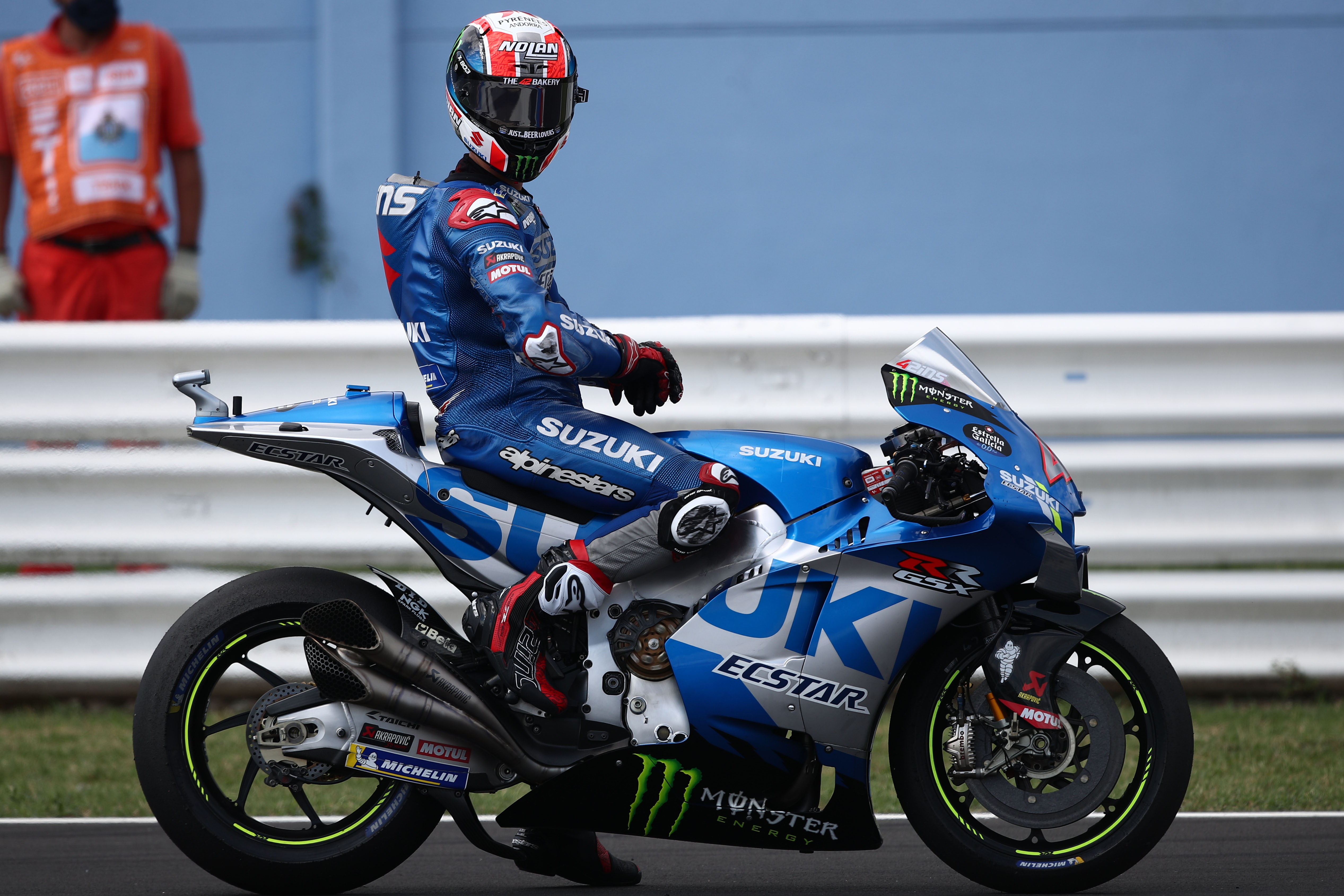 And, with a bike at a technical disadvantage to their rivals, Rins argues that his crashes are a clear indicator of how hard he's having to ride the Suzuki just to try to stay in contention with his rivals.
"I think if we improve the bike a little bit, then I will ride better," he insisted.
"We are riding at the limit of the Suzuki, and for this when we do a small mistake we make a crash. So if we improve the bike, this will be another thing."
And yet here's the thing: Rins' problem only exists on one side of the garage.
Sure, Mir didn't have the season he wanted either – but he finished the year in third in the championship, with just two crashes and six podiums. Rins, by comparison, had one podium and six falls.
And while he's still Suzuki's most proven race winner – he's stood on the top step of the podium three times since joining it in 2017 compared to Mir's single trip there despite lifting the 2020 crown – you have to believe that patience with Rins back at headquarters is drawing to an end.
Because the reality is that while blaming his persistent issue of crashing out while under pressure might be all well and good in 2021, it's not a new phenomenon – it's something that he was equally as guilty of last year as well, even as Mir took the bike to the championship.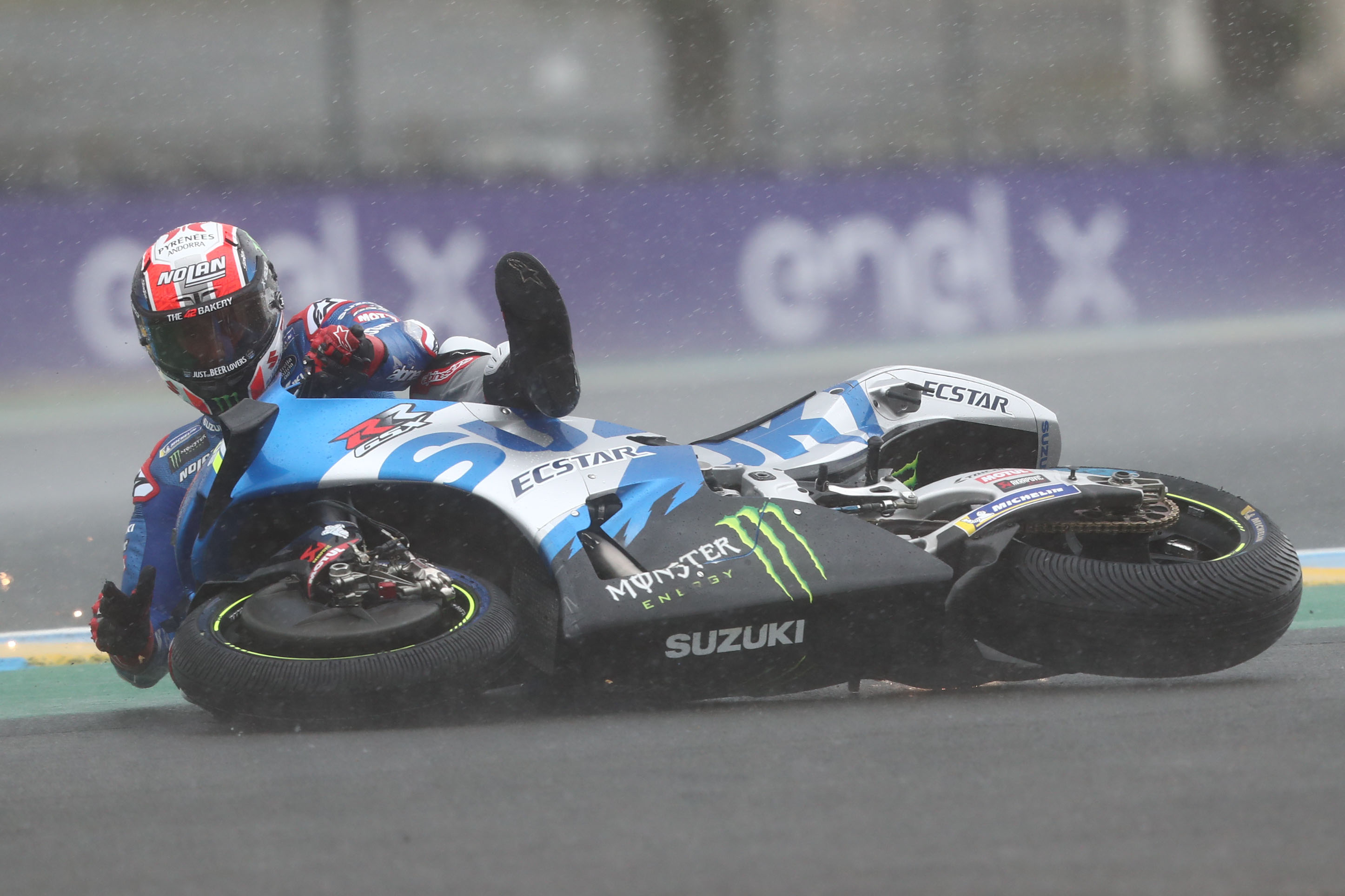 So clearly the issue is something deeper set, something with more substantial underlying issues. Whether that's riding style, concentration or confidence, it's something that is in the hands of Alex Rins to fix – and something he needs to devote his winter break to fixing.
Nothing lasts forever, and that includes his time at Suzuki. We've seen before that the brand, the only on the grid without any form of feeder set-up whatsoever, likes to promote directly from Moto2, and with Rins' contract expiring at the end of the 2022 season, you've got to think that it's casting an eye to the middleweight class.
Hot young names like Celestino Vietti, Tony Arbolino and Aron Canet will be looking to step up to the premier class for 2023, and Suzuki will be watching with interest.
Ironically, though, the one thing that could save Rins would perhaps be the departure of his team-mate Mir.
Clearly a capable championship winner, if the new Suzuki doesn't give Mir what he feels he deserves technically for 2022, then it won't come as a surprise if he looks to the likes of Repsol Honda for a new job.
Should that happen, Suzuki will want some continuity in the team – and that could save Rins' bacon for another few years.