Ducati MotoGP rider Jack Miller admits he's feeling the heat from the firm's impressive crop of premier-class rookies, as he heads into a contract year.
Miller and team-mate Francesco Bagnaia are both signed through 2022 as factory Ducati riders, and have helped the manufacturer to the teams' and constructors' championships this year as both recorded their best MotoGP seasons yet.
But while Bagnaia ended the season as championship runner-up, aided by a run of four wins in the last six races, Miller wound up a further 71 points back in fourth place – and is currently the more likely rider to make way if Ducati decides to promote a rider from one of its satellite teams.
In 2021, Ducati had rookie Jorge Martin score four poles and a win, the first-ever for the satellite Pramac team.
It also had two of its proteges on two-year-old Avintia bikes, with Enea Bastianini ending the season in spectacular form and Luca Marini, though quite adrift of the aforementioned duo, getting on the front row.
In the season finale, Martin overcame a lingering sickness to finish in the middle of a Ducati 1-2-3, right ahead of Miller and right behind Bagnaia.
When asked about Martin's campaign by The Race after the Valencian GP, Bagnaia described the 23-year-old Spanish rookie's season as "more than good".
"I think he has done a really great season, he must be happy for what he did. And today he was also very competitive," he added.
"As a rookie, for sure our bike is not the easiest one when you start – but from the start he was learning very quickly, the things where I needed more time [as a rookie at Pramac himself in 2019].
"This is the first year that I feel so great with this bike.
"OK, now our bike is very competitive but also last year it was competitive and sometimes I was fast but more of the time I was behind."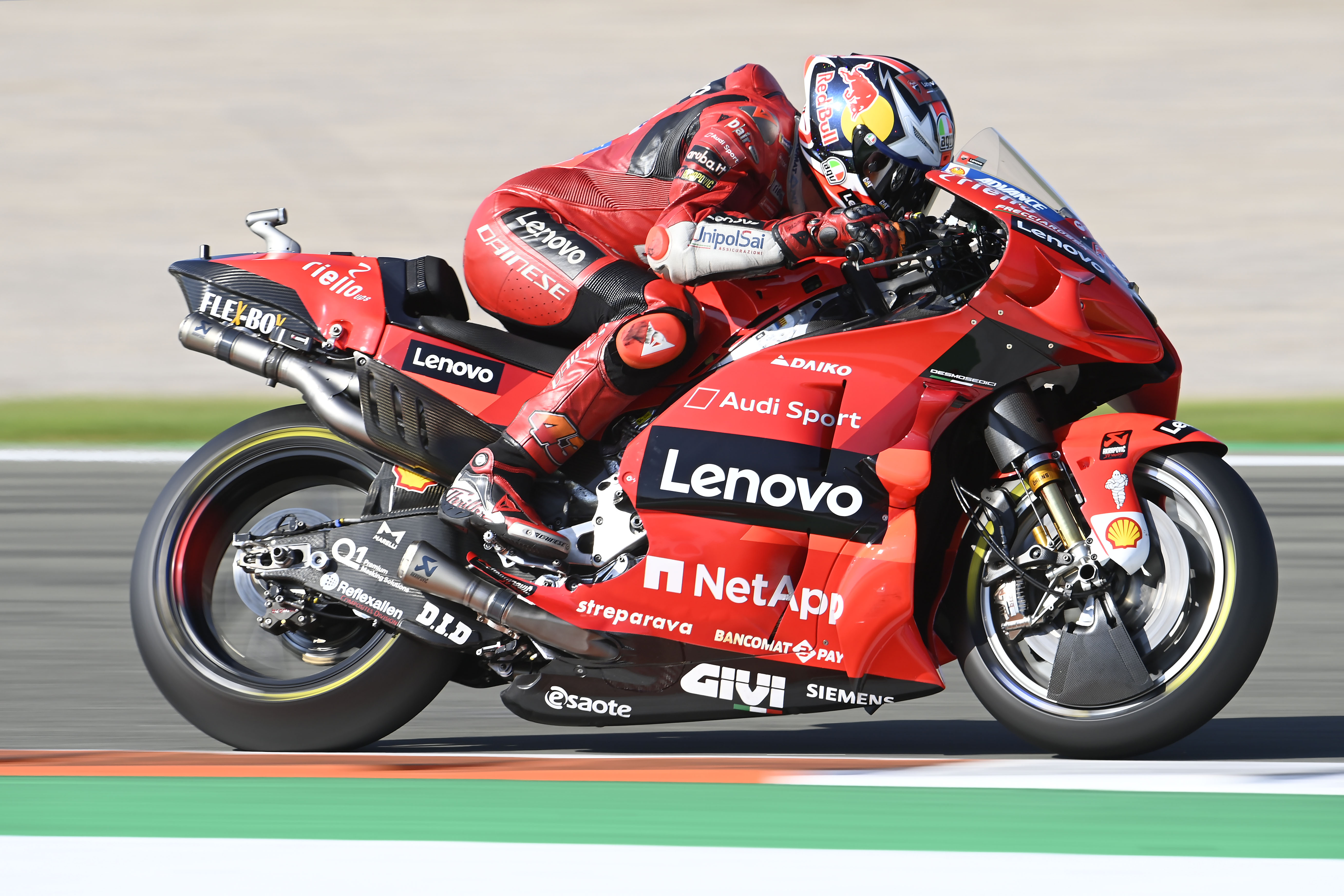 "Like he said. I think this bike ain't easy, by any stretch of the imagination," said Miller, agreeing with Bagnaia. "It's got its characters and everything like that. All the rookies have really… it makes me nervous, really, because they just keep getting faster and faster and faster.
"Jorge's done a fantastic job. He's come in with the professionalism that maybe I was missing when I came in [in 2015], for sure.
"He's really stepped up to the plate in that sort of department, he's done a fantastic job in his racecraft… it's a lot of things that took me a long time to learn. I think he's a very complete rider."
Before graduating to the works line-up, Miller himself had spent three seasons at Pramac Ducati, first on a year-old bike and then on a factory-spec machine.
By the end of his Pramac tenure in 2020, he was regularly outpacing factory duo Andrea Dovizioso and Danilo Petrucci, the pair struggling to gel with Michelin's new rear tyre construction for that season.
"It makes me nervous, like I said. Him [Martin] and Bastianini, when you get passed by a year-old bike, I know how Dovi and Petrucci felt before when I used to do it to them, and that ain't a good feeling, that's for certain," Miller continued.
"I wish these rookies would slow down a little bit, but it makes me more and more keen to try and improve myself and become a better rider myself, because it's amazing to see how well they're doing at such a young age, and how well they're going to keep doing."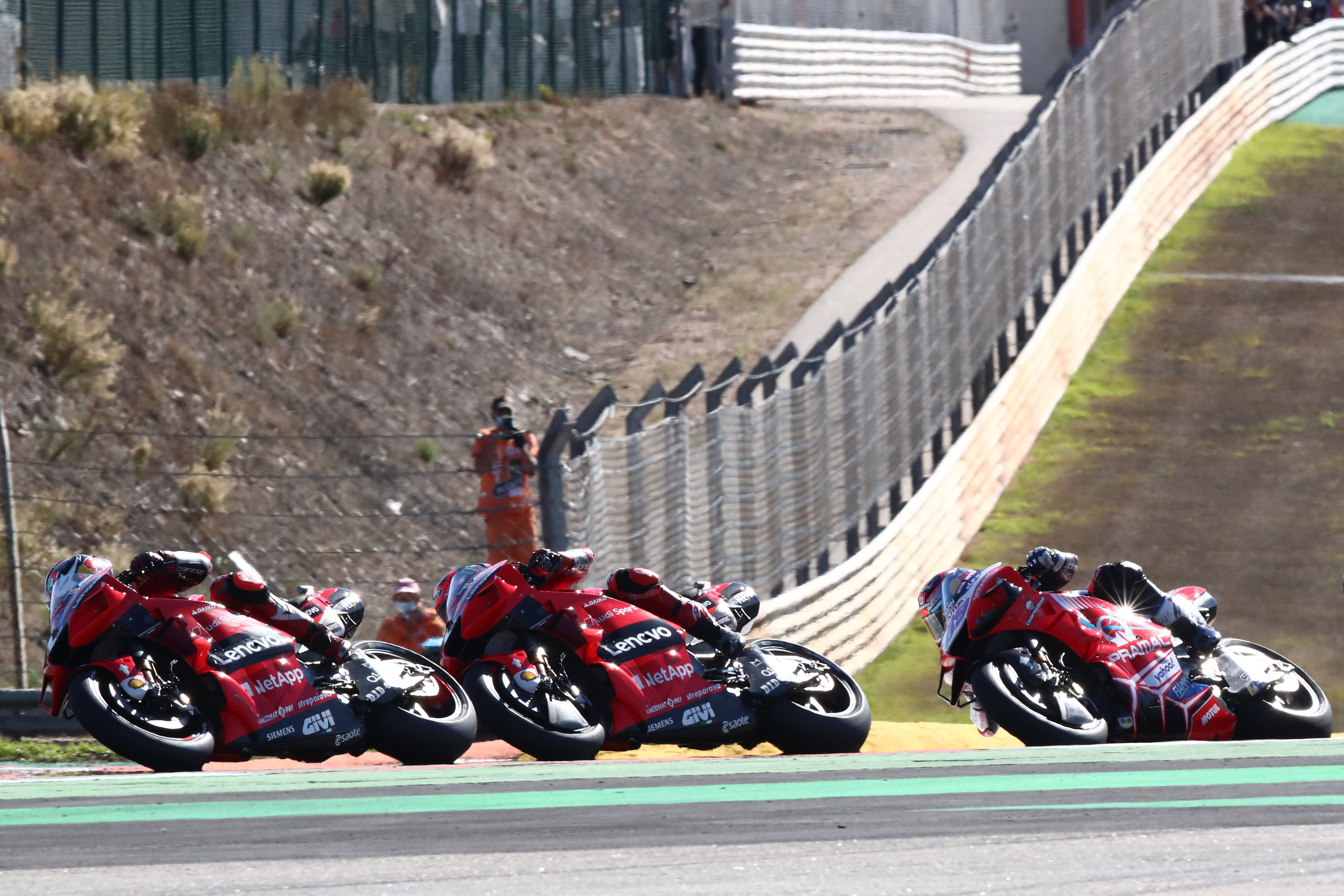 Ducati will have five factory-spec Ducatis on the grid next year, with Marini receiving 2022-spec equipment at the VR46 team, joining the ranks of the factory duo and the Pramac duo.
Bastianini, who switches over to new Ducati satellite team Gresini, will now have a year-old bike – but one that will receive upgrades.
Bagnaia felt Bastianini, who scored two Misano podiums, "did an enormous job as a rookie", but also reckoned his fellow Valentino Rossi protege Marini showed a lot of single-lap speed while "struggling a bit more in the races".
"I think that all the riders in Ducati are very, very fast and competitive," Bagnaia concluded.