It's now a year since MotoGP's superstar seven-time champion Valentino Rossi retired – but if the recent 2022 season finale at Valencia proved anything, it's that the Italian legend's legacy still looms over the series like a shadow.
And that's not a good thing in an age where MotoGP is experiencing falling audience numbers and an inability to create a superstar to replace Rossi.
It is of course completely normal that his presence should have been felt more at Valencia than anywhere else this year, as he turned up to see his VR46 Academy protege Pecco Bagnaia crowned as the world champion – and no one in the world of racing wouldn't have wanted Rossi to be there given the amount of blood, sweat, tears and cash that he's pumped into the future of Italian racing.
There's a line between Rossi appearing at the race and Rossi being the centre of attention at the race, though.
Throughout that weekend, we received extensive social media notifications in turn turned into news stories by a host of brands: he's coming to the race, he's arrived at the race, he's spoken to this person or that.
After the chequered flag went out to secure Bagnaia's title, Rossi somehow got more TV airtime than race winner Alex Rins. When Bagnaia was questioned by the series in the press conference celebrating his title, the third topic raised was Rossi.
Of course, this problem isn't about Rossi himself or his actual actions: in fact, if his low-profile appearance at Valencia where he was very much trying hard to fly under the radar, was anything to go by, it's entirely possible that he more than anyone else is keen to escape the hype train that surrounds him anywhere he goes in bike racing.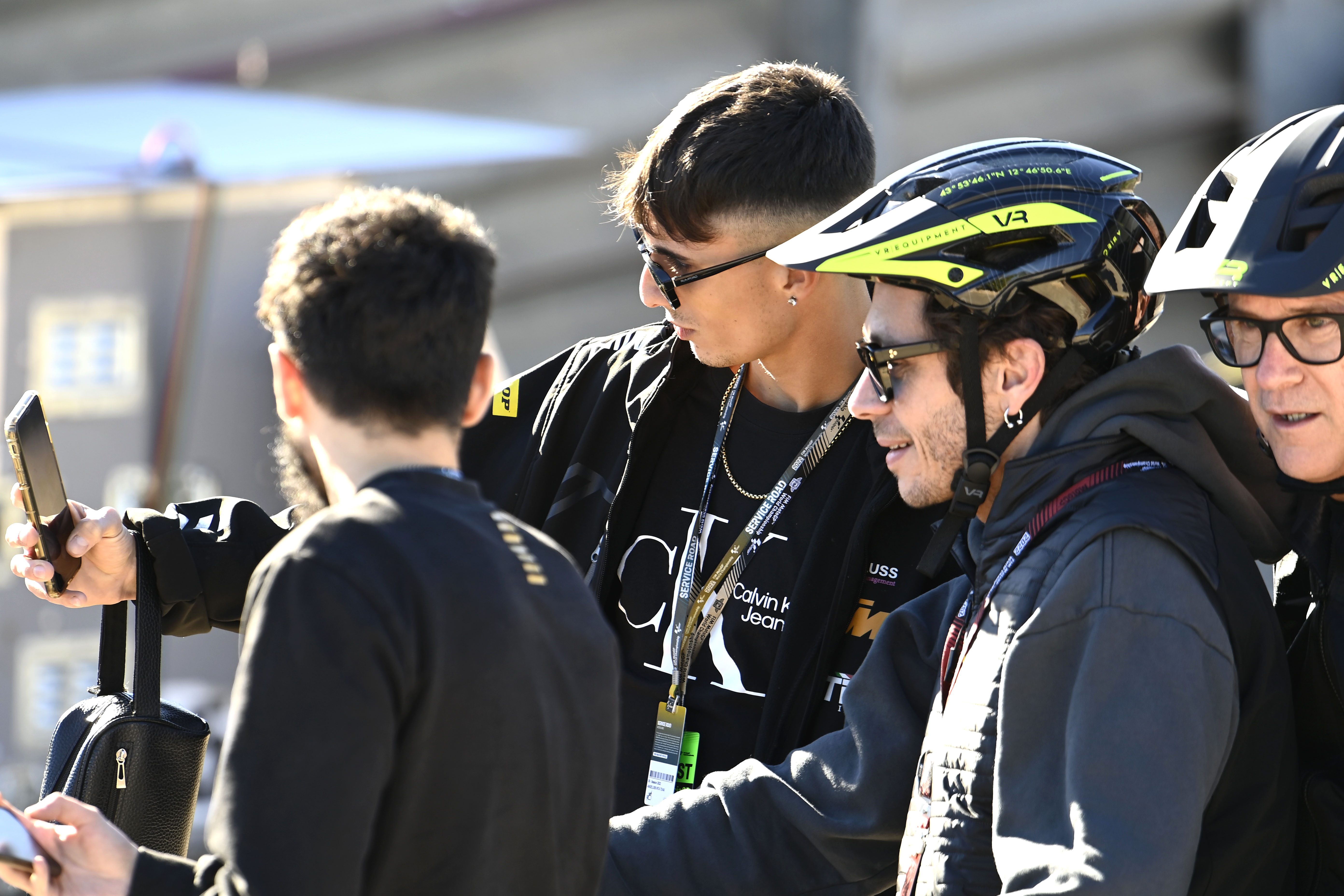 No, rather than Valentino Rossi being in any way to blame (if that's even the word), it's the media, the circuits and especially MotoGP organiser Dorna who really need to break their Rossi addiction going forwards for the good of the whole sport.
Yes, there is still a Valentino Rossi legacy in the sport, and that's a good thing. His Academy and the VR46 Ducati team continue to keep his name in MotoGP without Rossi having to do any of the heavy lifting of actually turning up to kiss babies and shake hands – and really, that should be enough. But it isn't being allowed to be.
The post-race comparison between attention on Rins and Rossi in particular is a good example of the problem. By excluding incredibly emotional scenes of Rins's final victory with Suzuki on the team's final day in MotoGP in return for showing shot after shot of Rossi, we're allowing the shadow of the past to cloud the future. How do you create new superstars when all you're interested in doing is trying to cash in on the previous one?
Like I say, this isn't a problem unique to any one person – but it's certainly a narrative set by Dorna, which controls the TV images viewed and whose own social media networks are larger than anyone else's in motorcycle racing except, funnily enough, Rossi's own.
Of course, the task of replacing him isn't just as simple as showing others on TV in his place; everyone in sports marketing is well aware of that. Maybe the whole task of creating superstars isn't even something that you can actively manage, taking as it does a unique mix of talent, personality and willingness – something that not everyone has.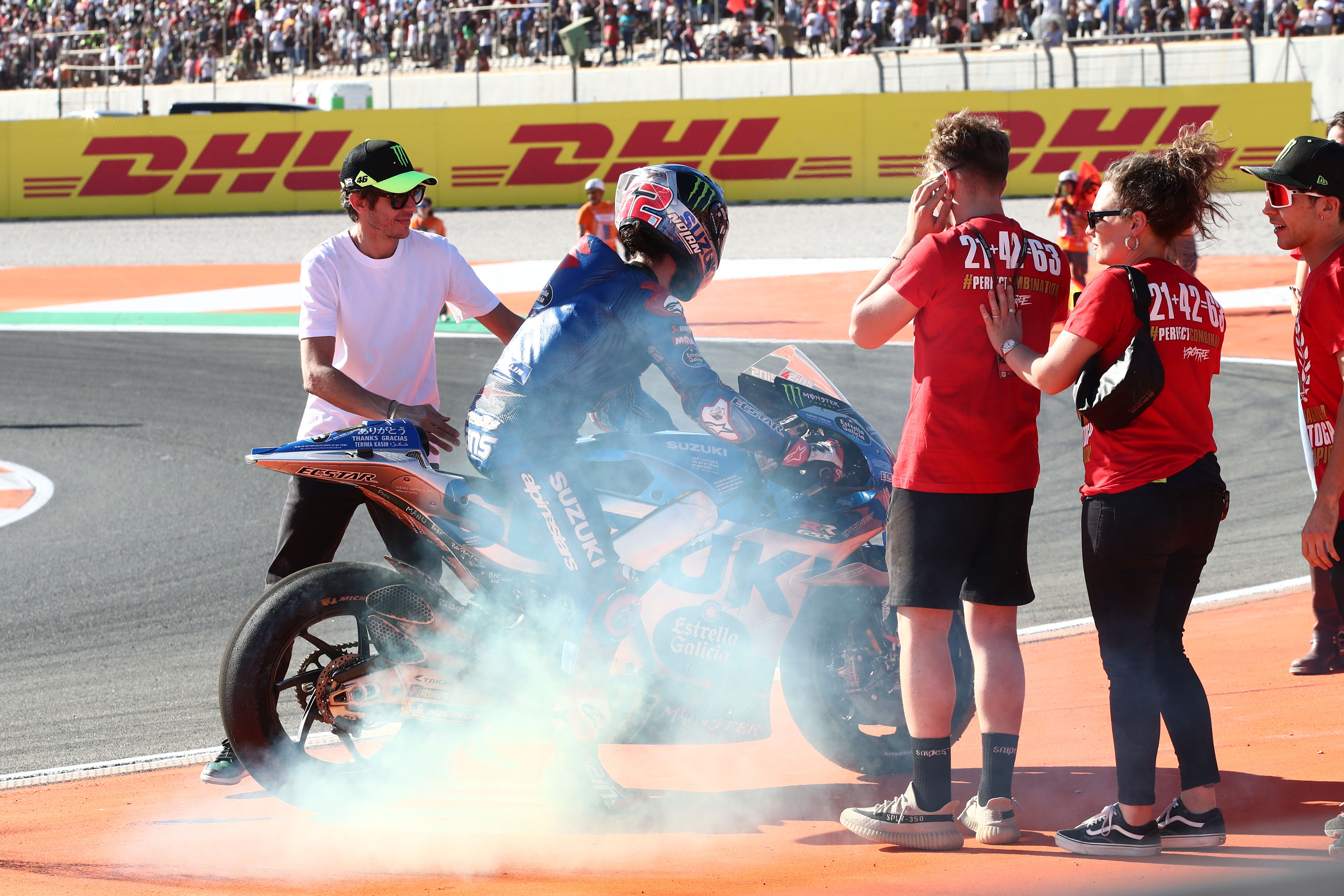 But it does need a platform to build a brand, and that's where work can be done. Are there kids right now in racing who are as engaging and funny as Valentino Rossi was? There absolutely are, so let's ensure that they're given front and centre stage. Are there up-and-coming racers with interesting stories to tell? Sure there are, so let's give them a platform to tell them.
In fairness, it's not entirely a Valentino Rossi problem that MotoGP has; there are elements of the same issue around Marc Marquez too.
For example, following the disastrous response to MotoGP Unlimited, the series' documentary billed to challenge the success of Formula 1's Drive to Survive, was the response to look at a different cohort of personalities or a different approach for 2023's edition? No, it was to commission another Marc Marquez documentary instead… Do you see the issue?
So how do we fix it? Well, that's in part a question for smarter people than me. I'm a sports journalist, but my background isn't marketing. There are of course people out there who can deliver what we need, but it's going to require buy-in from riders, teams, media and the series.
One thing I am pretty sure of though: looking at 2022's attendance numbers and TV viewing figures, it's a discussion that needs to be happening sooner rather than later.