KTM has jumped right into the middle of an already-convoluted 2023 MotoGP rider market silly season at this weekend's French Grand Prix, with not just Alex Rins (made a free agent after last week's shock Suzuki withdrawal news) reportedly on the radar but also with rumours circulating that it's deep in talks with Ducati rider Jack Miller.
The Austrian brand has so far largely stayed out of the fray, in part because of Brad Binder's long-term contract until the end of the 2024 season and partly because of its graduating class 2022 rookies, Remy Gardner and Raul Fernandez, both of whom are products of KTM's talent program and who stepped up to the premier class as Moto2 champion and vice-champion respectively.
Yet, with neither rookie having an easy time of it of late thanks to an incredibly difficult-to-ride 2022 RC16 machine (an issue that all four riders have come up against this year) and with Indonesian Grand Prix winner Miguel Oliveira out of contract at the end of this season, it now seems that KTM has put itself into the shop window.
Rins was the first to go on the record and confirm that he was in talks with the brand, admitting after crashing out of the podium fight at Le Mans that while he was speaking to every team, KTM was one that is actively courting him.
"Well, this is the first weekend we've been here," he admitted of the situation he's found himself in unexpectedly, "but KTM are interested in me. My manager has also talked with Aprilia, Honda and Yamaha. We will see what comes out."
That comes at the same time as normally reliable Italian TV broadcaster Sky suggested that Miller is also in the picture for KTM – something that makes sense given his personal manager Aki Ajo runs KTM's hugely-successful Moto2 and Moto3 teams and that his former team boss at Pramac Racing, Francesco Guidotti, now heads KTM's racing program.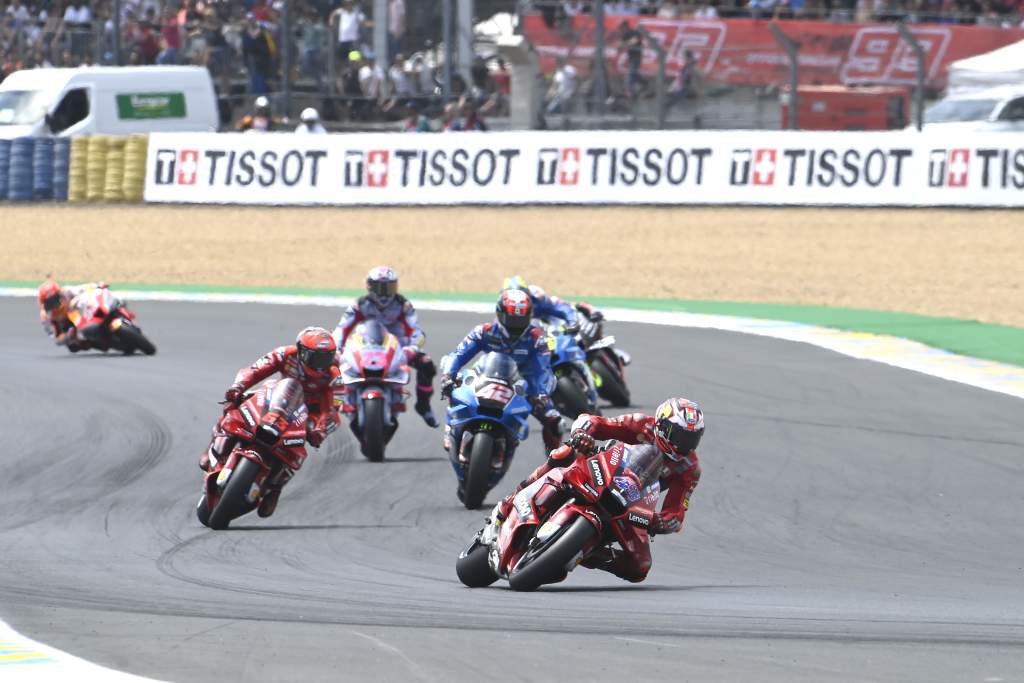 However, Sky did also hint that while the Australian might have a chance of joining KTM, it might not necessarily be in the factory team, but instead in Tech3 – which would mirror the route Danilo Petrucci took in 2021.
"No comment," said Miller when asked by MotoGP.com whether he'd already agreed terms with KTM. "There's a lot of blokes out there talking a lot of rubbish.
"We're one third of the way through the season, I've got a whole season left in these [Ducati red] colours, at least, and I'm looking forward to put in as many podiums and hopefully another victory or two against my name before I either get out of these or stay in them. Either way."
With one factory seat already secured by Binder through 2024,  where Rins or Miller would slot in first and foremost depends on what happens with Oliveira.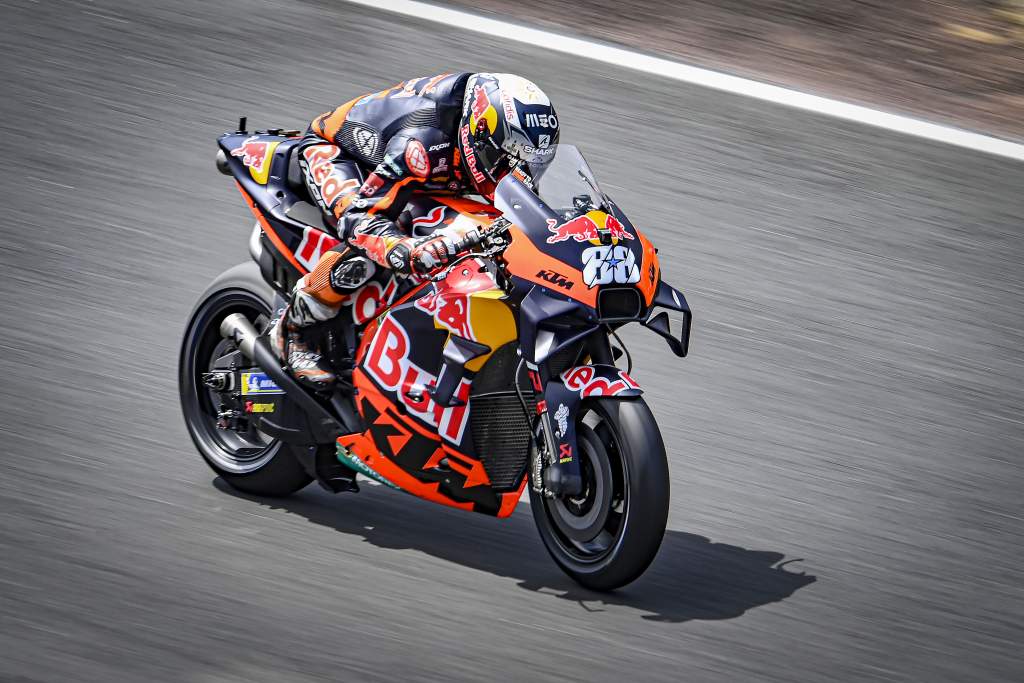 Not having an easy year with them despite his win at Mandalika thanks to the inconsistency of the bike, he was initially rumoured to be in talks with Suzuki as a back-up option should Rins or current team-mate Joan Mir depart – but told The Race on Thursday that he doesn't expect his future to be secured for some weeks yet.
"I don't really have any news," he admitted. "I hope that by the end of the month or the beginning of next month, I can have an answer, but that's really it. Now I'm just focusing on racing and showing the best, that's it."
The picture is even more clouded at Tech3, given long-standing rumours – from even before Raul Fernandez had joined the team – that he it was not his first preference and that KTM executed a clause in his existing contract to keep him out of the hands of Yamaha, which may well be once again showing interest.
"I don't know about that," the Spaniard told The Race when asked if the bike's performance was affecting his future plans. "I want to continue to focus on my job because I started to make so many mistakes when I started to focus on my future, and I don't want to repeat the past."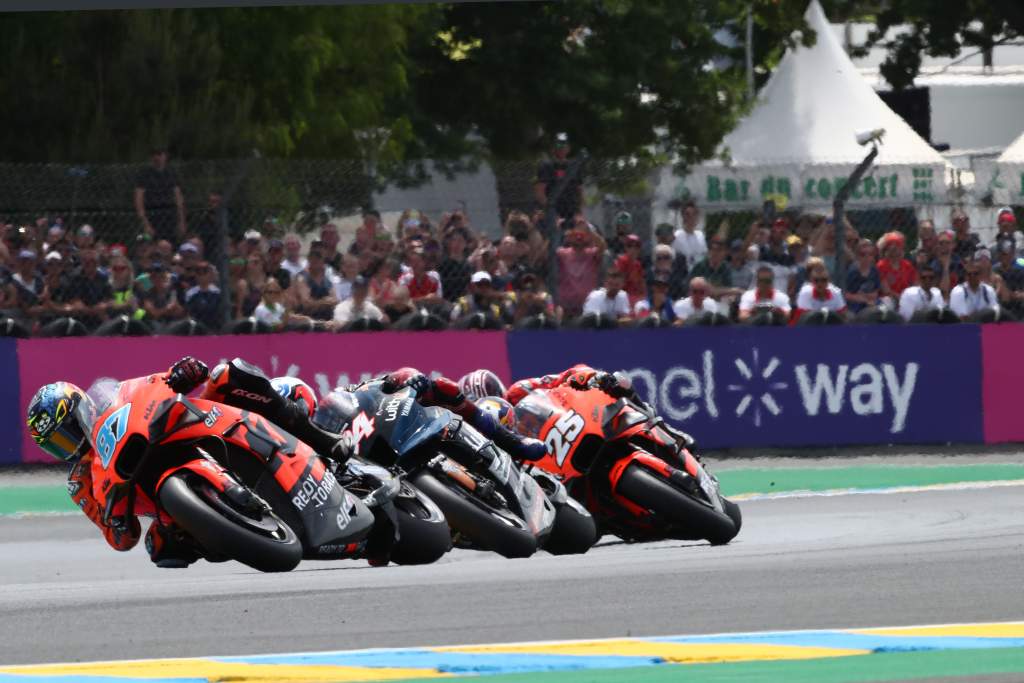 His team-mate Gardner was much more up front about his situation.
"Next year is still open, but until a specific date I can't go anywhere," he explained of a contract format that KTM has made relatively standard. "They can judge it how they want, but I think I've given my 100%, and after seven races to be two tenths from Miguel in qualifying is not bad, I think.
"It's up to them, but I don't know. If not, I'm going to [World] Superbikes."
Asked which of the two would be his preferred route, Gardner – perhaps worn out by a miserable race or perhaps genuinely considering his MotoGP future – said: "I'm undecided, that's all I can say."