Joan Mir has described his exit from MotoGP's 2022 French Grand Prix as "mentally painful" as both he and team-mate Alex Rins crashed out from promising positions at Le Mans.
The two crashes came in the first race after the whole Suzuki team learned that the manufacturer would be looking to end its MotoGP programme at the end of 2022.
Rins is now fourth in the standings, 33 points behind championship leader Fabio Quartararo, while Mir is a further 15 points off in ninth.
"Today the crash has been painful mentally," said Mir, who crashed out around the halfway point while in fourth and chasing the leading Ducati trio.
From bad to worse! 😢@suzukimotogp's Sunday ends in double DNF 💥#FrenchGP 🇫🇷 pic.twitter.com/Tc3k45F7ax

— MotoGP™🏁 (@MotoGP) May 15, 2022
"After a difficult Saturday, FP3 that I had to go through Q1 unexpectedly – then we changed a bit the bike, I was able to have again the speed to qualify more or less good, and then the start was great.
"I was able to be really constant on the laptimes. I made a mistake, I went wide, and then straight away I was recovering again distance with the top riders. Every time I was getting closer, it's true that behind the Ducatis [in particular] it's always difficult to stop the bike, you have to manage the situation, you know?
"I didn't manage in a good way. I made a mistake, [due to] a bit for a mix of things – one [part] was this one [the Ducati factor], another was that I tried to brake too late, then I had to trail a bit more brake than normal, and when I released the brakes I lost the front.
"I was catching the front group. I don't know what position we would've finished, but I think today we could fight on the podium."
Asked whether the exit was particularly painful due to the lapsed podium chance or the context of the wider news that preceded the weekend, Mir said: "A mix of things. We're not having probably all the luck that we need. We had a couple of zeroes that is something that, for how I focus [on] the races, it's too much for me in not a lot of grands prix.
"Then also the situation that is happening with Suzuki.
"And also I think we've been one of the strongest today, and this also makes it painful. It's a bit of a mix."
Team-mate Rins had surged into third place early on, overtaking among others eventual race winner Enea Bastianini, but his race unravelled when he had to take to the gravel at high speed at Turn 2.
Trying to avoid a collision with race leader Jack Miller for when his Suzuki would return to the track coming through the Dunlop chicane, Rins ended up crashing once back on the tarmac, and ultimately had to retire his bike due to damage.
"It was scary, sincerely," he said of his gravel rodeo and subsequent crash. "It was so scary.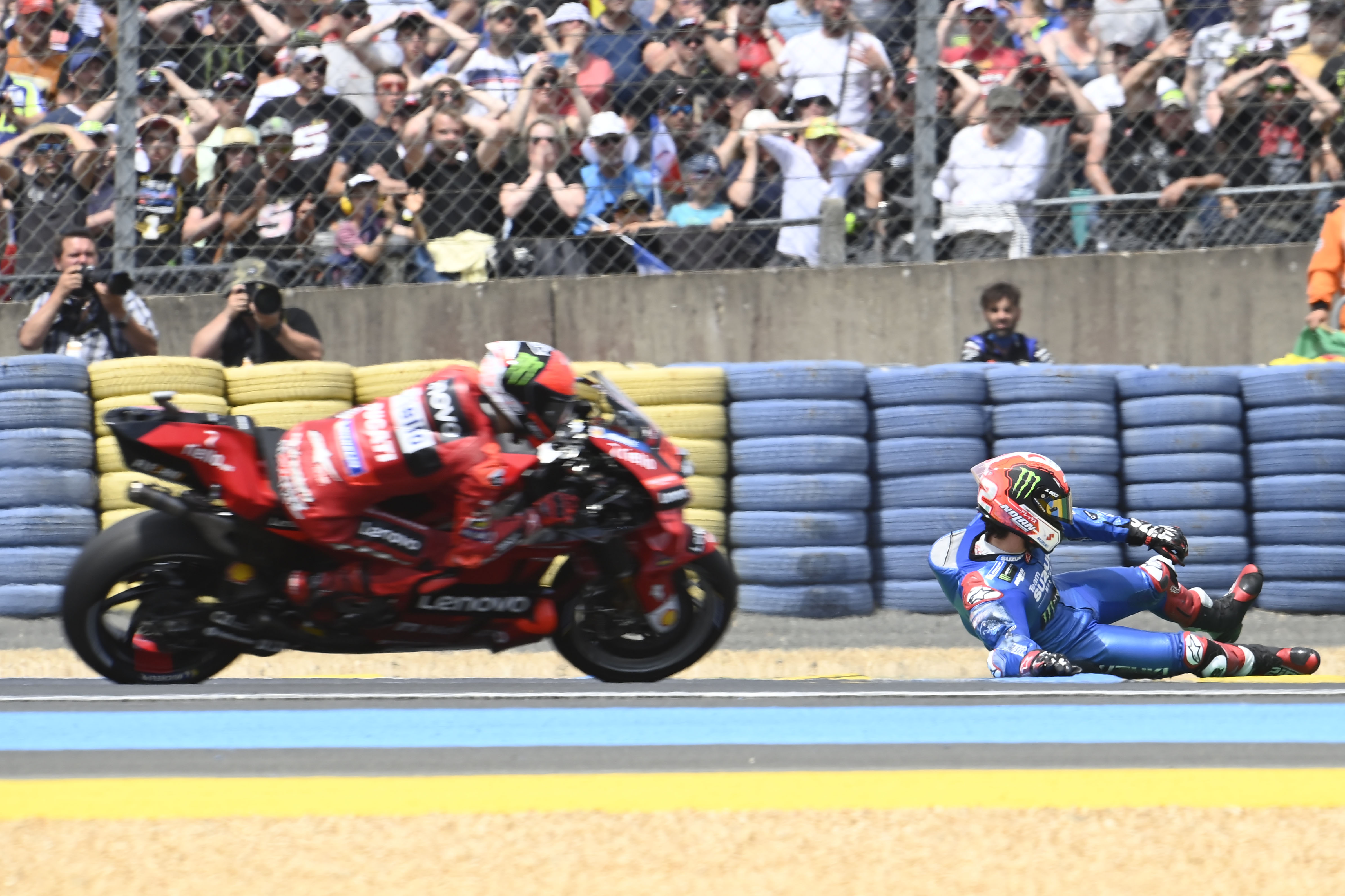 "We did the most difficult thing, to try to recover positions, we did a great start, great first lap, and then I was third behind Pecco [Bagnaia], going good, with no stress, riding well… and when I arrived into the first corner behind him I braked in exactly the same point as the lap before, and in his slipstream when I touched the front brake I lost the front.
"And then I went to the gravel. And in the gravel it's difficult to manage because in that point you need to control the bike at 200km/h, trying to look at the riders where they are [to not crash into them when you return].
"And I was trying to avoid the crash with Miller, I tried to reduce the speed as maximum as possible, and when I went out of the gravel to the tarmac to rejoin the race, I exited with a little bit of angle and I lost control of the bike there.
Disaster for @Rins42! 😱

The @suzukimotogp rider crashes after sailing through the gravel at Turn 1! 💥#FrenchGP 🇫🇷 pic.twitter.com/uJONyWKevv

— MotoGP™🏁 (@MotoGP) May 15, 2022
"It's a real shame, because we did a really good weekend, we've been so competitive during all the sessions… but we know why I crashed."