MotoGP is getting boring. There, I said it. Don't get me wrong – I'm still very much in love with the series that I spend my whole life thinking about, but there is no denying that we've lost something since before the pandemic, as the amazing last-lap battles that became the norm between Marc Marquez, Andrea Dovizioso and Fabio Quartararo have disappeared. Yet here's the thing: everyone knows why, and series bosses Dorna need to step up to the engineers in charge and ban ride height devices.
Before you tell me I'm wrong, look at the numbers. The average winning gap this year from 10 races has been 2.5 seconds. In the four races where there was a winning margin of under a second, there were three overtakes for the lead, total. In fact, after half a season, MotoGP has had only eight overtakes for the lead. One third of the races have had none.
For a series where the entire unique selling point used to be overtaking, that should be a truly dreadful wake-up call. For years it's been selling itself as 'the one with the passing' while its main rival, Formula 1, has traditionally been somewhat lacking in track action.
And while the four-wheeled series hasn't exactly been Phillip Island 2016 levels of thrilling lately, there's no doubt that things have gotten better, as part of a concerted drive from rights-holders Liberty to make the championship more of a spectacle as a whole.
That has, in part, been done by forcing through regulation changes that teams were initially unhappy with – and it is very much time for MotoGP owner Dorna to do the same and lay down some law to the frankly too-powerful Motorcycle Sports Manufacturers Association, the teams' rulemaking body where only one of the (currently six, soon to be five) manufacturers needs to object to have any new rule struck down.
Because it's clear as day what has changed since 2019 and what needs to be corrected to at least help us get back to where we were – the proliferation of rear ride height devices, the tool that has become standard issue since at least the middle of last year.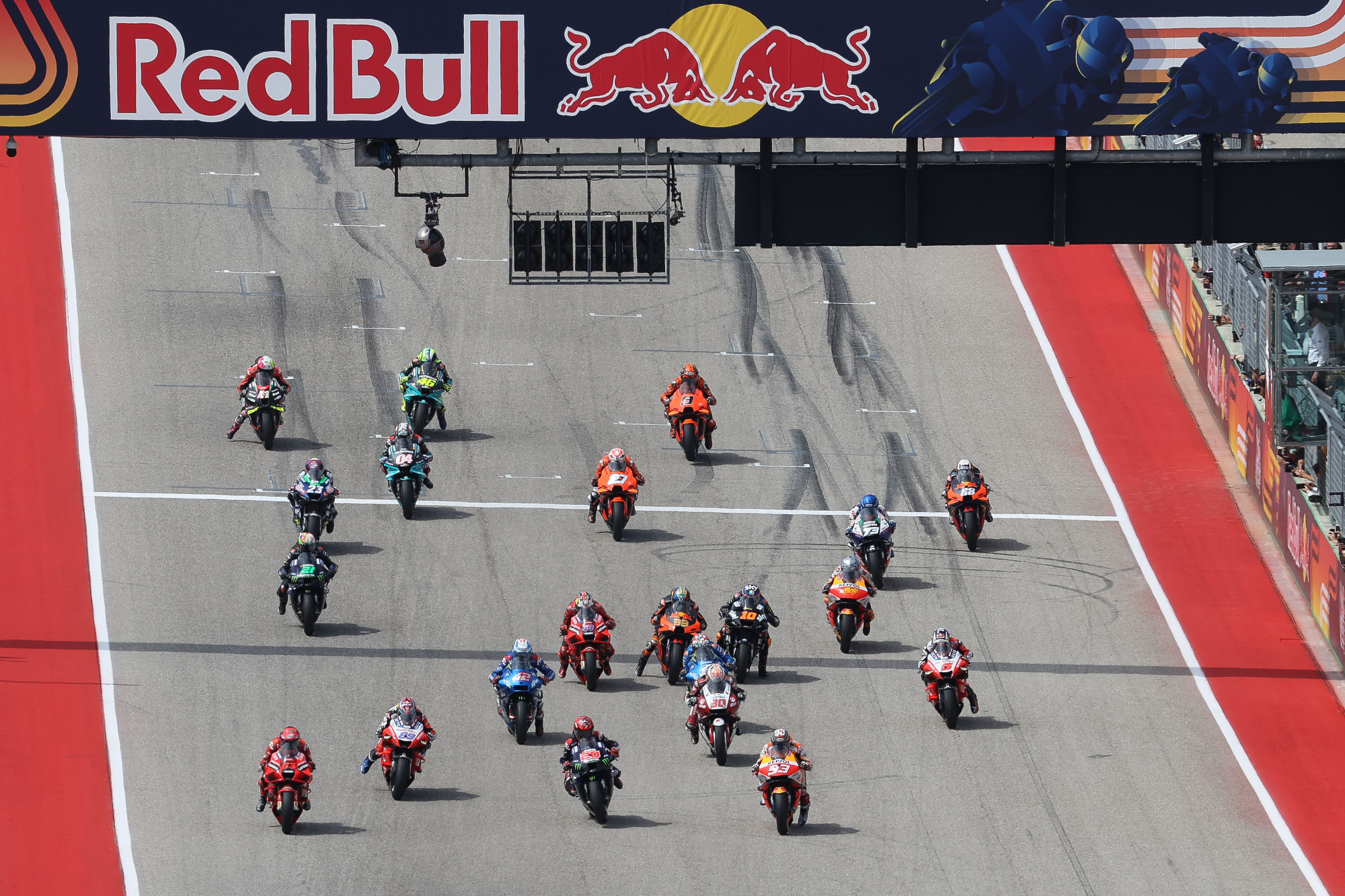 Initially designed with good intentions, to help make starts faster and safer by lowering and then locking the rear suspension in a compressed position, they ensure that you're not wasting power doing exactly that when the lights go out.
However, they've since morphed into something else completely, with some manufacturers now able to automatically activate them on the exit of almost every single corner, squatting down the bikes so that they get better drive.
And as a result of that extra acceleration, it means that overtaking has become exponentially harder, especially combined with various other factors currently at play in MotoGP. Aerodynamics (still around in 2019, so not the root cause here) are contributing with dirty air that makes it harder to slipstream, and Michelin has come under considerable flak for tyres that seemingly aren't up to the job.
But that's just another reason why the ride height devices should be banned right away. Michelin's tyres weren't designed for the additional forces now being exerted through them by harder acceleration and subsequently more aggressive braking. The tyres have had their development timeline hampered by MotoGP aggressively cutting testing, and so they haven't been able to keep up with a big boost in performance that has arrived almost overnight from the teams.
There is another reason behind removing these devices, beyond returning MotoGP to something close to competitive. A reason that's even more important. Last Sunday's German Grand Prix at the Sachsenring had two riders retire due to their devices sticking in a closed position, rendering their bikes into drag racers and turning them into rolling chicanes in the middle of the pack.
Speaking after the race, Jack Miller compared rear ride height devices to engines in that they are just another mechanical component that can fail – but the reality is, it's been an awful long time since MotoGP had two engines fail in the same race.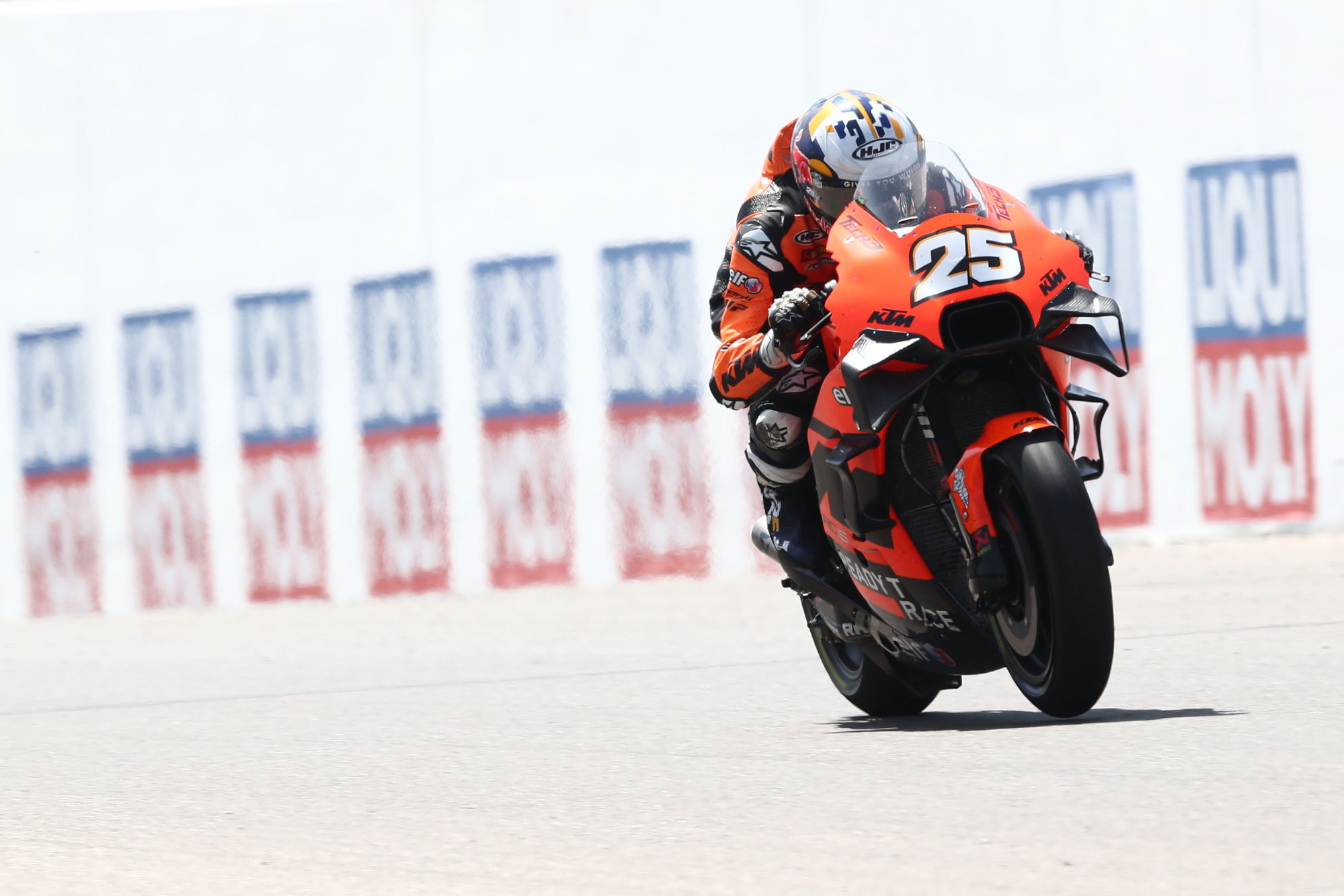 What we've actually done is create another point of failure that's wholly unnecessary, given that it serves no purpose other than to go faster – there are no road bike development secrets to unlock or technology to be transferred here.
It's actually not even the first time that MotoGP has gone down the path of creating a vastly more complicated and costly solution to a problem in an attempt to, on the face of things, save some money. After the banning of dual-clutch technology just as it started to find road bike uses, teams instead invented the vastly more complicated seamless gearboxes, a component that will never be useful on the street due to the tiny service intervals needed.
So if the engineers do need a bone thrown to them to convince them to make ride height devices go away, here's an option: why not consider finally allowing electronically active suspension into the premier class, given that it's been available on production bikes for years?
Serving at least some of a similar role as the squatting devices, it would bring actual real-world benefits to everyone, rather than simply continuing to make MotoGP boring…