MotoGP championship leader Fabio Quartararo has acknowledged he'd made a "really stupid mistake" in crashing while trying to pass main rival Aleix Espargaro in the Dutch TT at Assen.
Quartararo had slipped behind Espargaro, his primary championship threat, on the opening lap and tried a lunge down the inside of the Strubben corner on the fifth tour to reclaim second position and set off after race leader Francesco Bagnaia.
What happened instead was a crash, Quartararo running wide and tucking the front, taking Espargaro into the gravel with him.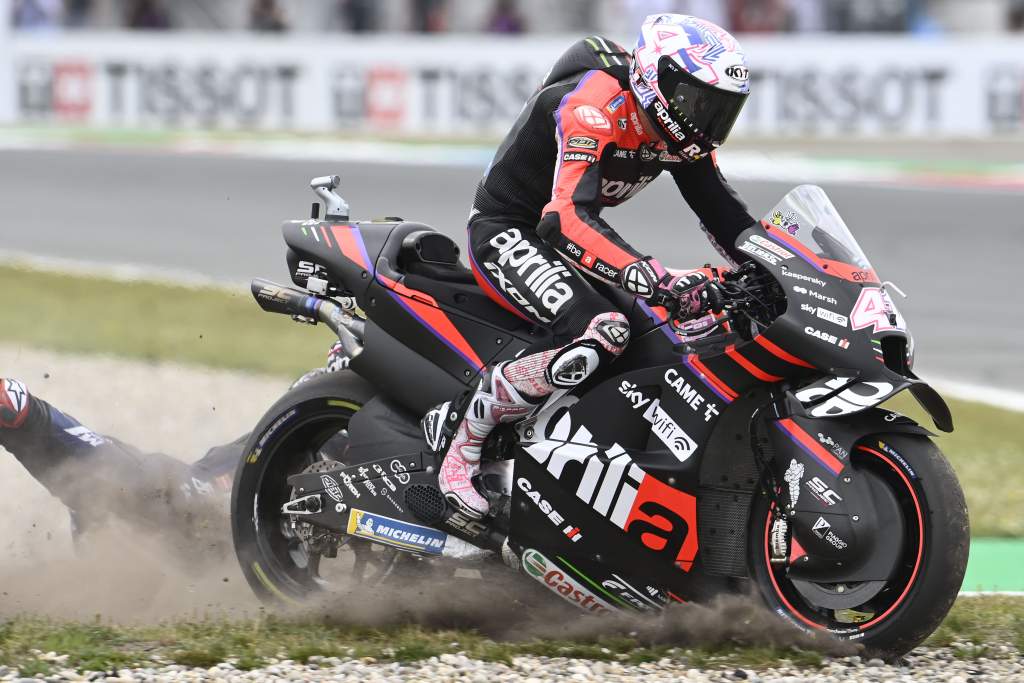 While Espargaro recovered, riding a phenomenal race from 15th to fourth, Quartararo remounted the bike only to crash again later on, his championship lead now slashed to 21 points.
"I made a rookie mistake," he told French broadcaster Canal+. "I wanted to push too hard from the beginning.
"But it is what it is, it's with these mistakes that we learn for the future. But it was really… a really stupid mistake.
"We could have made a very good pace and fought for the victory. It's mistakes that make you learn for the future."
Touch of class between the two World Championship contenders 🤝@FabioQ20 goes straight into the Aprilia garage to apologise to @AleixEspargaro 💪#DutchGP 🇳🇱 pic.twitter.com/DVFaOStT1n

— MotoGP™🏁 (@MotoGP) June 26, 2022
Quartararo went to Espargaro's pit box after the race to offer his apologies, and acknowledged to media that Espargaro seemed to have good enough pace to win.
"I thought that the winner of today, it was him because of the pace he had. I just apologise for my mistake.
"He did a very good race, and I apologise."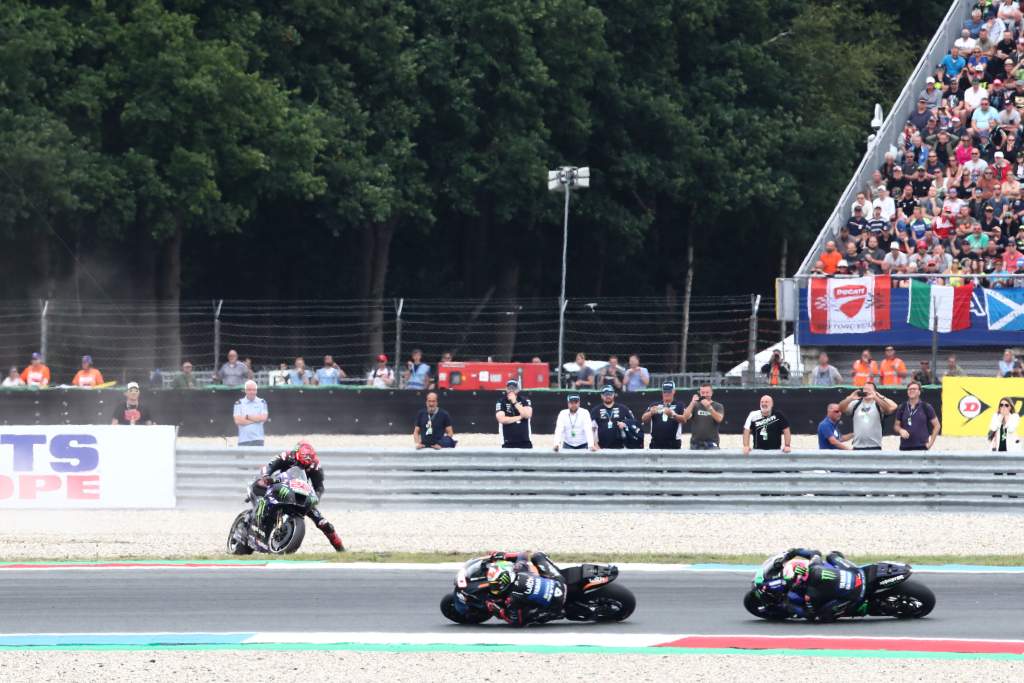 The Frenchman struggled to run competitive pace once remounting after the initial crash. He'd even pulled into the pits, but says he was told by his Yamaha team to head back out in case it started lashing down with rain – in which case he would've got the chance to switch to his second, wet tyre-shod bike.
The rain didn't really materialise and it wouldn't have helped the Frenchman anyway, as he was launched hard into the air at the very same Strubben corner.
He fortunate to escape serious injury, and after meeting the media went to the medical centre to have his left shoulder checked.
DOWN AGAIN! 🤯@FabioQ20 highsides out of Turn 5! 😱#DutchGP 🇳🇱 pic.twitter.com/yUiFrPsh49

— MotoGP™🏁 (@MotoGP) June 26, 2022
"I saw very well that something [on the bike] was not working," he said. "I don't know, we have to analyse the fall – but I lost the rear very suddenly."
He subsequently theorised that the crash was down to a loss of traction control.
The second crash meant Quartararo effectively doubled his tally for the campaign, having had just two falls across all 10 of the previous grand prix weekends this year.
"We crashed only two times in the first part of the season, and now I did it twice in 10 laps. Pretty bad."