Ducati rider Jack Miller was left fuming after last-lap contact at the Grand Prix of the Americas between him and reigning MotoGP world champion Joan Mir as the Suzuki man tried to force his way past and both dropped places.
Miller was running in sixth on the final lap with Mir right behind him, when the Spaniard launched an attack up the inside at Turn 16.
This created contact between the pair at the apex of the corner and forced them wide, and rookie Enea Bastianini was able to push his way through and move ahead – leaving a furious Miller to confront Mir on the slowing down lap before addressing the media.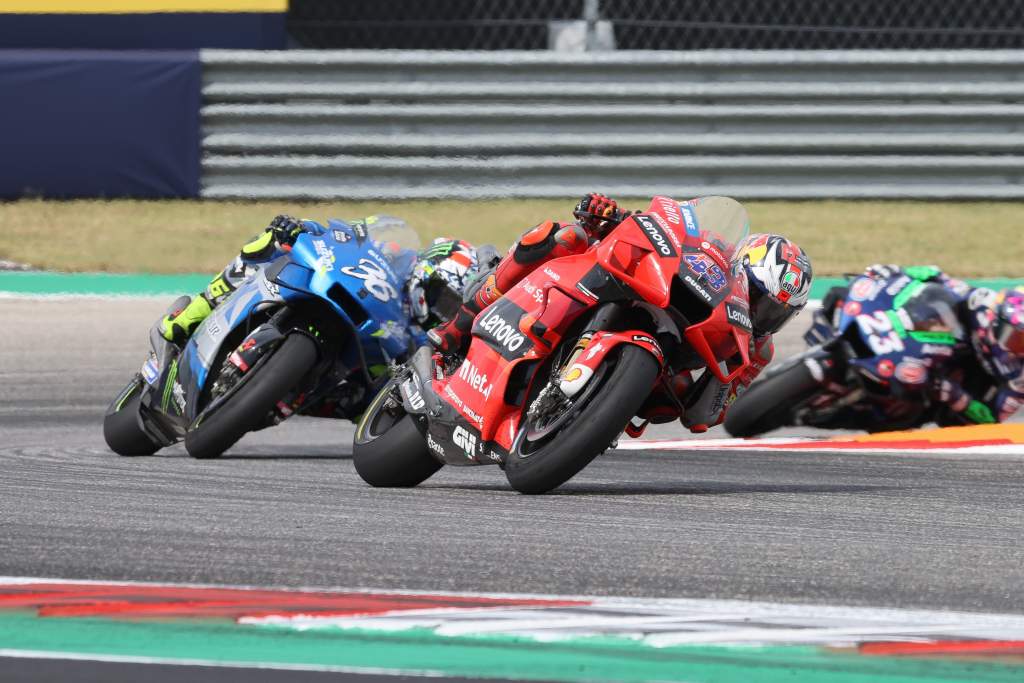 "What actually happened," explained the Australian, "was that I was on my last lap, as I was last weekend in Misano, and once again I got hit out, and then I got passed by two guys. So… it is what it is, race direction did what it did, there's not too much to say about it, it's just a recurring incident but anyway I couldn't have done anything different, I was struggling a bit with my front tyre – and yeah, I was protecting the line, I was completely on the inside, there was no room to go up… yeah. It is what it is.
"It's not the first time. Here, Misano [where Mir ran Miller out wide and allowed Marc Marquez through], whatever, Assen [where Mir made an aggressive early overtake] … the list goes on and on and on, every time I race with the guy, he runs into the side of me. I try to be- I think I'm one of the fairer guys on the grid.
"For sure I can be aggressive when I need to be, but I try not to run into the side of everybody and do that. I will pass and I try to be as clean as possible, sometimes accidents happen, but… I don't even know, I've lost count this season, how many times it's happened.
"I think there's better ways you can go about the situation but that's the way he wants to ride. Each does their own thing. We just go and – the only thing we can focus on is doing my job.
"I need to work on not being that guy at the end of the race, I need to be the one attacking, that's the biggest issue."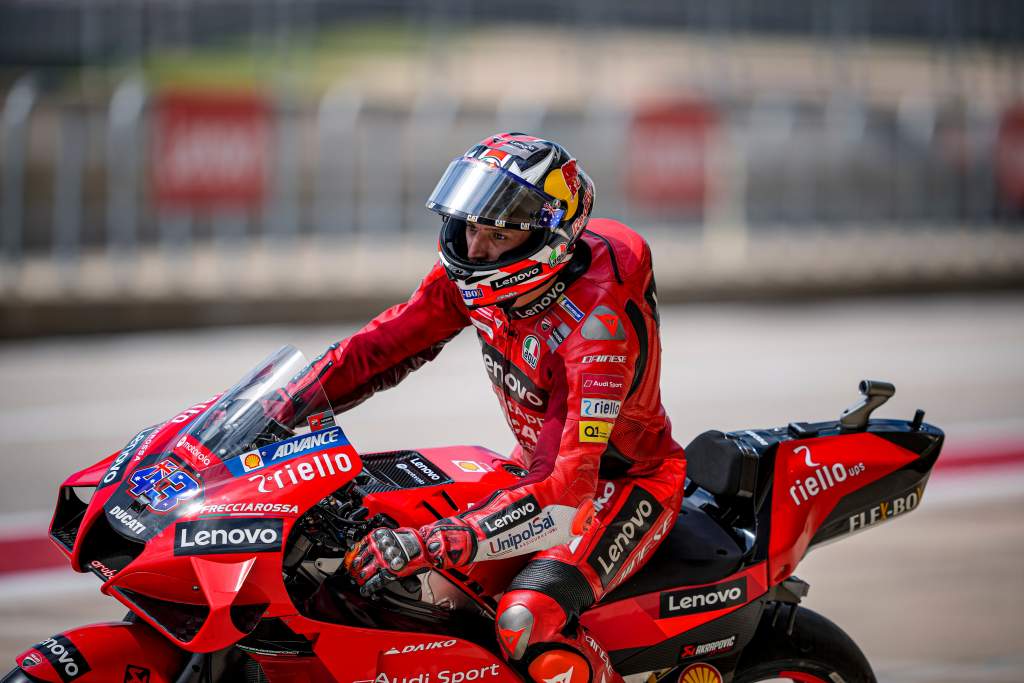 Bastianini, who had a perfect view of the clash, somewhat pointedly explained that he was anticipating last-lap fireworks "because Joan is very aggressive".
Mir, for his part, regarded it as hard but fair racing, and indicated it was brought on by Miller's defensive approach.
"First of all I want apologise because I don't like to create contact with overtakes," he did concede. "This is the first thing. I was struggling a lot to accelerate and I wasn't able to overtake and he was just a lot slower than me. I had to wait on the last laps to prepare something. I did a great manoeuvre in sector one, in the chicanes, and I was able to overtake him in a really good way – then we arrived to the straight and he overtook me and just gave me a couple of tenths.
"He was just closing the lines, he wasn't caring about riding [fast], he was almost straight inside the corners, he was closing the lines and it was a little strange. Then in Turn 16, it's a good corner to overtake. I took the inside and he, in the second part of the braking, made a really tight line that I didn't expect. I touched the kerb to avoid the impact, then I touched him a bit and luckily we didn't crash."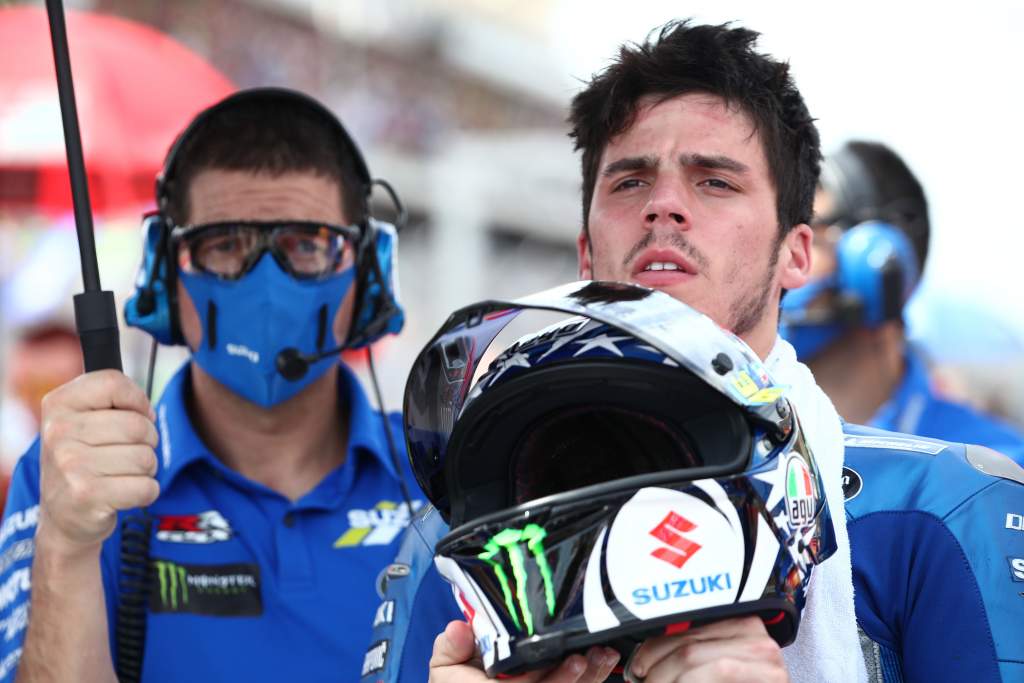 And despite their angry encounter on the slowing-down lap, Mir insisted that there's no bad blood with his Andorran neighbour, instead saying that had the coin been flipped, there's every chance he'd have been just as angry.
"I stopped on the straight," he chuckled, "and I was waiting on him to come and blame me, and he was threatening me and doing some things – but when you say things in this hot situation I can't understand. I think Jack is a good guy, and if he was me I would be angry too so I don't have anything to say about him.
Tempers running hot on the cool down lap! 👀@jackmilleraus expresses his feelings to @JoanMirOfficial after the pair made contact on the final lap! 😮#AmericasGP 🇺🇸 pic.twitter.com/wUCcLcQNrF

— MotoGP™🏁 (@MotoGP) October 3, 2021
"He was just saying 'see you in the next one!' or something like this. Australian-style! I've got completely nothing to say about Jack because he's always respectful in the race. He's always been a good rival, and I'm sorry for the manoeuvre, but I don't respect the decision from race direction."
Elaborating on his penalty stance, he said: "If all the races are [governed] like this, then you just don't overtake and racing will lose its essence.
"I think the stewards weren't the same ones as were in Qatar, with what happened between me and Jack. Those ones were probably on holiday today."
Miller too was quick to single out the stewards for some of his wrath, actually siding with Mir in complaining about a lack of consistent punishments following precedent set by incidents earlier this season.
"They pick and choose the punishment that they like. Last weekend, with [Dominique] Aegerter and [Jordi] Torres, a much similar thing yet Aegerter got like a 30-second penalty or something like that – it was actually the perfect amount to allow Torres to win the championship," said Miller, referring to the final lap of the MotoE World Cup season at Misano.
⚡️ Round 7: Misano Race 2 ⚡️

Controversy on the last lap as @DomiAegerter77 and @jorditorres81 collided! 😱

Following a tense wait, the Swiss rider was handed a penalty, crowning Torres World Cup winner! 🥇

🏆 J Torres – 100 Pts
2⃣ D Aegerter – 93 Pts
3⃣ M Ferrari – 86 Pts pic.twitter.com/kC7zkMiaAK

— MotoGP™🏁 (@MotoGP) September 22, 2021
"Fortunately for me I was able to stay on the bike. It is what it is, I don't make the rules, I feel like I've controlled myself rather well, getting older and more mature – that's a nice sign I guess you could say."