MotoGP's Grand Prix of the Americas was going to be an unusual one this year.
A recovering Marc Marquez not yet back to full fitness and not quite looking as strong as he once did at the Circuit of the Americas. A tense title fight between Pecco Bagnaia and Fabio Quartararo that could still have swung either way at Austin.
And of course on top of all that, the added complications of a treacherously bumpy circuit that promised an attritional race and meant that every move was going to have to be carefully measured to limit the risk involved in it. Ingredients for a race full of surprises and drama.
With that in mind we have, as usual, ranked the whole grid based on their Sunday performances.
Our MotoGP ranking system is simple: the riders who we believe performed the best are at the top, and the ones who underplayed are at the bottom, and scored appropriately.
It isn't just about the end result though, with pre-race expectation and form heavily influencing their eventual score – not just the points they take home with them.
Marc Marquez – 10
Started 3rd Finished 1st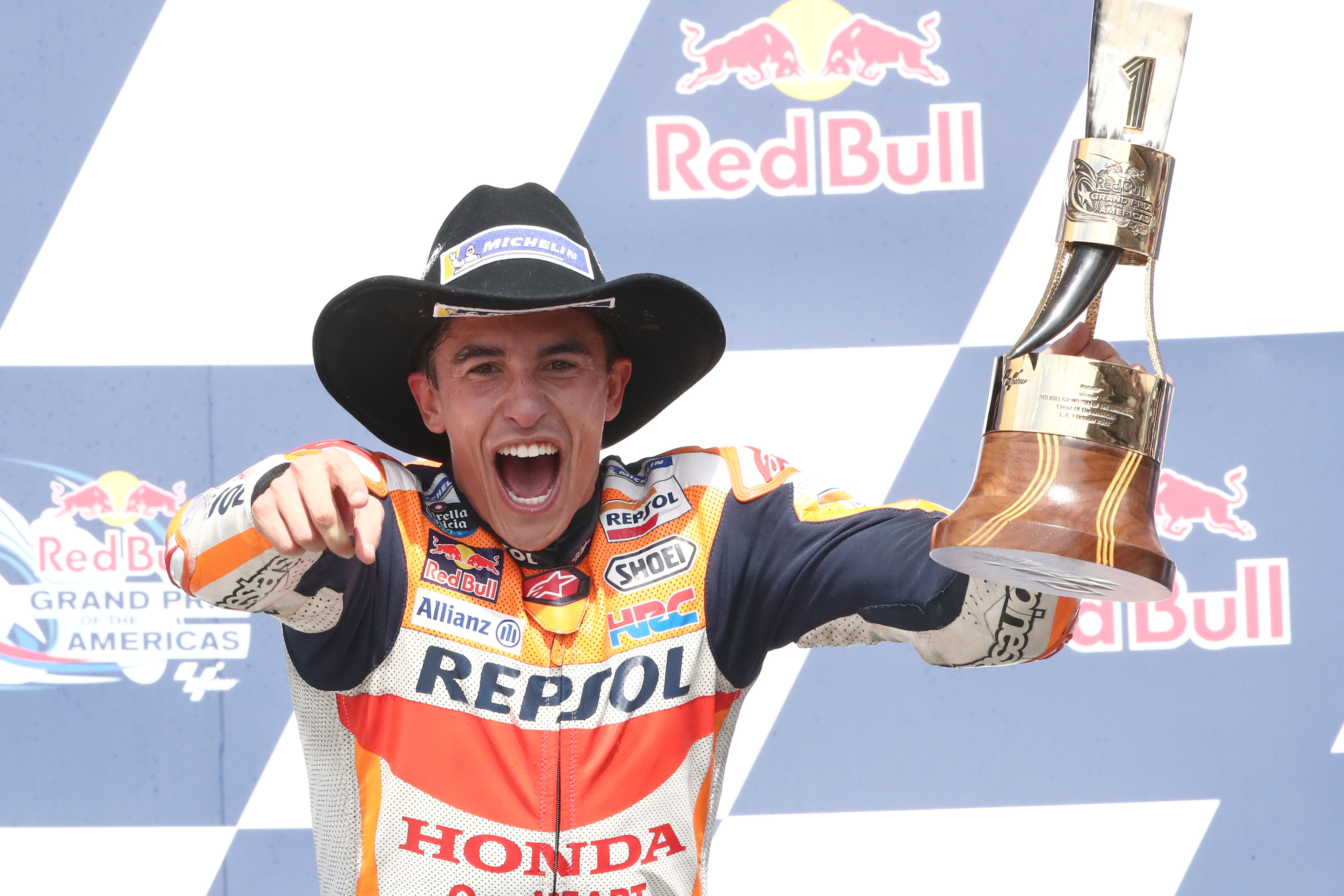 What can you say about the eight-time world champion? Sure, he's now won on seven out of eight appearances in Texas, but that doesn't detract in any way from the simply sublime performance he put on in physically challenging conditions.
Not many expected him to be able to win at Austin in his current physical condition, let alone do it in such a commanding style.
But he never put a foot wrong on a weekend when all those bumps meant riders had to be more careful than ever.
He isn't fully physically recovered yet, but he's rapidly getting there now, and this win is both a stepping stone on that path and a very worrying (if you're one of his rivals) reminder of what Marc Marquez is capable of.
Fabio Quartararo – 9
Started 2nd Finished 2nd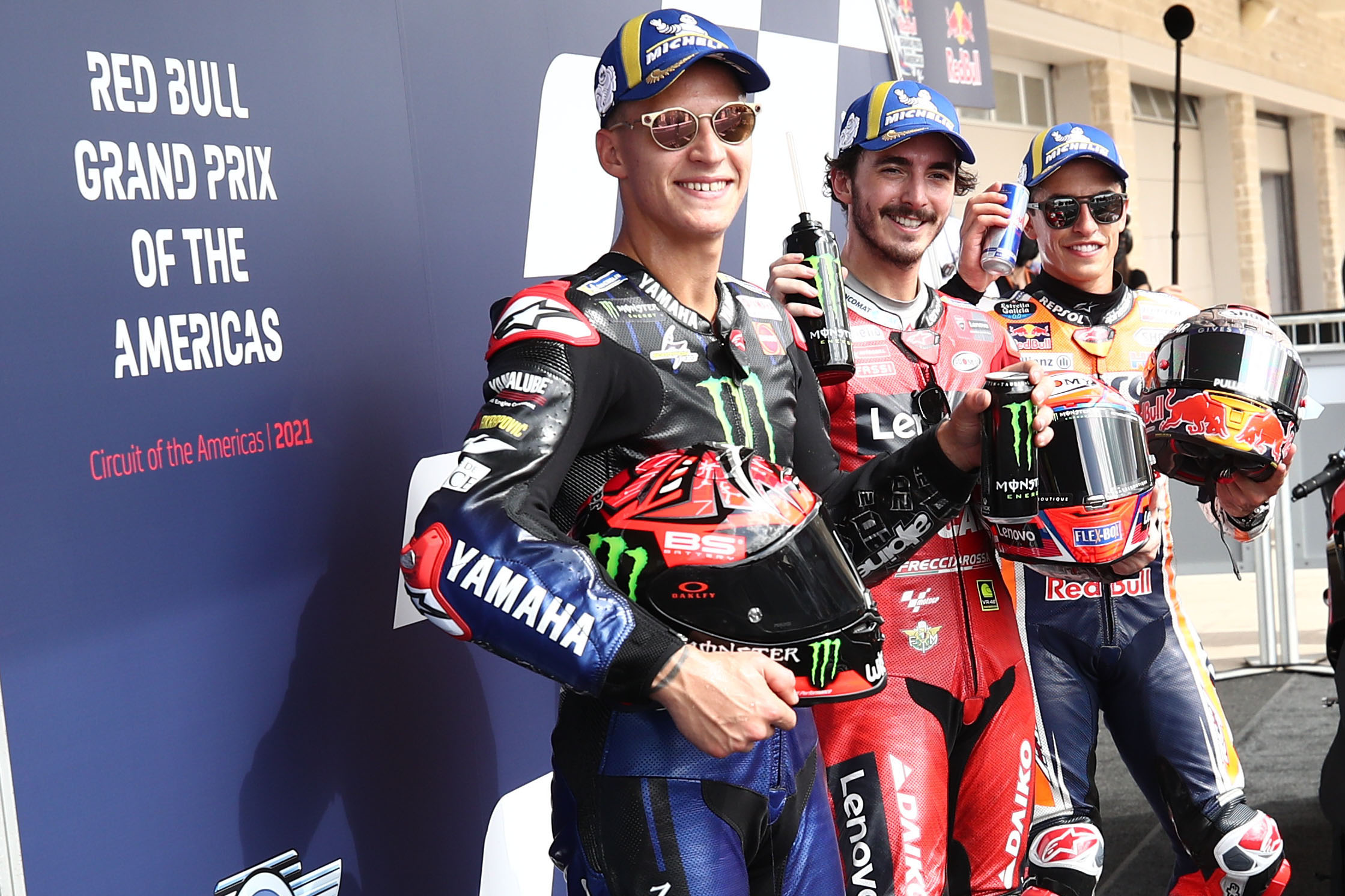 Sunday wasn't the day that the 2021 MotoGP world championship was won; that'll most likely come in a few weeks' time at Misano, according to the points table.
But Austin was very much a weekend where it could have been thrown away, and to deliver a mature, sensible but still fast performance in difficult conditions is perhaps the best sign we've had all year that Quartararo is a worthy winner of the championship.
A very solid effort from the Yamaha racer.
Enea Bastianini – 8
Started 16th Finished 6th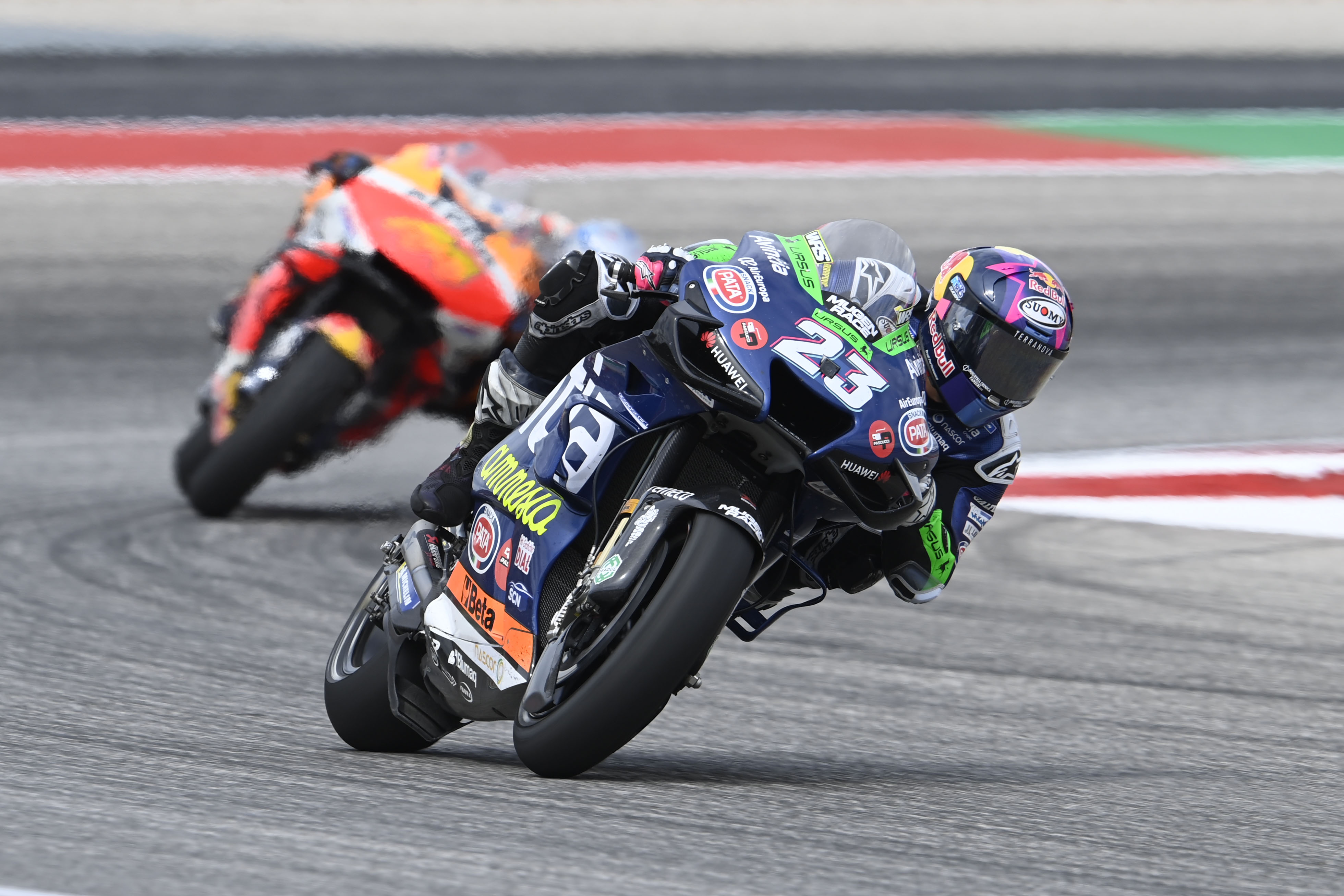 Sure, it's not his podium last time out – but coming all the way forward from outside the points to sixth place means that Bastianini can be equally proud of this result.
Ten overtakes on a day when more seasoned riders were discussing the possibility of a single file race thanks to the uneven surface means that the Moto2 champion is very quickly learning his trade.
Alex Rins – 8
Started 7th Finished 4th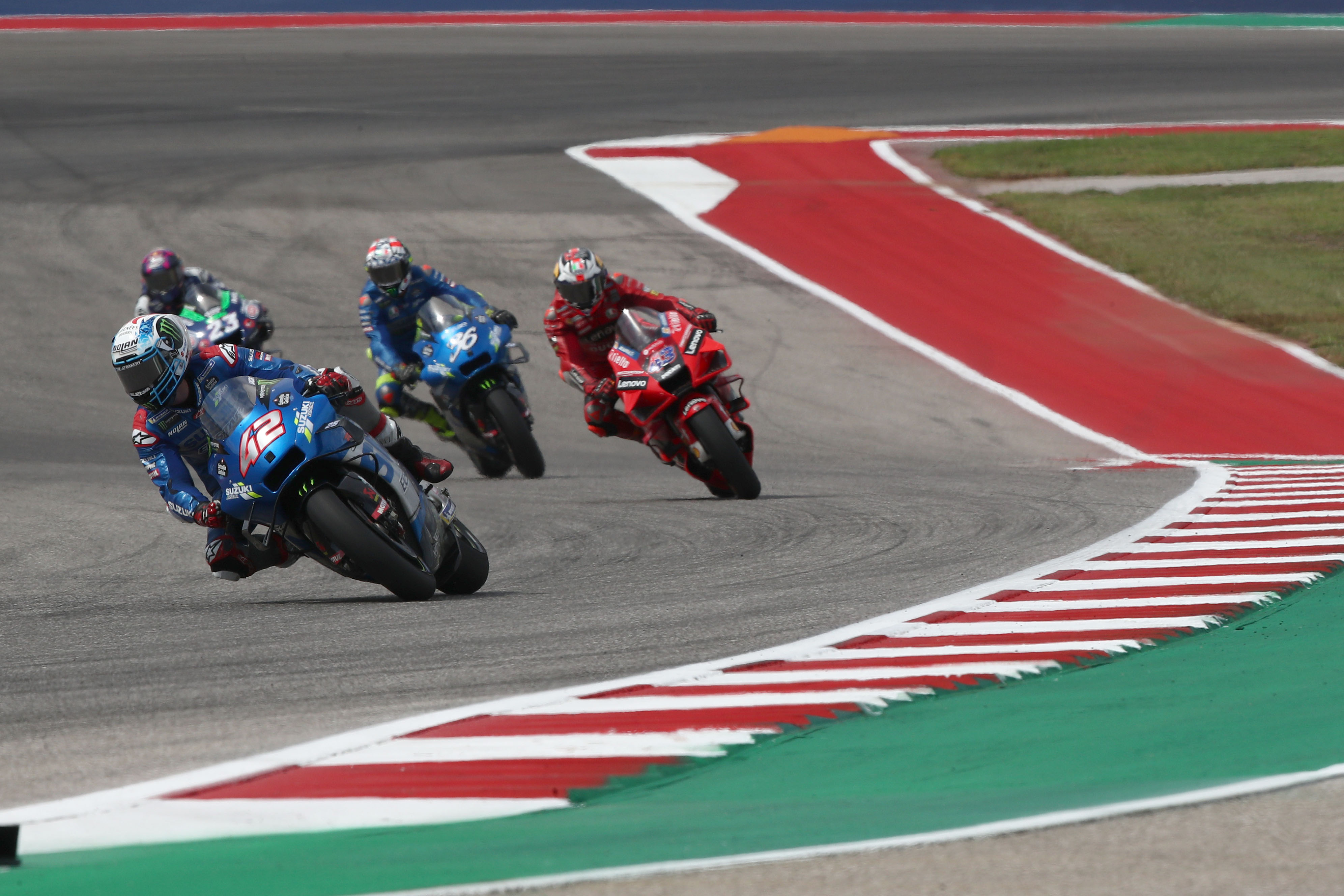 Previous Austin race winner Rins has come in for a lot of criticism lately for his crash record, but on a day when it would have been easier than ever to make a mistake, he just kept his head down and picked his way through the pack to a strong result that far outshone Suzuki team-mate Joan Mir's performance.
The sort of ride that you think Rins could more often deliver if he wasn't always trying to reach one place better and crashing out. It might show that finally restraint is starting to appear in his riding.
Jorge Martin – 7
Started 4th Finished 5th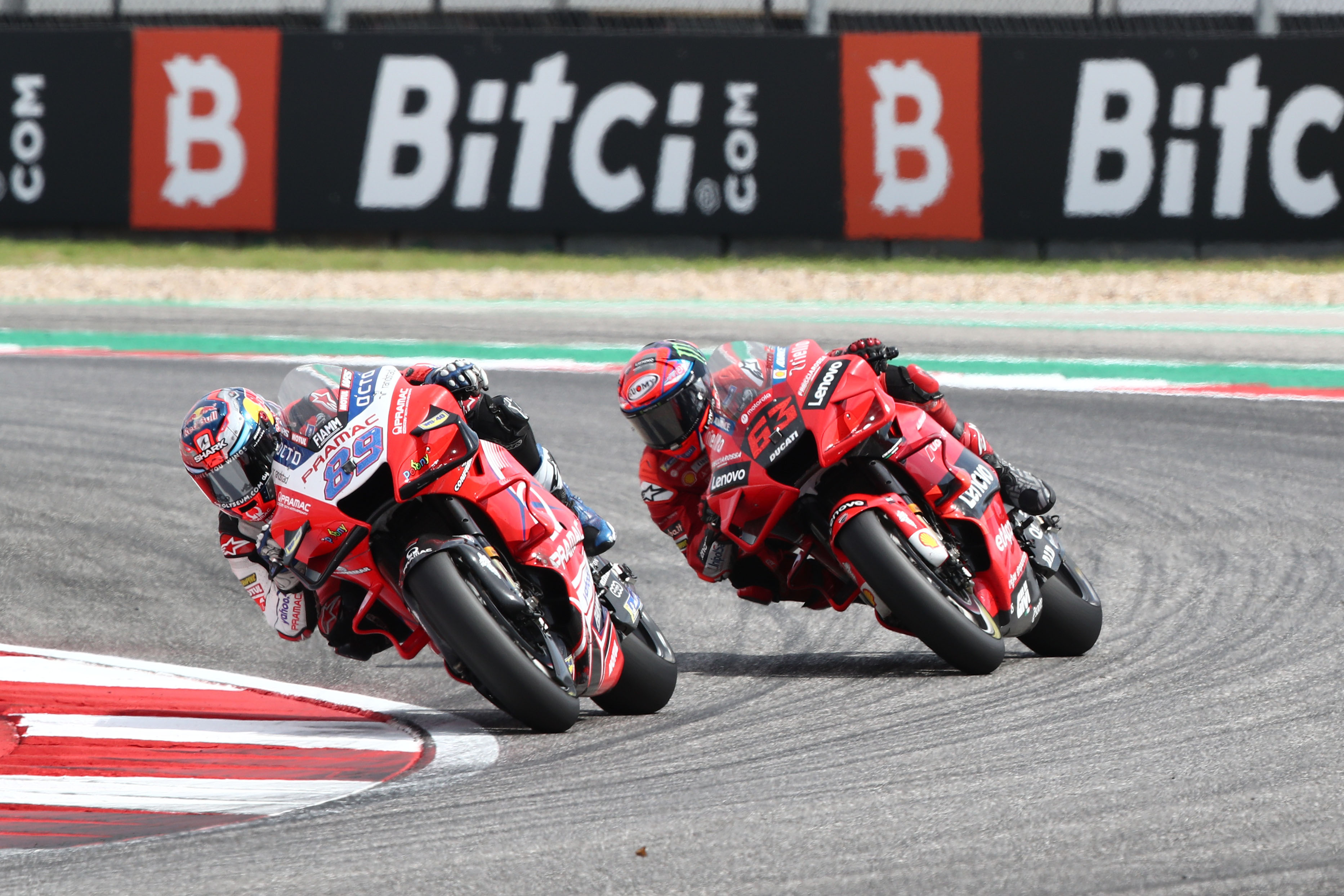 Yet another strong day for one of Ducati's rising stars. Martin continues to impress not just with his results but with his pace.
He was looking quite comfortable in podium contention until perhaps being just a little bit spooked by his title-fighting team leader hunting him down.
If it has been anyone else fighting him for third it's entirely possible the mistake at Turn 4 and subsequent long lap penalty might have been followed by a tougher fight to keep the place.
Pecco Bagnaia – 7
Started 1st Finished 3rd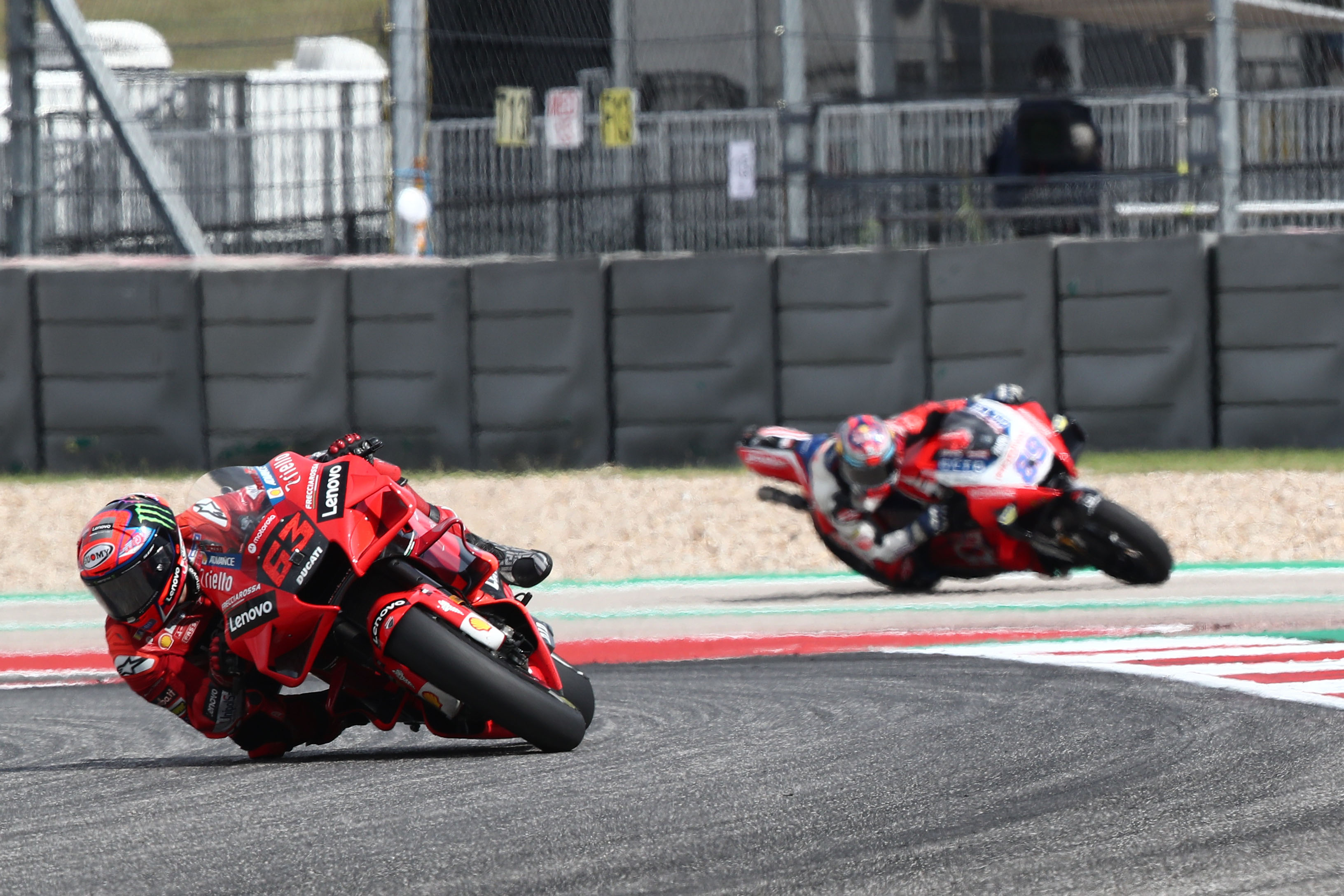 An OK result for Bagnaia, and one that earlier in the season he would have been delighted with.
But starting on pole and dropping backwards through the field meant that his late charge to the podium was too little too late – because all it did was limit the damage to his title rival Quartararo.
Sure, it might be a third place, but it's also most likely the day he'll look back on as the day the championship was conceded.
Andrea Dovizioso – 7.5
Started 14th Finished 13th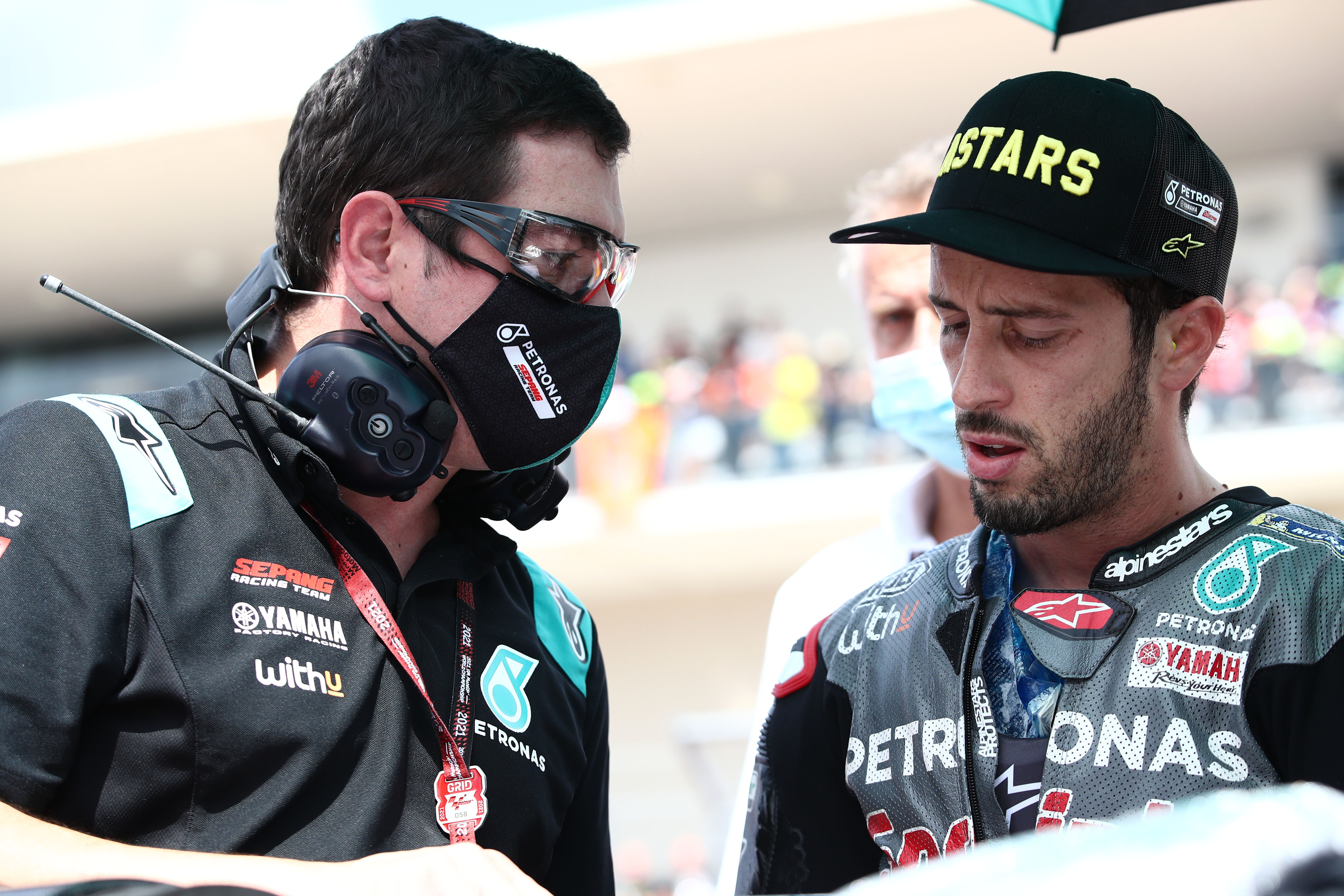 Nothing exceptional from Dovizioso, but at the same time, for a guy just here to test for 2022, 13th place is a fine result.
In fact, it's the Petronas team's best result since the Austrian Grand Prix in August, hinting that the veteran Italian is wasting no time at all in adapting both from a year off MotoGP machines and nearly a decade spent on Ducatis.
It's not the result he wants, but it's a hint to the future.
Miguel Oliveira – 6
Started 18th Finished 11th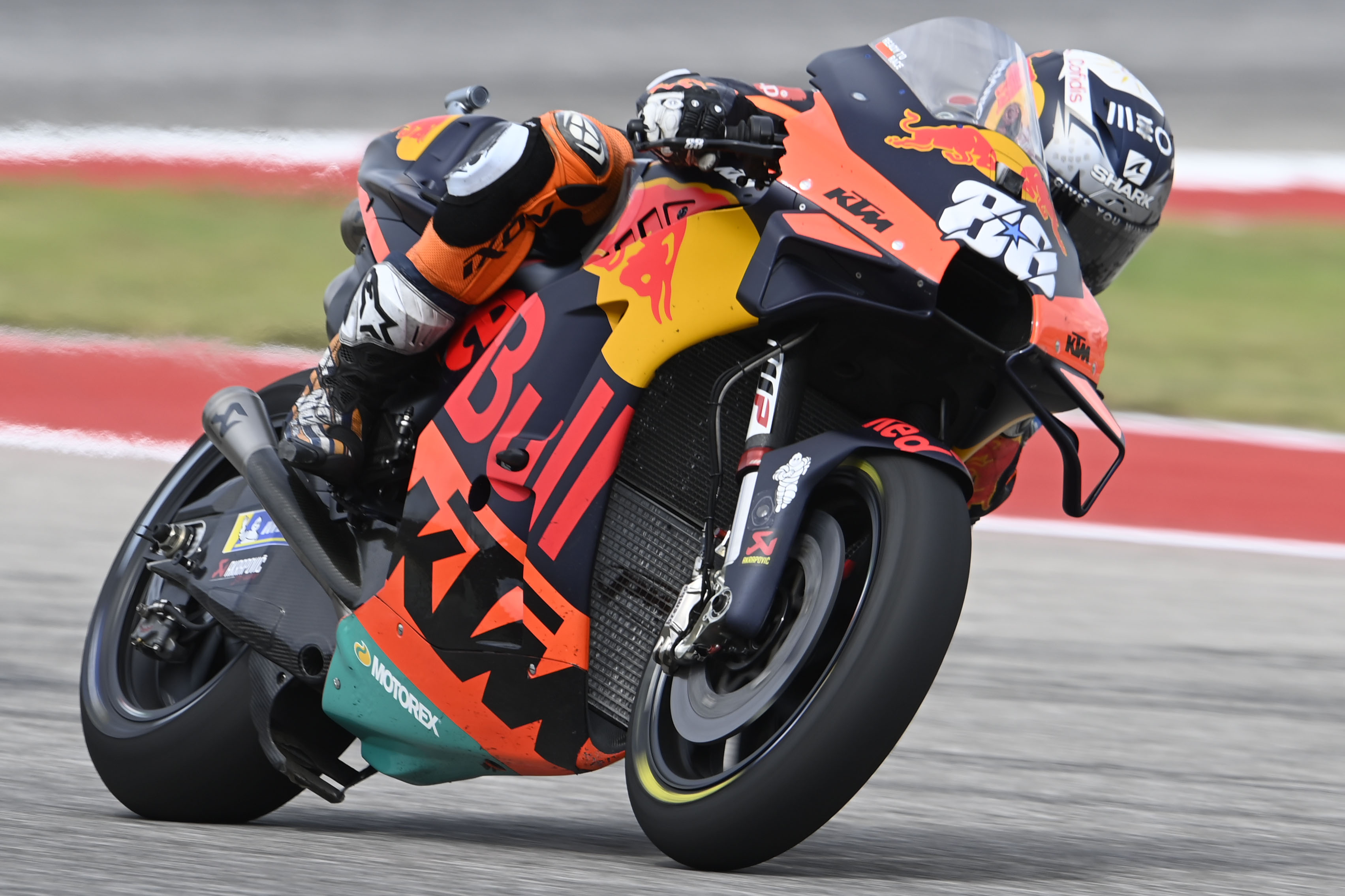 Given how tough things have been for Oliveira of late, he really just needed a solid finish from Austin and he delivered it by securing only his second points of the second half of the season to date.
He did it on a weekend where KTM clearly wasn't fully at pace, either, so coming home only two places behind team-mate Brad Binder definitely counts as a big success.
Joan Mir – 6
Started 8th Finished 8th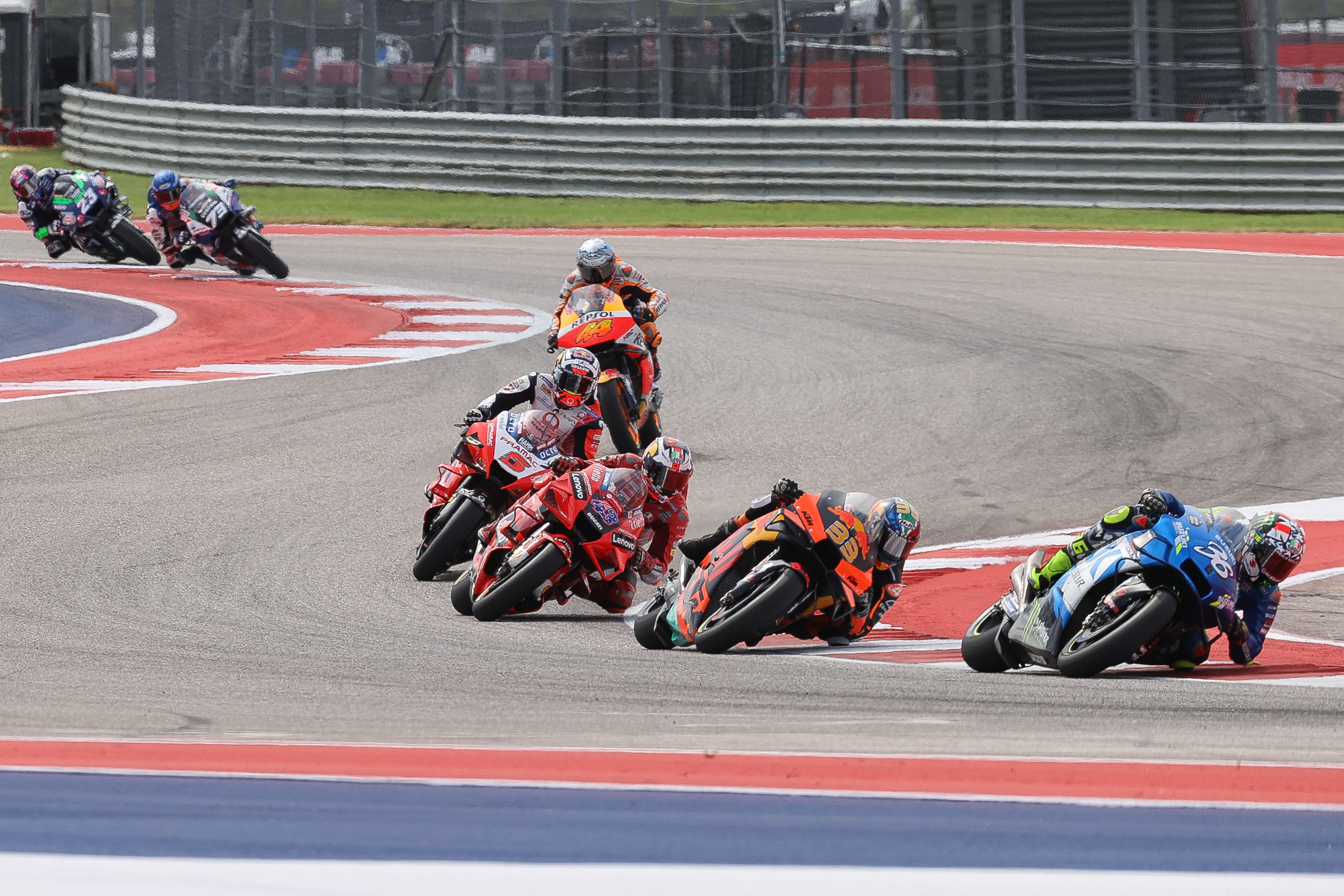 The reigning world champion gets some added points for his aggressive charge at the end of the race, but in reality he should have done better than he did.
Team-mate Rins showed Suzuki's reality at Austin, and Mir shouldn't have been as far back as he was.
It speaks to his desire to do anything about that that he made a rather ambitious lunge on Jack Miller on the final lap that cost both of them two places – but it's not a position Mir should have been in in the first place.
Alex Marquez – 5.5
Started 15th Finished 12th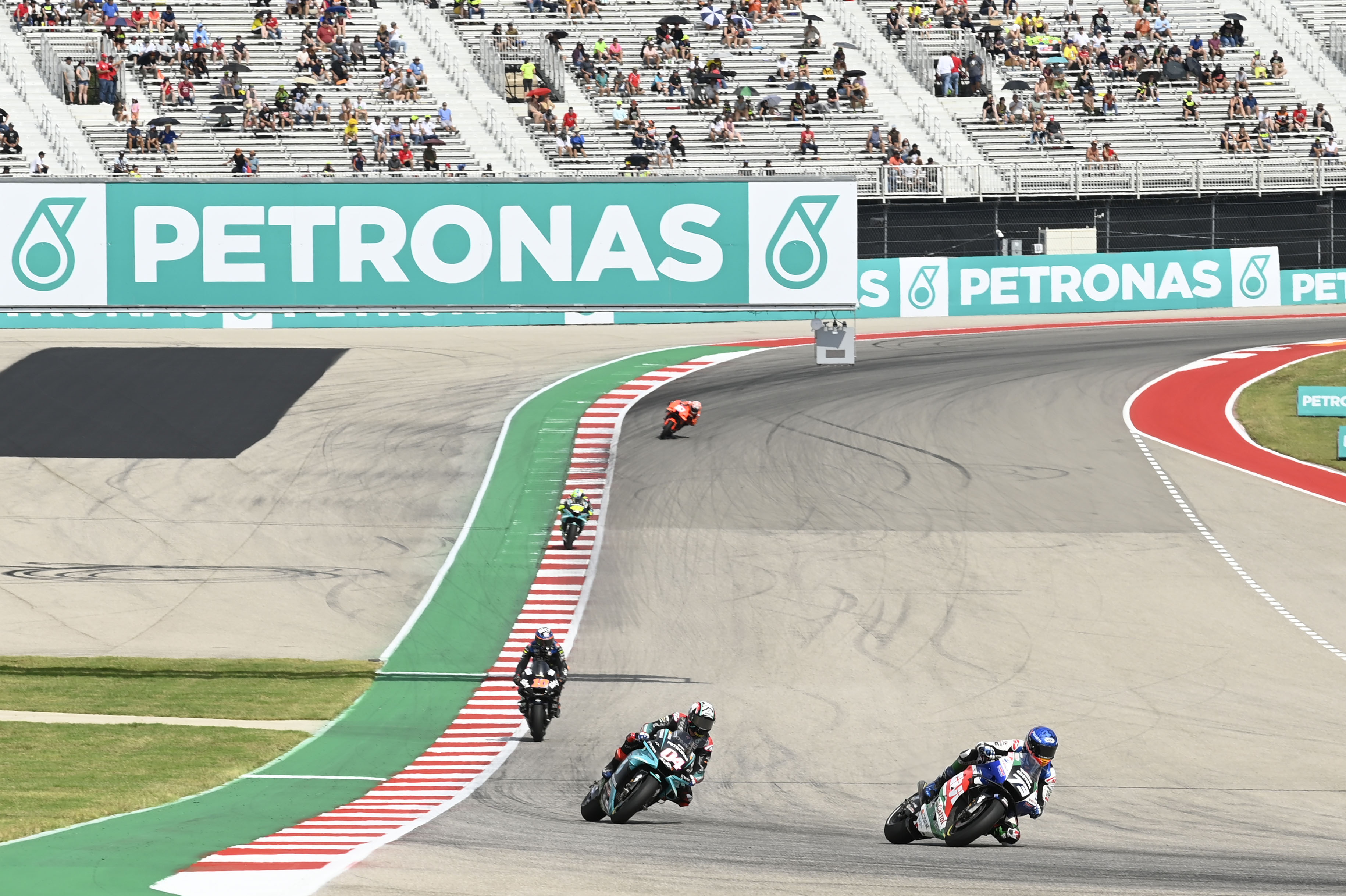 A rather neutral weekend for Marquez, who never really seemed to be able to make his LCR Honda sing the way that his fellow Honda riders could.
Yet arguably it was him who got the last laugh by ending up in a halfway respectable points-scoring position not too far from Pol Espargaro, the guy who replaced him on the factory bike.
Perhaps even more importantly, he did what team-mate Taka Nakagami couldn't do and stayed on the bike.
Franco Morbidelli – 5
Started 13th Finished 19th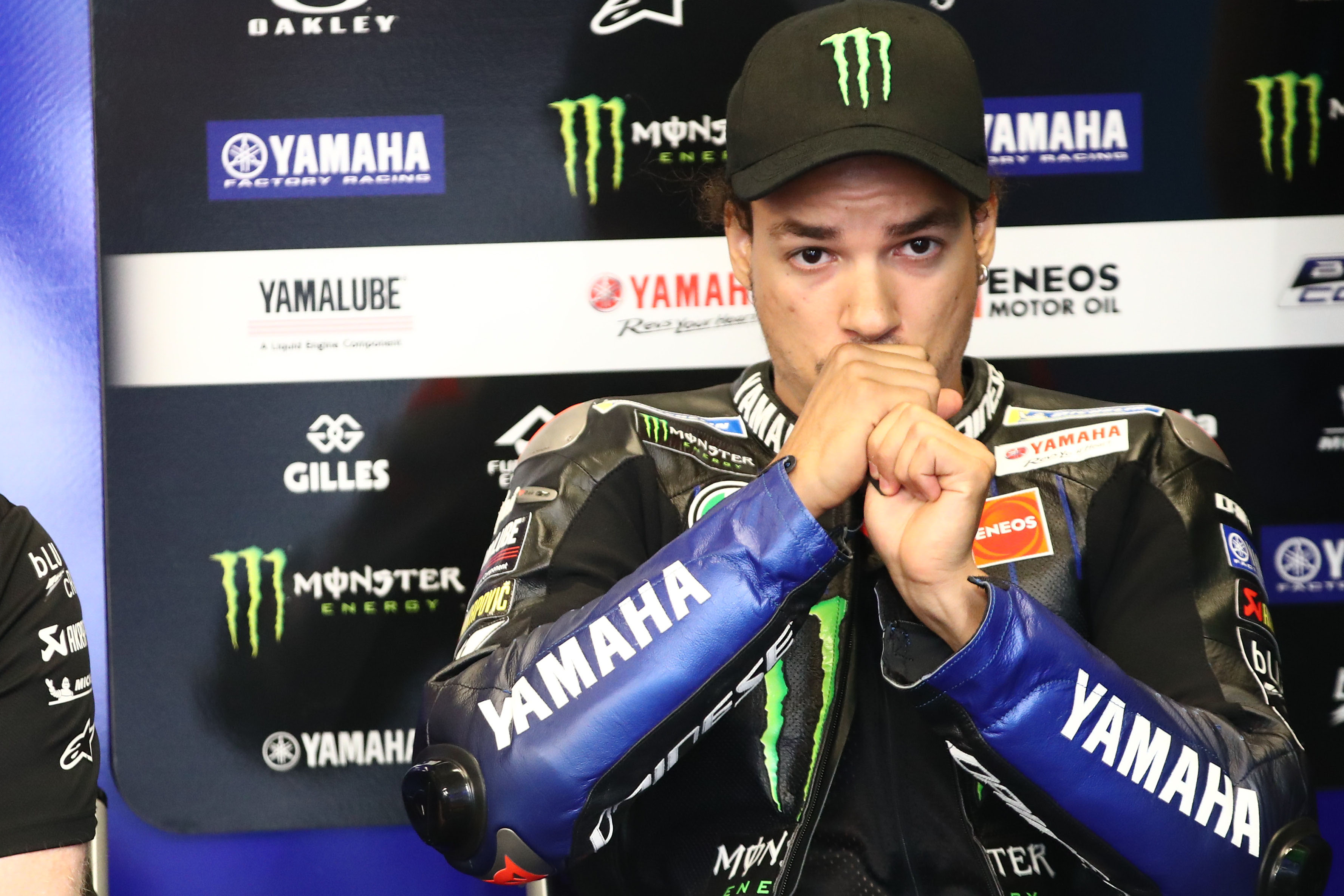 It was never going to be easy for Morbidelli at Austin.
Struggling physically on the bike after so much time spent at home recovering from knee reconstruction surgery, he nonetheless looked stronger all weekend than he did at Misano and that's definitely something to be positive about.
But the condition of the track and the heat meant it was going to be a tough race for everyone, never mind those who aren't race fit, and that was reflected in his result.
Brad Binder – 5
Started 11th Finished 9th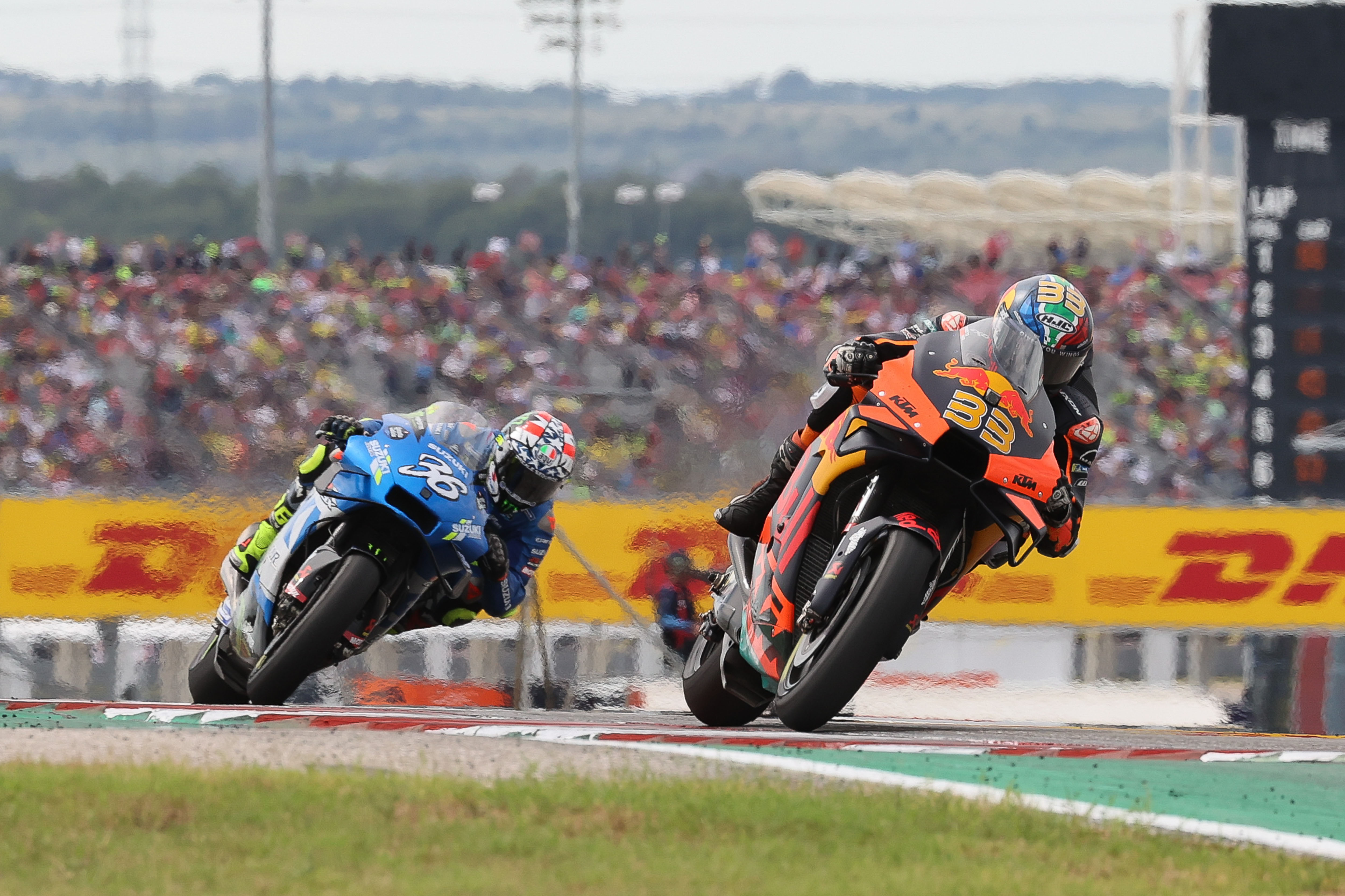 Not the best Binder 'Sunday special' performance we've seen of late, with really nothing too special to talk about from his ninth place except that it once again meant that he came home as top KTM.
It's not a fair representation of his pace as KTM still struggles to come to terms with the realities of 2021 but it could have been a worse day for team and rider.
Pol Espargaro – 5
Started 12th Finished 10th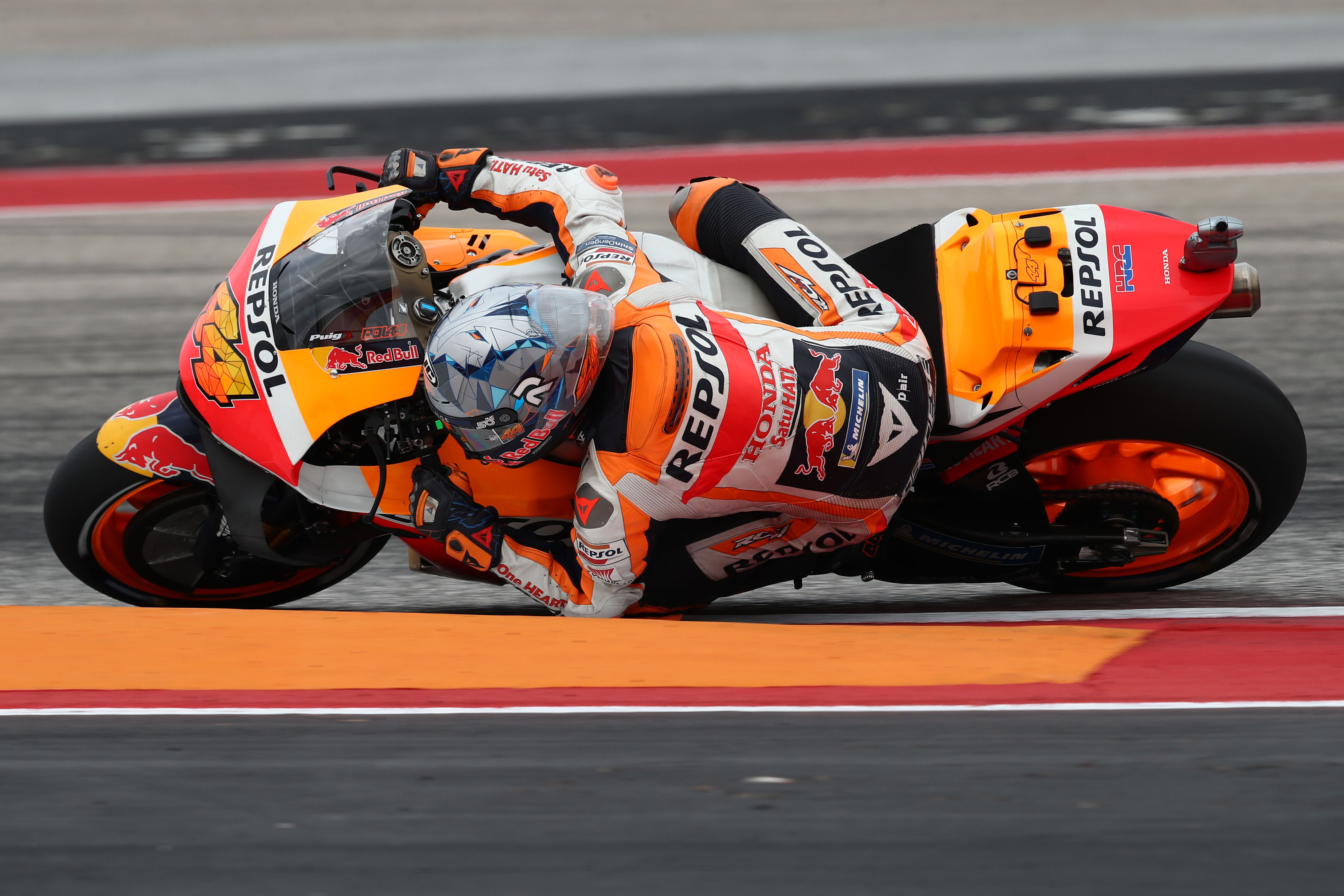 Not necessarily the result that Pol Espargaro was hoping for after a strong start to the weekend at Austin, but it's actually not as terrible as it might first seem – thanks in large part to the high temperatures that appeared in the latter part of the weekend.
Struggling all season on the Honda when the rear grip comes up, he was at least able to manage to make it to the end with no dramas; perhaps a hint that finally Honda's starting to move in the right direction with the RC213V and making it manageable for riders other than Marc Marquez.
Luca Marini – 5
Started 9th Finished 14th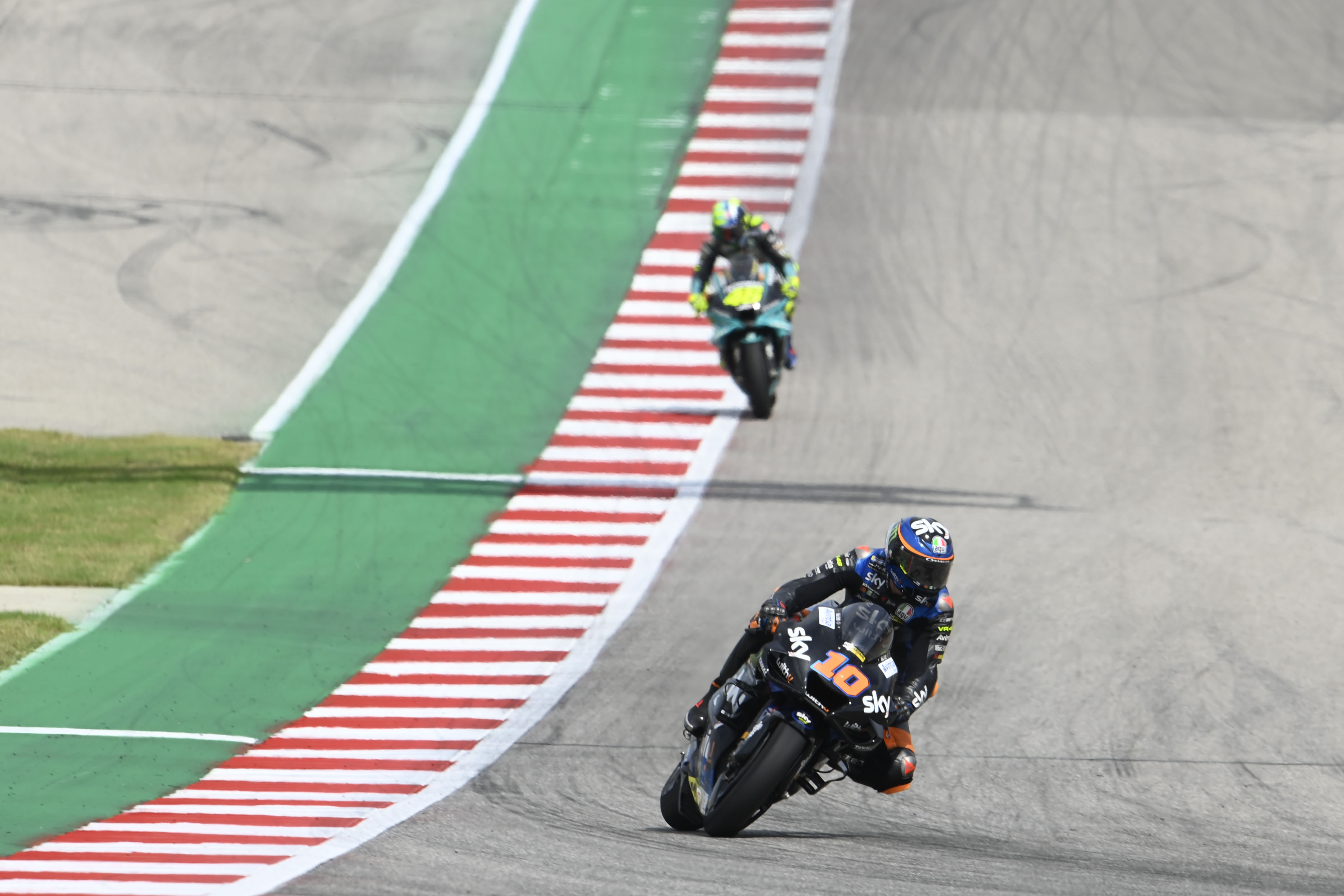 Marini continues to work away at VR46, but it's looking more and more like his chances of setting the world on fire the way all the rest of Ducati's six-man squad have at some point this year are diminishing.
He's a journeyman racer, despite his occasional flashes of genius in Moto2, and this was just another average performance.
Iker Lecuona – 4.5
Started 17th Finished 16th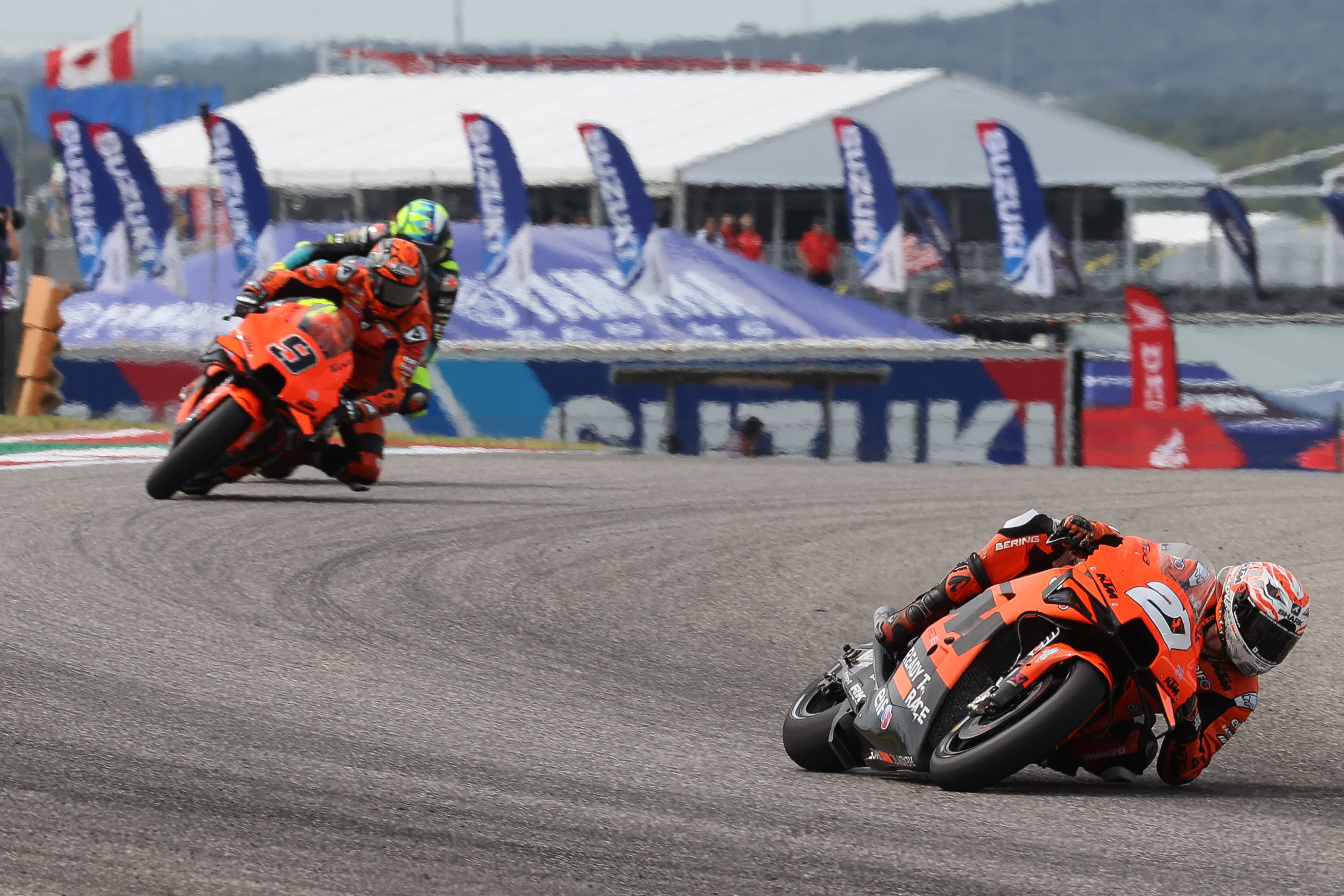 A rather anonymous weekend for Tech3 KTM's Lecuona – but after a few rounds of ensuring he got on TV when he got into the gravel during the race, a decent enough finish (ahead of team-mate Danilo Petrucci) on a tough weekend for KTM means that he didn't do a terrible job.
Really only the significant gap to the factory bikes counts against him a little.
Danilo Petrucci – 4
Started 21st Finished 18th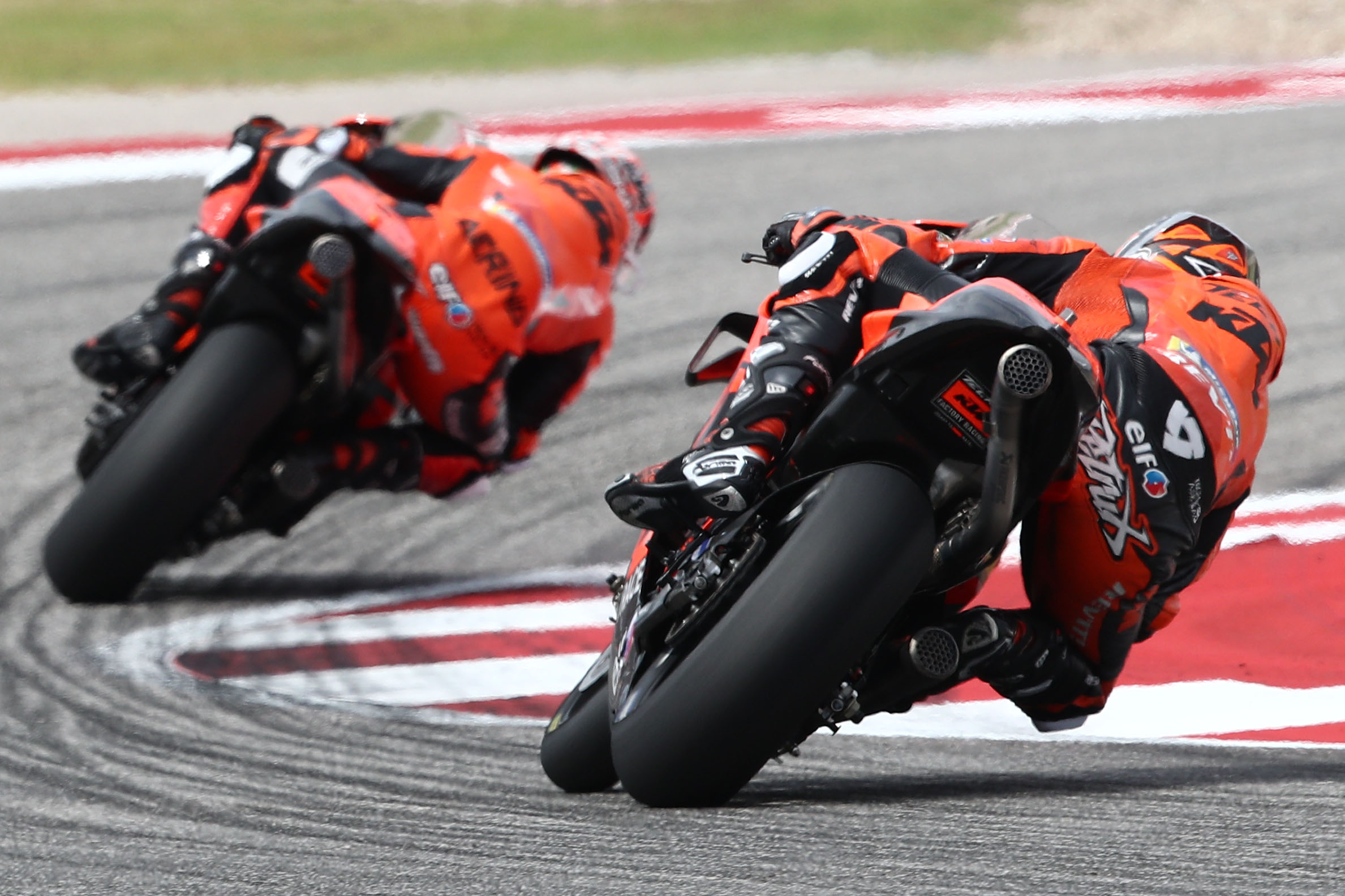 Another rather mediocre weekend for Petrucci as he qualified in last place, ran at the back of the race and finished behind someone who crashed.
But given all that, when you consider KTM's overall performance and just how much his bigger stature worked against him on the crazy bumps of the weekend, it's not the best but definitely not the worst result of the year for the likeable Italian.
Valentino Rossi – 4
Started 20th Finished 15th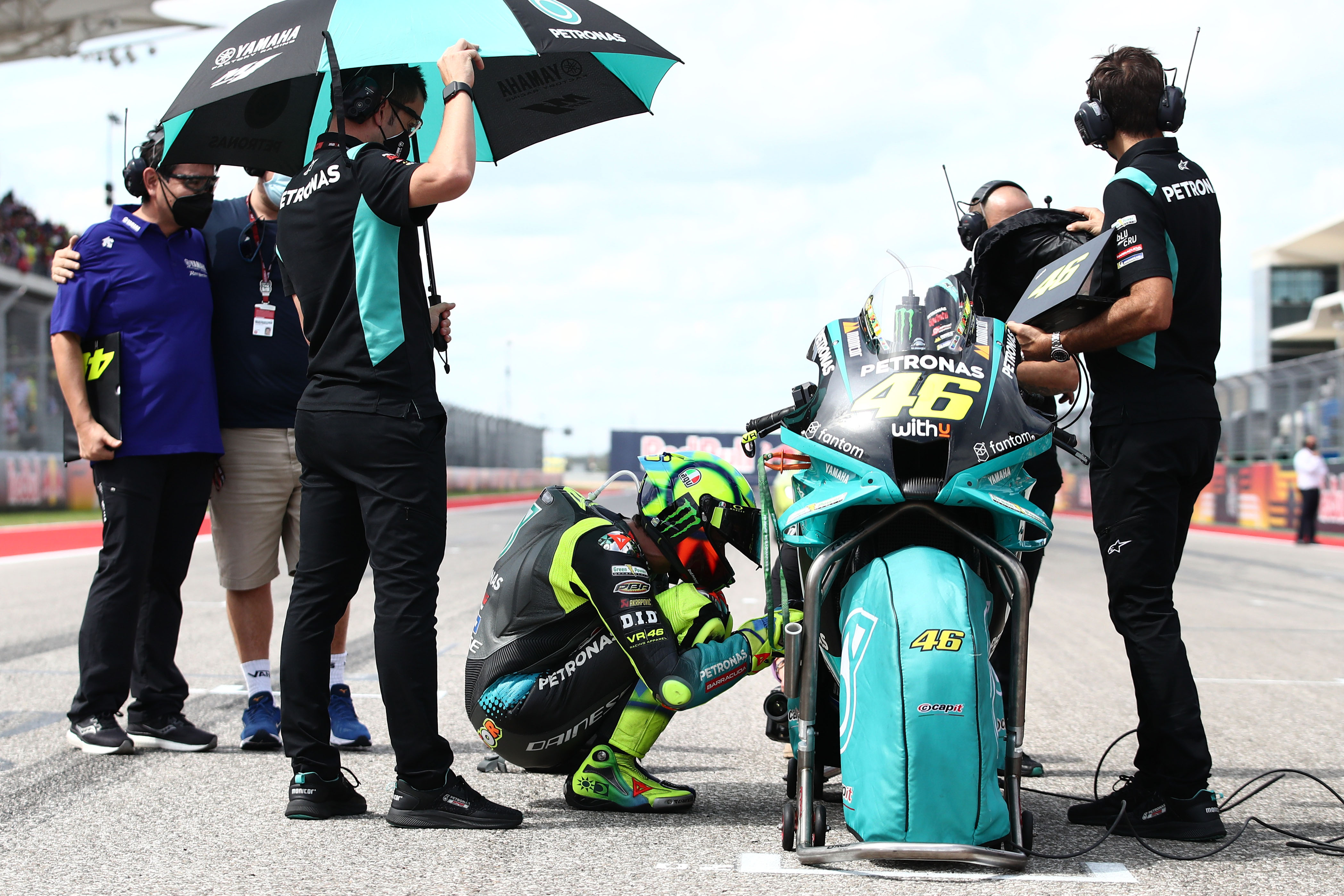 It's been nearly two seasons since MotoGP last visited the Circuit of the Americas. The last time we were here, Rossi fought for the win – and this time he was fighting for the smallest of points in perhaps the perfect metaphor for where his career has gone in the intervening months.
Not his worst result of the season, but for much of the weekend he continued to just be anonymous. The end is close now, and it might come as some relief to him.
Jack Miller – 3
Started 10th Finished 7th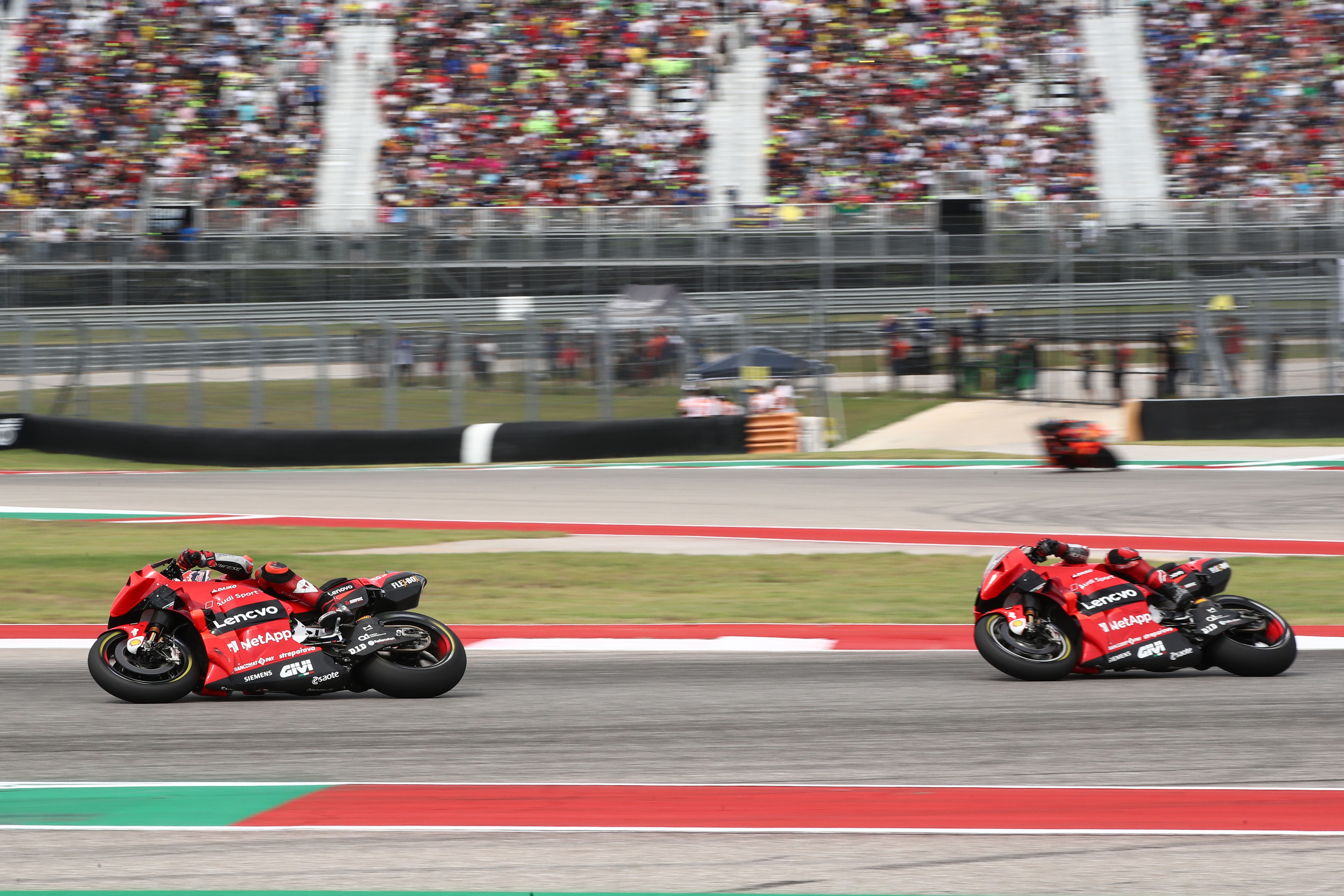 Frankly, given the pace he showed all weekend, Miller should never have found himself in a dice for sixth with Mir that ended in contact and a stewards' intervention.
The Ducati man was blisteringly fast in the earlier stages of the week, but in unfortunately typical Miller fashion, he wasn't able to stretch it out to 20 laps.
His qualifying didn't help, challenging the lap record in practice only for it all to go wrong and leave him blaming Michelin for what seemed to be his own mistakes in qualifying.
Taka Nakagami – 2.5
Started 5th Finished 17th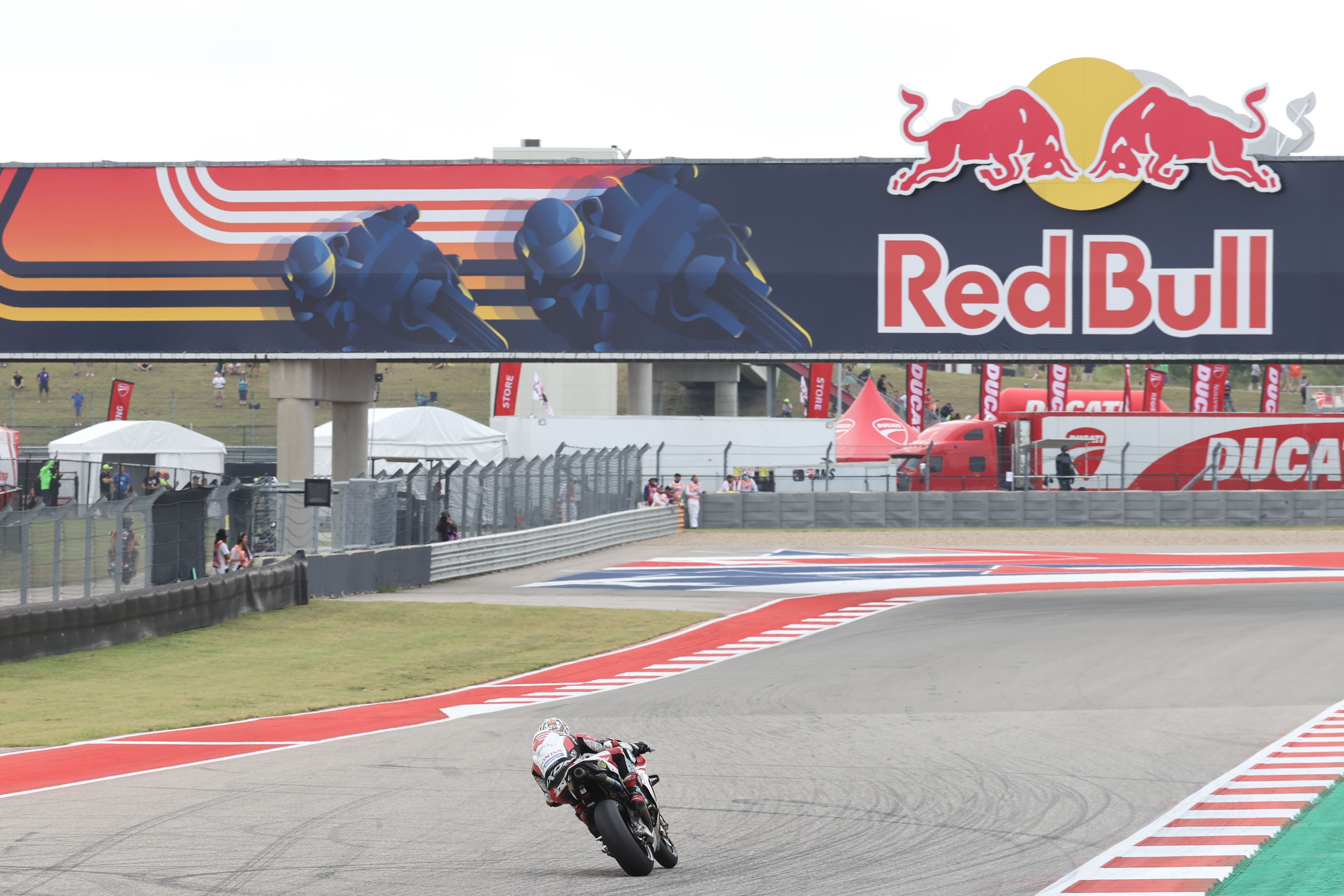 To be blunt, a disappointing ride from a rider who went into the race with lots of potential.
Believing that he could actually fight for the podium and making a strong start to the race, he got caught out by the bumps when everyone else was being more careful.
What rubs salt into the wounds is his pace in the latter stages of the race as he hunted down (but didn't quite get to) the points.
Aleix Espargaro – 2
Started 19th Finished DNF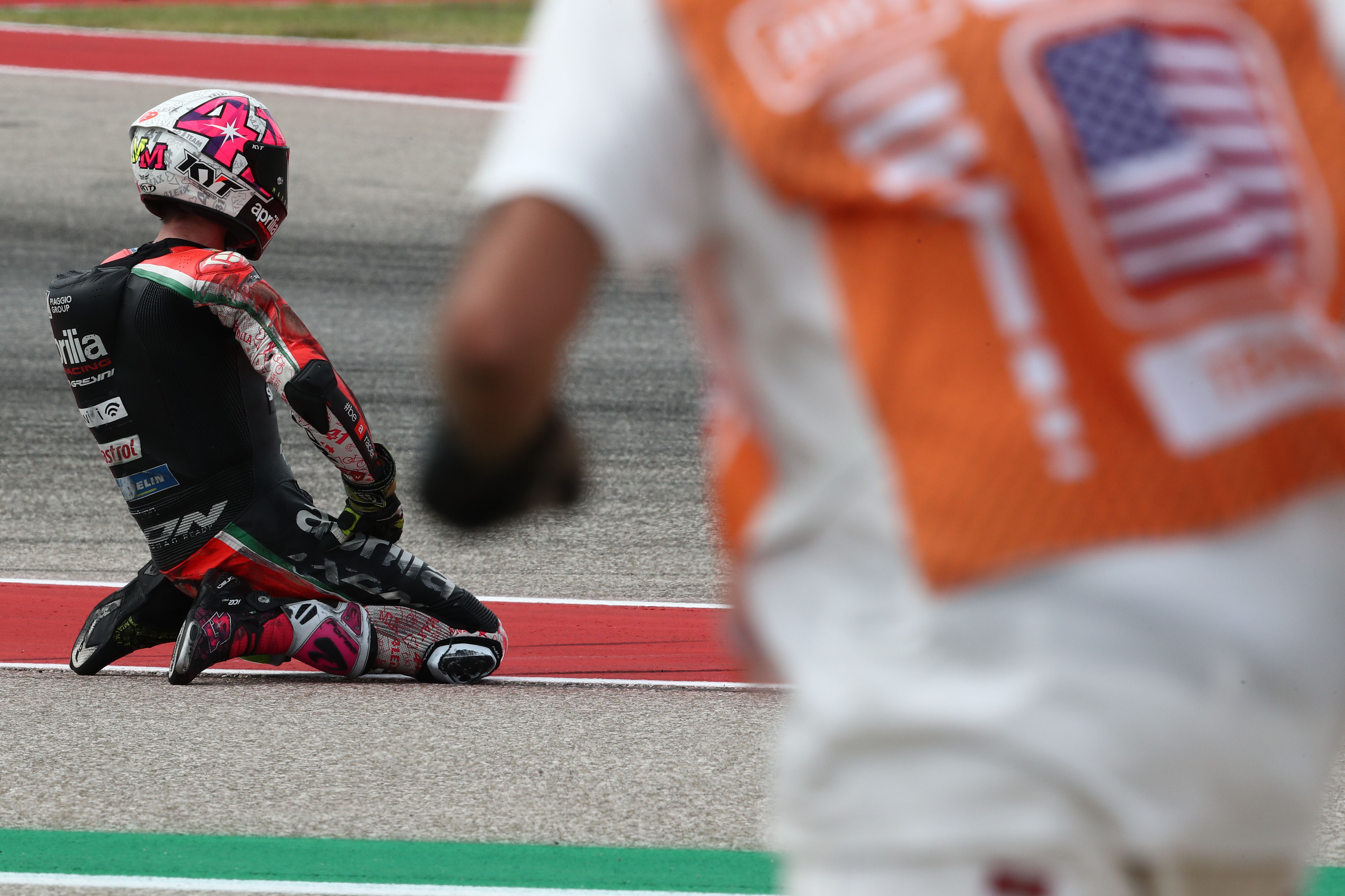 Something wasn't right all weekend at Aprilia; that much is clear. And with Maverick Vinales absent and Espargaro its sole rider, the onus to find a cure was on him as the RS-GP refused to sail over the bumps.
But that's still something that was a known factor going into the race, and honestly five falls in a weekend is just a little bit much for a factory rider.
Johann Zarco – 2
Started 6th Finished DNF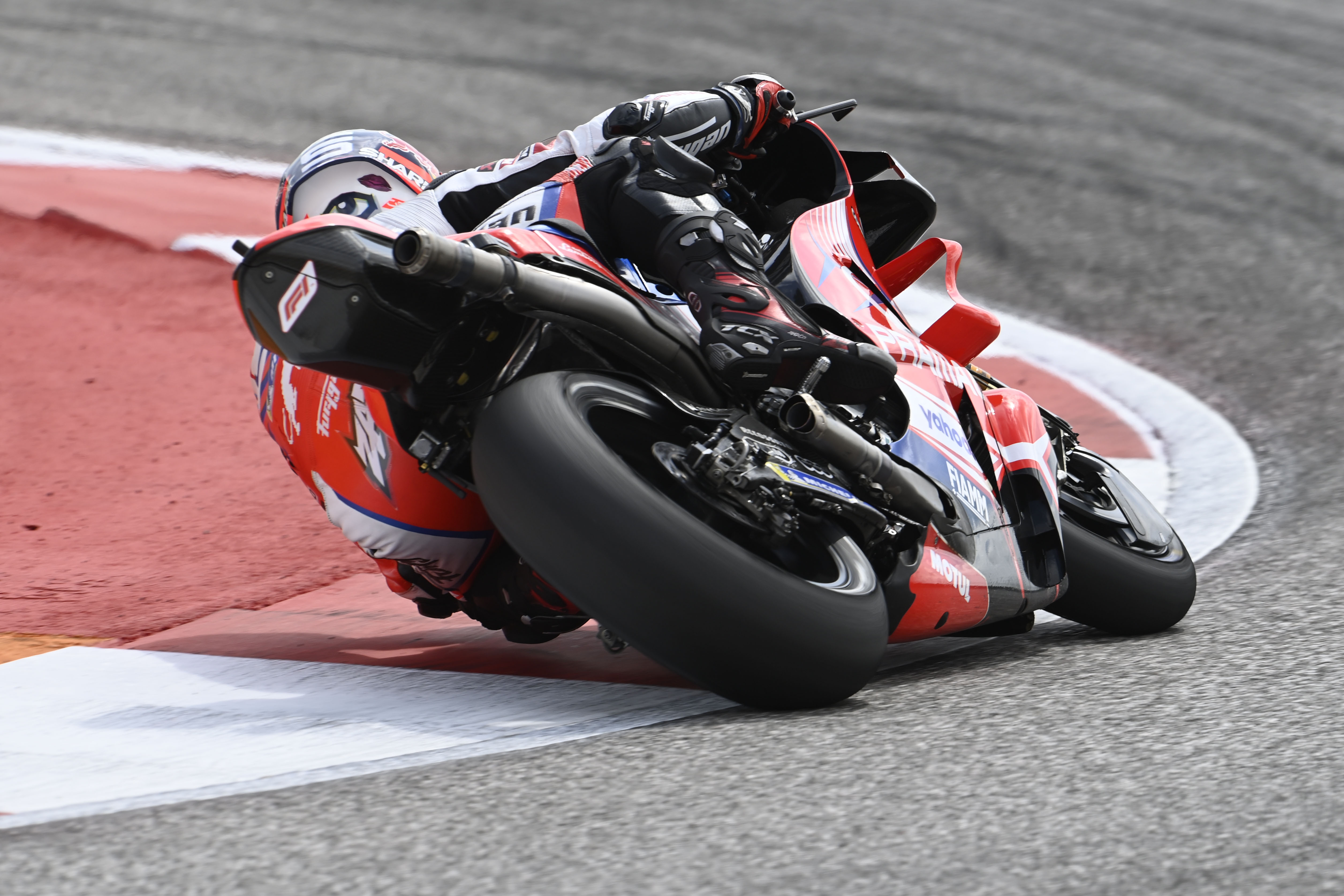 Rookie stuff from a man who should know better.
Conditions were always going to be tricky thanks to the incessantly-discussed bumps, and it isn't a good look that the only man to get caught out from Ducati's team of six (three of whom are rookies) was the most experienced of them all.