Suzuki's reigning MotoGP champion Joan Mir has admitted that he finds Marc Marquez's recent reliance on following other riders "difficult to understand".
Mir, who already had Marquez use him as a reference earlier this year at Portimao and didn't sound too impressed then, had the Honda man on his tail for distinct stretches in FP3 and FP4 on Saturday.
In qualifying, Marquez followed Honda's wildcard rider Stefan Bradl in the first segment and then crashed while using eventual pole-sitter Francesco Bagnaia as a reference in Q2.
"About Marc, he always- I think all the riders know what Marc needs, no?" Mir said.
"He always needs a wheel [to follow] to be, I think, strong or I don't know – it's something that is difficult to understand for me, how an eight-time world champion cannot make his job on his own, and always needs some wheel.
"But yeah, it's the game that always Marc loves to play, and that's it, today was me, I tried to make my job, I don't care if I have someone on the back and this, I tried to give my 100 percent and to work for the race."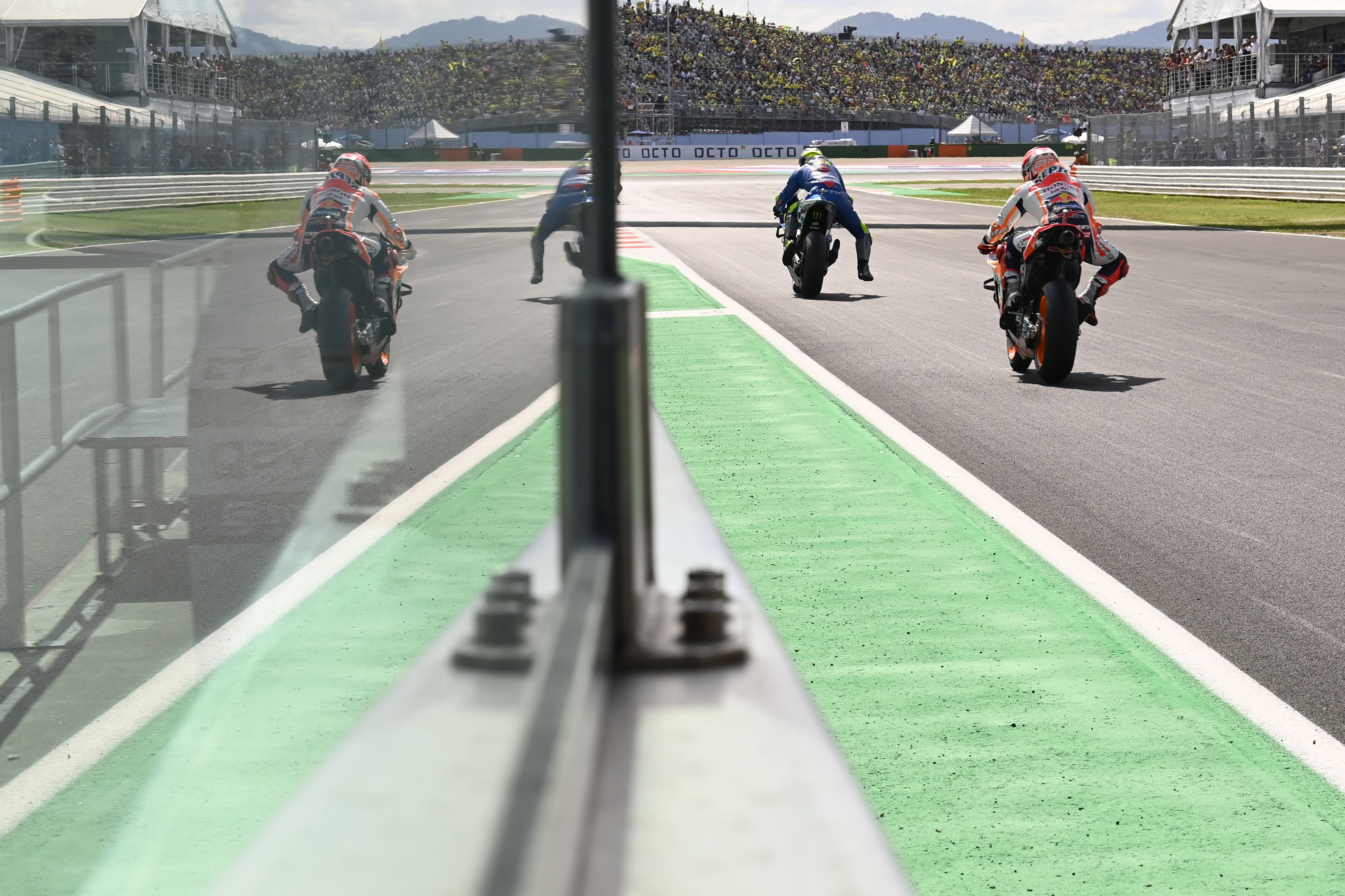 Marquez's response to the comments, however, suggested that he and Mir hashed it out between their respective written media appearances.
He stressed that in qualifying he didn't follow Mir, instead, he made a request in advance to follow Bradl in Q1.
"About Mir, I already spoke with him, now on the media [TV pen], and he said to me 'don't care what they [the media] ask you, I didn't push like they will say'. He said it's normal that a slower rider tries to find a fast rider, to follow somebody. About this, it's something that is natural, in motorbikes – if you don't disturb the other, of course."
Of his crash trying to follow Bagnaia, Marquez – who ended up a "happy" seventh despite the crash – said: "Pecco was riding incredible, faster than everybody and obviously faster than me, I tried to follow him, but on that brake point I braked too late.
"I was riding the medium [front] tyre. that normally I was going with the hard. All the situation was not helping to avoid the crash."