The principal facts of Aleix Espargaro's 2022 Dutch TT ride – fifth on the grid, second on lap one, 15th on lap five, fourth at the chequered flag – make it out as something quite special. And a closer look reveals it to be exactly that.
"There is one thing that they don't give points [for] but for me is important and if I want to fight for this title I need it – and I was missing this on the last four-five races.
"It's to be the fastest on the track. And I think during the weekend except the qualifying, with the bad luck on the yellow flags… I think I've been the fastest during all weekend. I showed them my speed.
"And this for me is very important. Today I didn't win, because Fabio hit me. But I think the victory was clear. But for me it's important to have this feeling."
When Fabio Quartararo hit Espargaro on the fifth lap at Strubben, it looked like the main MotoGP title contenders of 2022 would leave Assen with the very same 34 points separating them as before. Instead, at the chequered flag, it was 21 points.
Here's a closer look at Espargaro's race that briefly threatened to become a huge wasted opportunity – but instead allowed him to deal the first serious blow to Quartararo's title lead in a long time.
---
Early laps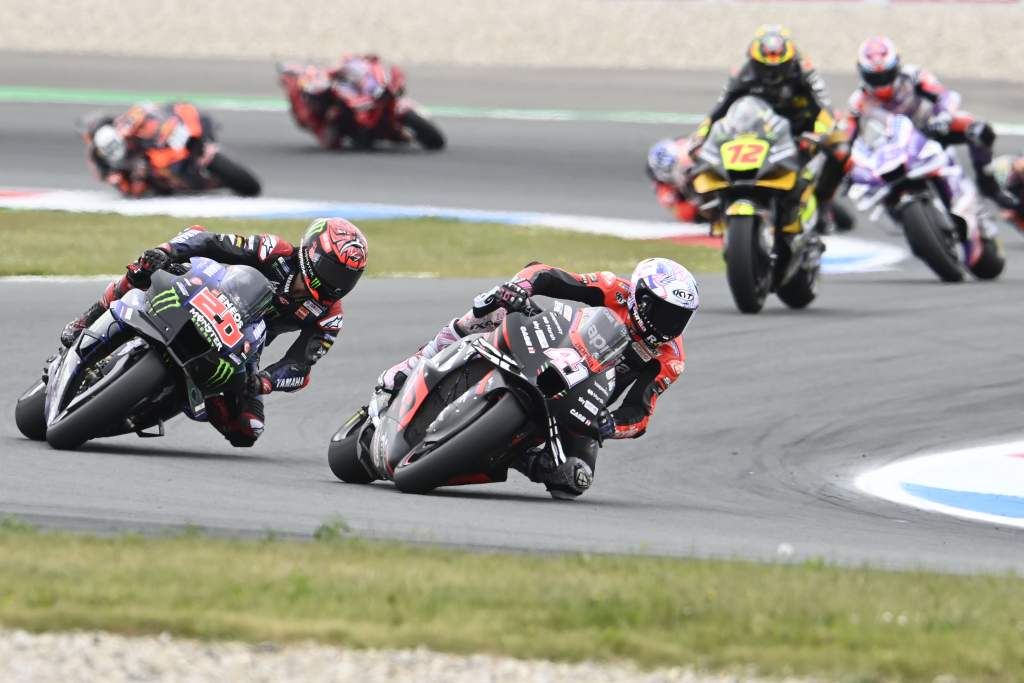 Lap 1. Espargaro had complained earlier in the season about being repeatedly let down by the Aprilia RS-GP's clutch, but that has been worked on – and here it worked a treat. In the middle of the second row, he got past Marco Bezzecchi right away, before going round the outside of a hesitant-looking Jorge Martin into Turn 1.
But Martin's hesitation turns into an advantage exiting the corner, and he slides back up the inside of Espargaro at the following Madijk right-hander – while both also get ahead of Quartararo, who had run way wide. The very next corner, another right-hander in Ossebreoken, allows Espargaro to return the favour and move up to second at Martin's expense.
Lap 2. Bagnaia very nearly pulls a second clear on the opening lap, but is immediately reeled in by Espargaro, who is outpacing him in the high-speed final sector in particular. But the same goes for Quartararo, long back up to third.
Lap 5. With Bagnaia half a second in front, Quartararo seeks to disrupt the status quo at Strubben and instead falls off, putting Espargaro in the gravel. The Aprilia man digs his RS-GP out, emerging 15th – a fair bit behind Alex Rins up ahead and only narrowly ahead of Honda's Stefan Bradl, who he fights off.
---
Speaking after the race, Espargaro said he approached the charge that would follow in the next laps with a "nothing to lose" mentality.
But how come, given he is in title contention?
A bruising day for the World Champion! 💥 @FabioQ20's Assen double came in a very different form! 😮 #DutchGP 🇳🇱 pic.twitter.com/OxCFC59cxO

— MotoGP™🏁 (@MotoGP) June 26, 2022
"When Fabio hit me, I saw in my board [the position]," Espargaro said. "At that moment I said 'your race is done, nothing will change if you score two-three points, doesn't matter, you need to go for more than 10. If you crash, crash'. I thought 'it's not going to be your fault if you crash, it's going to be Fabio's fault!'.
"So I said to myself 'today is the day, you have to prove that you are fast and you have a good bike. And I proved it."
---
Recovery begins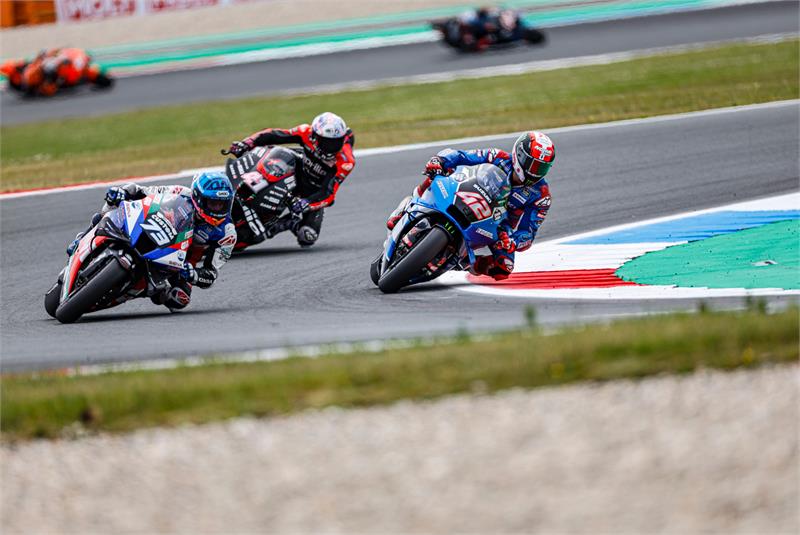 Lap 7. Rins has passed a fellow Alex – Alex Marquez – up ahead, but before he is able to escape the LCR Honda man Espargaro passes Marquez too, with a lunge down the inside of the Geert Timmer chicane that will soon become very familiar.
Lap 8. Rins is taken care of in the same manner at the same corner. But there's relative daylight ahead of him – with Enea Bastianini two seconds up ahead.
Lap 11. Back on his damaged M1, Quartararo is limping around and gets lapped by Espargaro, raising an apologetic hand as the Aprilia storms past. At that point, Espargaro already has a Gresini Ducati well in his sights, but it's that of rookie Fabio Di Giannantonio rather than Bastianini.
Di Giannantonio, dealing with "a strange vibration" on his front tyre, is falling like a rock, and can do absolutely nothing as Espargaro sweeps by down the inside of, where else, the Geert Timmer chicane. Bastianini, however, is still around a second and a half up the road – is the charge at risk of stalling?
Lap 13. Having just produced what end up the fourth-best lap of the race – not his fourth-best lap, but the fourth-best lap of all the laps – Espargaro arrives on the back of Bastianini.
"We knew today it would be difficult to recover positions, but Aleix was with me, in the half-part of the race… and he went really fast compared to me. That's not good," the Italian will say after the race.
It's another Geert Timmer overtake but less of a lunge – Espargaro stays very close through Ramshoek and simply breezes past. Next up – Joan Mir, nearly two seconds up the road.
---
"I overtake I think there 20 riders, minimum," Espargaro said of the chicane. "I think I didn't overtake in other places. I think every overtake during the race was there. Every lap, one guy there."
That's not quite accurate – but close enough.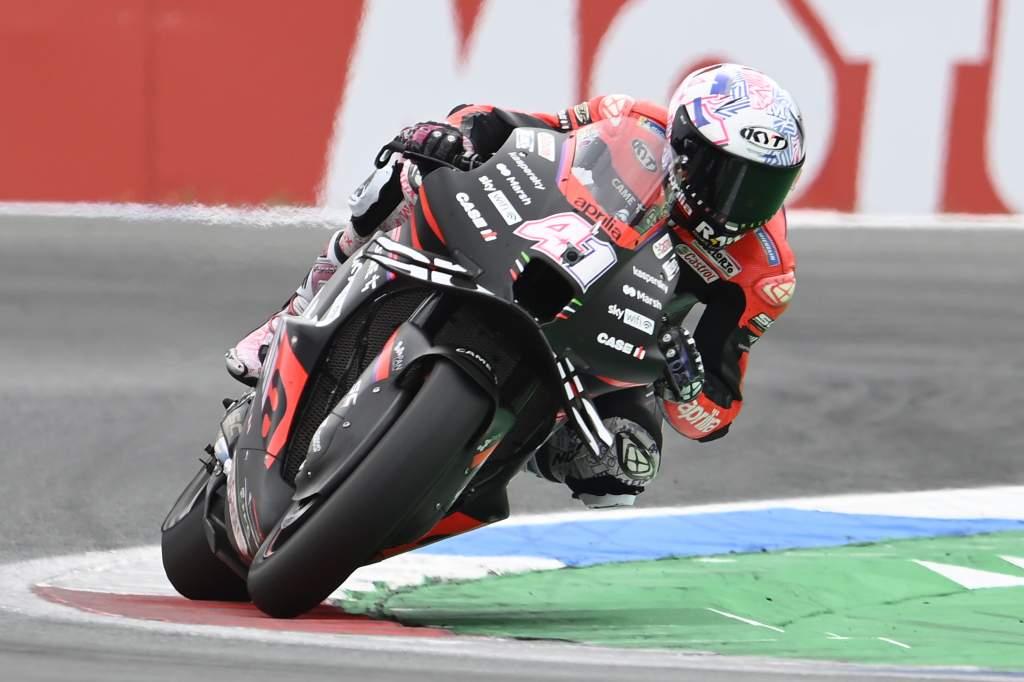 "I don't want to sound arrogant, but my pace today was a little bit faster than the rest. So when you have around half-second, four-tenths difference, it's a lot easier because it means that you are doing something very different to the rest. In the last chicane I was braking a lot later than everybody.
"Today my bike was unbelievable, the speed I was able to carry nobody was able [to], so that's why it was quite easy for me."
---
Rapid gains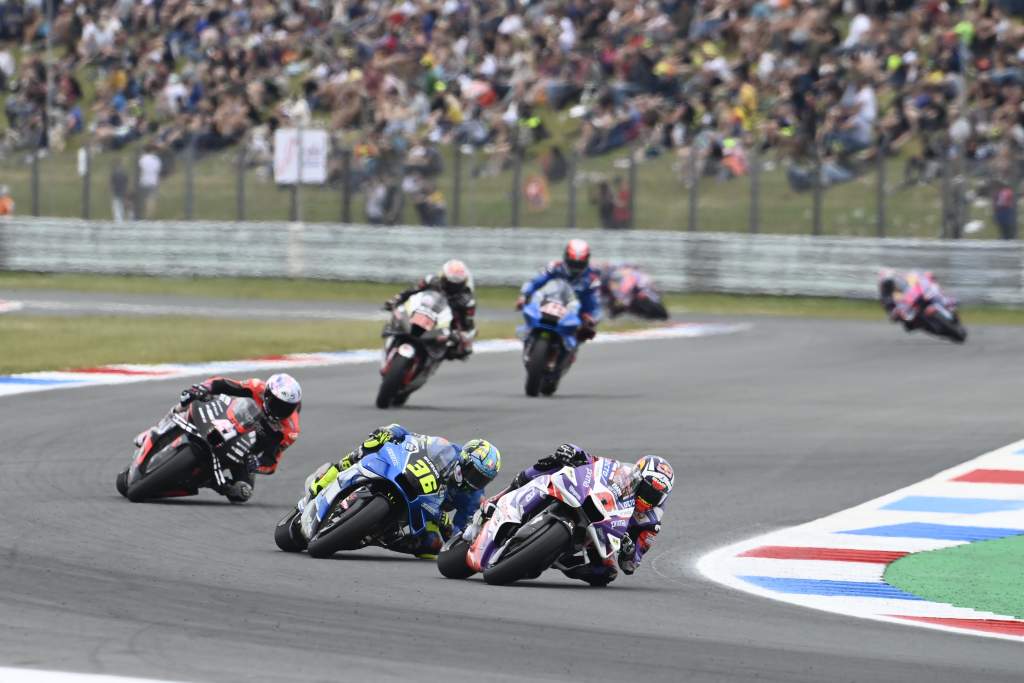 Lap 16. Espargaro has just posted what will be the fastest lap of the race, a 1m32.500s. But Mir is still a few tenths up the road – and in fact, he's hounding a clearly visible and clearly struggling Zarco.
Mir gets ahead of the Frenchman but Espargaro wastes little time behind the Ducati, passing around the outside of the fast Hoge Heide right-hander as if Zarco is stood still. That means he loses none of the speed going into Ramshoek, and with Mir lose enough to be attacked, a customary Geert Timmer pass follows.
But the lap goes down as even better than that, for Espargaro has also gained another position due to Takaaki Nakagami serving a long-lap penalty for track limits. It means he is up to eighth, just over a second down from Oliveira – but with a lot of empty track then ahead of the KTM man.
Lap 18. The rain flags are out, but Espargaro's pace stays more or less intact. Oliveira is carrying damage on his KTM RC16 after an on-the-grid clash with Mir, and is dealt with at the chicane. The overtake looks slightly less smooth than some of the previous ones, in that Espargaro appears to shed more speed, but it doesn't really matter.
Lap 19. Now with three seconds to make up to Jorge Martin, who is desperate not to crash and is therefore being more careful than his immediate rivals as he's faced with raindrops, Espargaro sets the third-fastest lap of the race – again, of all of them. That will be immediately followed by the sixth-fastest lap of the race.
The fourth- and fifth-best are, respectively, Quartararo's best lap of the race and Bagnaia's best lap of the race.
---
How much of Espargaro's final-sector prowess is down to Aprilia's new fairing, featuring what is basically an F1-style sidepod?
"A lot. A lot. From Friday I felt that as soon as you release the front brake in the very fast section I was a lot faster than the rest.
"I lost in some places but in the fast section my bike was a lot better."
And what of his mindset after the fifth-lap calamity? Espargaro said seeing his 1m32.5s laps – of which there were four – left him "smiling" in the race, but he was also seething.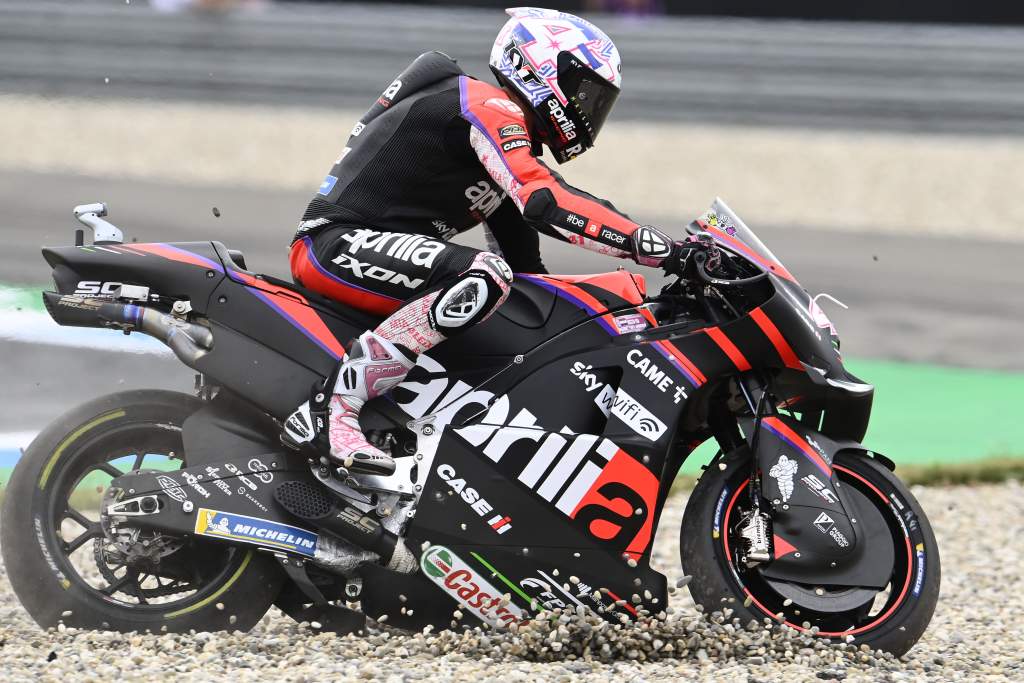 "If you are not calm, it's impossible to do many laps half a second under the previous [race] lap record [a 1m32.869s from Quartararo last year]. It's not possible.
"I was aggressive, angry, super angry, because every time I saw my dash the laptimes I was doing I was more and more angry, because I knew that it was impossible that the others go at that pace.
"And I saw that I was catching the leading group. So I was angry but at the same time happy to maintain that pace."
---
The finishing touch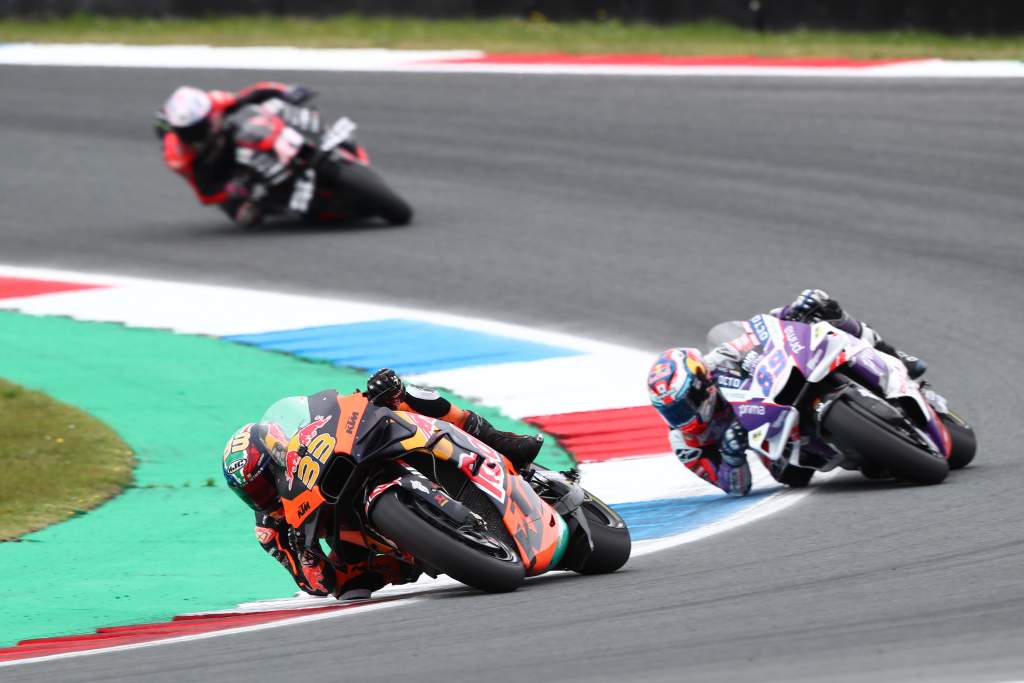 Lap 23. Martin is doing a sensible job keeping up with the podium battle, but he does not have Espargaro's pace. The Aprilia man produces a lap 0.005s short of his own race benchmark.
Lap 25. Martin is vanquished into the Geert Timmer chicane – it's an overtake like the one on Bastianini, as Espargaro stays particularly close to the Ducati through Ramshoek and gets most of the move done even before the braking into the chicane.
Problem is, Jack Miller and Brad Binder up ahead are nearly a second clear – so Espargaro may have to settle for sixth.
Lap 26. Or not. For there has been some indirect help from a team-mate – in fighting off Miller for third, Maverick Vinales causes him to get the Geert Timmer chicane wrong on the penultimate lap and leaves him vulnerable to Binder on the main straight. No overtake follows, but the pair are bunched up and not going very fast.
Espargaro senses the opportunity, and gets into attack range – of both. And as Binder sizes up a move on Miller down the inside of the chicane, Esparagro goes even further inside, completing a double move but also effectively creating contact between Binder and Miller, which leaves the latter "catching a handlebar to the elbow".
Ladies and gentlemen, the overtake of the season! 😲

That move from @AleixEspargaro in the last corner is just unreal! 💯#DutchGP 🇳🇱 pic.twitter.com/Bz3ClyNp8u

— MotoGP™🏁 (@MotoGP) June 26, 2022
Cooldown lap. Although he will later describe the situation as "my fault" for leaving himself vulnerable to the attack in the first place, Miller remonstrates with Espargaro in the run-off at Turn 1 and briefly flips him off.
Espargaro then receives a hug from team-mate Vinales and a handshake from Bagnaia, before cruising to the pits, awaited by a thoroughly elated Aprilia crew.
---
"Two laps to the end I went to [settings] map three, which was almost no TC [traction control], and I said to myself 'you have to do the fast corners spinning, carrying a lot more speed than them', and it paid off.
"The overtake was in the last braking, but in reality was in the left corner [Ramshoek]. I carried 20k per hour more than them. It was unbelievable the speed that I carried.
"It was just the inertia that I went into the corner. I saw that Brad was not super good on the brakes there and I said 'I go in". I'm happy because it was very important for the points."
So, how good was this? In a word, very. Espargaro was 8.6s behind Bagnaia after five laps, and would finish 2.6s back, despite completing 10 overtakes in the process.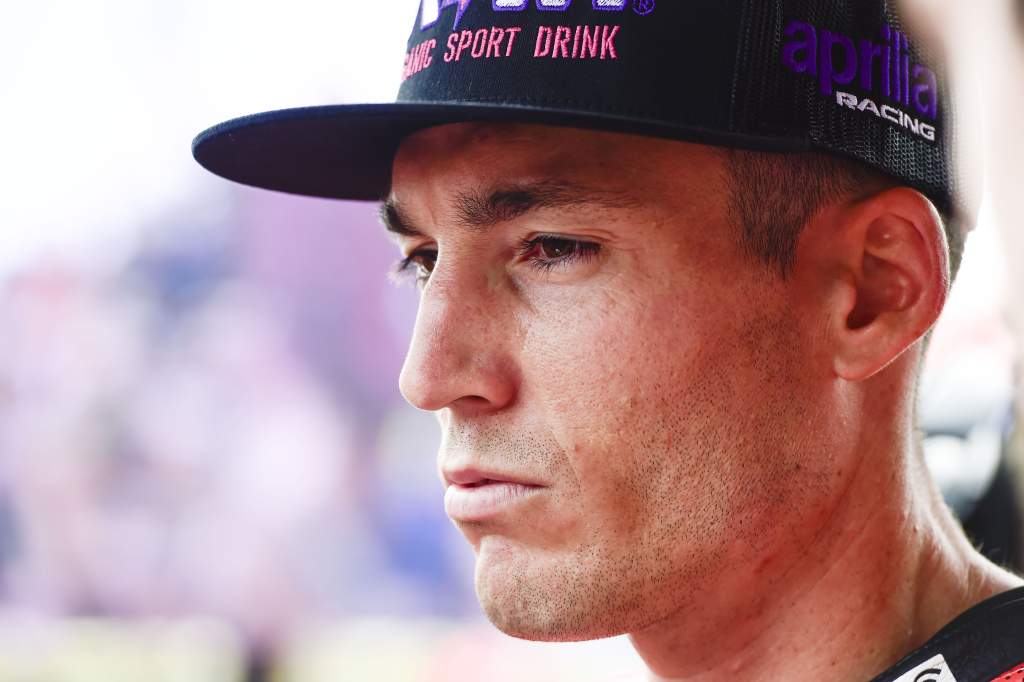 Quartararo seemed fairly convinced after the race that it had been Espargaro's to win. Bagnaia was less so – understandably, given he paced himself for much of the race, yet towards the end he did get made to work hard by Bezzecchi, who appeared less bothered by the rain drops.
Espargaro, for his part, was fairly convinced it was a win lost. And he admitted that that stung, even if in terms of the championship the outcome was almost certainly much better than if Quartararo never ran the Aprilia man into the gravel.
"Today I think I was able to win and Fabio to finish second. This is five points. I recovered 13.
"If you think in championship, it's better. But I lost a victory. I'm pretty sure I could win today. And I have just one victory in my career.
"I would've preferred to recover five points and have the victory, sincerely."
He may very well not feel that way come the Valencia finale in November. But even if not, Espargaro's Dutch TT charge will probably leave a more lasting impression than a straightforward win ever could.