It's never easy stepping up a level in any category of racing, but it's arguably harder to be a rookie Moto2 rider than any other series in the world given just how competitive the middleweight MotoGP series is. It's even harder when you're already being billed as the next big thing at only 18 years old – but that's exactly the pressure that Pedro Acosta has felt himself under this year.
Coming into Moto2 off the back of a frankly stunning rookie season in Moto3 in which he won six races and the championship – an almost unheard of feat – meant that there was even more pressure on his shoulders going from the dog-eat-dog world of the lightweight series onto the vastly more complicated 765cc Triumph-engined bikes, a step that some in the paddock have described in the past as harder than the jump from Moto2 into MotoGP.
That's shown in Acosta's results too, with a decent start to the season (racking up three points-scoring finishes in his first three races) quickly beset by harder times, as he failed to score points in the next four rounds.
Coming back strongly at Mugello with a maiden win in the class and backing it up with second place at the Sachsenring a few weeks later, it looked like he was on path to finally return to the dominating form of his first year in Moto3 only to be hit by yet more bad luck, snapping his femur in a training accident and being forced to sit out the next two rounds as he attempted to heal up the biggest bone in his body.
Undergoing surgery for the injury he sustained in a motocross crash was another huge impact on his debut year – and it took until last weekend at Aragon for Acosta to be able to return to where he left off with another impressive victory, this time in a head-to-head against Ajo team-mate Augusto Fernandez and championship contender Aron Canet.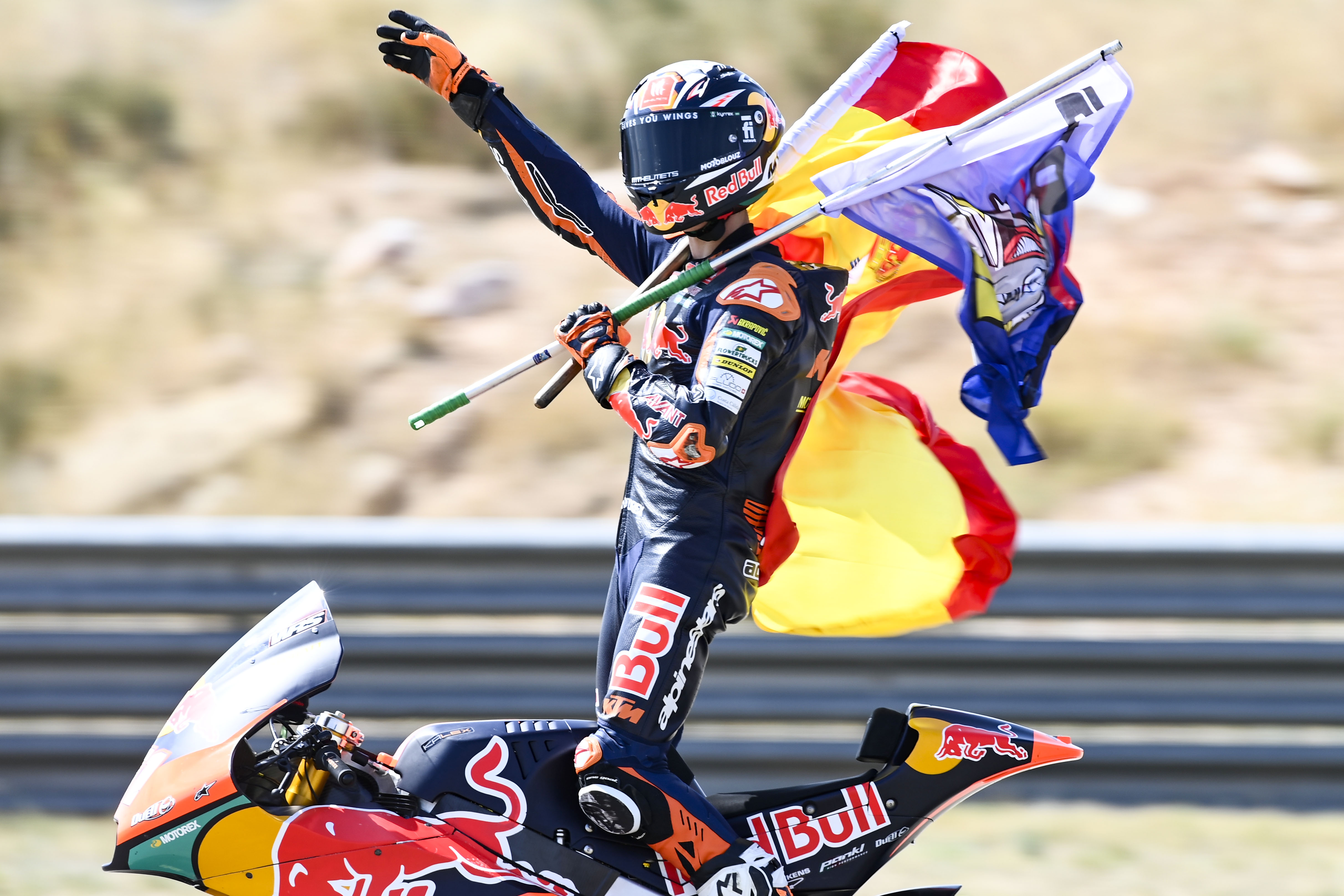 But now finally back, Acosta seems certain of one thing: that the remaining races of the year can be just as fruitful as he rejoins the path that he started on just before his broken leg – and despite the pressure that more success is certain to put back onto his shoulders.
"At the beginning of the season, everyone was like, 'Well, Pedro Acosta is going to be the new Moto2 world champion'," he admitted.
"And maybe this wasn't the best way to start the season. You see, OK, the first three races were OK, but then four zeroes in a row and I think it was the moment where we made our drop.
"After Le Mans where we were fast though, I think we started back in a good way, and from Mugello to here, we've finished all the races that I've started in the first six riders. For this, they've helped me to be calm more than with my style or anything like this."
Not the first racer in history to gain something special mentally under the tutelage of talent spotter and developer extraordinaire Aki Ajo, Acosta is insistent that it's down to the management and direction he's getting from the highly experienced squad (which remains the reigning Moto2 and Moto3 champion team and currently leads this year's Moto2 fight with Fernandez) that's getting him back to winning ways.
Acosta has been adamant from the very beginning – even while others were insisting otherwise – that his plan was always to replicate Marc Marquez's path and spend two years in Moto2, and it's increasingly obvious that the old head on young shoulders knew what he was talking about as he continues to learn.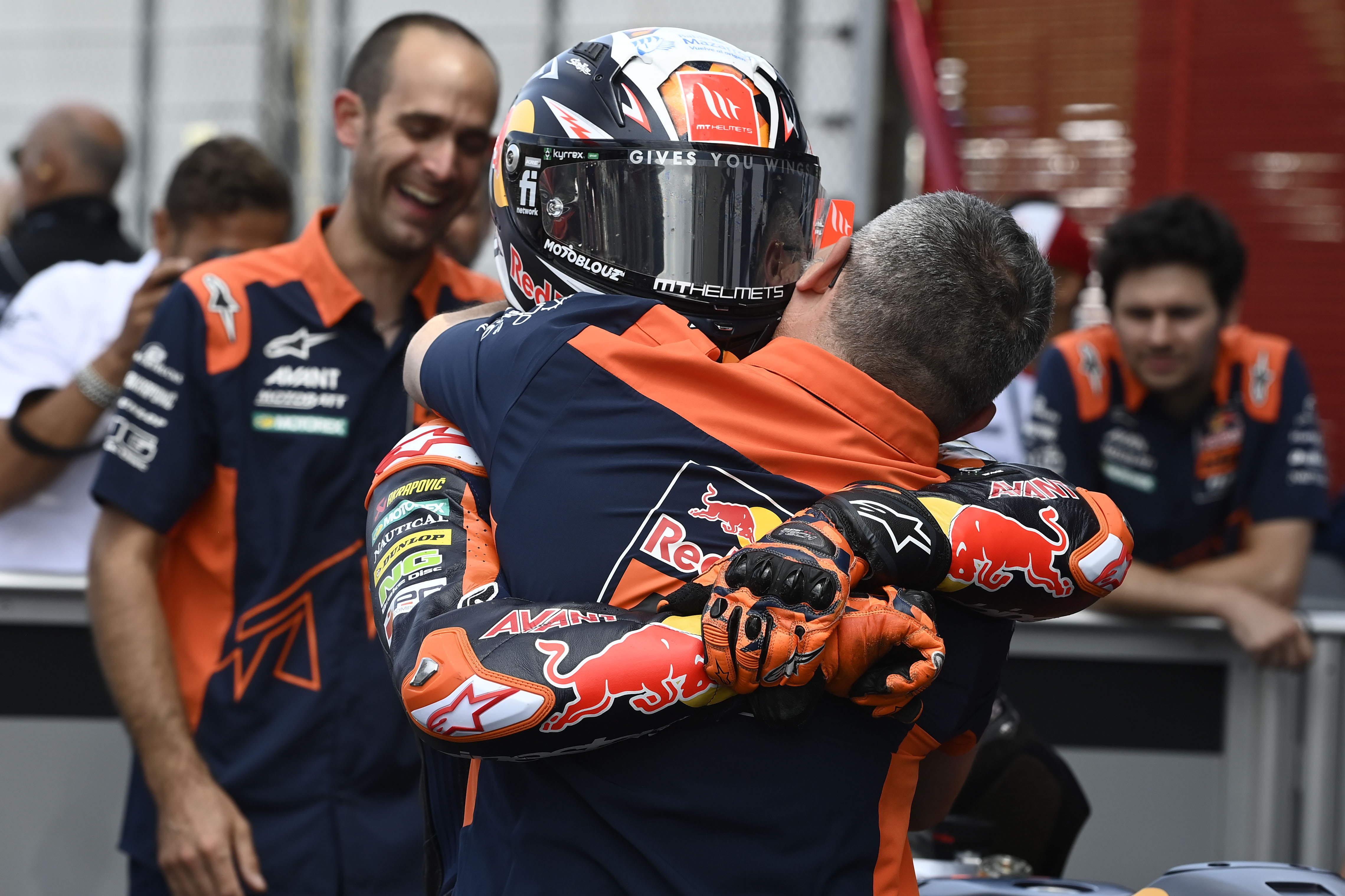 "Finally, it was down to the team," he stressed after his Aragon win. "They gave me the comfort to say, 'If today is not the day, it's not the day'. To be calm, to be good on the good days and not so bad on the bad days.
"The team gave me the peace of mind to do well and took the pressure off me. If we didn't get the victory, it didn't matter. That was one of the keys that determined the final result.
"We're here to learn, and we don't have to do something crazy to try to win. If today we have to be fifth, then we'll finish fifth, no problem. This was maybe the key that the team gave to me."