Of the six MotoGP manufacturers and their various goals for 2022's machines, there's perhaps no one who is as focused on one specific area as Honda. It has to help its riders fix the RC213V's area of weakness: rear grip.
That's been a persistent issue for Pol Espargaro in particular since he joined the team from KTM 12 months ago, and it has left him completely hamstrung so far as he works to try to radically readapt his riding style to suit the machine.
Espargaro has demonstrated on occasion (mainly when cool track conditions allow him to generate the traction from the back tyre he's normally missing) that he can be rapid on the bike, but the problem is that most MotoGP races take place in hotter climates – and the end result is a very frustrated rider who couldn't get his best out of the bike.
"In KTM, I used the rear brake to make the bike turn so much," he explained of his problems a few months back, "especially in the beginning of the project when it didn't turn so much. It was helping me to stop the bike but especially to turn even with some throttle.
"In Honda, we didn't have the turning problem but I still had this method of stopping the bike. This allows the front to suffer less, but I was suffering more from the rear locking on the entry of the corner. It was a big problem, it was killing me at the beginning of the year, until I got used to not using it so much."
The Honda solution was a radical one, too, as it finally acted on the promises it made in 2020 when Marc Marquez was forced to miss an entire season and the team was left floundering in his absence.
Promising back then to move away from its traditional development model of building an aggressive, hard-to-ride bike then simply hiring the best in the world to tame it, it brought an almost entirely new machine to tests at the end of 2021.
And, with Marquez missing from all of 2021's pre-season, a significant portion of the season itself and most of the tests on the new bike so far thanks to a series of injuries, the initial reaction from Espargaro at Jerez in November was one of relief that his factory is finally going in a direction that will suit not just his team-mate.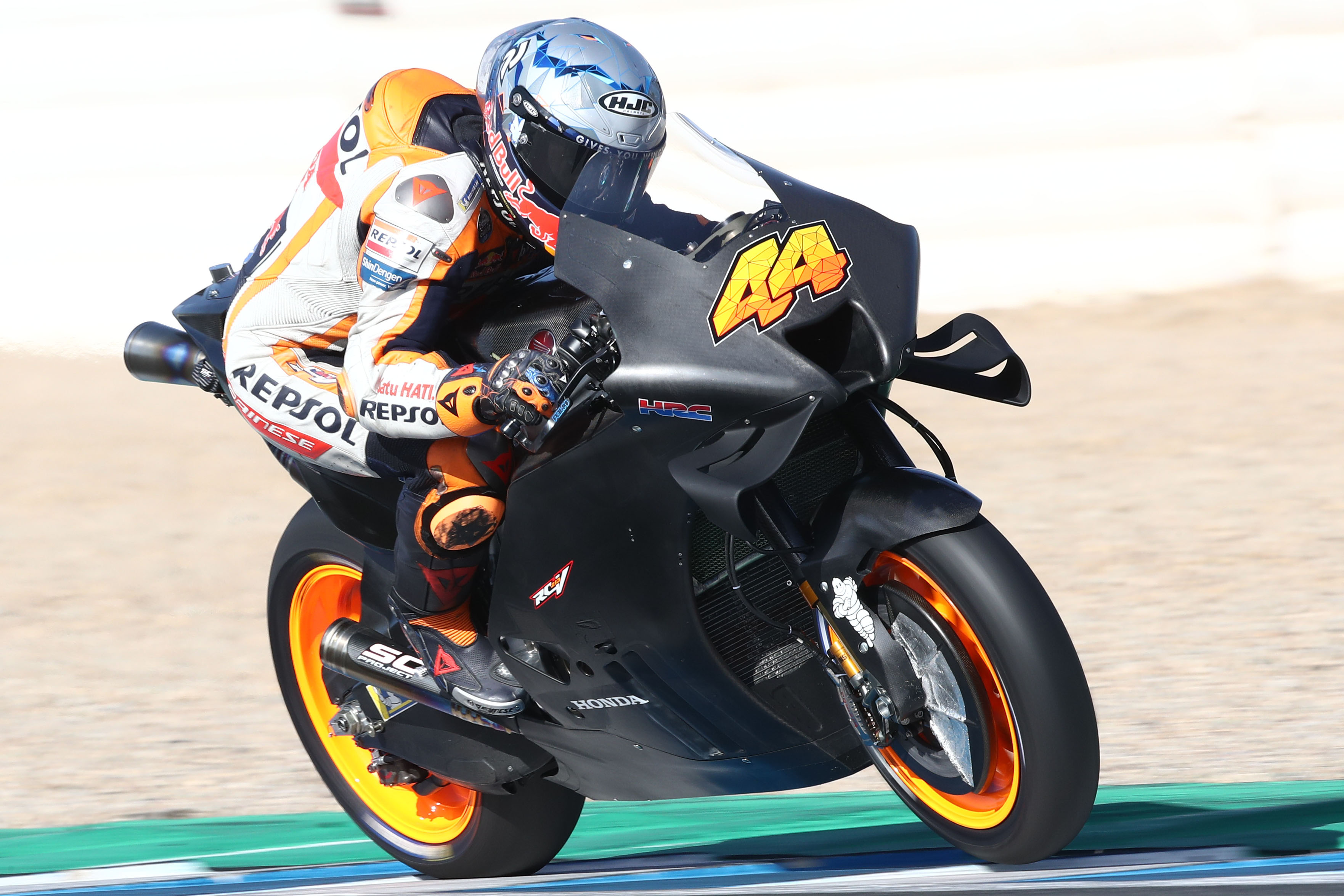 "All of the riders were struggling with the rear grip," he explained, "but for me, the corner entry rear grip is so important, even more than on the exit. All the riders were complaining about the exit, me as well. The exit is about performance, but the entry is about safety.
"The new bike is good, but we still have a lot to do. The potential is high, we're generating more rear grip which is already something great, and I can start to ride in the way I like, using more rear brake.
"This is super important, something that I started to do less and less through this year. It's one of my riding style characteristics. There is still a lot to improve but it's a great beginning."
So what is that work likely to entail when testing kicks off next month at Sepang? Well, it's unlikely that the new machine that it has trialled so far at Jerez and Misano will be the finalised version, with new chassis components no doubt being boxed up for Espargaro, in particular, to try out and to smooth out any remaining kinks in its base spec for the year.
How much of that work will fall directly on his shoulders remains to be seen, though, as Marc Marquez's fitness levels remain unknown.
Perhaps in reality the biggest and most important part of Honda's plans to be tested in Malaysia is Marquez's fitness. He admitted recently that he's still not at full fitness in terms of his right arm and shoulder, and it could be that his plan for the test has more to do with himself than the new machine.