Joan Mir had little-to-no chance of extending his 2021 title defense past COTA no matter what he did on the final lap, but what he did do meant that it came to an end in a rather ignominious way – as Mir pushed Jack Miller out of the way, got passed by Enea Bastianini as a result and was then unconvincingly outraged by the stewards when they demoted him behind Miller, too.
On the one hand, it's a fittingly disappointing end to a campaign that never really got off the ground. And yet it's also very misleading – Mir was in the wrong in the final stages of the COTA race, but it's reasonable to interpret his performances this season as a whole as having been no worse than in 2020. Certainly, he seems to share that view.
"I'm a bit angry because I knew my potential of this year," Mir said. "And I'm angry, because I'm riding better, I'm making less mistakes, I'm a better rider, and I will not get the championship. It's something difficult to understand.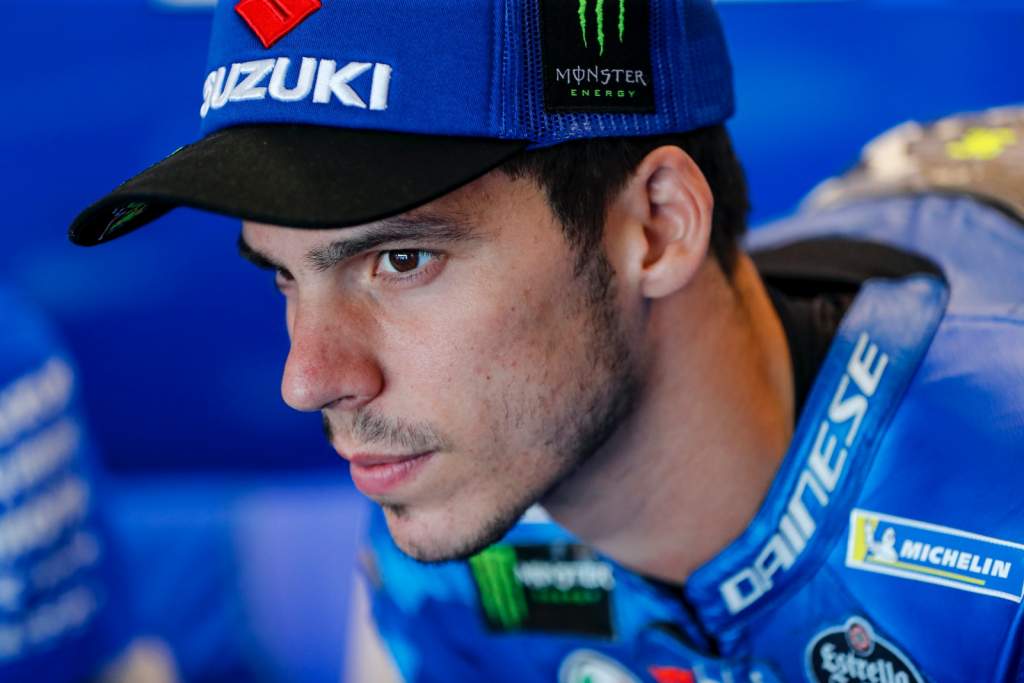 "But what also I have to say that is making me happy is that Suzuki, we go to the same direction, we all see what is happening, and I believe they are pushing as hard as they can."
What is happening is that Suzuki seems to have been outdeveloped quite handily. While there's promising noises coming out about its 2022 bike, in the here and now it has been pretty evidently left behind by Yamaha and Ducati. In no race weekend has the 2021 GSX-RR looked like the bike to beat.
Mir's zero laps led attests to that. If that holds over the three remaining races, he will be the first rider to fail to lead a lap during his MotoGP title defense season since Nicky Hayden in 2007.
If this suggests that Mir has been slacking somehow, it shouldn't. Team-mate Rins has led five laps, all at Portimao, but ended that race with a crash while desperately chasing after leader Fabio Quartararo. It was one of several crashes that Rins has had while desperately chasing someone in 2021, and it's why Mir has more than double his points tally – 175 versus 81.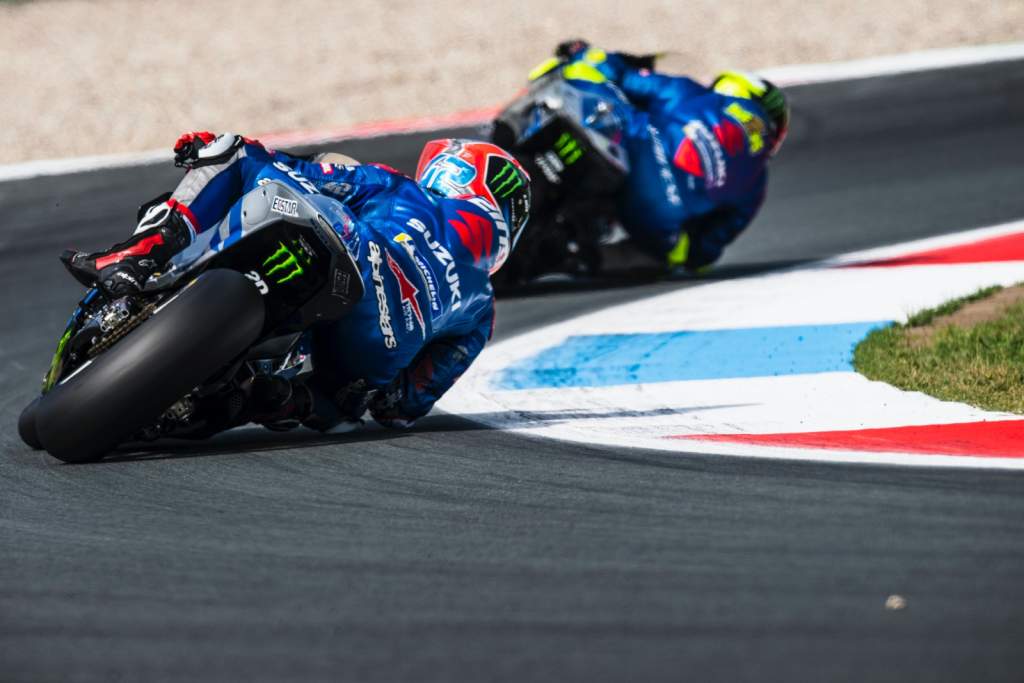 It's a huge disparity and a credit to Mir given he was not all that far ahead of Rins the year prior, despite much of Rins's season being compromised by an injury.
It is true that Rins has been the superior Suzuki rider over one lap, but Mir's qualifying average this year – a 9.7 – is only marginally worse than the 9.6 of his title season. It's just that moving up the order in the races and capitalising later into the grand prix distance has proven much tougher.
The Michelin front tyre allocation has been widely cited as part of the problem, but Suzuki expected the situation to improve substantially after Assen and it really hasn't. Instead, simply falling back in the development race – with the too-late arrival of the ride height device that both Suzuki riders viewed as crucial – seems to have been the main culprit.
"I'm disappointed because if we started in a different way on the first race, with another situation now, I'm sure that now we would be in a different situation," Mir said.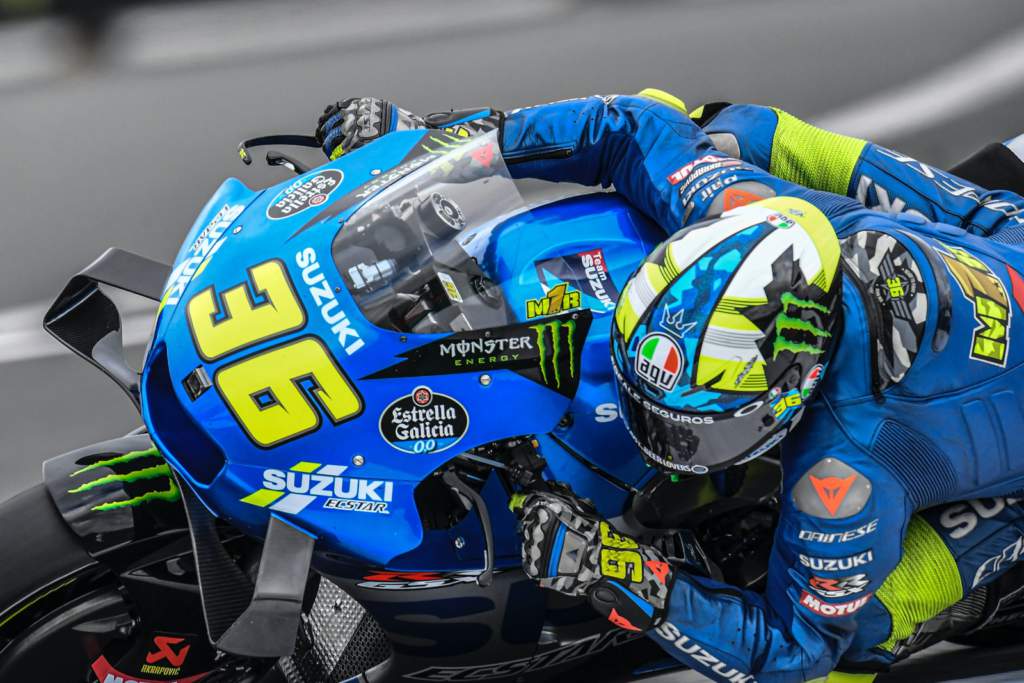 "But this is a team, we learn from our mistakes, and now, I'm sure that we are going everyone on the same direction. This is what I made sure a couple of months ago and now I know they are working hard."
For his part, Mir definitely left points on the table by crashing in the wet at Le Mans and then forgetting the bike swap rules, but there have been no mistakes anywhere near as costly otherwise. In a regular title defence, having one DNF and no injuries should be enough to at least keep you in the fight.
But just how favourably does Mir's season compare to previous unsuccessful title defence bids in the premier class, going back to the introduction of the current points system in 1993?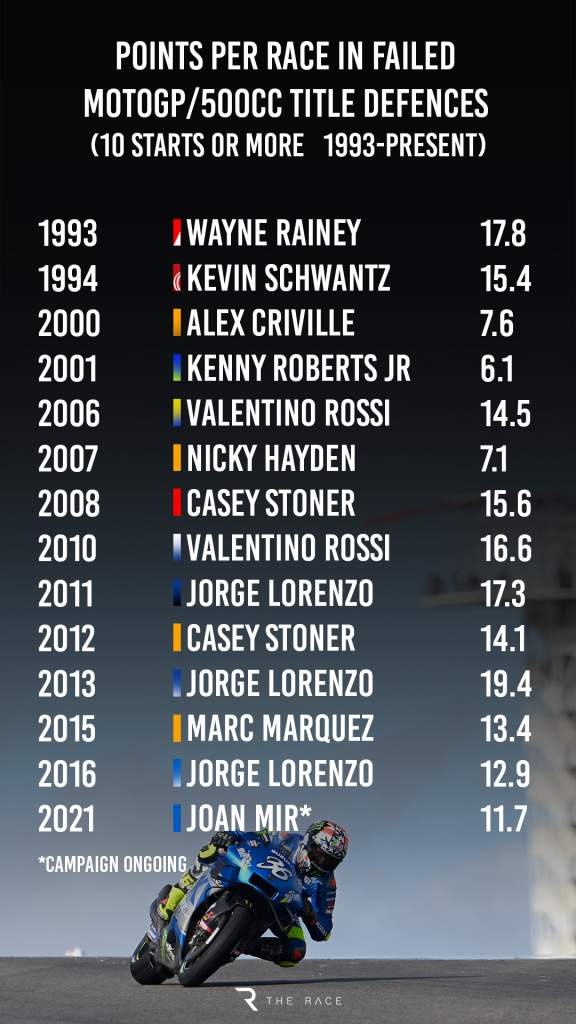 ---
Wayne Rainey, 1993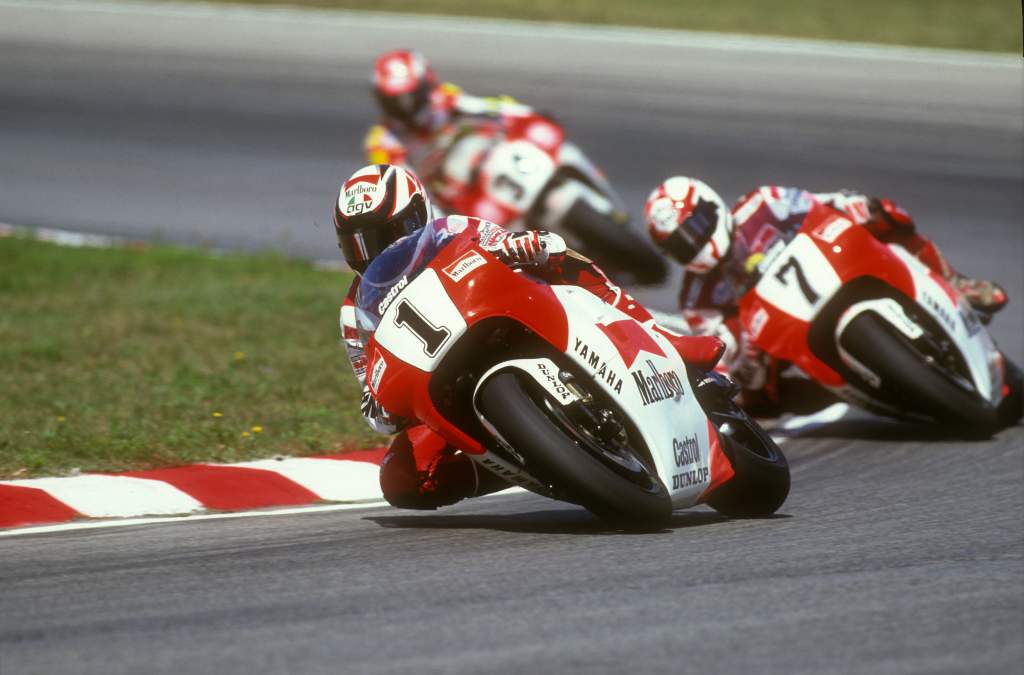 1992: 1st with Marlboro Roberts Yamaha (3 wins)
1993: 2nd with Marlboro Roberts Yamaha (4 wins)
Rainey's streak was supposed to end at two titles in 1992, but Mick Doohan's injury allowed him to complete a hat-trick and only a spirited challenge from Suzuki's Kevin Schwantz looked like threatening his four-peat.
And when Schwantz was collateral in a Doohan-triggered multi-bike crash, the momentum looked to have swung Rainey's way for good – only for him to suffer in a horror crash the following race. Paralysed from the waist down since he never raced again in the premier class.
Title defence better than Mir's? Yes. Rainey looked very likely to take the title if not for the injury.
Kevin Schwantz, 1994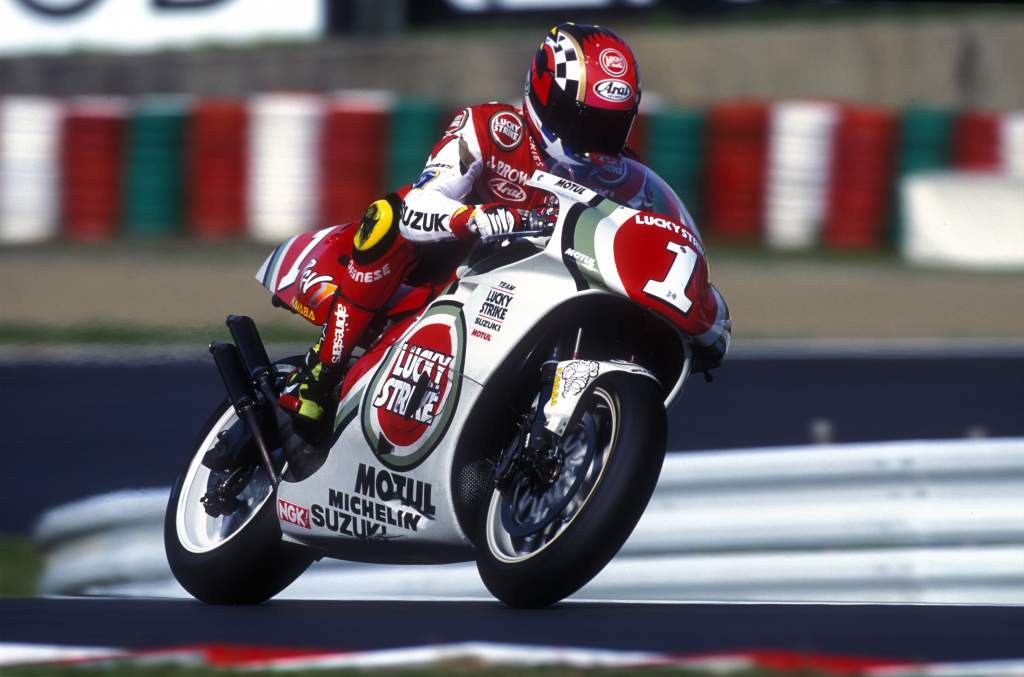 1993: 1st with Suzuki (4 wins)
1994: 4th with Suzuki (2 wins)
Schwantz's one and only 500cc title defence would be defined by a pre-season wrist injury sustained while mountain biking, that was then exacerbated when he highsided at Assen.
The title defence was already likely doomed by then, with Assen marking the fourth of six consecutive Doohan victories. Despite Schwantz's best efforts, the Aussie sealed the title with three races to spare.
Title defence better than Mir's? Yes. Though Doohan was the runaway champion, Schwantz at least provided his closest competition and would've finished a comfortable second if not for a Laguna Seca crash that ended his campaign early.
Mick Doohan, 1999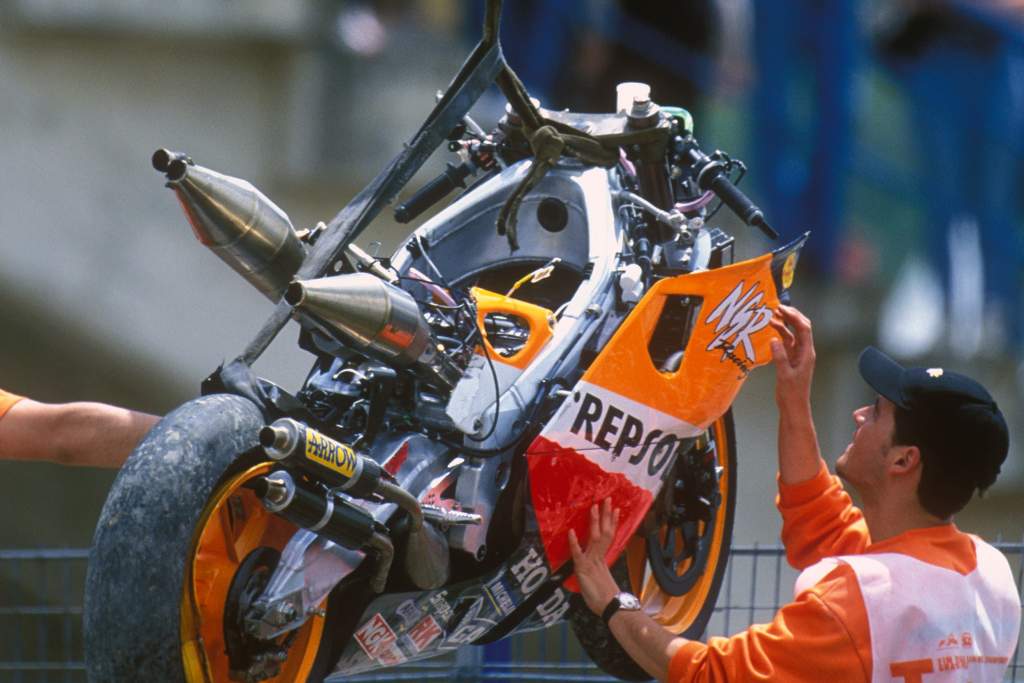 1998: 1st with Honda (8 wins)
1999: 17th with Honda (0 wins)
Doohan's famous horror crash at Assen back in 1992 served only to delay his and Honda's reign of terror rather than snuff if out. But a fast crash at a damp Jerez track ahead of the third race of the 1999 campaign got the job done, with Doohan breaking his right leg again – as he had at Assen – and ultimately deciding enough was enough.
Title defence better than Mir's? No. Given Suzuki's Kenny Roberts Jr was the only rider ahead of Doohan in the standings at the moment of his injury, and a Honda rider went on to win the title, Doohan would've probably had a good shot at getting a sixth crown in 1999 – but two races is no sample size.
Alex Criville, 2000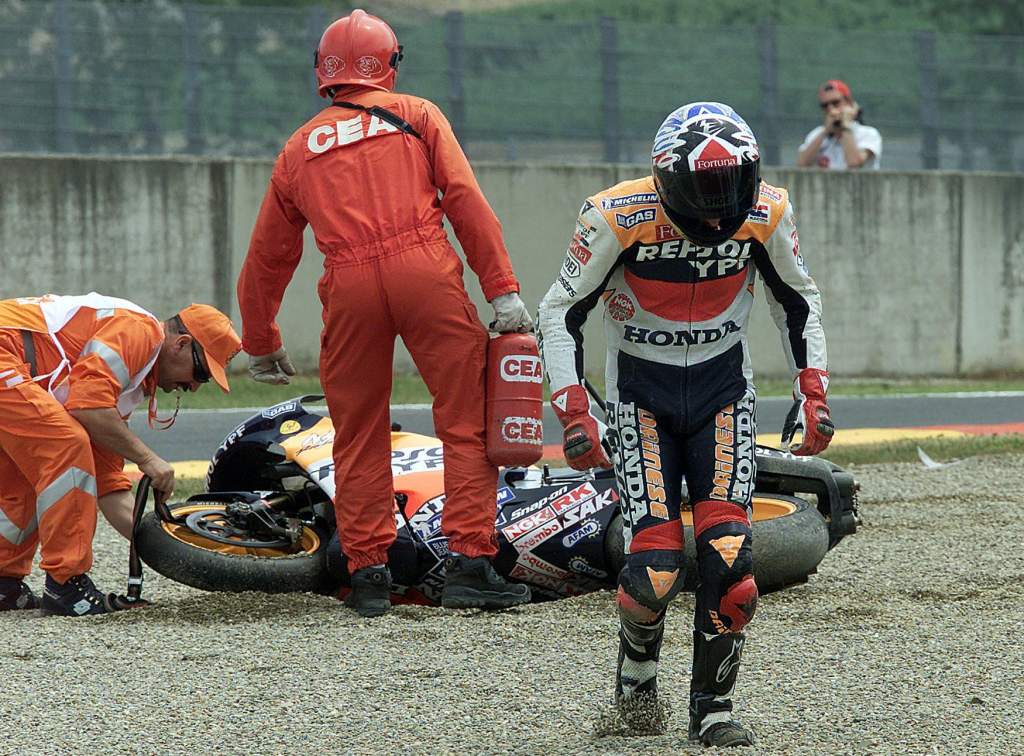 1999: 1st with Honda (6 wins)
2000: 9th with Honda (1 wins)
Criville's crash-packed title defence in 2000 never really got off the ground and he was only the fourth-best Honda in the standings – albeit, remarkably, ahead of his two Repsol Honda team-mates. He did fight off Norick Abe and Valentino Rossi to win at Le Mans, but it was a false dawn and his final 500cc victory.
Title defence better than Mir's? No. While Mir is going winless, he unquestionably remains Suzuki's top dog – whereas 2000 began a process where Criville became surplus to requirements.
Kenny Roberts Jr, 2001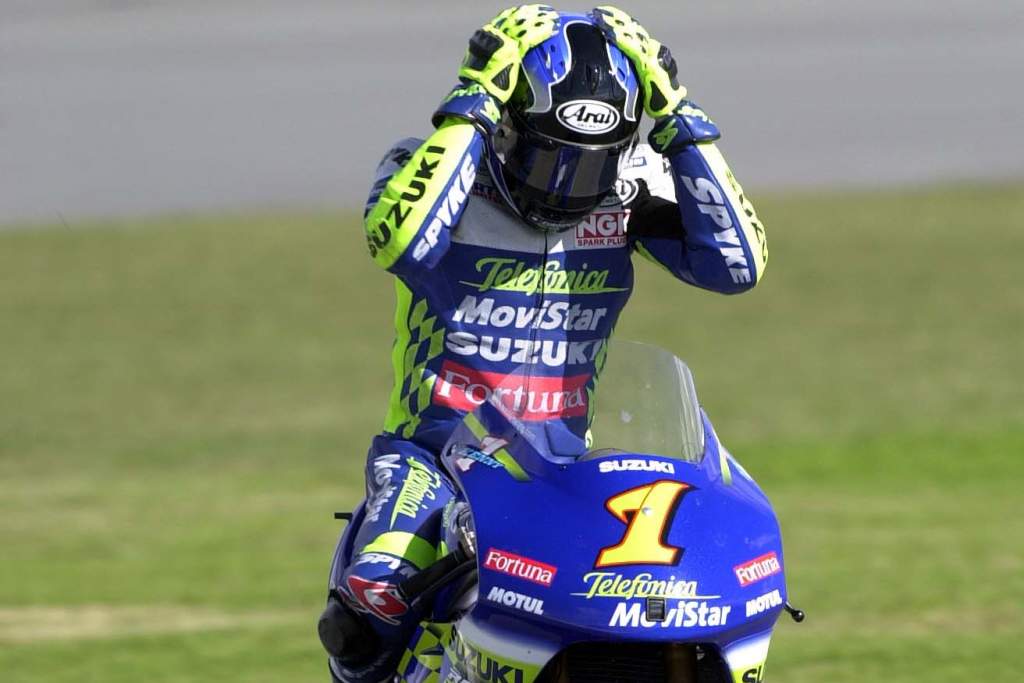 2000: 1st with Suzuki (4 wins)
2001: 11th with Suzuki (0 wins)
Whatever Roberts's chances would've been of fighting off Rossi on level terms, his Suzuki team got completely outdeveloped and the season, the final of the 500cc championship, proved a complete write-off. There were some good qualifyings and Roberts somehow led 40 laps, but the race results were paltry.
Title defence better than Mir's? No. Roberts Jr had just one podium to show for the campaign, and it came in the same wet race at Valencia that team-mate Sete Gibernau won. Gibernau ultimately outscored Roberts.
Valentino Rossi, 2006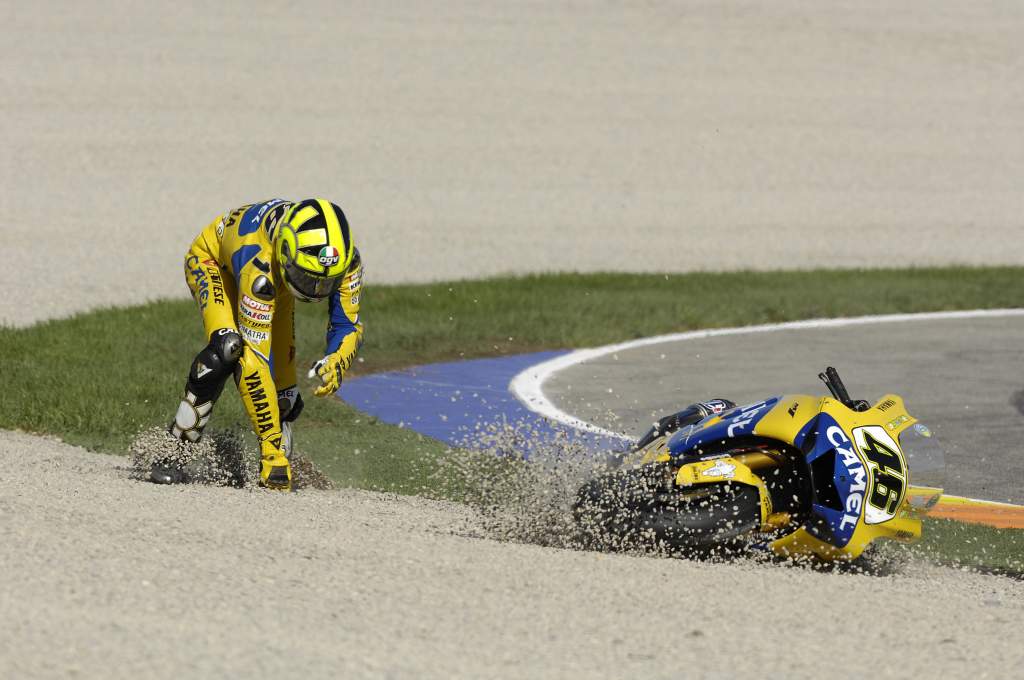 2005: 1st with Yamaha (11 wins)
2006: 2nd with Yamaha (5 wins)
A start of the season plagued by mechanical problems and bike chatter left Rossi in a hole relative to Nicky Hayden, but he was back to regular form in the latter half and made up a huge points gap to the Honda rider – only to lose out on the title due to a crash in the Valencia finale.
Title defence better than Mir's? Yes. Had Rossi stayed on the bike at Valencia – or even had team-mate Colin Edwards stayed on the bike in the final metres of a crazy Assen race, it would've been a sixth straight title for the Italian.
Nicky Hayden, 2007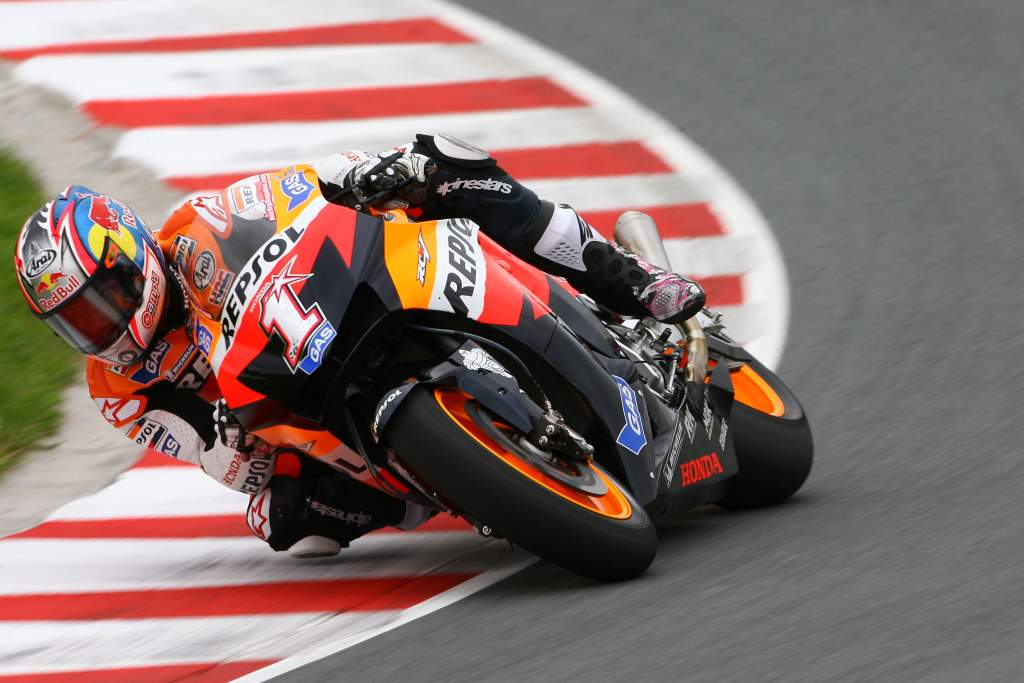 2006: 1st with Honda (2 wins)
2007: 8th with Honda (0 wins)
Hayden picked a good time to get his premier-class title in, because the very next season, with the introduction of the 800cc limit, the Honda pretty much stopped working for him.
While team-mate Dani Pedrosa soon dragged the bike to the top step of the rostrum, Hayden never got particularly close – not helped in the least by a race-ruining clash with compatriot John Hopkins at his favoured Laguna Seca.
Title defense better than Mir's? No. In the end, Hayden trailed not just Pedrosa, but Gresini rider Marco Melandri too.
Casey Stoner, 2008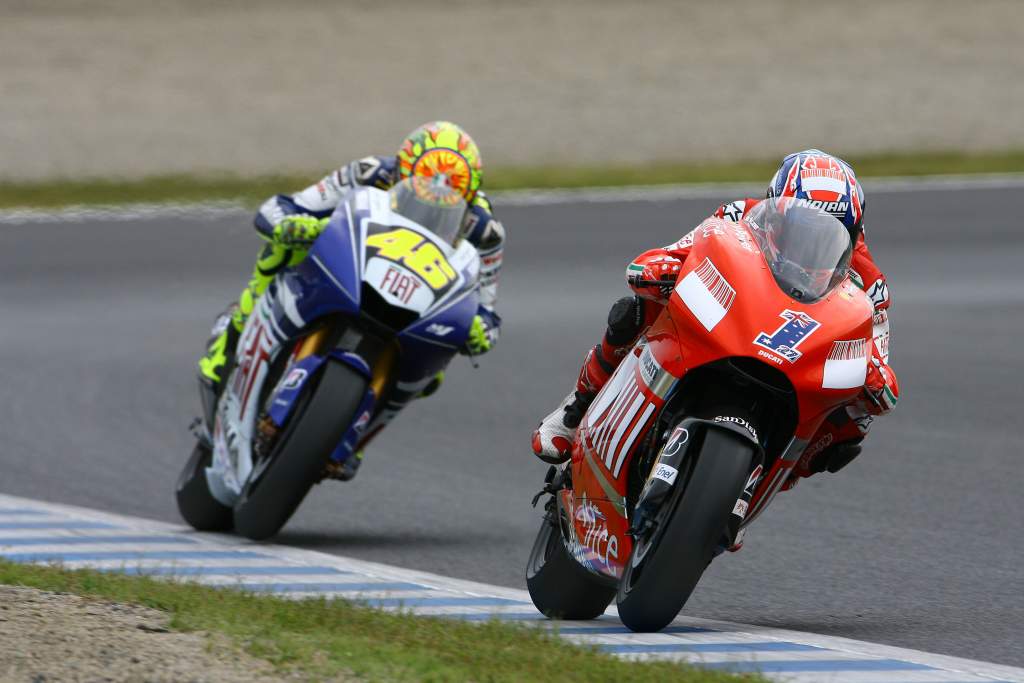 2007: 1st with Ducati (10 wins)
2008: 2nd with Ducati (6 wins)
Just as arch-rival Rossi was revitalised by joining Stoner in the Bridgestone camp, Stoner himself struggled with aggressive power delivery early on – but soon began to reel in Rossi. However, he crashed in the races he needed to win and re-opened an old injury, making Rossi's return to the top a formality.
Title defence better than Mir's? Yes. Six wins on a Ducati nobody else could really do much with is nothing to scoff at.
Valentino Rossi, 2010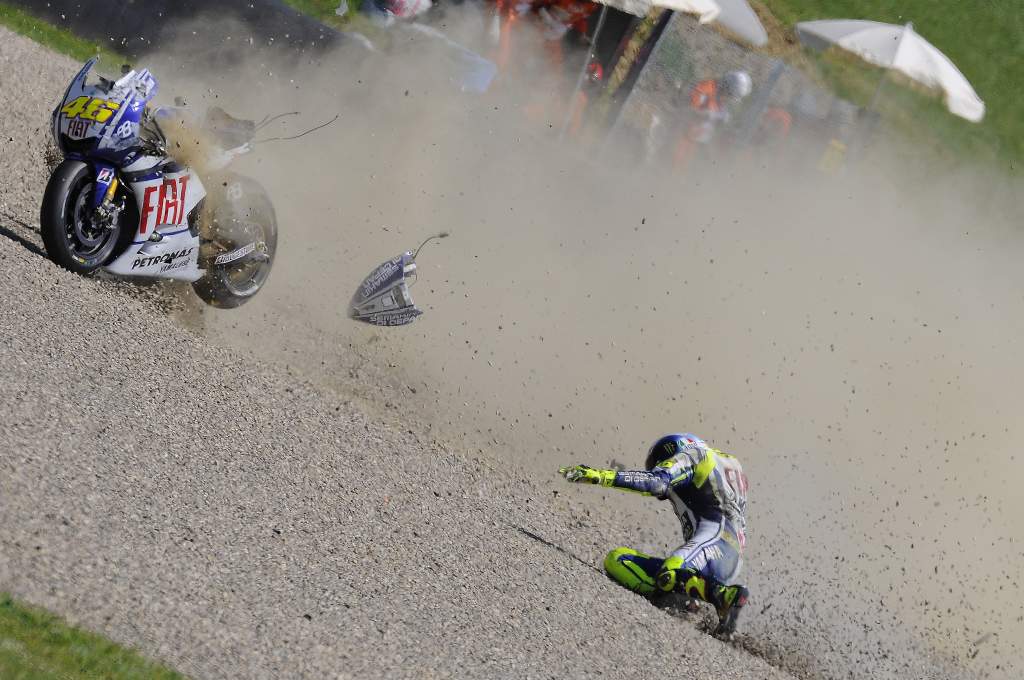 2009: 1st with Yamaha (6 wins)
2010: 4th with Yamaha (2 wins)
The season that had all the makings of a famous duel with an improved Jorge Lorenzo provided a huge twist when Rossi broke his right tibia at Mugello. The rest of the season was about recovery, and Rossi got one more Yamaha win in the books – a scintillating Sepang charge from 11th place at that – before beginning his ill-fated Ducati adventure.
Title defence better than Mir's? No. But Rossi's season was as good as can be reasonably expected when you sit out four races with injury.
Jorge Lorenzo, 2011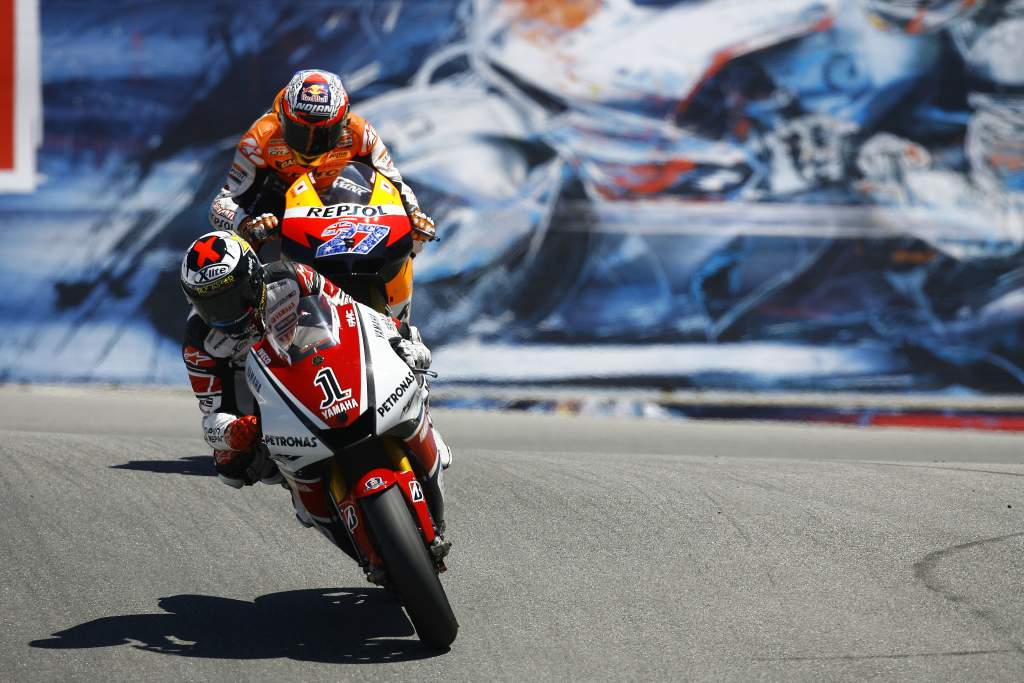 2010: 1st with Yamaha (9 wins)
2011: 2nd with Yamaha (3 wins)
The arrival of Stoner to Honda immediately made Lorenzo's life harder, and though he registered some valiant early-season efforts to grapple for the championship lead, Stoner soon began to break away – with the other Hondas obligingly taking points off Lorenzo.
His title defence was already on the ropes before a warm-up crash at Phillip Island severed the top of his left ring finger (it was subsequently reattached successfully) and made Stoner's title official.
Title defence better than Mir's? Yes. The gist of what happened was basically the same – a rival marque got its act together and left Lorenzo's employer in the dust – but Lorenzo did have a lot more highlights during the campaign.
Casey Stoner, 2012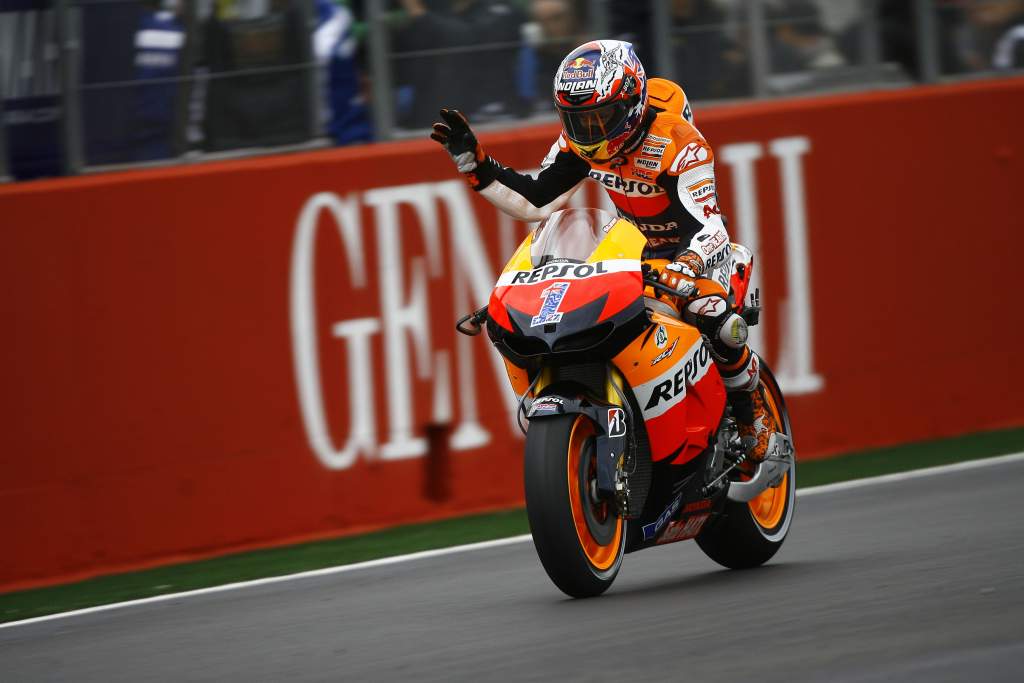 2011: 1st with Honda (10 wins)
2012: 3rd with Honda (5 wins)
The races following Stoner's shock early-2012 announcement that he'd be walking away from MotoGP at the end of the year weren't exactly the tidiest but did leave him within a reasonable distance of leader Lorenzo coming into the 11th round at Indianapolis. There, he injured his ankle in a qualifying crash and subsequent surgery effectively ended his hopes of a third title.
Title defense better than Mir's? Yes. It was a patchy season but Stoner's peaks were still clearly out of reach for his peers.
Jorge Lorenzo, 2013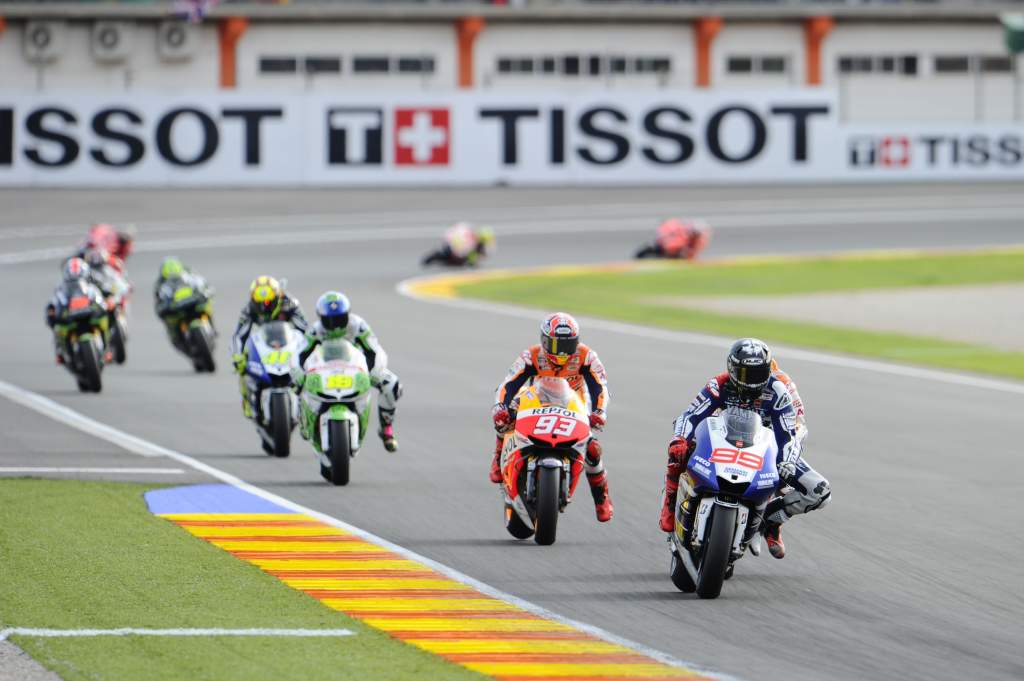 2012: 1st with Yamaha (6 wins)
2013: 2nd with Yamaha (8 wins)
After a season filled with drama and ups and downs for the three title protagonists, Lorenzo would come up four points short of denying Marquez a rookie title, trying his best to back the Honda man into the pack in the Valencia finale before ultimately settling for a runaway victory that equated to title defeat.
Title defense better than Mir's? Yes. Without a collarbone fracture that compromised him for two races and fully ruled him out of a third, Lorenzo would've been champion in a season that otherwise seemed to completely warrant it.
Marc Marquez, 2015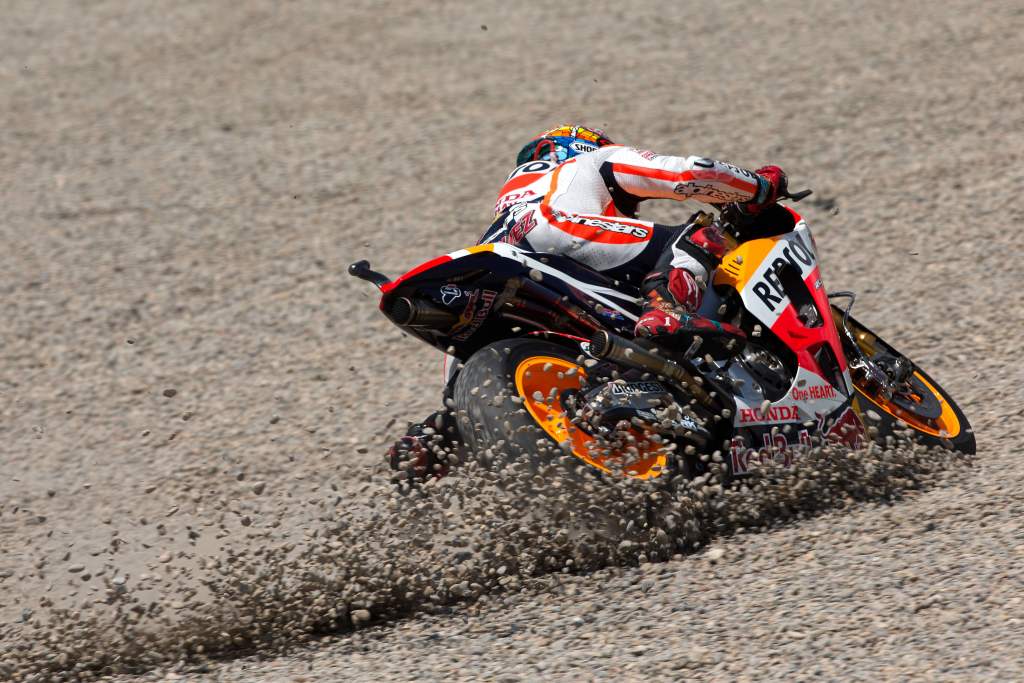 2014: 1st with Honda (13 wins)
2015: 3rd with Honda (5 wins)
After an absurdly dominant 2014, Marquez was hamstrung by an overly aggressive Honda engine and simply kept crashing, while the two Yamahas monopolised the title fight – a title fight Marquez would ultimately play quite the part in after losing his own mathematical chances.
Title defence better than Mir's? No. It is much more impressive statistically, and he effectively got to play kingmaker, but Marquez would've finished behind team-mate Dani Pedrosa if the latter hadn't skipped races through injury early on.
Jorge Lorenzo, 2016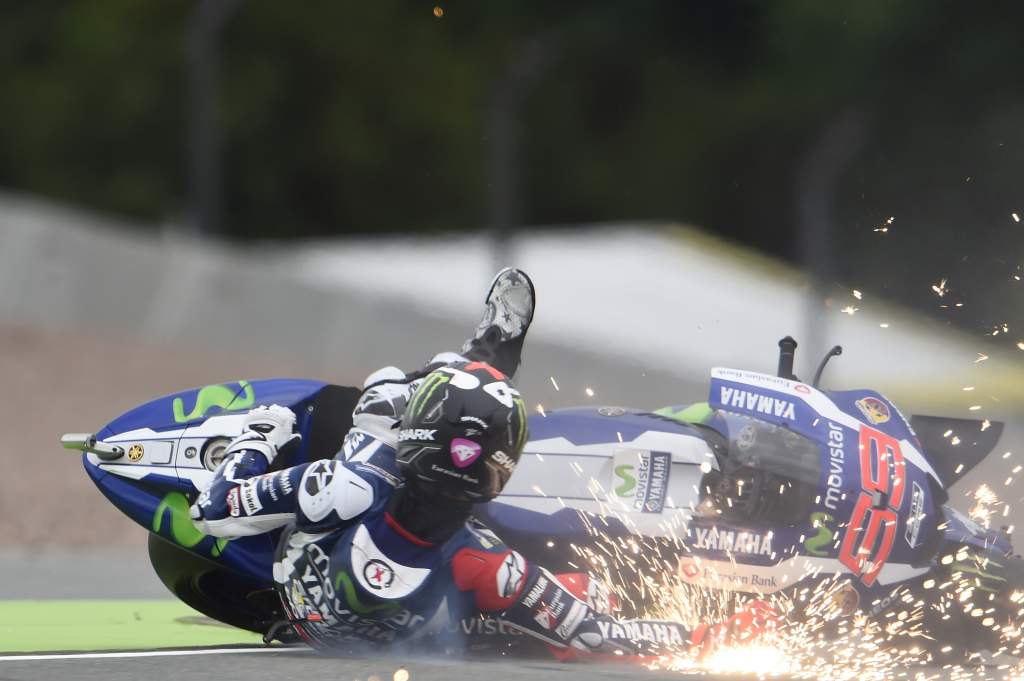 2015: 1st with Yamaha (7 wins)
2016: 3rd with Yamaha (4 wins)
Lorenzo fought for the lead of the standings early on but lost it for good after being wiped out by Andrea Iannone in Barcelona. His particular brand of wet-weather struggles was all-too-frequently on display throughout the season and put Marquez in a position to win the title with three races to spare when Lorenzo crashed out of second place.
Title defense better than Mir's? No. The high points – from the win in the Qatar opener to the win in the Valencia farewell to Yamaha – were great, but the weaknesses were a little too obvious.
Marc Marquez, 2020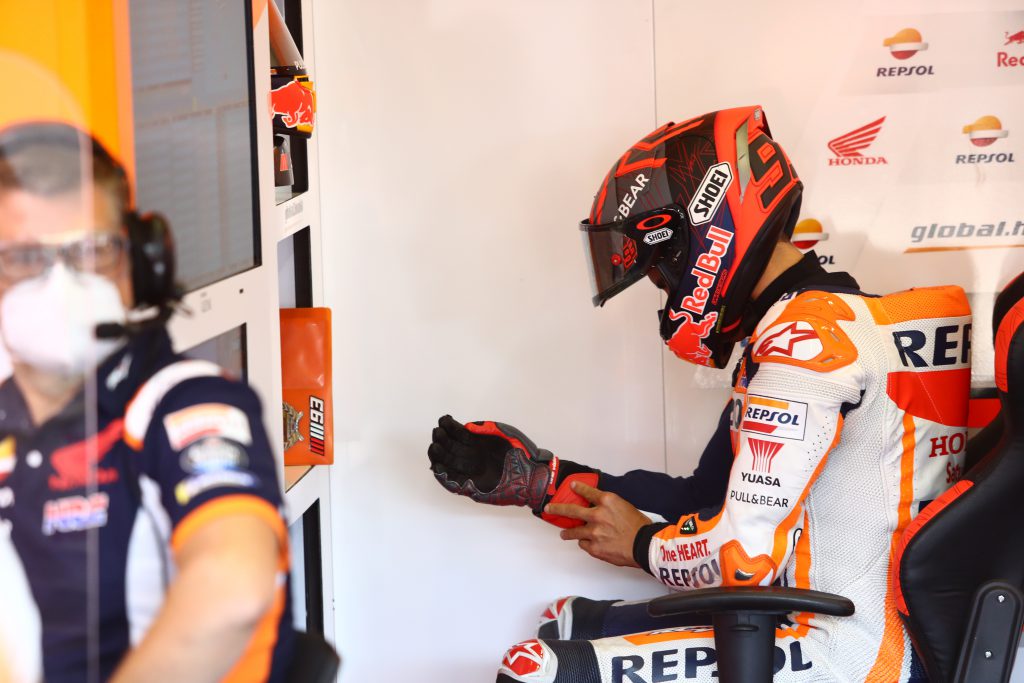 2019: 1st with Honda (12 wins)
2020: NC with Honda (0 wins)
Marquez made two big errors in the opening race in Jerez, the second of which left him quite hurt – and an ill-fated attempt to return as swiftly as possible ultimately sent him down an injury spiral that he's still yet to fully emerge from.
Title defence better than Mir's? No. But so outrageous was his pace in that Jerez race, during the charge from being out of the points to hounding Maverick Vinales for second, that he surely would've been champion again had he stayed healthy.