A decision on Repsol Honda's appeal against the amended sanction handed to Marc Marquez following last Sunday's Portuguese Grand Prix has been delayed, after the FIM MotoGP Appeals Stewards voted to pass it to a higher body.
The FIM Court of Appeals is instead now set to hear the case of whether the six-time world champion will serve on-track his double long lap penalty for knocking off Miguel Oliveira at Portimao, following the FIM MotoGP stewards' decision to change the wording of the sanction given to Marquez.
The case was heard electronically by a two-person panel of appeals steward, with former Isle of Man TT deputy clerk of course Paul King and Portuguese motorcycling federation representative Armando Marques the two officials deciding upon the issue – thanks to the fact that it relates to last weekend's race rather than this weekend's Argentine Grand Prix.
Marquez was initially handed a double long-lap penalty for the incident (in which he collided with Jorge Martin and then knocked off Miguel Oliveira, with everyone involved receiving injuries of some sort), with specific wording stating that he would be forced to serve the sanction at the Argentine Grand Prix this coming weekend, something initially highlighted by The Race's reporting.
However, following surgery to have two screws inserted into his right thumb as a result of injuries sustained in the crash, it was subsequently confirmed that Marquez will miss the race at Termas de Rio Hondo as he continues to recover.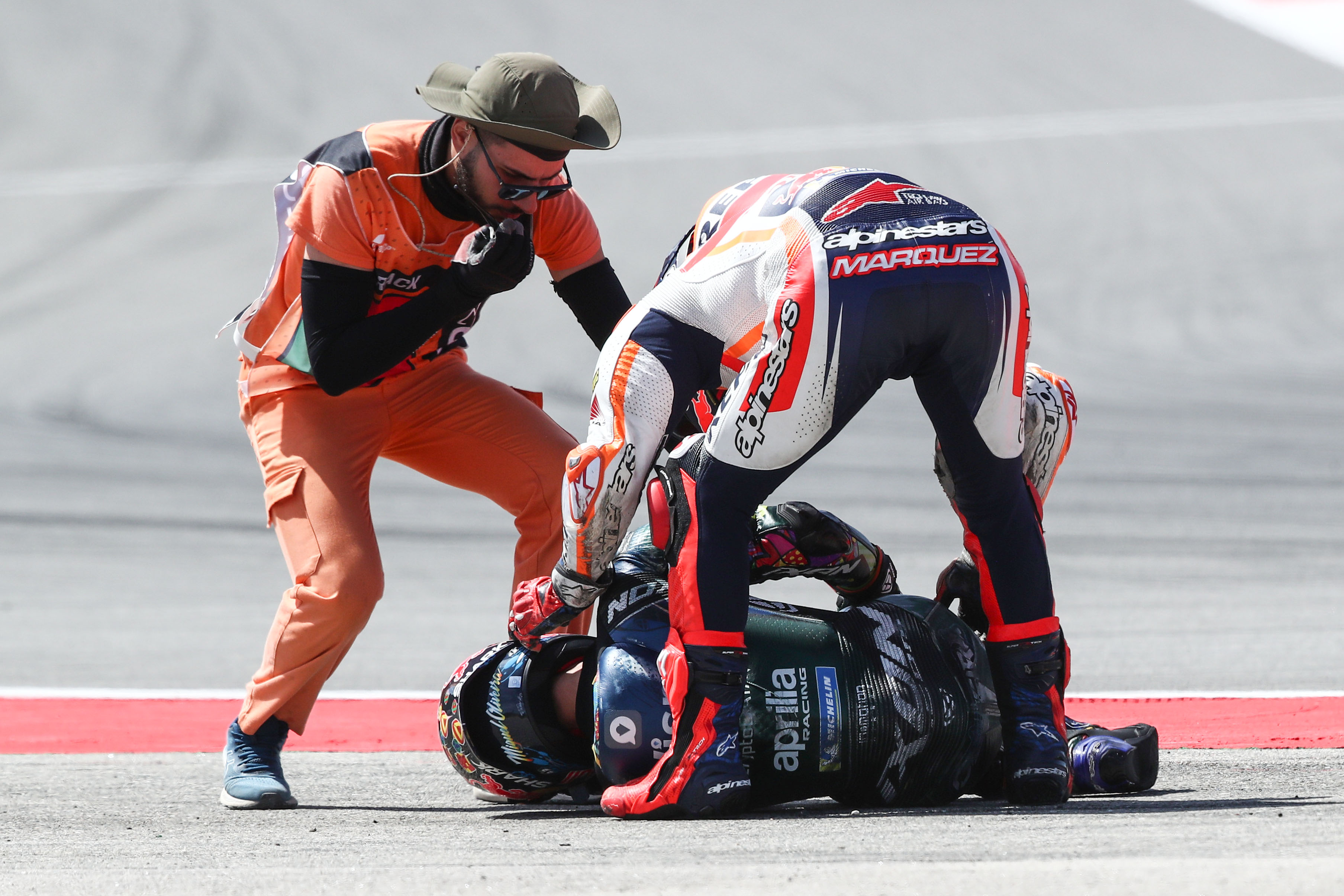 That, and significant media attention regarding the penalty, then in turn prompted the FIM MotoGP stewards headed by former Honda world champion Freddie Spencer to subsequently try to clarify their position, releasing an updated notification of sanction that stated that Marquez would serve his penalty at his next race.
But that decision has clearly angered Marquez's Honda team, which confirmed on Wednesday in a strongly-worded statement that it will appeal the decision to essentially retroactively change his penalty after the offence.
Honda had hoped that the matter would be resolved in the appeals process at Termas de Rio Hondo, but it will now be decided not in Argentina but in Switzerland.
The MotoGP Court of Appeal consists of three FIM judges, chosen from the governing body's international commission of judges, and has to pronounce a decision within four weeks.
They previously heard the case against Ducati's underbody aero scoop device when Aprilia, Honda, KTM, and Suzuki protested it following the 2019 Qatar Grand Prix. Originally upheld by the FIM stewards, the protest was then passed to the Court of Appeals rather than adjudicated upon by the Appeals Stewards, and it ended with a ruling in Ducati's favour.
Honda elected not to comment on today's hearing upon being contacted by The Race.