Tech3 Gas Gas rider Pol Esparagro suffered "back and chest trauma" in a terrifying crash in the second MotoGP practice session of the season opener at Portimao.
Espargaro was taken to the medical centre after his crash and, while remaining conscious according to MotoGP, is now heading to a local hospital for further examinations.
The first FP2 of the 2023 season, now scheduled to run to 60 minutes instead of 45 as part of the new sprint race-incorporating weekend format, actually took up two hours thanks to two lengthy red flag interruptions.
The first came due to a power outage at the circuit, with the timer frozen at just under 47 minutes for half an hour before proceedings were resumed.
The second suspension was slightly shorter but much more concerning, with Espargaro requiring medical attention at the site of an over-the-hill crash at Turn 10 – after he was thrown off his RC16 and then had it follow him at speed into the gravel trap, leading to a presumed impact.
Espargaro had to be loaded into an ambulance to take him to the circuit's medical centre, from where he is now headed to hospital.
Spanish broadcaster DAZN quoted MotoGP medical director Dr Angel Charte as saying that Espargaro "did not lose consciousness at any time".
That was @polespargaro flying through shot! 😮

He's all OK though and @Tech3Racing are already prepping his second bike 👍#PortugueseGP 🇵🇹 pic.twitter.com/8aoNLetjBV

— MotoGP™🏁 (@MotoGP) March 24, 2023
It was Espargaro's second crash of the session. The first was also a fast one, coming due to an unspecified failure on the rear of the bike.
Espargaro's red flag-triggering accident was also accompanied by near-simultaneous falls for RNF Aprilia duo Miguel Oliveira and Raul Fernandez, the former having a nasty highside at that same Turn 10 but emerging with nothing worse than leg pain.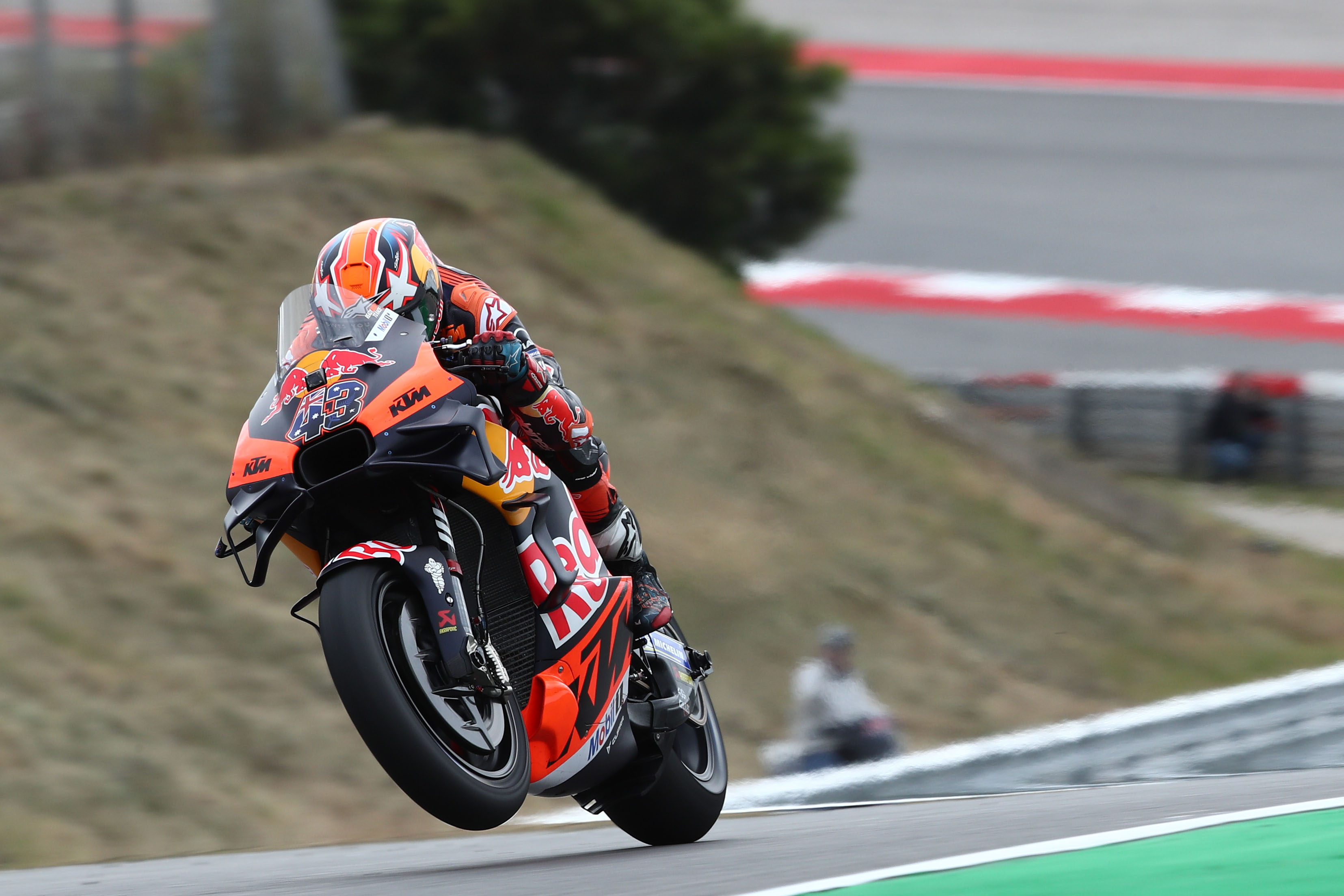 Pol's brother Aleix Espargaro led the way at the time of the red flag, but it was KTM's Jack Miller ending the session on top – with a new Portimao MotoGP lap record to boot.
Miller, making his debut on the KTM RC16 this weekend, tucked in behind Ducati's Enea Bastianini on his final lap and jumped to the top spot with a 1m37.709s.
Ladies and gentlemen… your man on top after day one at the #PortugueseGP!! 💪

WHAT A LAP, @jackmilleraus! 🫣#KTM #ReadyToRace pic.twitter.com/SohXJuk5Q9

— Red Bull KTM Factory Racing (@KTM_Racing) March 24, 2023
Aprilia's Maverick Vinales took second, while Ducati's championship favourite Pecco Bagnaia was third, his Demosedici GP23 slowing with an apparent issue right after he'd set his best time.
Bagnaia had previously avoided what looked a near-certain crash through the final corner by using his right elbow.
VR46 Ducati's Luca Marini shrugged off a crash in the closing minutes to place fourth after darting back to the pits.
A super save from the World Champion! 🔥@PeccoBagnaia pulls off the first mind melter of the year! 🤯#PortugueseGP 🇵🇹 pic.twitter.com/opWLUYitVV

— MotoGP™🏁 (@MotoGP) March 24, 2023
Pramac Ducati duo Jorge Martin and Johann Zarco were fifth and seventh, split by Yamaha's Fabio Quartararo, who avoided a Q1 berth at the last moment.
Marini's team-mate Marco Bezzecchi – despite a crash of his own earlier in the season – and works rider Bastianini made it six Ducatis securing automatic passage to Q2, while Aleix Espargaro advanced too, despite dropping down to ninth in the final minutes.
Not the ideal restart for Bezzecchi! 😮

He's lost the front at the fast Turn 9! 💥#PortugueseGP 🇵🇹 pic.twitter.com/qBbKrpUQ0D

— MotoGP™🏁 (@MotoGP) March 24, 2023
Gresini Ducati's Alex Marquez, who had topped the opening session, was the fastest rider to miss out.
Among those who will contest Q1 on Saturday – given it's now only FP1 and FP2 that determine automatic Q2 spots, due to the introduction of the sprint – are Miller's team-mate Brad Binder, known to be still feeling the after-effects of his crash in testing, and Honda factory duo Marc Marquez and Joan Mir.
A late spill for @marcmarquez93! 💥

He'll go to Q1 tomorrow! 😮#PortugueseGP 🇵🇹 pic.twitter.com/zsZCkJAtbx

— MotoGP™🏁 (@MotoGP) March 24, 2023
The elder Marquez crashed late on while trying to follow Quartararo on what turned out to be the Yamaha rider's fastest lap. Mir, meanwhile, had crashed early, but was ultimately the top Honda in 12th.
The only other rider to crash was Tech3 Gas Gas rookie Augusto Fernandez.
Practice 2 Results
| Pos | Name | Team | Bike | Gap Next | Gap Leader | Best Time |
| --- | --- | --- | --- | --- | --- | --- |
| 1 | Jack Miller | Red Bull KTM Factory Racing | KTM | | | 1m37.709s |
| 2 | Maverick Viñales | Aprilia Racing | Aprilia | +0.037s | +0.037s | 1m37.746s |
| 3 | Francesco Bagnaia | Ducati Lenovo Team | Ducati | +0.11s | +0.147s | 1m37.856s |
| 4 | Luca Marini | Mooney VR46 Racing Team | Ducati | +0.043s | +0.19s | 1m37.899s |
| 5 | Jorge Martin | Prima Pramac Racing | Ducati | +0.092s | +0.282s | 1m37.991s |
| 6 | Fabio Quartararo | Monster Energy Yamaha MotoGP | Yamaha | +0.024s | +0.306s | 1m38.015s |
| 7 | Johann Zarco | Prima Pramac Racing | Ducati | +0.097s | +0.403s | 1m38.112s |
| 8 | Marco Bezzecchi | Mooney VR46 Racing Team | Ducati | +0.046s | +0.449s | 1m38.158s |
| 9 | Aleix Espargaró | Aprilia Racing | Aprilia | +0.095s | +0.544s | 1m38.253s |
| 10 | Enea Bastianini | Ducati Lenovo Team | Ducati | +0.003s | +0.547s | 1m38.256s |
| 11 | Alex Marquez | Gresini Racing MotoGP | Ducati | +0.129s | +0.676s | 1m38.385s |
| 12 | Joan Mir | Repsol Honda Team | Honda | +0.009s | +0.685s | 1m38.394s |
| 13 | Alex Rins | LCR Honda CASTROL | Honda | +0.022s | +0.707s | 1m38.416s |
| 14 | Marc Marquez | Repsol Honda Team | Honda | +0.003s | +0.71s | 1m38.419s |
| 15 | Takaaki Nakagami | LCR Honda IDEMITSU | Honda | +0.408s | +1.118s | 1m38.827s |
| 16 | Augusto Fernandez | GASGAS Factory Racing Tech3 | KTM | +0.055s | +1.173s | 1m38.882s |
| 17 | Raul Fernandez | CryptoDATA RNF MotoGP Team | Aprilia | +0.022s | +1.195s | 1m38.904s |
| 18 | Brad Binder | Red Bull KTM Factory Racing | KTM | +0.006s | +1.201s | 1m38.91s |
| 19 | Miguel Oliveira | CryptoDATA RNF MotoGP Team | Aprilia | +0.048s | +1.249s | 1m38.958s |
| 20 | Franco Morbidelli | Monster Energy Yamaha MotoGP | Yamaha | +0.02s | +1.269s | 1m38.978s |
| 21 | Fabio Di Giannantonio | Gresini Racing MotoGP | Ducati | +0.443s | +1.712s | 1m39.421s |
| 22 | Pol Espargaró | GASGAS Factory Racing Tech3 | KTM | +0.709s | +2.421s | 1m40.13s |