The superiority of Ducati's MotoGP machine is impressive but what is also is how Ducati has staffed them with talent, with every one of its riders generating headlines at some point this season – with the exception of one: Gresini Racing's Fabio Di Giannantonio.
Now in his second season in the premier class, the 24-year-old had a tough rookie year as he learned his trade almost unaided, paired up as he was with a rookie crew chief. However, working in 2023 with championship-winning chief engineer Frankie Carcheci, Di Giannantonio hasn't been shy in admitting that he's got fewer excuses for not performing.
But while the results still aren't coming, at least on paper (sitting, as he does, 16 points behind luckless team-mate Alex Marquez), he's adamant that firm progress is getting closer and closer to his reach, something he said was very much demonstrated by his eighth-place finish in last Sunday's French Grand Prix.
"Honestly it was good, really good," he insisted to The Race on Sunday afternoon at Le Mans. "Because I think it could have been one of my best performances in MotoGP. The gap from first was shorter than ever, just 15 seconds, and from the podium was just 10 seconds.
"It means that we're only missing two or three tenths per lap, more or less. It means that we are growing, that we are getting there, let's say.
"I finished quite close to [Fabio] Quartararo and [Brad] Binder, and Quartararo is a world champion and Binder is one of the guys at the moment who is doing a great job. So I'm happy with it."
Considering that the Italian had lost some three and a half seconds to the leaders by the end of the first lap at Le Mans, it's hard to disagree too much with his perspective that improvements in form are coming – even if that first-lap performance does highlight one glaring weakness in his MotoGP game right now.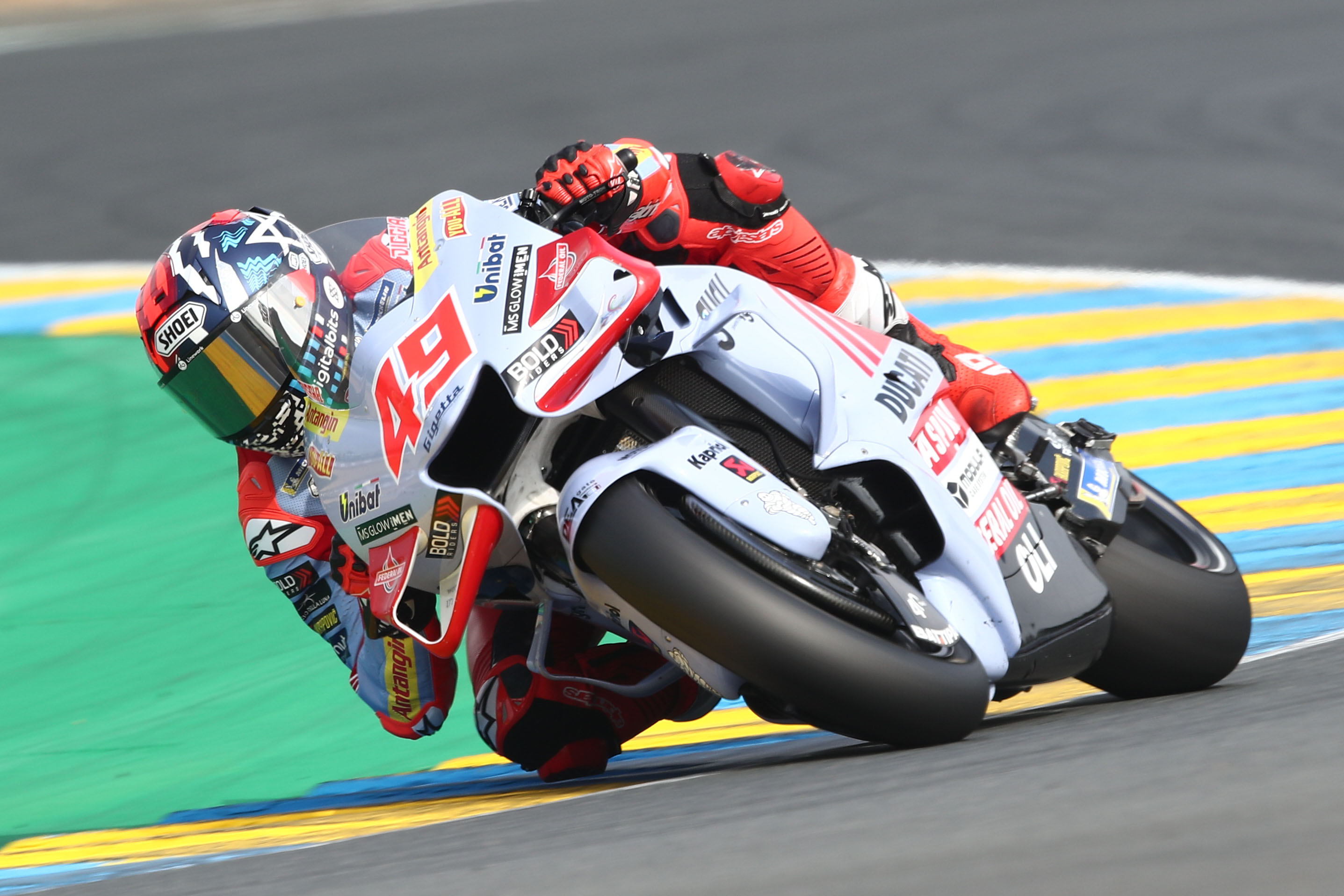 "For sure every time with the MotoGP bike when you start from the back," he explained, "it's really difficult to just manage the tyres and to have better pace at the end, but if you see my race I think it was a good race.
"We have to still fix some things on the electronic side, like the engine braking. The set-up was perfect, but at the end the bike is still unpredictable. We are making steps and I believe that in the next races we can be more in front – we just need the qualifying, where we are quite s*** every time."
However, there's a problem looming for Di Giannantonio that might well mean that he's in a battle against time to find that qualifying form and prove that he's got what it takes to be competitive in the premier class – and it's something that's largely out of his hands right now.
Going into this year's Moto2 championship, many predicted that it would be one-time rookie Moto3 champion and hotly-tipped future prodigy Pedro Acosta who would dominate the middleweight title fight – but that's not been the case so far, with Marc VDS racer Tony Arbolino instead very much the rider in control.
A double winner after Le Mans, 25 points clear of Acosta at the top of the championship standings and with a worst finish of fourth after five rounds, the 22-year-old has been the stand-out star of the series so far.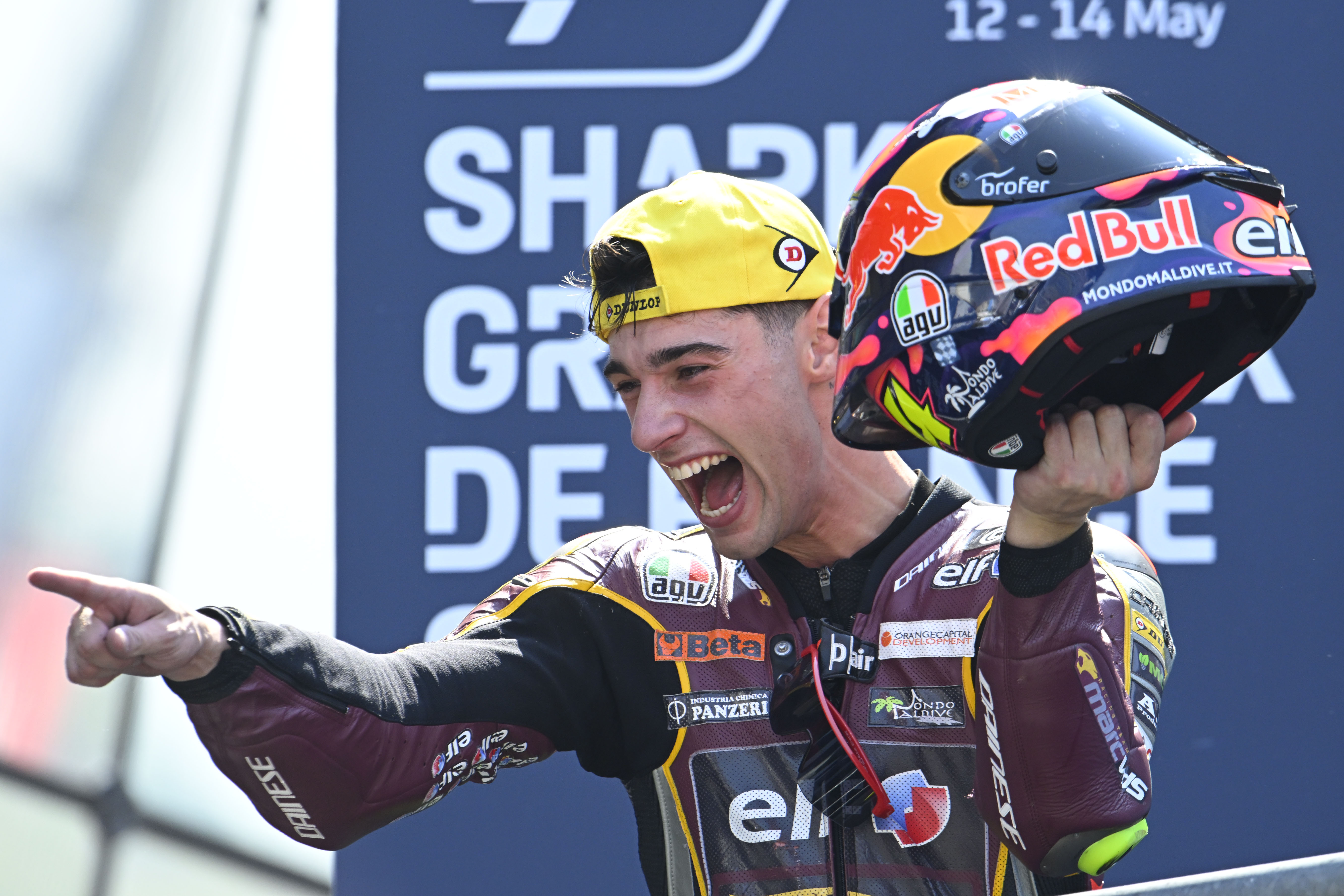 And if paddock gossip is to be believed, Arbolino is on a fast-track path to replace Di Giannantonio should the Gresini rider's results not improve in the coming weeks.
That's a rumour in part fuelled by who manages Arbolino: paddock veteran Carlo Pernat, a man who in the past has looked after the likes of Loris Capriossi, Valentino Rossi, Marco Simoncelli and Enea Bastianini – meaning that he's no stranger to working with the Gresini team, especially after Bastianini's successes with it in 2022.
But with his home race up next at Mugello, a track where he took a surprise pole position 12 months ago, Di Giannantonio is confident that the time is coming to show his worth – something that couldn't be more timely, should he be able to deliver in front of the Tuscan crowd.
"I grew up a lot in these races," he said, "because my team really explained to me how to ride a MotoGP bike. I'm understanding how to get the maximum from the bike, instead of last year when I was just trying to push as much as possible because no one was explaining to me.
"I think I've grown up in many areas. I manage the tyres much better, all the manoeuvres with the Ducati that you have to do to get the best from the bike, I'm already doing. So really if you see our data, I'm super close, just missing a few things. I think in Mugello we can again do a great weekend, but I don't want to compare it to last year because it wasn't perfect conditions.
"I just want to continue my growth these past few races and grow more and more, like I'm doing."