Ducati MotoGP chiefs stressed in the lead-up to the San Marino Grand Prix at Misano that there were still no team orders in play among its eight riders – but its CEO was left less than pleased by the last-lap duel between Francesco Bagnaia and Enea Bastianini.
Bagnaia, now a winner of four grands prix on the trot, is now just 30 points behind championship-leading Yamaha rider Fabio Quartararo, yet the gap would've been 35 had Gresini rider Bastianini, his future team-mate, succeeded in getting past him on the final lap.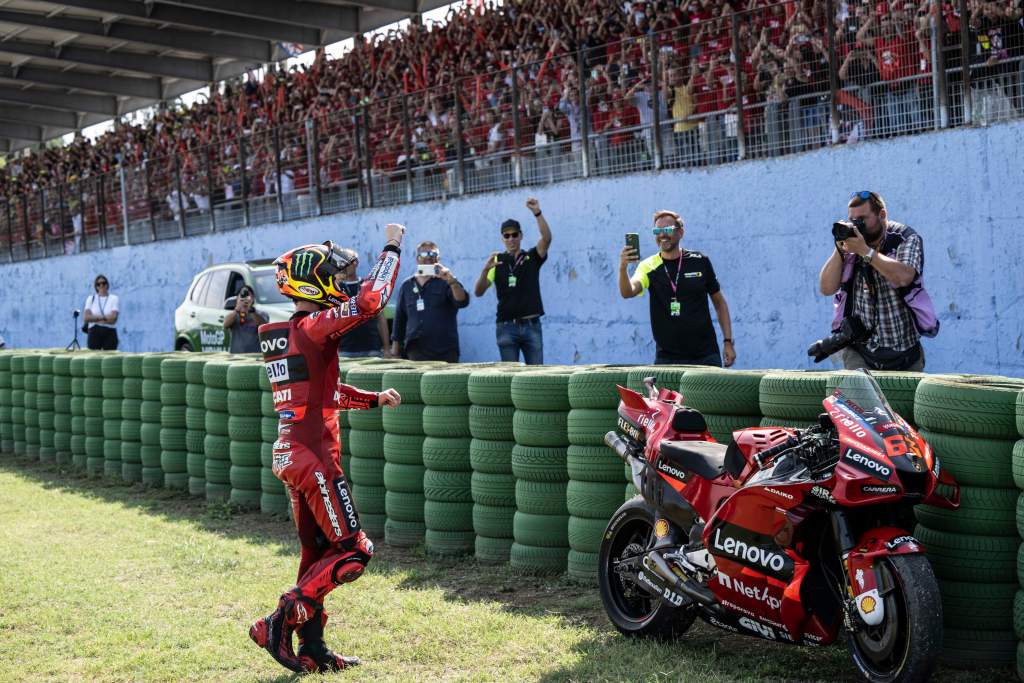 Team boss Davide Tardozzi had clarified in the moments before the race that the only instruction issued so far to his fleet of riders was a simple one: take care, but feel free to race your own race.
"We just ask them to be fair, not to make any stupid things, and then to race," explained the former World Superbike race winner.
"Each Ducati rider is free to do their own race, we just ask them that not to be too hard with their neighbours, with the other Ducatis. But they are free to do their own race."
That's a wish that was largely respected by Bastianini in Sunday's race, too, the Gresini man attempting a move that didn't stick against Bagnaia at Turn 4 in the final lap and then deciding not to have another lunge into the final corner despite potentially being in a position to have done so if he'd wanted to risk more than he did.
Eventually taking the safer option of trying to win the drag to the line instead (and losing out to Bagnaia on a mere 0.03s), it may have cost him the win – but spared him potential fury from his Ducati MotoGP bosses and his 2023 teammate.
Yet even that Turn 4 moment was already too much for brand CEO Claudio Domenicali, given that Bastianini braked hard while right behind Bagnaia and had his GP21 get all out of shape in the wake of the red factory Ducati. Though he avoided Bagnaia by what looked like a decent margin when he ran wide in the corner, it appeared to be a situation that could've resulted in a disastrous crash had Bastianini been unable to keep control of his bucking year-old Desmosedici.
"When two riders don't work well together, I'm half-happy," Domenicali (pictured below, middle) told Sky Sports Italia. "We have talked to all our riders, they know not to be too aggressive with each other.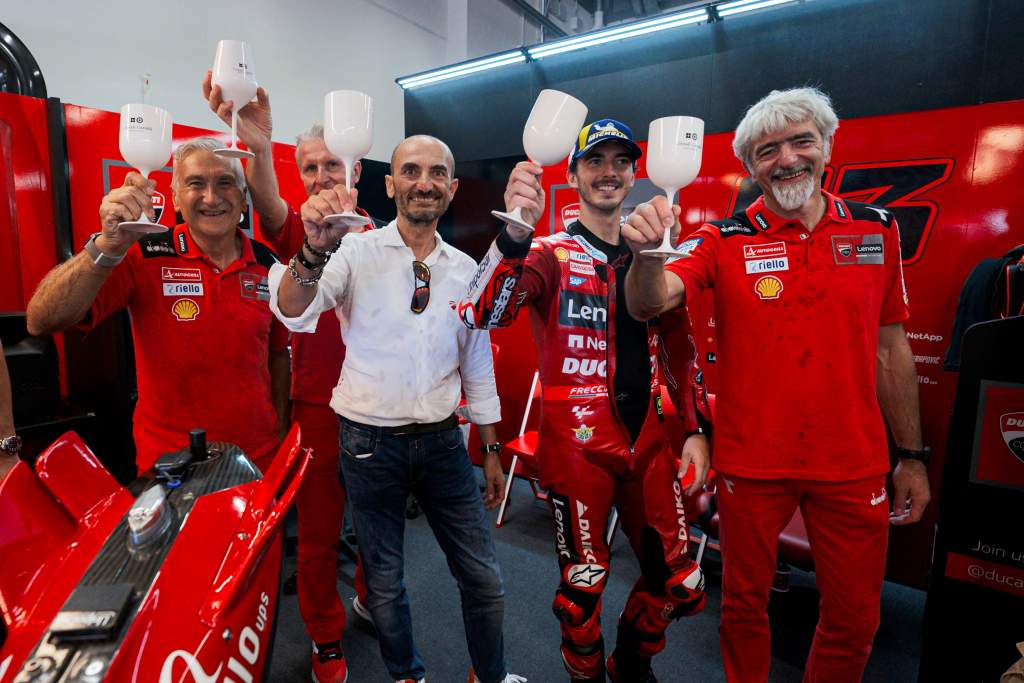 "Enea performed well, but on the last lap he could have held off on that braking – he took too much risk, and we don't like that.
"I know it's part of riders' nature, but there are 150 people working behind them, there is a company.
"You have to try to work for the team, otherwise then we get criticised because we don't win the world riders' championship. On the track let the best rider win, but without doing stupid things."
The urgency in Domenicali's rhetoric is surely a consequence of the fact his brand has won both the teams' and manufacturers' MotoGP titles as recently as 2021, but is yet to add a second riders' crown to Casey Stoner's triumph all the way back in 2007.
"I tried with all my potential to do my best and to win the race," Bastianini said of his race. "But Pecco made a very good last lap. I tried in Turn 4 and I made a mistake [going wide].
"The last corner was for me too crazy to try and overtake Pecco, because we could crash together and, well… I tried a little bit with the acceleration with the bike."
With only 150 points now left on the table, Ducati will know that every single point may well be valuable come the end of the season in two months' time – so it would no surprise at all if its strategy changed soon, especially in light of Domenicali's words.
It's no secret that Ducati is not a stranger to issuing team orders, with Jorge Lorenzo famously given a 'mapping eight' signal during the 2017 Malaysian Grand Prix at Sepang while fighting against then-teammate Andrea Dovizoso and Dovi's championship rival Marc Marquez. He was then also issued a team order in the Valencia finale.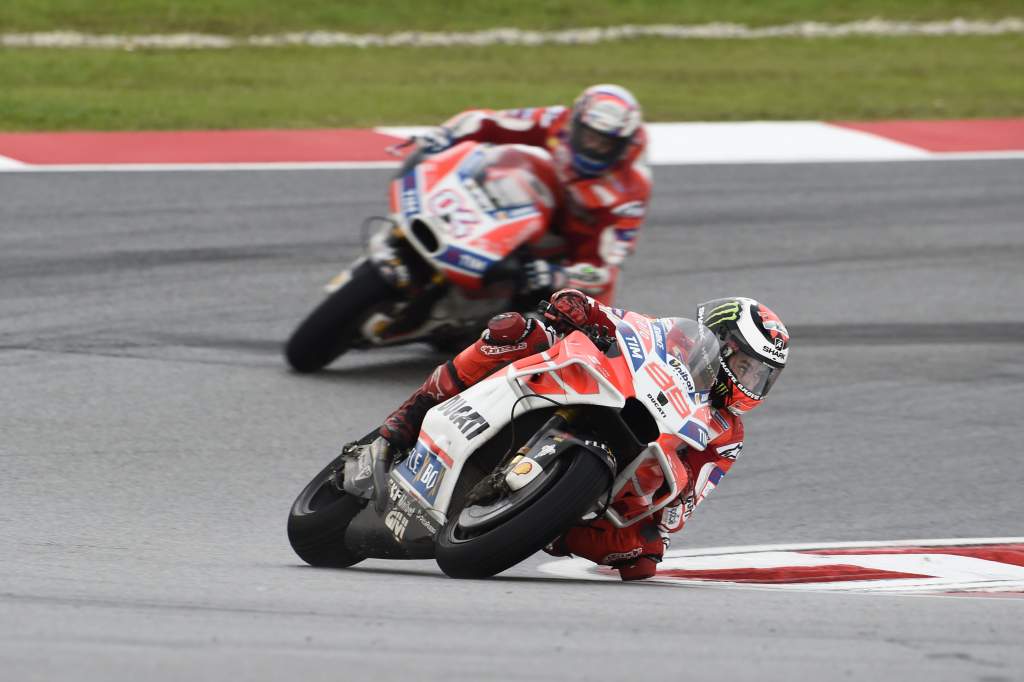 Speaking during that title showdown, Ducati Corse general manager Gigi Dall'Igna – who remains in his position today – described team orders as a necessary evil.
"In certain situations," Dall'Igna said, "you have to think about the team and all the guys who are at home working to bring home this world championship.
"Certain choices, albeit painful, must be made."