The MotoGP riders involved have shed light on what transpired in the two multi-bike crashes that took place early on in the Misano race.
Pramac Ducati's Johann Zarco, Ducati wildcard Michele Pirro and Honda's Pol Espargaro were all in the gravel after the field passed Turn 1 on the very first lap, while Gresini Ducati rookie Fabio Di Giannantonio and Yamaha's Franco Morbidelli crashed together unseen on lap three.
The opening-lap incident had another participant in Brad Binder, who collided with Zarco on the inside of Turn 1, sending the Frenchman into Pirro and Espargaro on the outside.
Though Zarco's terrible getaway, sending him from sixth on the grid to well outside the top 10 into Turn 1, was a precursor, as was the fact he and Binder appeared to brake at very different points and with different intensity coming into the corner, the Frenchman indicated he saw the KTM rider as the main culprit.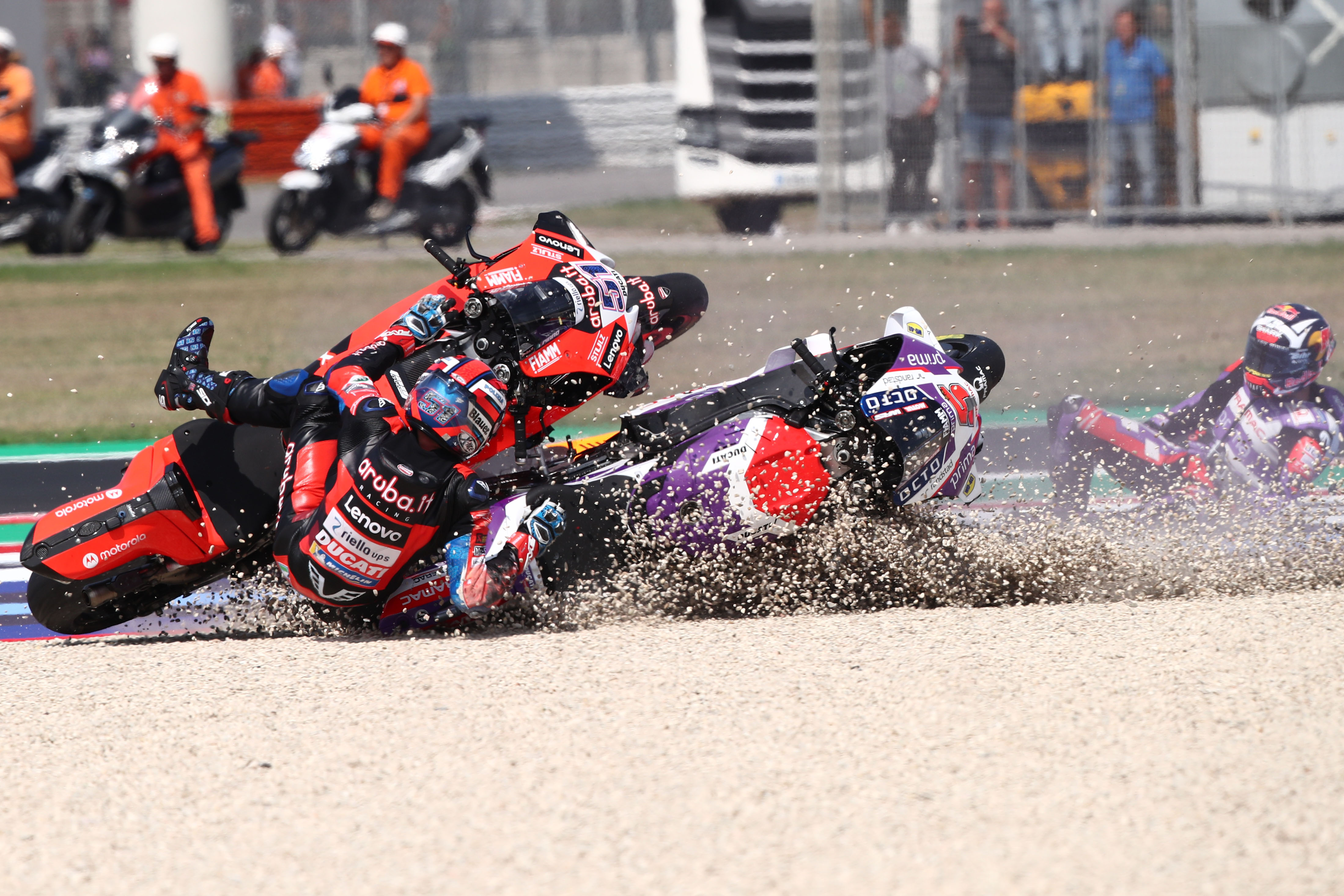 "In Turn 1 Binder arrived very quick and touched my handlebar. I didn't expect that he would arrive there because it was quite a small space [between Zarco and the inside edge of the corner].
"And I crashed. And then I think I took Pirro and Espargaro off. No injury. Another page to turn."
Espargaro also indicated he saw Binder as being at fault. "For the images I saw that I think Brad entered into the first corner a little bit too fast, too much, for the first corner, for the inside kerb."
Binder – who was ahead of Zarco thanks to superior Turn 1 braking at the time of contact but did seem to be the party initiating said contact – expressed his regret at the outcome of the situation, but did not actively take the blame.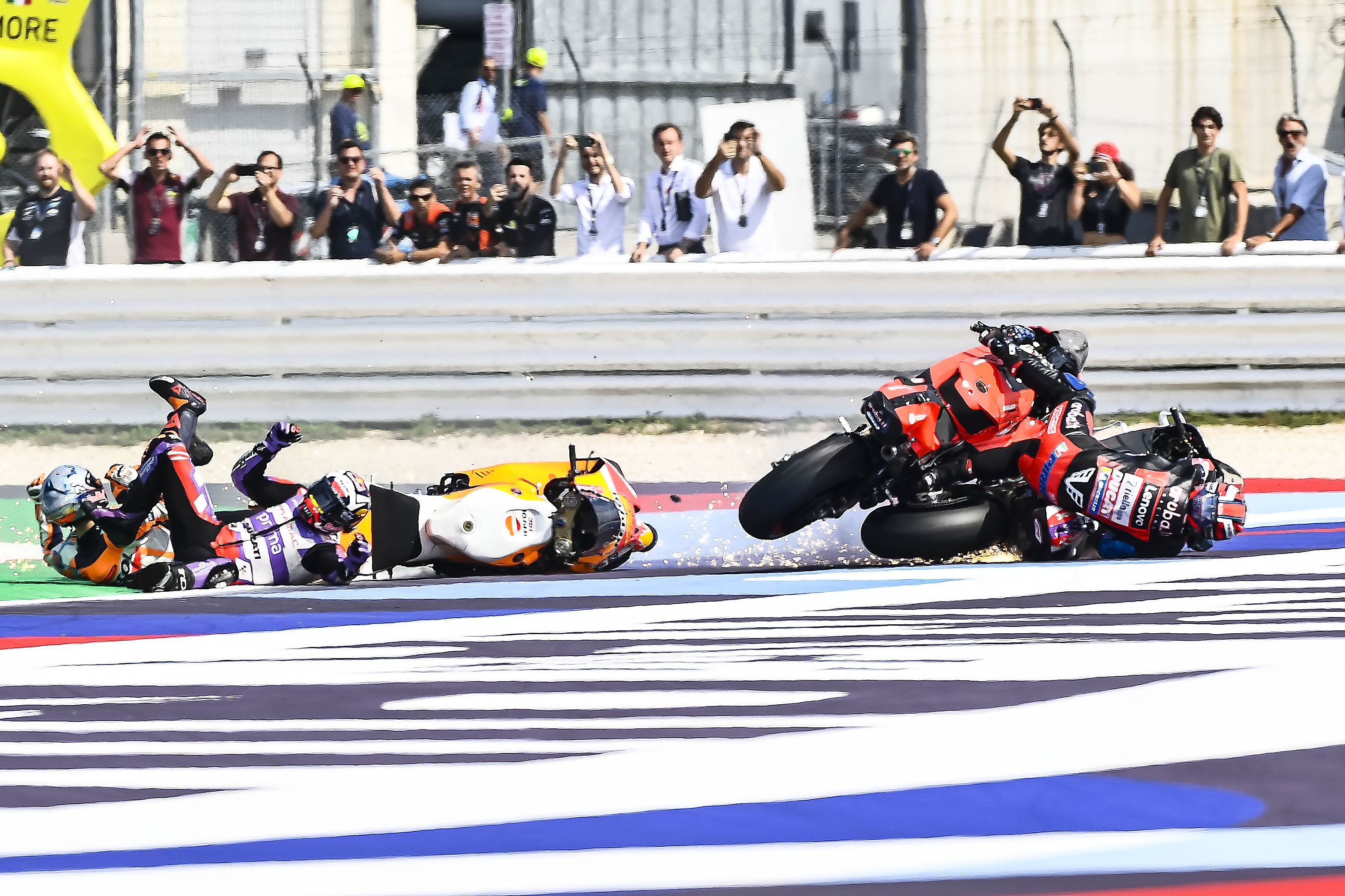 "It was chaos at Turn 1, I went tight on the inside and I think me and Zarco turned in, it all just got super bunched up, because I could see guys closing [from the outside, too] – I think he got sandwiched in the middle.
"Sorry to have been part of that. Pity to be involved in a racing incident."
The stewards seemed to concur with Binder, investigating the incident but electing to take no action.
In terms of injuries, Zarco was left "blue from the hit" but said he had no meaningful damage. Pirro's quote in Ducati's post-race press release also made no mention of any health concerns.
Espargaro did come off slightly worse, having aggravated a left wrist injury that he'd originally suffered during the 2019 season while at KTM.
He suggested there may have been a dislocation in the wrist this time, adding "nothing is broken but it was getting bigger and bigger".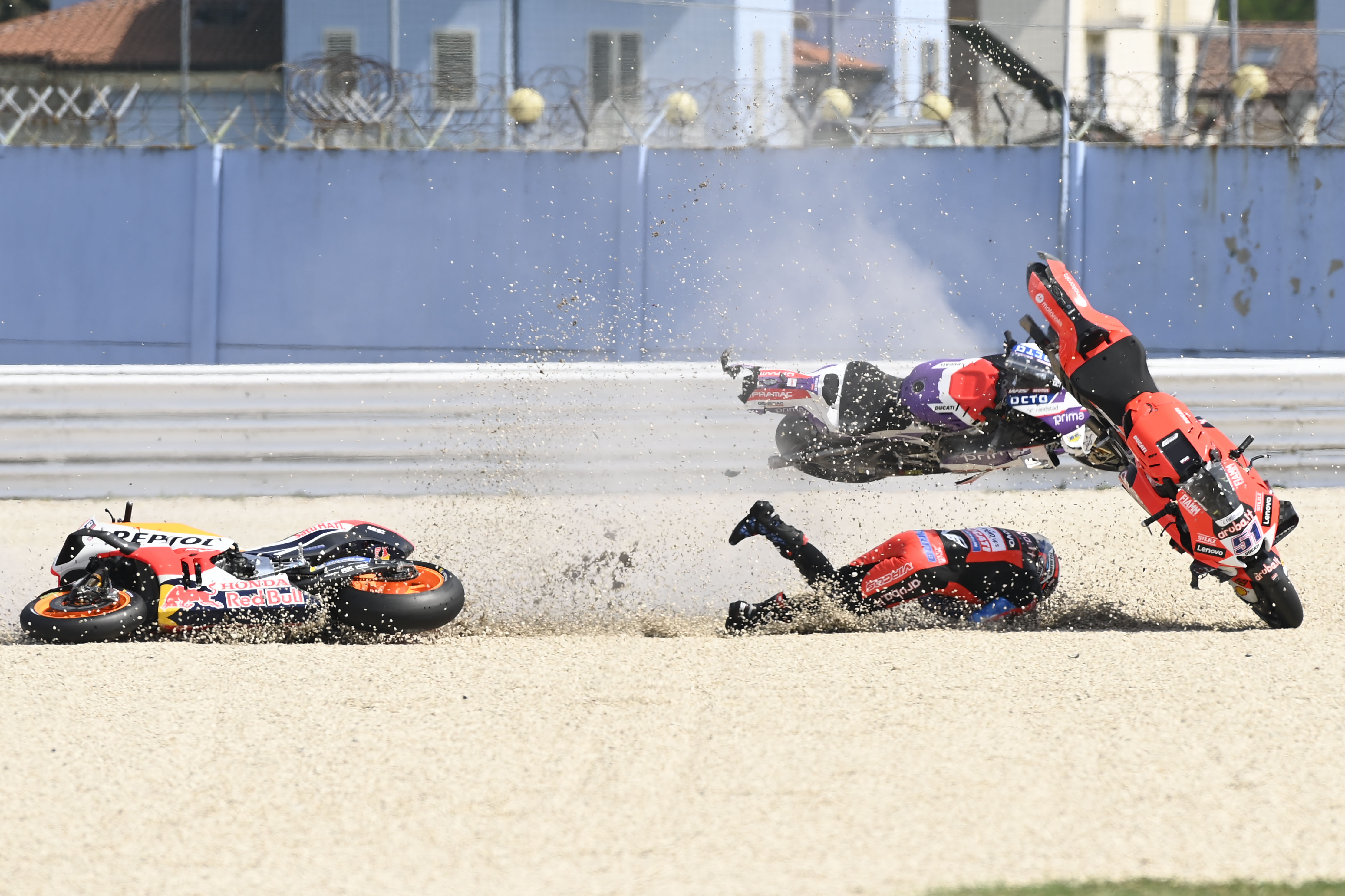 Despite this – and despite the fact he is leaving Honda for Gas Gas at the end of the year – Espargaro made it clear he was dead set on taking part in the post-race test at Misano on Tuesday and Wednesday.
"[It's] very important to test because I need to clarify many things in my head. It's important psychologically and also technically."
As for the Di Giannantonio/Morbidelli incident, it turned out to have been more straightforward – with a solo crash for the rookie ending Morbidelli's race.
"It's a shame that the race was kind of ruined straight away. I pushed too hard at Turn 4 to overtake [seemingly Alex Marquez] and crashed,' Di Giannantonio summed up, having remounted his year-old Ducati to eventually finish 20th.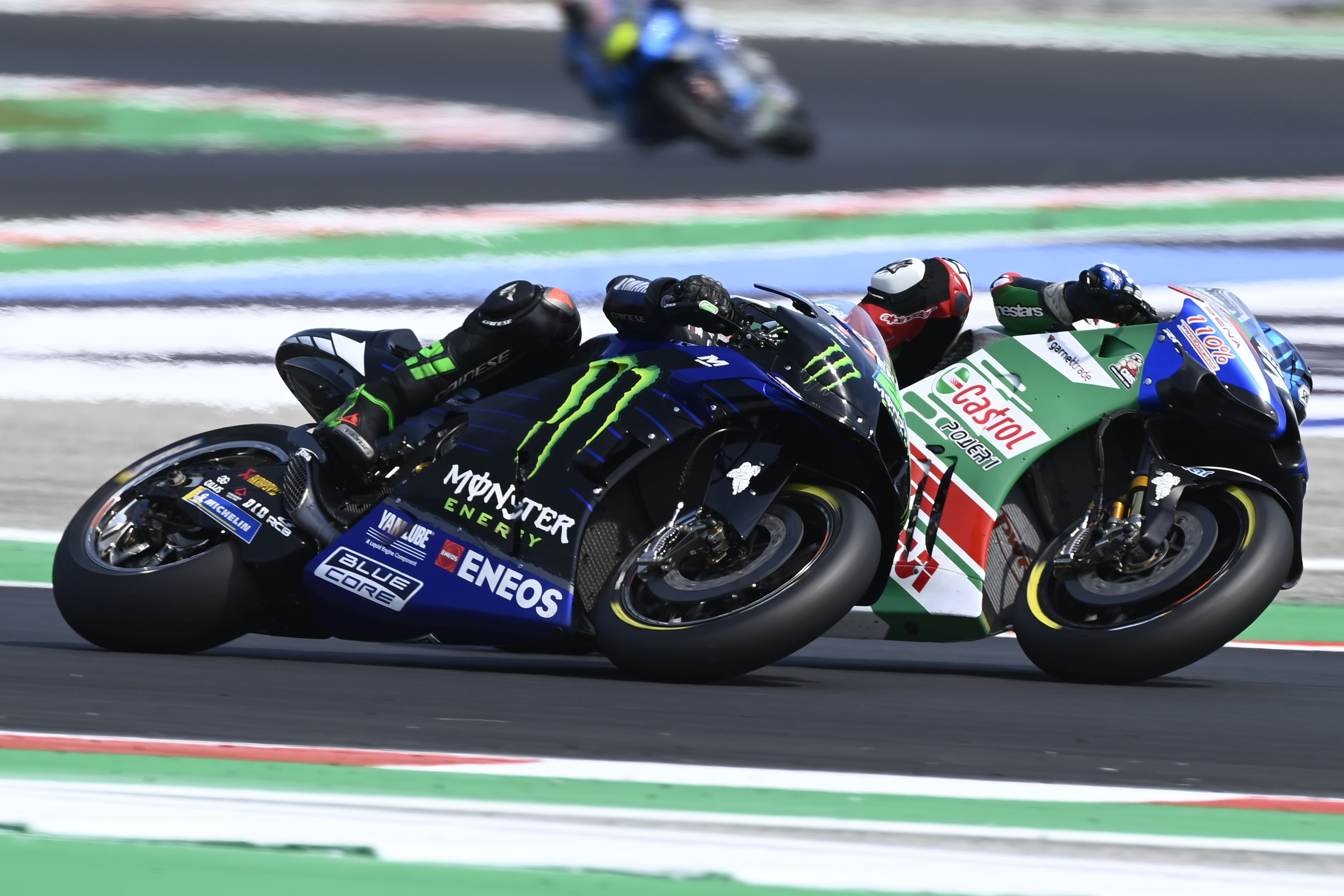 Morbidelli, who retired on the spot, was caught up in the aftermath of the fall.
"What can I say?" said the Italian, who had managed his best qualifying result in a long time on Saturday. "I'm very sorry. I think I didn't deserve that.
"But yeah. Di Giannantonio crashed in front of me, I couldn't avoid him. And I crashed. Bad luck. I was feeling fine, I was feeling okay."
"The easiest thing to do is to get a bit depressed," Morbidelli added of the chance of a season-highlight result being taken away. "But I think I'm strong, I think our crew is strong, we are strong. We are looking for good results. We are looking for wins."