In some way, the idea that MotoGP's new sprint races will be a hotbed of more aggressive riding compared to their traditional Sunday counterparts feels almost unquestionable.
Not only do fewer laps mean less time to get yourself in the right position, creating a natural urgency – almost a 'fear of missing out' for a rider who knows they're not running where their on-paper pace should allow them to – but it also changes the familiar formula of how a MotoGP race plays out and when the gaps in the pack are created.
"We know very well the steps and how it is formed, the Sunday race," was how Luca Marini of VR46 Ducati explained it.
"There is a difficult part in the first few laps, that everyone is trying to catch a better position. Then there is a standby, trying not to use too much of the tyres. And then there's the last five laps that everyone is pushing for the win. While in the sprint it looks like every lap is like all the first four laps of the Sunday race, or the last five."
But the idea that a sprint race is inherently more aggressive is not universally accepted within the paddock. And while Saturday's 12-lapper alarmed some, to the point that Fabio Quartararo repeatedly suggested that MotoGP would be better off making it a full-distance race as well, his championship rival Pecco Bagnaia was among those seeing it differently – and was emboldened by what he then saw on Sunday.
"Yesterday I didn't say anything about what the other riders were saying, because I was sure it'd be the same thing today," Bagnaia said.
"Because it's always like this. It doesn't depend if you have soft or medium tyres, if there's 12 or 25 laps. It depends on the approach of each rider.
"It's always like this. This track, for sure, is a track where it's easier to make mistakes – it's more close, the length of the Tarmac is not as big as Qatar maybe, and Qatar has no corners like corner three in this track.
"So it's easier to make more mistakes. And it was the first race, so everyone's quite aggressive, everyone wants to be in front to make a good result, to start the season in a good way.
"But for sure the thing is, it doesn't depend if it's a sprint or not. It depends on the approach of each rider."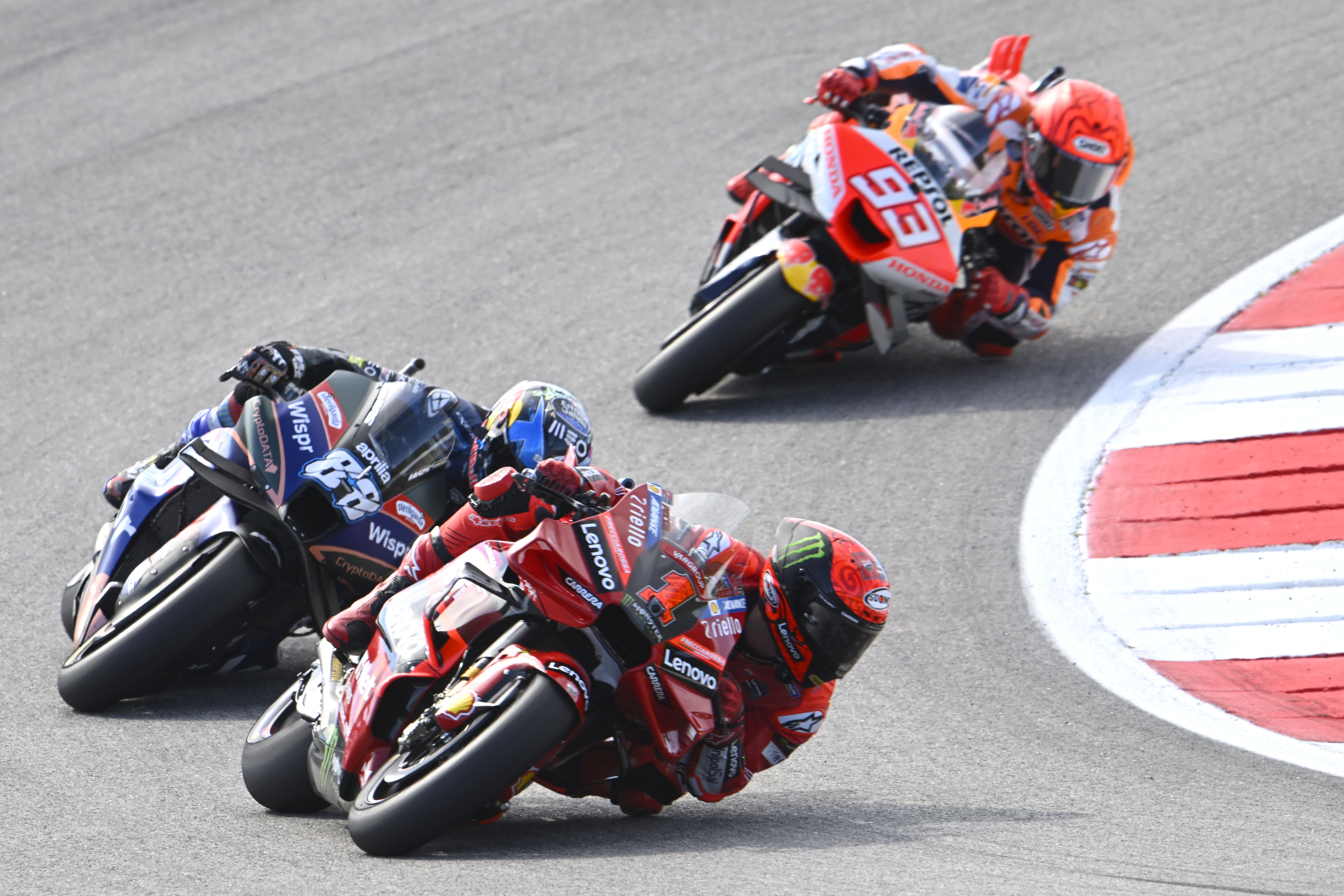 Aprilia's Maverick Vinales concurred: "It didn't change too much. I saw the same aggressivity yesterday and today – and as Pecco mentioned, it's about the rider behaviour."
Both Bagnaia and Vinales were fresh off viewing extensive replays of Marc Marquez spearing into Jorge Martin and Miguel Oliveira, in an incident that was more severe than anything in the sprint – but also an incident that, as Marquez has (pretty believably) insisted, was no botched overtaking attempt but rather just a bad mistake on the brakes at the aforementioned Turn 3.
In terms of the aggression of the passes, Bagnaia himself was clearly more on the limit on Saturday, the early move he pulled to re-pass team-mate Enea Bastianini far more forceful than what he did on Sunday to get past Martin and Oliveira – although that is likely circumstantial, rather than philosophical.
It is also clear that the riders in front didn't get the best view of what was going on further in the pack. "For me the sprint race yesterday was more aggressive than the normal race today. But it's true that it is the first race of the season, and everybody is so excited. So… maybe can be for this. I don't know," was the view of LCR Honda's Alex Rins.
A footage review of the first two laps of each race doesn't necessarily give a conclusive answer. In the sprint, beyond Bagnaia forcing Bastianini wide there's Aleix Espargaro having to thread the needle at the same Turn 3 between the VR46 duo, with Bezzecchi compromised, and Johann Zarco taking Brad Binder off the racing line. All of that is from the opening lap, with the added headliner of the Quartararo/Joan Mir collision.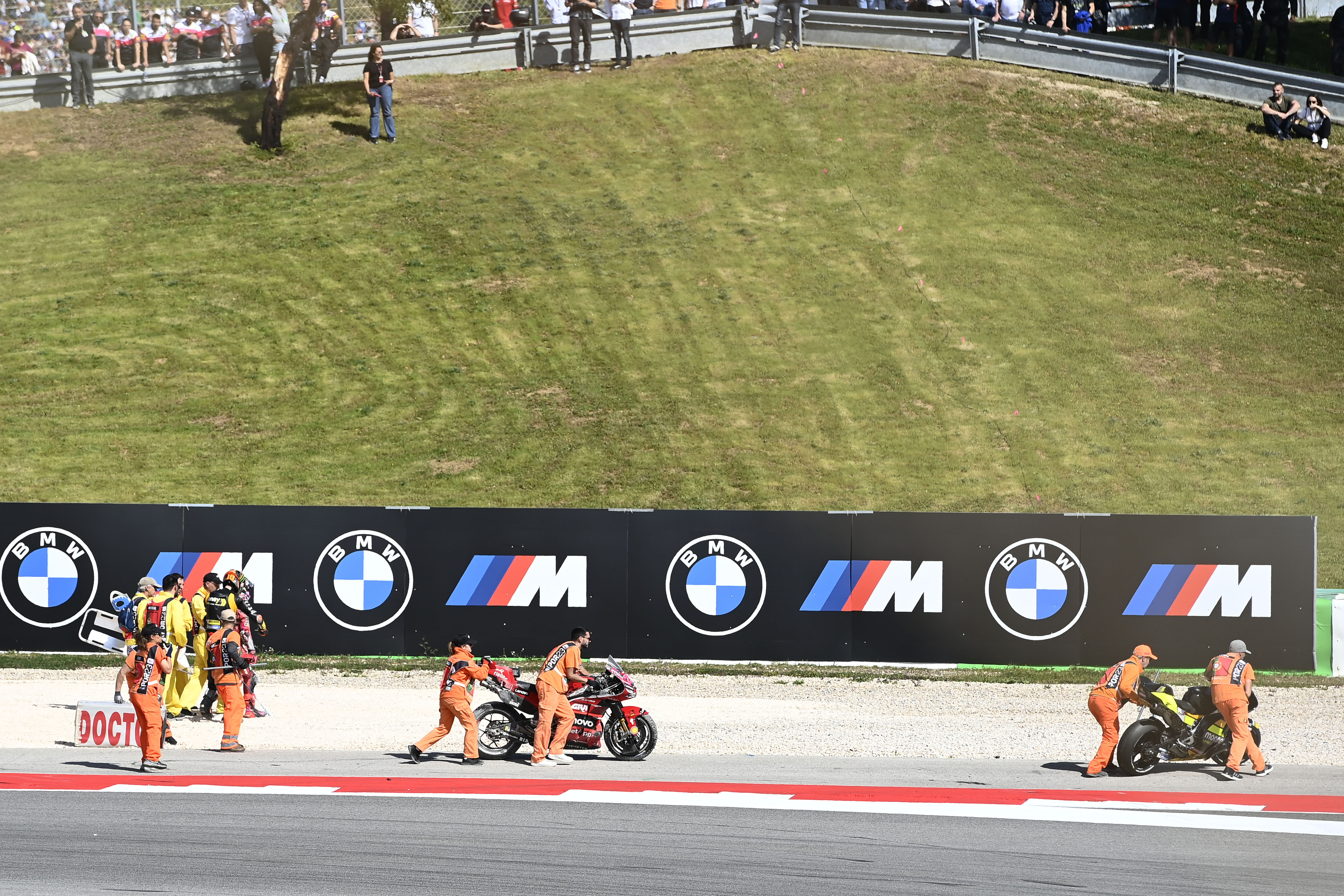 Then, the following lap, Marini's fall that ends with Bastianini injured is, in that moment of time at that very place on the track, sandwiched by a tidy Jack Miller overtake on Oliveira up ahead, and Alex Marquez barging into Vinales behind.
But then tune in to the main race and then, even before the Marquez 'bowling ball' incident, you see the Honda man arriving fast at the same corner and making contact with Martin on exit, while behind them Binder bumps into Espargaro. If the Aprilia rider goes down there, that's the race's multi-bike incident taken care of two laps earlier. Later into the lap, Franco Morbidelli takes a "pretty big hit" from Fabio Di Giannantonio in the penultimate corner.
The Marquez/Martin/Oliveira incident splits the front group, obviously changing the nature of Sunday's race. Before that point, it is tempting to say that on the whole the pack looks slightly better behaved and more genial on Sunday, more happy to run single-file rather than two-wide and leaving more room to each other coming through corners. But that's hard to assess definitively without a full-on statistical model, so as it stands it might just be preconceptions.
And while, yes, the tussle in the sprint is basically race-long, Sunday does end up serving up what is effectively an equivalent in the Alex Marquez-led battle for fourth, the junior Marquez creating an extended mini-race – one that looked perfectly clean – between himself, the KTMs and the arriving Zarco, Espargaro and eventually Quartararo.
There is certainly sympathy, even from the sprint race detractors, of Bagnaia's view that it's all a matter of individual rider behaviour. "Mate, I cannot control them," Aleix Espargaro said of the level of aggression in the pack.
"It's not that I'm the best guy in the world – if I have to be aggressive, I can be aggressive as well. I feel in my opinion that I know where the limit is – it looks like 80 percent of the grid doesn't know."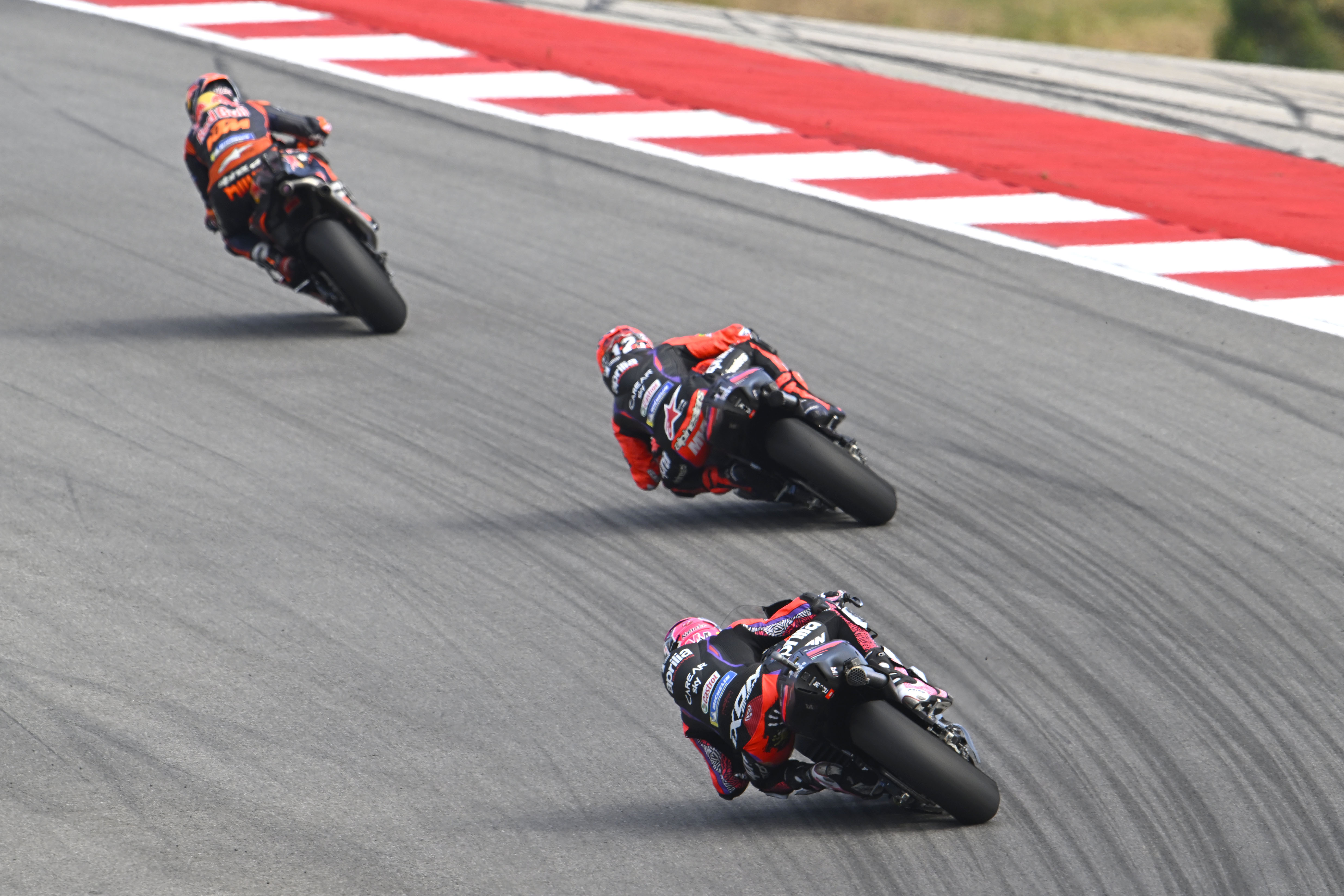 But there's also a factor pointed to inadvertently by Bezzecchi, in explaining his super-tidy divebomb on Miller that proved so crucial to his Sunday podium finish. "I had to risk a little bit to pass Jack, but my front tyre was going very up [in tyre pressure]," he explained to MotoGP.com.
"So I said 'OK, I need to pass now or never'. I tried, and fortunately was good."
That was the start of lap six of 25, which is extremely telling. Firstly, it suggests that, if strict tyre pressure limits come in, riders may be even more aggressive in a desperate attempt to secure clean air and avoid potential disqualification – which is a matter for an entirely different discussion. But secondly, if riders only feel a small window to get a move done because following a rival is unsustainable, then that will undoubtedly motivate riskier moves regardless of the race distance.
In any case, there's one point MotoGP riders are unlikely to have much disagreement on. "Having two starts is double risk. Because the biggest risk is basically on the first lap," Quartararo said.
The question of whether it's 'more than double' risk is one we'll only have any conclusive idea over well further into the season.