Aprilia MotoGP boss Massimo Rivola has admitted to The Race that he doesn't yet know if his championship contender Aleix Espargaro will make the start line of tomorrow's British Grand Prix, following a monster highside in Saturday's FP4 session at Silverstone that left the Spaniard with two badly bruised ankles and in a lot of pain.
Able to successfully return to the garage afterwards and, remarkably, to break the circuit absolute lap record in qualifying before eventually securing himself a second row start for Sunday's race, Rivola said that given the extent of the damage done in the crash, he's not sure what state the team are going to find their rider in when he wakes up.
"He is not in a super shape," the former Ferrari F1 sporting director conceded. "I would say that from the knees up he is still good, and he is still very motivated, but to be honest I'm not so sure that he can race tomorrow.
Huge high side for @AleixEspargaro

We hope he is ok but he's leaving the track by stretcher #BritishGP 🇬🇧 pic.twitter.com/gmq0d0bRY8

— MotoGP™🏁 (@MotoGP) August 6, 2022
"We will see when he wakes up, maybe if he can get a good sleep, but I'm not sure. When the adrenaline goes down, I am afraid that the big pain will come. For me who was in the medical centre and saw that they thought that he had two broken feet, and then after half an hour to see him do what he did – these guys are something else."
There's another element to Rivola's concern too though – the potential for an injured rider to do lasting damage to themselves by returning to action too soon.
It was a lesson that's been shown to the MotoGP paddock by the torrid time that six-time champion Marc Marquez has endured since breaking his arm at Jerez two years ago and attempting to return the next weekend, causing subsequent damage that means he's still not back on the MotoGP grid.
"We need sometimes to keep them with the real consequences of what could happen," stressed Rivola. "I think that, I see Marquez for example, that we need to learn from these kinds of things. Luckily, nothing was broken, and when the x-ray was negative I felt much more relaxed; well, relatively relaxed.
"If he will race, he will give 110%, but we just need to put his health as the priority number one. Maybe he can race with the handbrake a little, but we know that it won't be like this. What these guys do is something really special. I don't know if it's crazy or stupid or if they are gladiators, but I am very impressed by what he did."
Espargaro called his crash "rather violent" and reiterated Rivola's plan to decide on Sunday morning whether or not he can race.
"The crash was the last thing we needed," Espargaro said.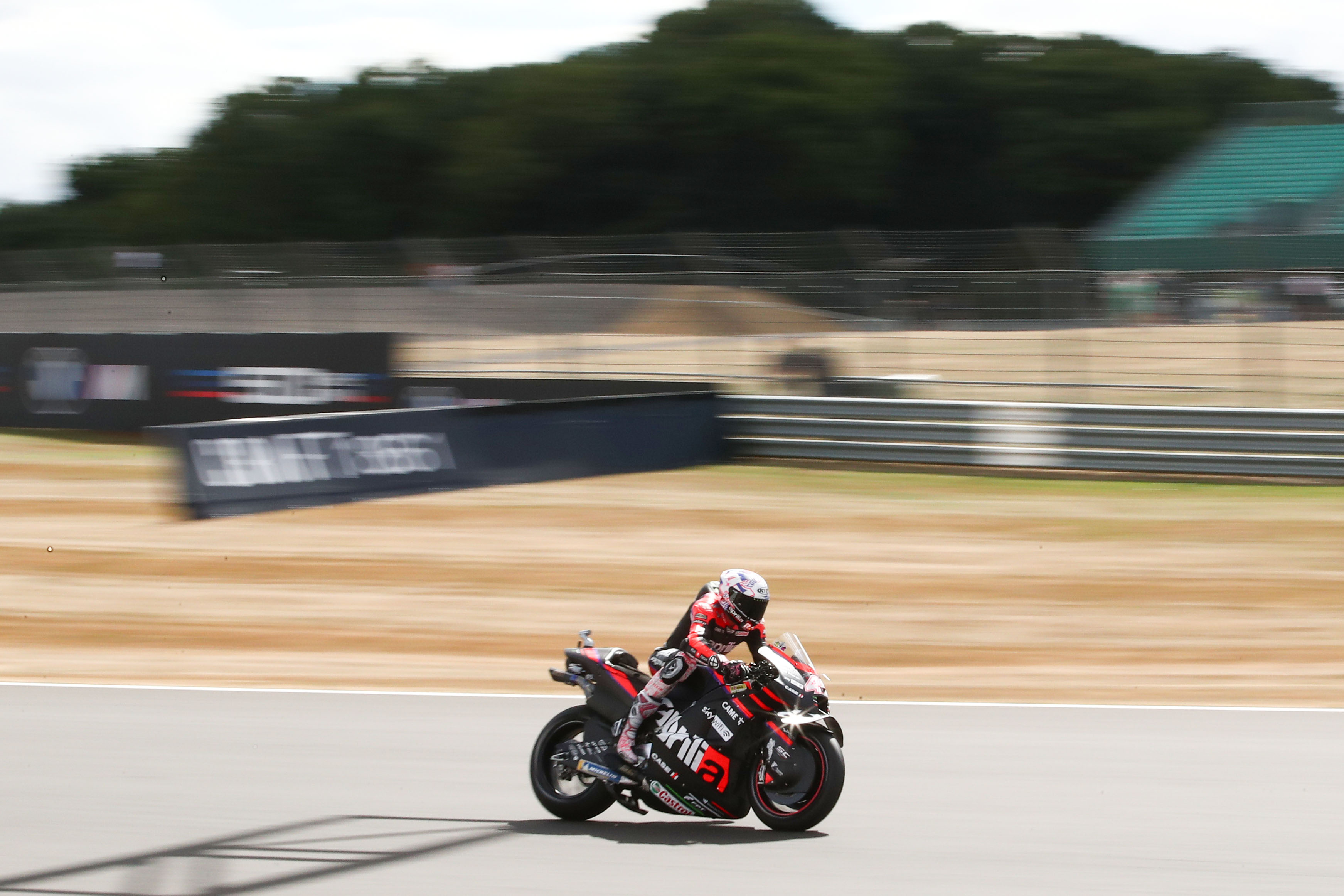 "I was feeling good on the bike, pushing hard, and the high side was rather violent. I'm in a lot of pain and it is getting worse, so along with the team and the docs, we decided it would be best for me to rest until tomorrow and then evaluate the situation after the warm-up.
"I'll obviously do everything I can to be on the track but, since we're talking about a part of the body that is highly stressed during riding, we'll have to see if it's possible."
Should Espargaro not race, it would come as a welcome relief to reigning champion Fabio Quartararo, who sits only 21 points ahead of the Aprilia racer following his own crash at last month's Dutch TT – a crash that will also see him serve a controversial long lap penalty in Sunday's race thanks to contact with Espargaro as he went down.