With both 2022 MotoGP title contender Aleix Espargaro and Aprilia team-mate Maverick Vinales, a podium finisher last time out at the Dutch TT, looking ultra-fast at this weekend's British Grand Prix, there was soon talk of team orders.
But, with Espargaro battered and bruised after a punishing highside in FP4, there will be question marks over whether he'll be 100% during the race, so it may well be that the best thing team-mate Vinales can do is to limit the overall damage to Espargaro's title hopes is win the race.
First questioned about team orders ahead of the weekend's action getting underway, Vinales stressed that it's not yet something that's been discussed by the team – but given the closeness of his relationship with Espargaro, it's something that he's obviously going to attempt to manage successfully with Aprilia as the year progresses.
"This is something we have to speak about," Vinales explained. "It's clear that there's my team-mate who is fighting for the championship. I'm still a long way back. And it's something that for sure we will speak about.
"You could have the scenario where I could be P1, and maybe Aleix P2. Or Aleix P1 and I will be P2.
"So we will need to talk about it and make sure of everything. I said in Assen, I want Aprilia to win. And I want this great factory to achieve their goal and it's to the benefit of every person involved in that big project of Aprilia.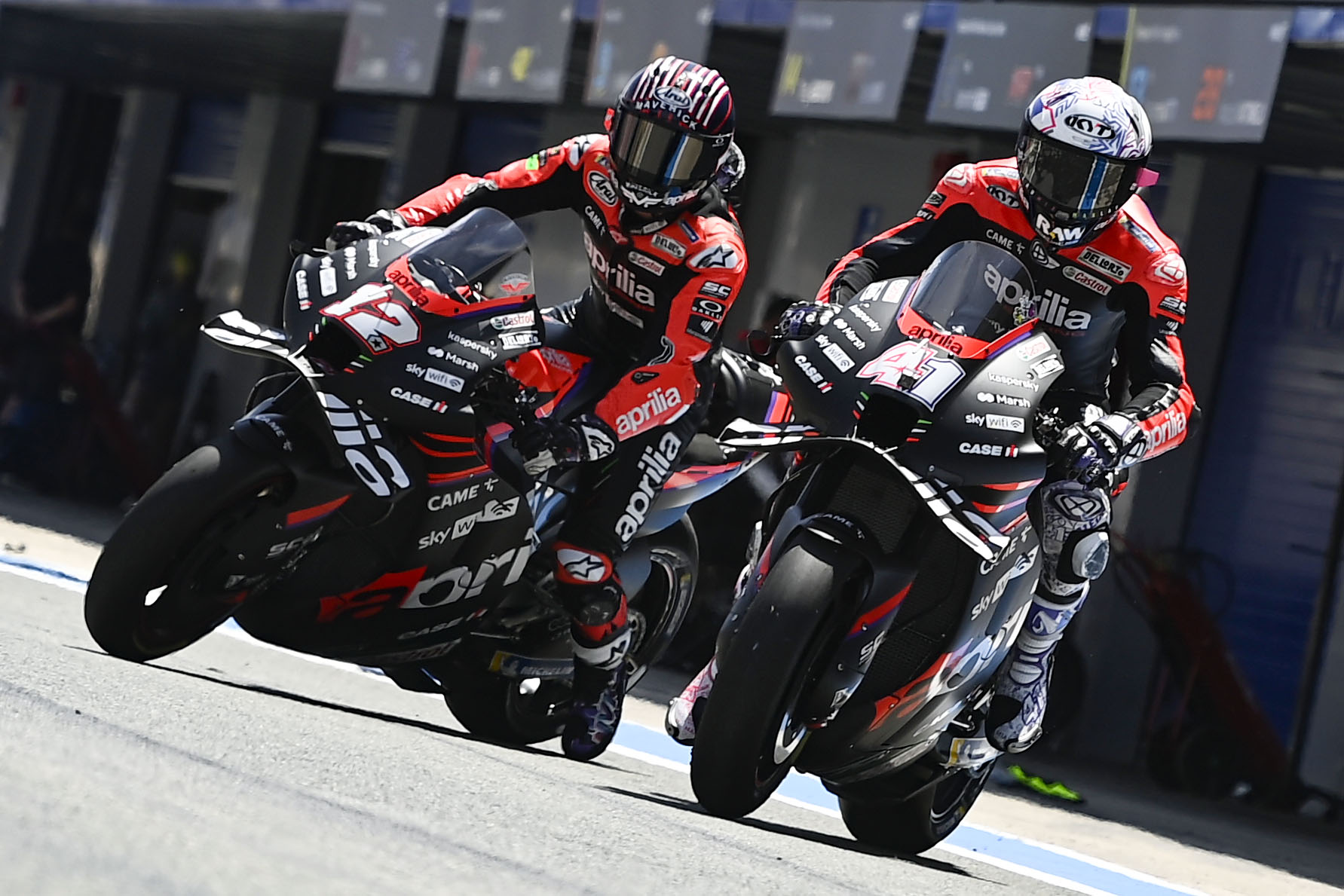 "One of the strongest points of our team is that both sides of the team is one. We work well together and we will understand very well. When we have to do the job, we will do. When we need to run a few runs with Aleix, we will do it.
"It's good that I can be in the front because I can be showing my potential and I feel like I can do it. But it's also good for Aleix because I can be there battling. We need to understand that we need to make Aprilia win."
For his part, Espargaro was keen to stress that so far he's had no thoughts of asking Aprilia to introduce team orders.
The pair – who had previously been team-mates at Suzuki – already work in close harmony and have a mutual respect that goes beyond sharing an employer, which means that Vinales will be more than ready to do the right thing when and if it's needed.
"Today we worked together and I'm very happy," Espargaro said of their combined practice efforts on Friday. "I have to say thanks to him because he's really humble, really willing to help me. He has no problem to go in front, to push me, and everything he sees about me on the telemetry he tells me what I can do.
"It's like he's my brother, like he is family, like he is in the top management of Aprilia. He wants to win this title as well, and that's fantastic. Aprilia is with me, Maverick is with me, and I really love it.
"I think on Sunday everyone needs to do their own race, and it's still too early. But even if we can work together on Fridays and Saturdays it's already a big, big help to me."
But with Espargaro, who sits 21 points behind championship leader Fabio Quartararo, now unlikely to be a podium threat on Sunday given the severe bruising he suffered on both feet in his practice fall, it may well be that the door has been opened for Vinales to simultaneously achieve his two goals: to win a race for Aprilia and to help out his friend's title aspirations.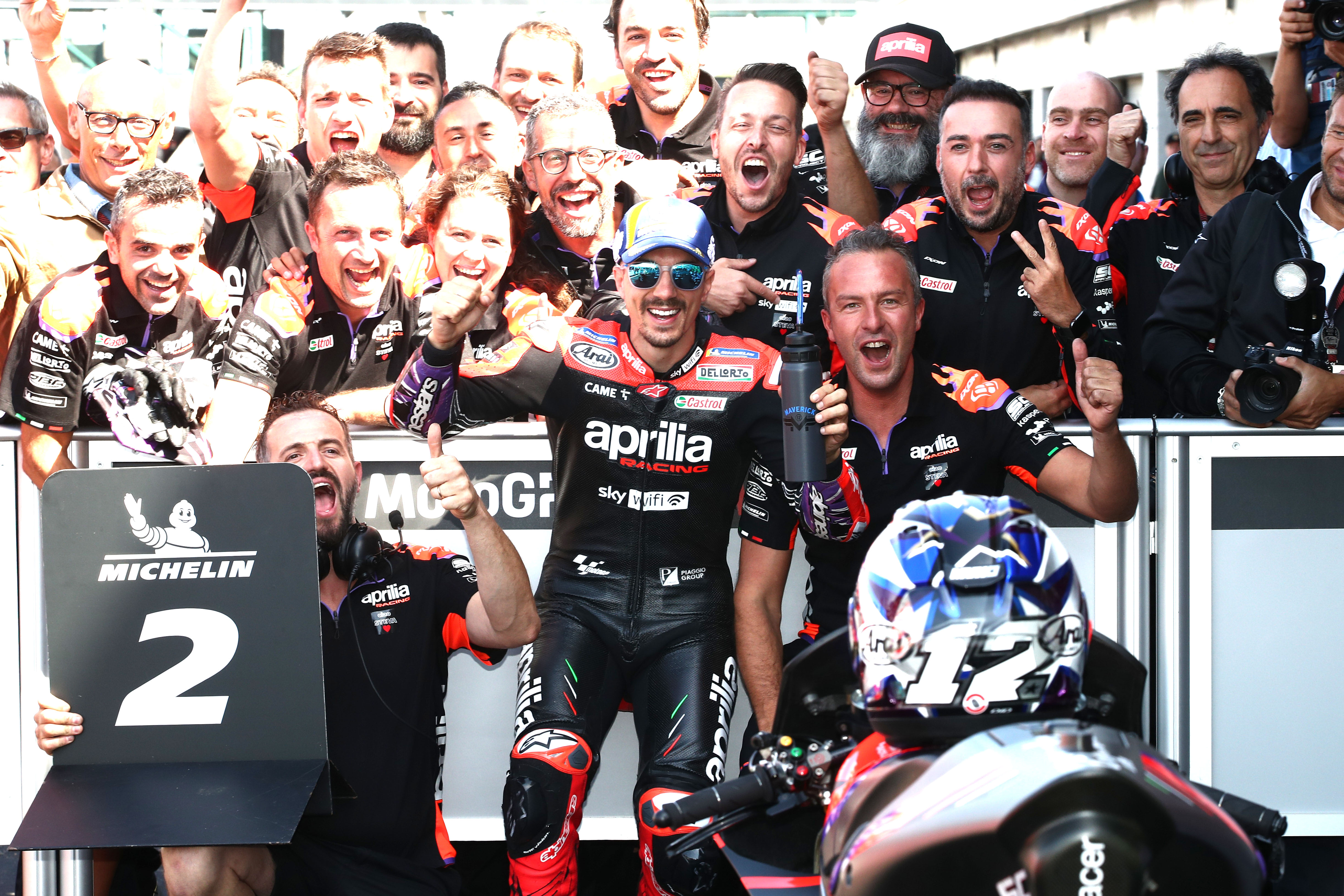 Qualifying second, the first time he's started a race from the front row since switching from Yamaha, means that he's arguably got his best chance in well over a year of victory. That's something that's been reinforced by his race pace, too, with only polesitter Johann Zarco matching him over longer runs.
But, with the Pramac Ducati rider yet to clinch a premier-class victory despite his seven previous pole positions, it's not hard to imagine that a newly-invigorated Vinales might finally be able to return to the top step of the podium come Sunday afternoon.
"I don't think I have ever felt so comfortable on the Aprilia on the fast lap, but that is not by chance," he said after qualifying.
"We have done a lot of hard work and we'll continue to do so, without letting up. I also felt good in terms of pace.
"There are a lot of fast and consistent riders, but we've got what it takes to be in the mix.
"The strategy I have in mind is clear enough – push from the very first lap as if it were a qualifying session!"