When he burst onto the grand prix racing scene in 2021, it's fair to say that Moto3 sensation Pedro Acosta made an immediate impact.
On the podium on his first time out in Qatar and going on to win his second ever race, he cruised to a rookie title with some absolutely incredible performances.
And, speaking exclusively to The Race, the 17-year-old has admitted that so spectacular were his results in only his first season of world championship racing that he was offered a direct path to MotoGP for the upcoming 2022 season – an offer he rejected with one eye on the future rather than short-term glory.
This was par for the course for someone establishing himself not just as a supremely fast racer gifted with an abundance of talent but also as someone processing wisdom beyond his years.
"I had the option to go directly to MotoGP," he admitted, "but I thought that I didn't have to be in MotoGP in my second year in the world championship.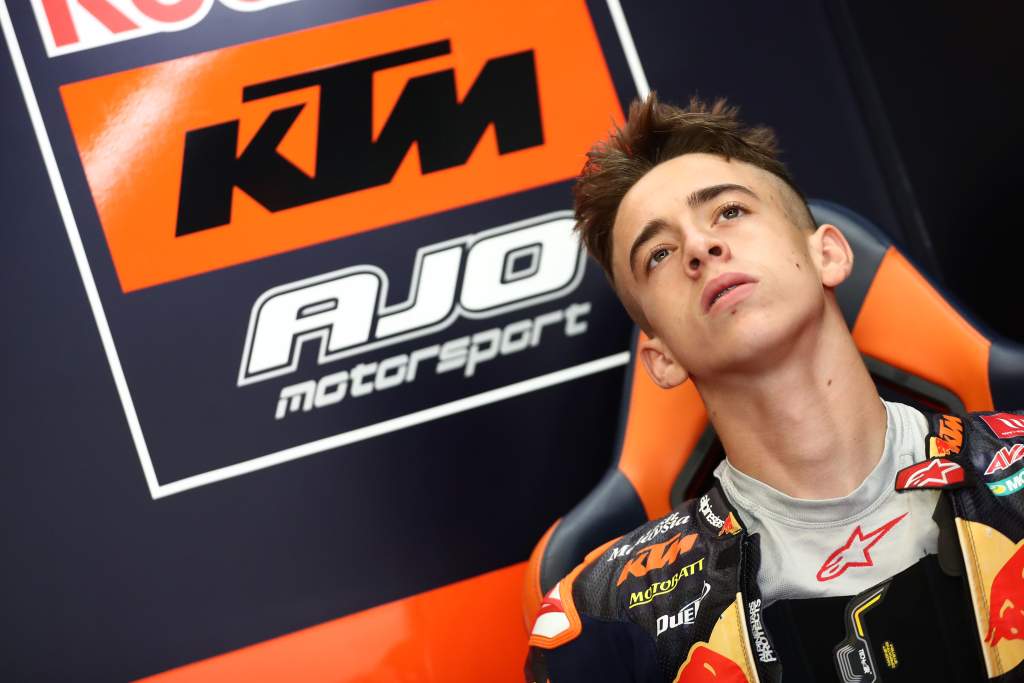 "The thing is, I'm 17 now [Acosta will turn 18 in May] and I have to learn a lot. I think that Moto2 is going to help me to make less mistakes, to be more focused, to be a little more professional. I think that it'll be much better to come to MotoGP in a few years rather than directly from Moto3.
"I was talking to [Casey] Stoner and he told me that the important thing isn't to win in the smaller classes, the important thing is to go prepared to MotoGP and try to win there. I think both categories, Moto2 and Moto3, help you a lot, but Moto2 teaches you to manage the tyres, to not make mistakes, to try and have your own pace.
"This is the best step, the best chance, and we have to do it. It was nice when an idol from when you were a kid comes to you. I felt like a god when Casey told me he was a fan of mine! I was thinking 'this can't be real!' It was good – we spoke a lot and I think his words will help me."
Offers to Acosta were believed to have from multiple directions, with factories already vying to have his name on a letter of intent if not a contract for the future. But, in what will no doubt come as a welcome relief to his his Austrian bosses, it very much sounds like his first intention is to stick with KTM when his Moto2 stint in Aki Ajo's team – which won last year's title with Remy Gardner – is complete, whenever that should be.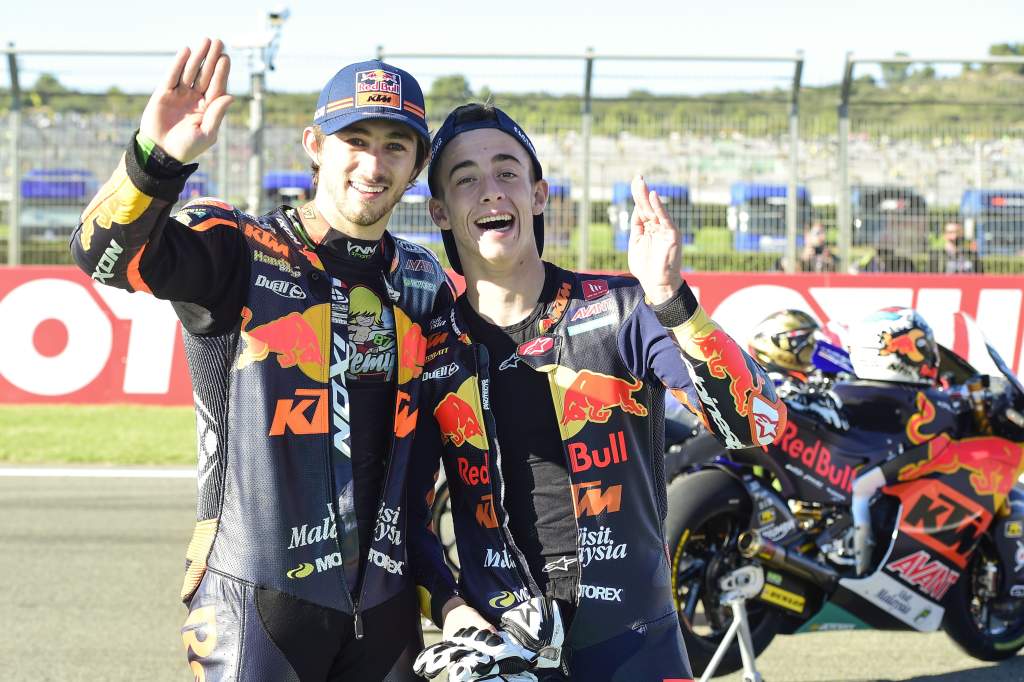 "I believed in Aki and his team from the first day he said 'hey, do you want to come to Moto2?'" Acosta told The Race. "I'm bringing my crew chief from Moto3 to Moto2. I have Remy's data guy, one of his mechanics and one new one. They'll help me, but we'll have to grow up together.
"KTM was the first brand that believed in me, when I had nothing. They believed in one guy, and since then I've always had this sentence in my head, 'we believe in you'. Since this day, I've always thought, why not to go to MotoGP with them?
"We'll see if we can do like [Brad] Binder and go to the factory team, but if not then we can go to Tech3. In the end, both teams are in the hands of KTM, and both teams have the same material. We have to talk about this, maybe in two years, and we'll see what happens."
The decision to bide his time is reflective of his increasing maturity, something that seems to have been fundamental to his title success in 2021 even as things started to go a little wrong in the second half of the year.
After winning three out of the first four races (including one from pit lane) and building up a comfortable points margin by the summer break, a run of bad form and crashes in the second half of the year put Acosta under pressure – but he insists that it was only a case of thinking his way out of the problem.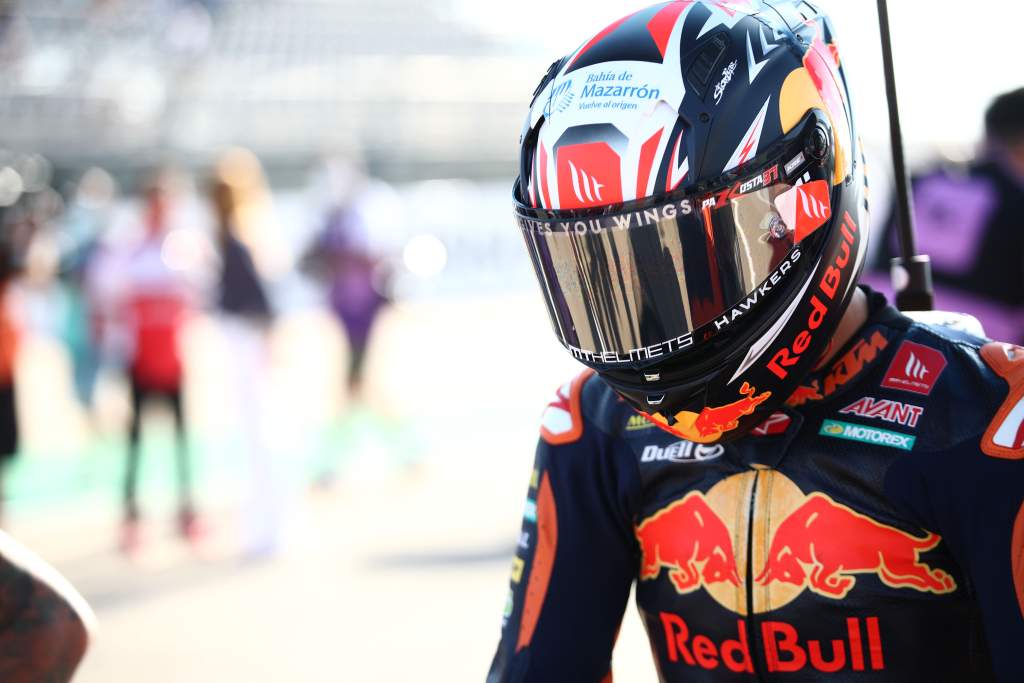 "In Silverstone after a difficult qualifying," he explained after ending up 22nd, "I started to think a little about the title. From this day until Austin, I was thinking about the championship, and thinking like this is the thing that maybe caused the mistakes that I made, like in Aragon [where Acosta crashed trying to pass Xavier Artigas]. We didn't take a lot of points in these races, and finally I learned that we need to stay focused every weekend and not think about what's going to happen in November.
"The thing that gave us our title was how we managed my head in the last few races of the season. I learned a lot from Moto3, and it's like [UFC fighter] Conor McGregor says, when you have everything in your head you only have to do it. You have to give your 100%, to satisfy the people who are losing 40 minutes of their life to watch your race!
"The most unreal thing was in Qatar. After the test, before the first race, I lost four kilograms because I couldn't eat anything. Then I did my first podium and then a win. It shows that everything is in your head, because when you see something in your mind then you have 50% of the battle in your hand. You see everything and you only have to do it."
And, with his title secured and a move to Moto2 rather than MotoGP for 2022, he's adamant that there'll be less pressure to deal with this coming year as he once again resets to zero and sets out just to learn rather than to win.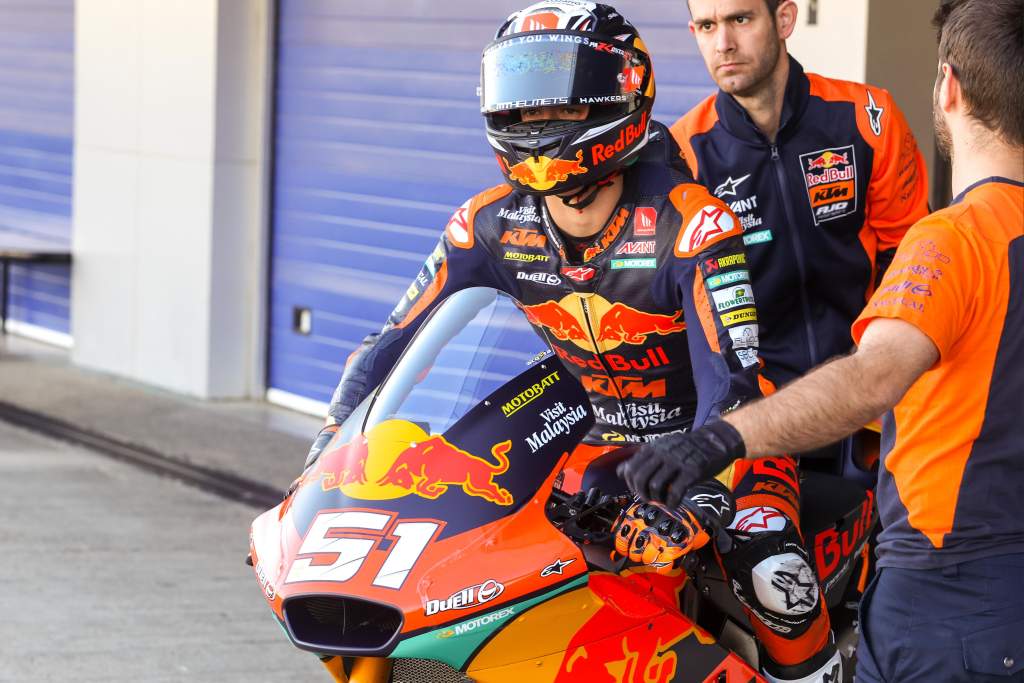 Yet Acosta looked strong and confident and set fast times on his Moto2 debut at Jerez in November – no surprise given his experience training on 600cc machinery – and he cheekily admits that there might be yet more success in his near future if things to to plan.
"Last year in Moto3," Acosta said, "everyone said 'oh you have the pressure because you're at the front of the championship'. But in the end, I think I didn't feel pressure all season.
"OK, I had to battle with riders with huge experience, but finally now I have more experience. This year, I have to learn how to manage races, and for this I don't have any pressure this year.
"The Moto2 bike is much better than Moto3. Much more fun, and you don't have to use the clutch with the gearbox.
"But it's more important to understand how to go fast than to push to your limit. You have to understand how to brake, how to turn, how you have to go onto the straights to not lose too much time.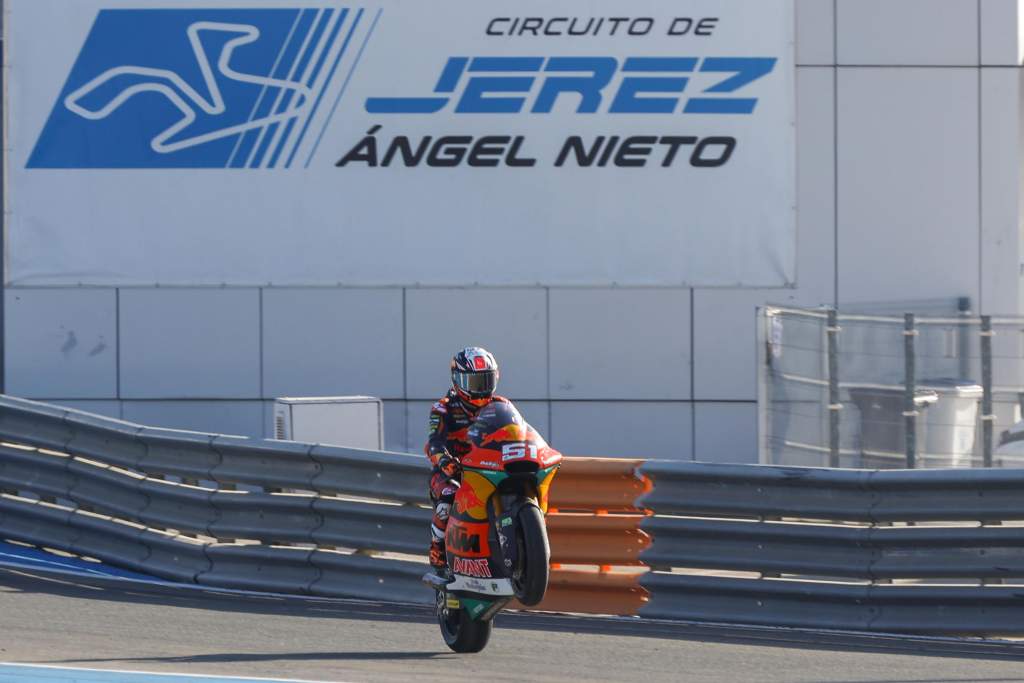 "It suits a more precise rider, and the first day wasn't difficult but it was like a school day. Finally, it's completely different to the Moto3 and you have to think about what you're doing.
"I don't know now which will be harder, but right now if I have to pick one I'll say that Moto2 will be easier. I am more relaxed on the bike, and I don't have pain anywhere. In Moto3 I started to feel it in FP1, but we did 50 laps on the first day of [Moto2] testing easy. We have to hope that it's going to be easier. The plan for winter is like in Moto3. To try and learn, to try and be more competitive around all the winter tests, and to train like a m**********r."
Does that mean that a second straight title is a possibility? Never say never, according to Acosta.
"Maybe if this championship goes like last year, then why not?" he admitted when asked about the possibility of being in MotoGP as soon as 2023. "I have to learn, I have to grow up in Moto2, because if not then I think things will be difficult in MotoGP.
"In the moment we don't have targets. We have to learn how to go fast, because this is more on the mental side. To be super precise, to try not to make mistakes. For this, I think it's going to be a long winter of learning.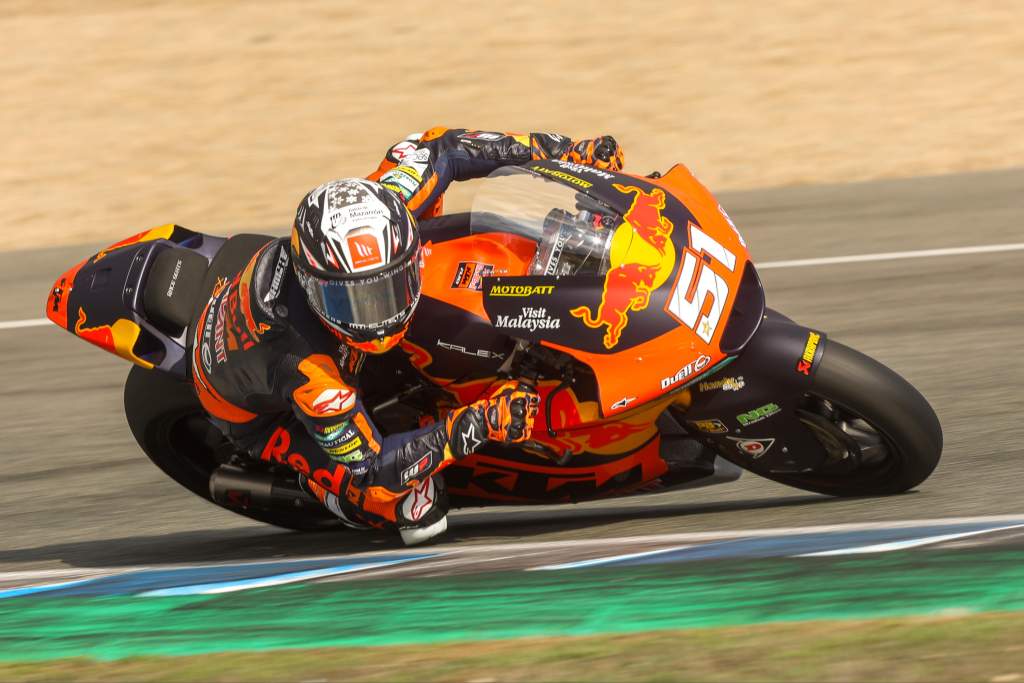 "Maybe the chance to fight for the championship will come again, but right now I have a strong team-mate [Augusto Fernandez] to learn a lot from.
"For sure this will make it easier for me, because when you have a guy on the other side of the box who is pushing yourself every time you go on track, it's much better for you. I have to learn a lot of things, and he's helping me."