Argentinian tin-top star Agustin Canapino has emerged as one of the early surprises of the 2023 IndyCar season, but the open-wheel rookie faces his biggest challenge yet racing on an oval for the first time at Texas Motor Speedway this weekend.
The 33-year-old has the perfect help, though. In his corner at Juncos Hollinger is engineer Charlie Ping, who has worked for both IndyCar engine manufacturers, a host of the series' best teams and even took a hiatus working in a tin-top series – V8 Supercars in Australia – earlier in his career.
If you were going to draw up the perfect engineer for Canapino on paper it would be Ping, apart from the fact that he doesn't speak Spanish and Canapino is still learning English!
"Sometimes the communication can be a bit difficult in meetings when everyone's talking but you put some data in front of him or sector times and things like that and you can tell he's really switched on, he knows exactly what he's looking at," Ping tells The Race IndyCar Podcast, clearly impressed with his driver's adaptation after a 12th on debut in St Petersburg and session-topping sector times in the pre-season test at Thermal.
"A lot of rookies are sort of immature – might have speed, but they're immature – and he's mature, a full professional driver. So that's been easy.
"His pace has been really nice to see for the whole team and now I think our expectations have shifted a little bit based on the first couple of tests and the first race, but it's definitely a good thing."
Ping certainly doesn't want to get carried away, but thinks Canapino is the sort of driver that can really excel on ovals.
Canapino was one of three drivers to get a special rookie test that Juncos could also use to evaluate set-up developments the other teams won't get ahead of this weekend's race.
🎥 Onboard del entrenamiento y evaluación en el Rookie Test en Texas Motorspeedway

✅️ Primera vez en el óvalo, entrenando ir en succión y luego 1 vuelta logrando hacerla a fondo con gomas usadas y aire limpio

🤯 La adrenalina de vivir por primera vez todo esto es única pic.twitter.com/10HGQcpFWa

— Agustín Canapino 🇦🇷 (@AgustinCanapino) March 18, 2023
That's especially significant when you consider the teams can add more downforce this year, with a full sidewall piece of bodywork that lives just next to the rear wheels, a wicker device in the floor and extra bargeboard wings that could all help give drivers more grip (or use that grip quicker and ruin their tyres) to make overtaking easier.
But no matter what happens with the car, that's only part of the battle for an oval rookie.
Ping describes some of the things that make a perfect oval driver.
"Ovals take a little bit of a different type of driver to succeed," he says.
"It's not as physical. But it's a lot more mental, you have to think a lot about using your tools, you've got a lot of different tools available to you.
"It's also a lot about timing. When and how to pass people, especially now, at Indy, for example, it's hard to pass, but it's certainly possible. But you really have to get it just right.
"Texas is going to be a lot different this year, because there's a lot more downforce. So we might see a little bit more passing there.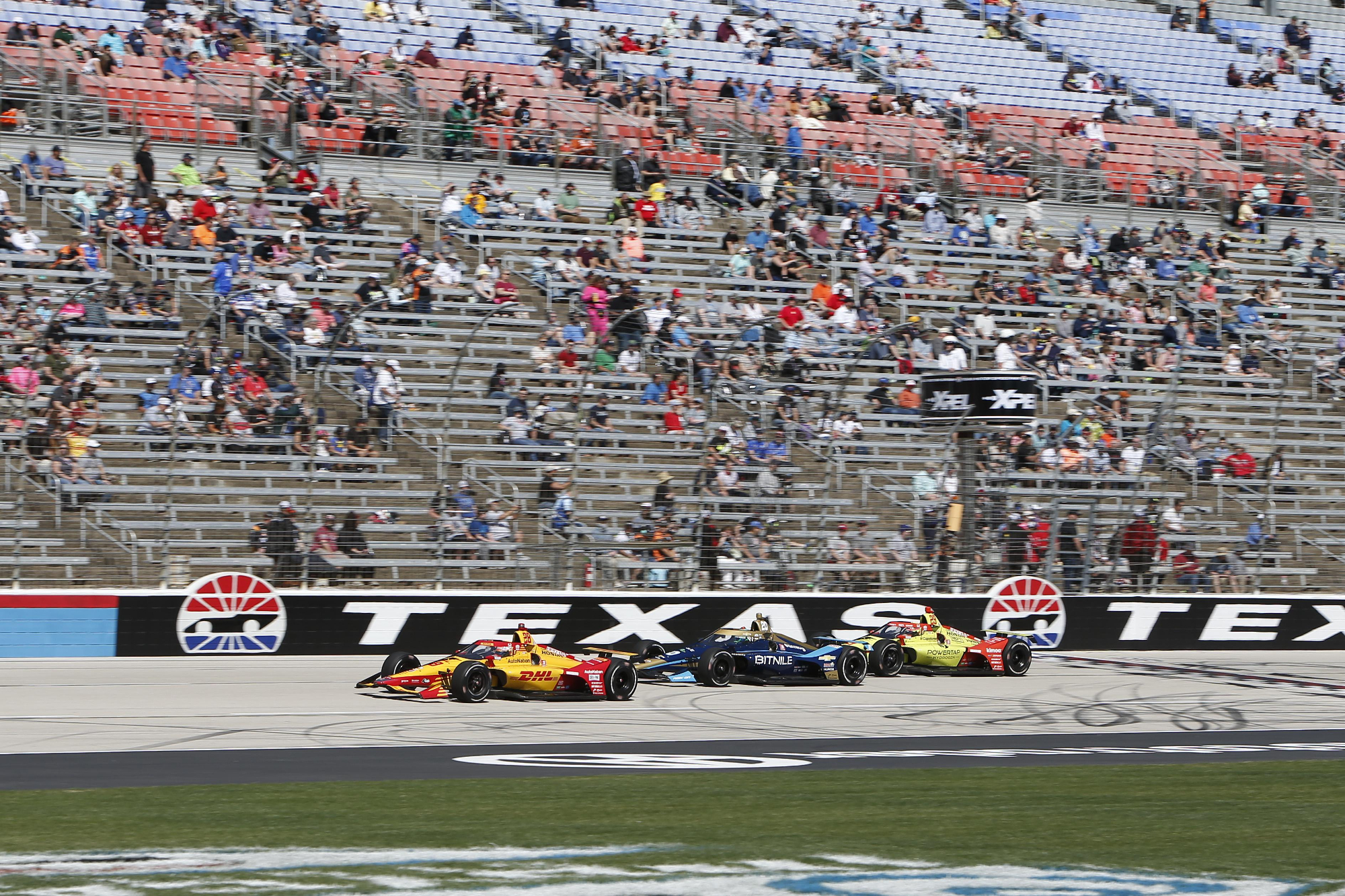 "But you really have to think about what the car is doing, and also what the car is going to do through the stint and you have to stay ahead of that with your tools while you're also driving the car, trying to overtake people and things like that.
"So just having some extra mental bandwidth is super-important. The more experienced drivers generally have that.
"Agustin definitely has that, too. He's pretty calm in the car and he's a professional so I think he has a good shot of doing well on ovals but I don't want to say anything too soon before we get a race under our belt.
"Bravery is important as well, you really have to go sometimes and reach right to the limit there to get passes done.
"But for a long race, if the car has understeer in an oval, it's going to burn up the front tyres really quickly, if you don't use your tools to improve it.
"So if you're just out there driving and not really thinking about what's going on, you can find yourself in a big hole really quickly."
Not only is Canapino learning how to race an oval, he's still learning what the car itself can do with just a handful of tests and one race weekend under his belt so far.
Of course, preparing a rookie so green has its challenges for any engineer. Canapino will be relying on team-mate Callum Ilott a lot this weekend, too.
But Ping is still Canapino's main source of knowledge.
"You just have to try to give them as much information as you can but it's really hard to prepare somebody for what they feel," he adds.
"After the test, he just said, he can't even describe what the experience was like.
"I think the main thing is to minimise risk. The worst thing that can happen is you lose the opportunity to get laps.
"It used to be, when I started in IRL, almost all the races were ovals, and the drivers got a lot of experience with those. So people like [Tony] Kanaan and Scott Dixon, and the drivers from that era, they just have 100x more experience than anyone coming to the series [now] will ever have, we only have a handful of ovals on the schedule now.
"So you want to make sure they complete every lap of the race and of the test and get as much experience as possible, because that's going to help the most.
"You just try to explain how the car's set-up because it's very different than a road course car.
"It's much more complicated and things like your tools might not do what you expect that they're going to do, you have a weight-jacker, which you've never had before.
"Depending on the car set-up, the bars could have a strong effect, or have different effects on entry versus mid-corner and things like that.
"So you just try to explain everything about how the car works, and what the adjustments do.
"Agustin seemed like he got up to speed really quickly from what I read and heard from the team.
"It's just working them up through the education process and trying to explain everything and then letting them experience it.
"But like I said, the main thing we pound into everyone's brain is just: let's get all these laps completed.
"That was the goal at St Pete and he did a great job making sure he achieved that, so hopefully we can do it again in Texas."
Ping reckons it's so much harder to be an IndyCar oval rookie now – even if there's access to good simulation tools – than it was when he started in the IRL days.
There are so many fewer testing days and only four oval events on the calendar for drivers to learn. He's right when he points out the likes of Dixon (pictured below racing Alex Zanardi in CART) and Kanaan have a built-in advantage.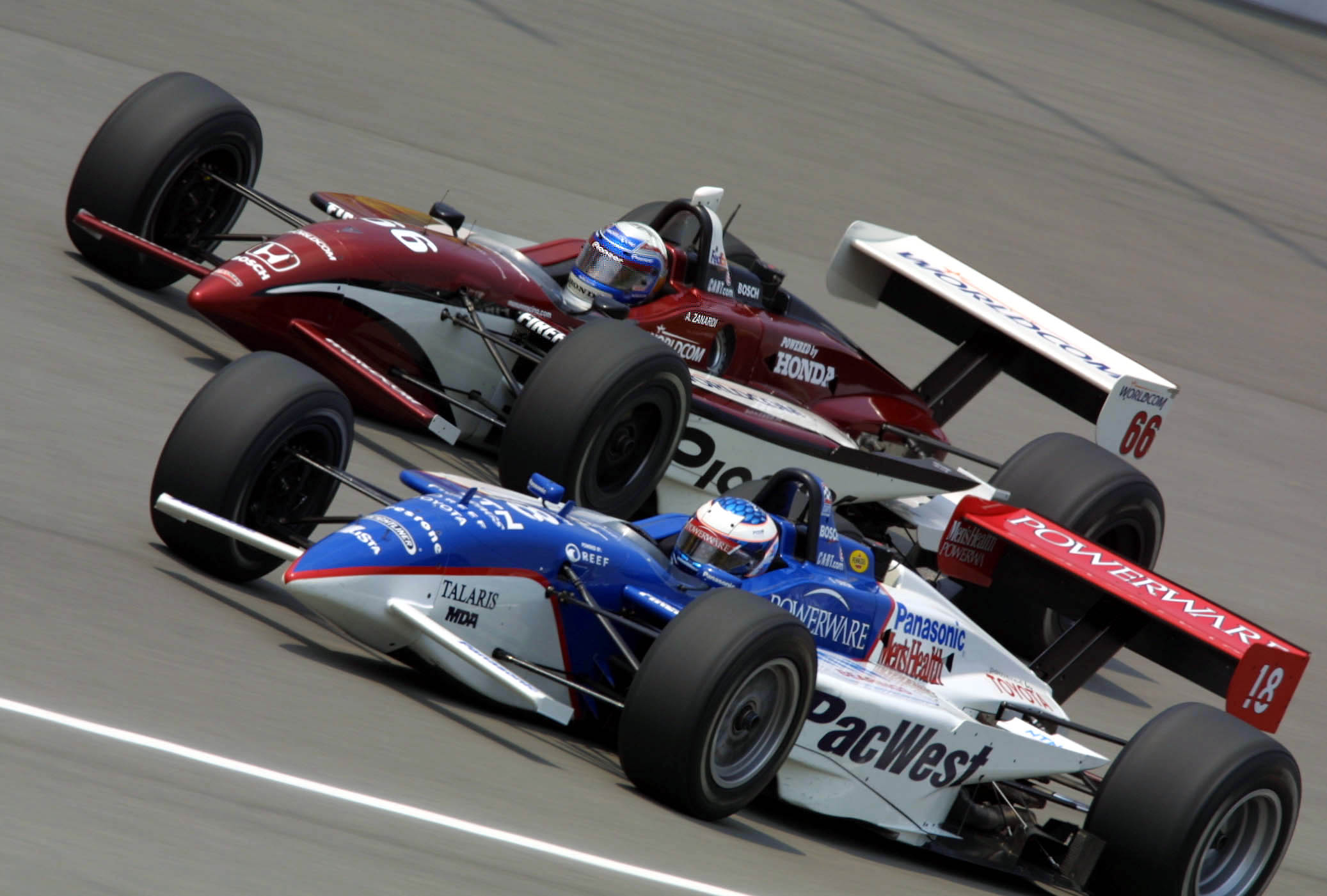 But that can also give us newfound ways to marvel at the likes of Marcus Ericsson, Pato O'Ward and more recently David Malukas emerging as real oval talents despite being at such a disadvantage in experience.
There's no reason Canapino can't do something similar to Scott McLaughlin and adapt quickly to ovals.
McLaughlin's second place at Texas in 2021 with Penske might be tough to replicate for a team as small and early in its development curve as Juncos, but it's never out of the question on an oval.
Ping and Canapino are a great match, and taking on an oval is just the latest challenge for the Argentinian. He's swung for a home run when it came to any previous challenges, so the outcome of this one will be fascinating to watch.