There's often a misconception in motorsport that it's always about flat-out racing. It isn't, and for much of its history hasn't been that way inclined at all.
Tyre conservation, fuel allocations, reliability and mechanical sympathy and general strategising of a multitude of technical parameters have more often than not played out and created something that's not just driving as fast as you absolutely can at all times.
Think of one of racing's halcyon eras – the 1980s, when Formula 1 turbo monsters spewed toluene deposits and drank dry every drop of specific fuel allocations, sometimes with the consequence that most of the field failed to see the chequered flag.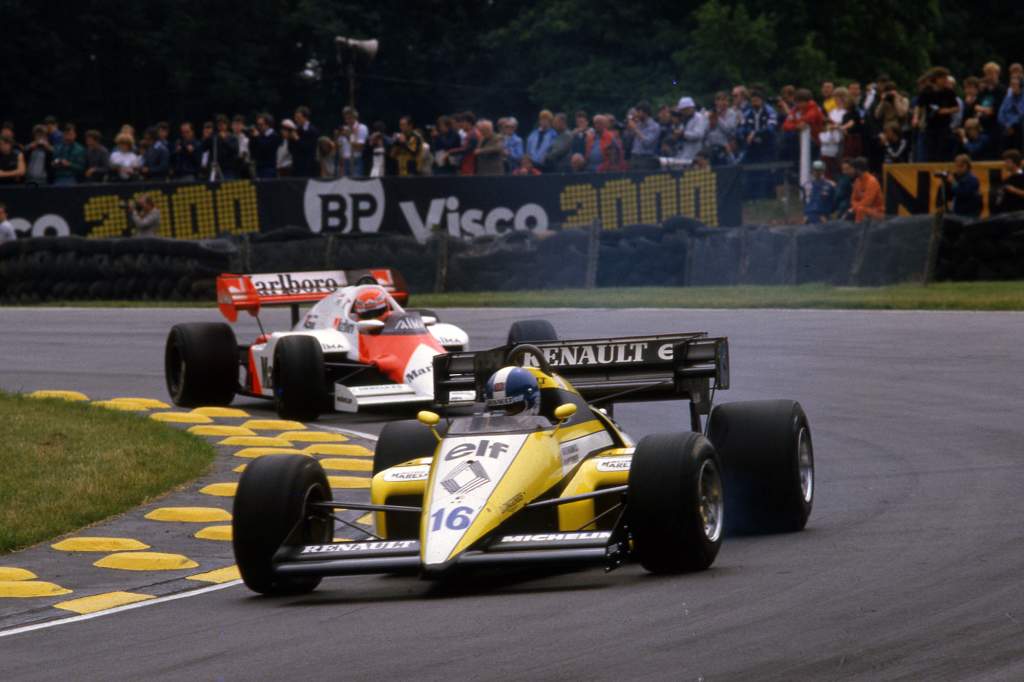 To state that racing isn't usually about who goes fastest sounds a bit counter-intuitive, granted. But the reality is that motorsport combines skills and plays that are of the most exalted and complex kind, and long may it do so.
So why is it that Formula E is often derided so fiercely for following similar sporting structures with an energy allocation that enables engineers and drivers to duck and weave like sinewy middleweight prize fighters?
Of course, it's vital Formula E has this bandwidth of energy-efficient racing. As the only all-electric world championship it has to be front and centre of its existence.
But when does it go too far in making a motor race just a cerebral high-speed chess match that serves up an 'after you, Claude' sensibility that brings extreme pack-racing and a strong propensity for the competitors to trip over themselves?
Last Saturday in the hot house of the Sao Paulo sambadrome, where chintzy flotillas of make-up caked dayglo glitz ruled, below the surface there lay a more mundane topic to discuss. Is Formula E on the road to becoming a tedious waiting-game spectacle where peloton-pack racing rules above all?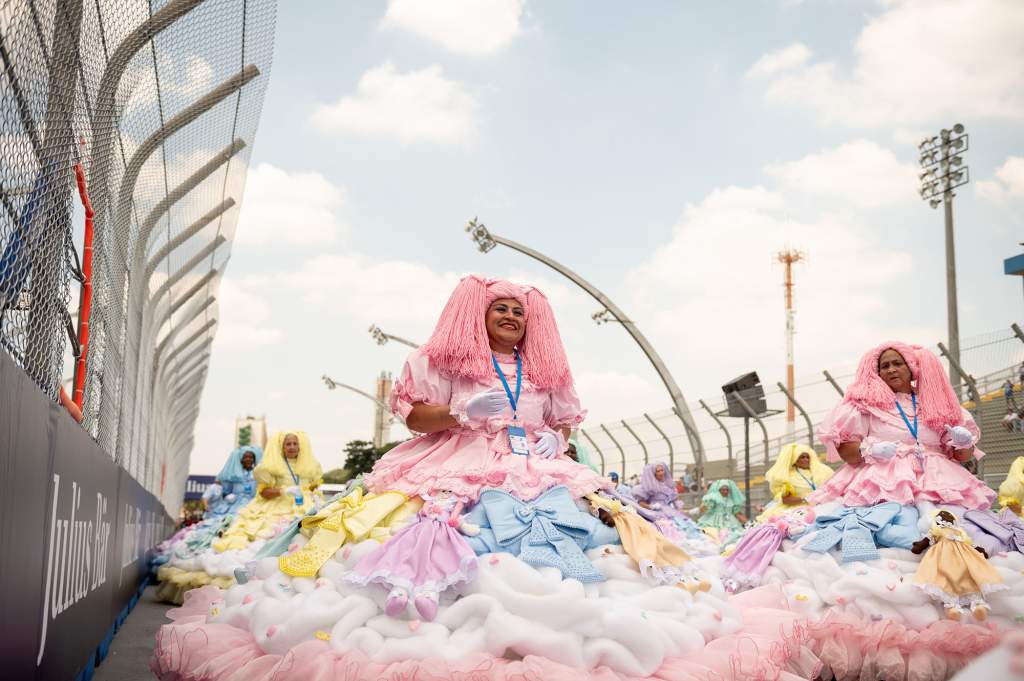 A peloton is, according to a statistical mechanics and applications paper from 2014 "a complex system, which means that collective behaviour emerges from simple rules of cyclists' interactions".
Formula E embraced that essence from the very start, it's just that with the right track and the right numbers crunched now, that peloton essence can become just as divisive as the notion of Formula E itself.
On the surface it could look like that. But dig deeper and Formula E might just be cultivating a type of racing where an 'everyone's a winner' tick box exercise is exploited for new generations to be thrilled by and attracted to. Why? Because, like it or not, it's great TV.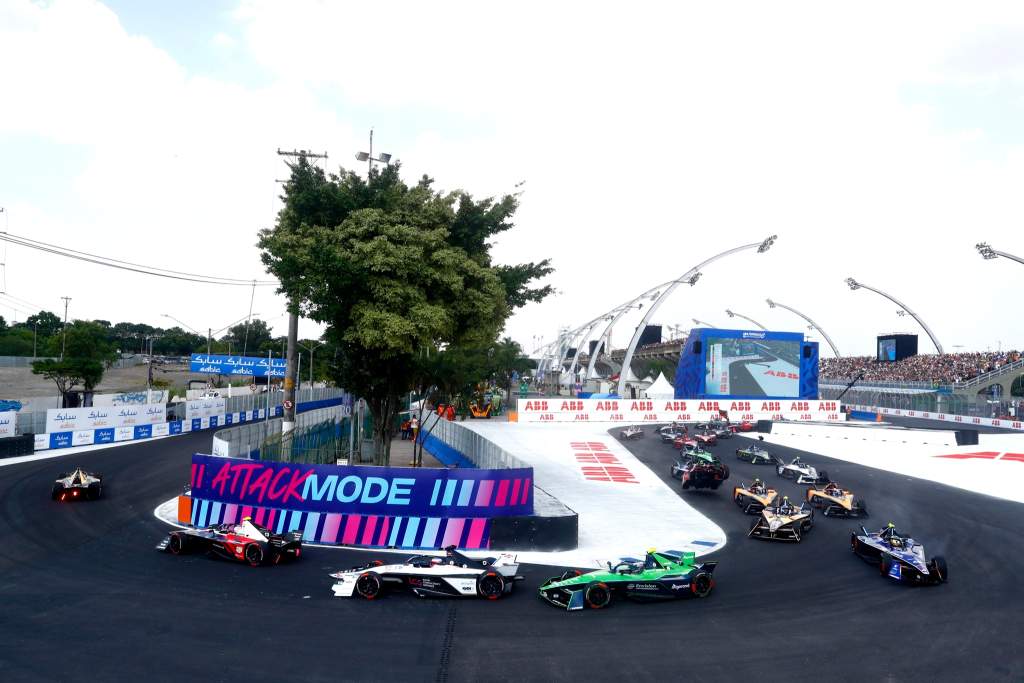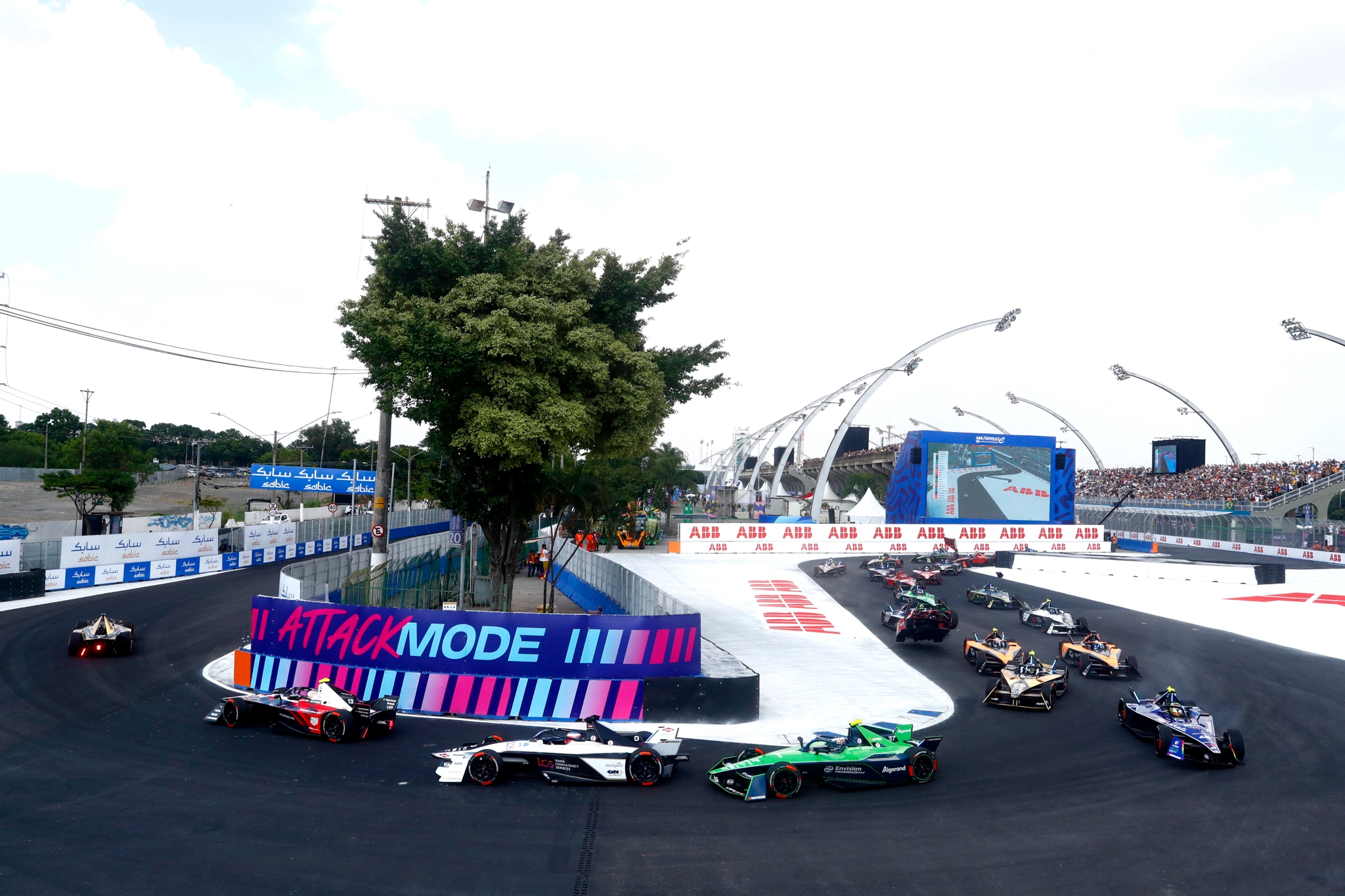 That's all very well. But few are actually seeing it right now. It's a tired old story but in the vibrant surroundings of Sao Paulo last Saturday, at prime time in the UK, Formula E's Channel 4 deal was consigned to YouTube-only viewing.
While that might seem like a massive own goal, especially on a weekend where F1, the World Endurance Championship, IndyCar and the DTM were not in action, it was simply the fact that Formula E's deal with the UK terrestrial broadcaster was always going to be for 10 of the 16 races on traditional TV only. Same as it always was.
That's unfortunate because the Sao Paulo E-Prix held the attention and much more.
Depending on who you spoke to last Saturday afternoon in a ludicrously baking paddock, the hot takes ranged from 'a great pot-boiler of a show' to 'extreme non-racing in an event no one wanted to lead'.
The reasons for that are numerous but mostly came from a combination of elements of the track's nature – long straights and staccato high-braking corners conjoined with the highest ever percentage energy saving needed. This was 35%. The previous highest of the season was last month at the Cape Town E-Prix. That required 19.8%.
There were rightly calls for more energy-saving races at the start of the season, specifically after Mexico City where an 11% energy save was all that was required. The FIA tweaked the allowable energy from 41 to 40 kWh from the second round in Riyadh onwards meaning that in conjunction with the track's nature the distance and laps were set more aggressively from an energy perspective.
The FIA will no doubt now claim a 'damned if they do and damned if they don't' stance in the face of any complaints that energy-saving racing has become too extreme, and in many ways it would be right.
Ultimately the race – when considering the track nature and the usable energy permitted – should have, as Sam Bird says "variety". The odd flat-out race is also fine, just as the occasional ultra-energy-aware test is too.
Those able to race at the front, balancing their energy levels and regen, were happy-go-lucky mostly. But only if you weren't leading too much, as polesitter Stoffel Vandoorne found to his cost.
"I knew this race was not good to be leading actually," Vandoorne told The Race.
"It's a bit strange to go to a car race and say that leading is not good but the way this racing goes in Formula E with the slipstream effect and the energy management we have to do it.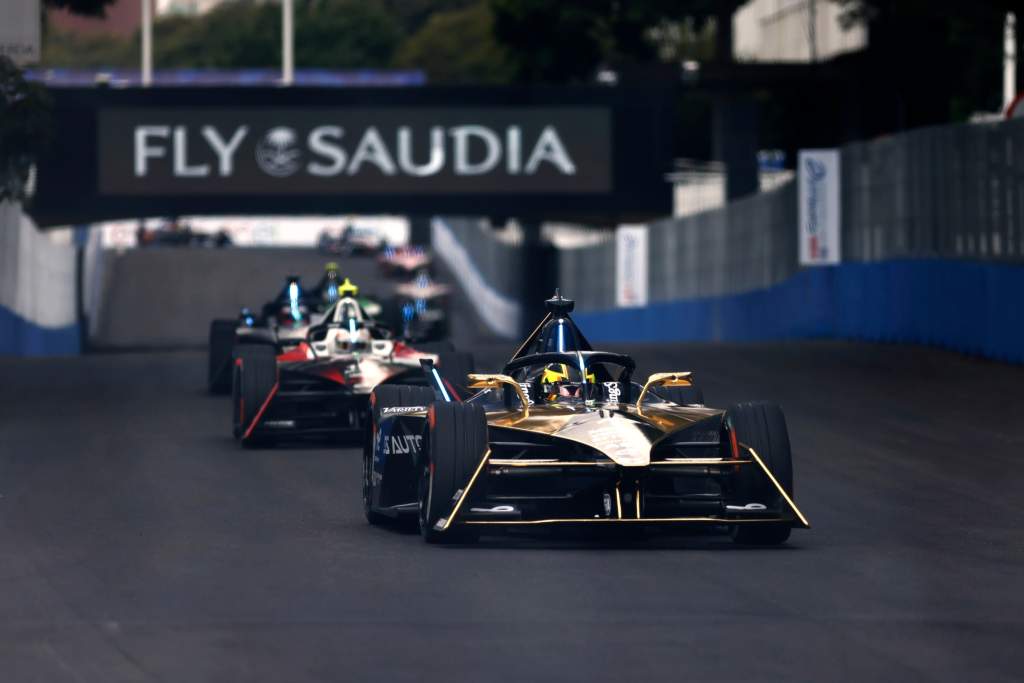 "It was not good to be in the lead. I had too many laps where I was pulling the field, let's say, so they could build a big energy advantage.
"In the end, we couldn't recover from that and make a difference, so today was a tough day today for me."
On the other side of the coin there were top three Mitch Evans, Nick Cassidy and Sam Bird. Naturally all three were absolutely fine with the strategic element.
"You talk to Nick and Mitch, they absolutely loved the race today," Jaguar team principal James Barclay told The Race.
"As a team we enjoyed it. It was very stressful but very enjoyable.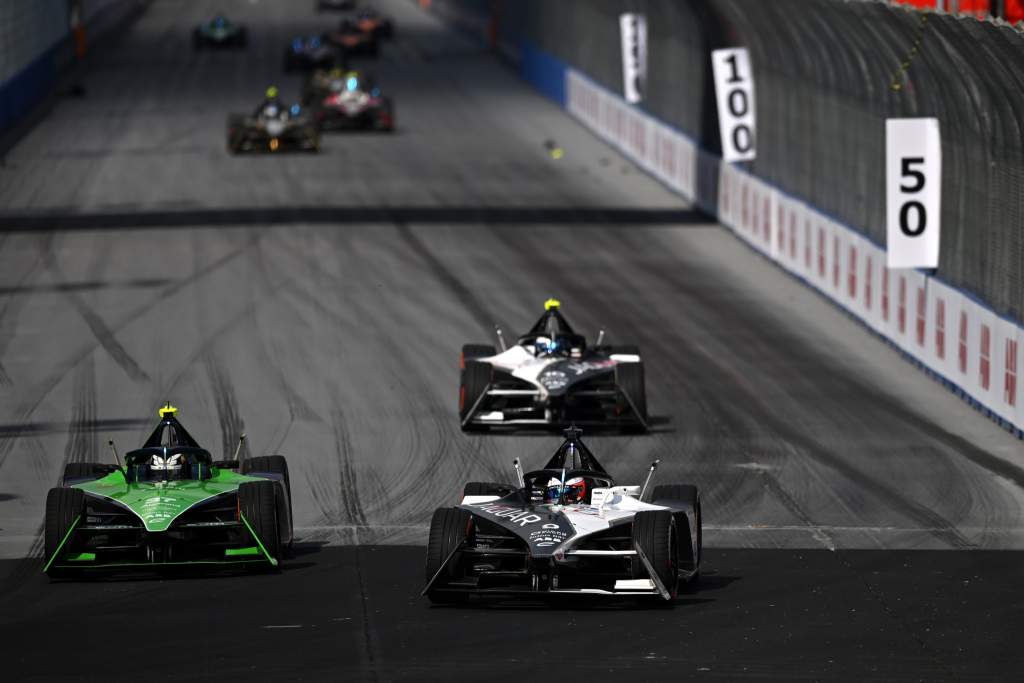 "There was a lot of mayhem back there in the pack; not a nice place to be when you want to be moving forwards and there were a lot of small areas having big consequences behind us.
"That was the other thing; where we were we just weren't dropping back into that, because that lead group was really racing well and had a good handle on what that strategy was probably going to have to be to get to the end and then fight for the win then."
"I loved it, I thought it was great," added Bird.
"I thought it was really fun, it made it really interesting.
"It makes it really tactical and like a game of chess. It's a different way of racing compared to what we sometimes race in Formula E, but it's a different way of racing full stop. But that was why it was so fun, it's something different."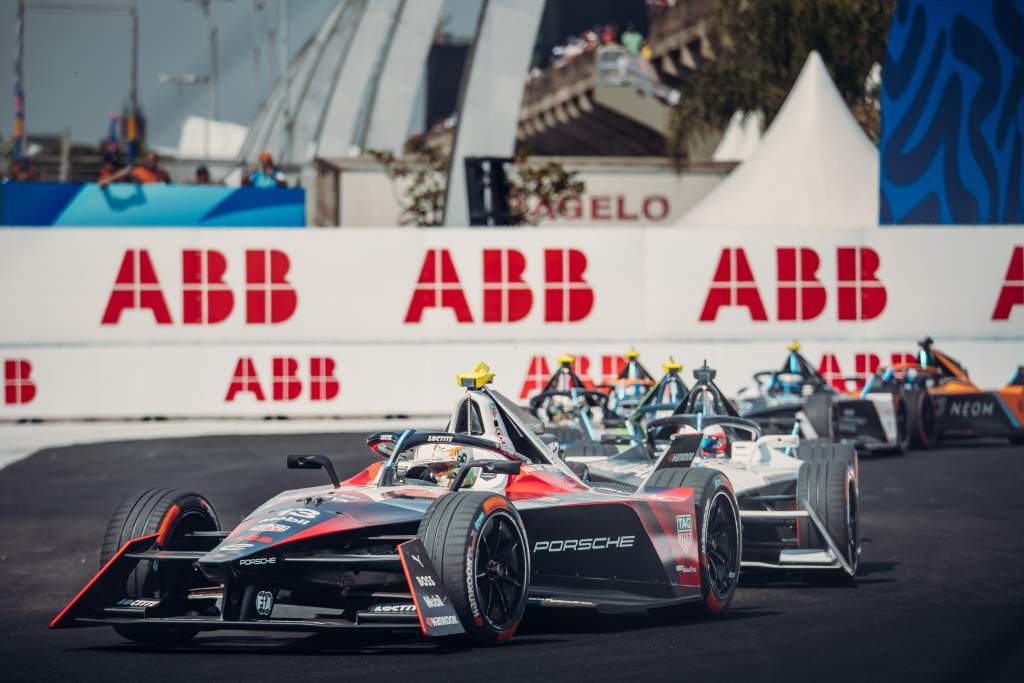 Antonio Felix da Costa, who was in the thrust of the lead battle until he made an error at Turn 1, locking-up and losing four positions, was less sure about the racing, with the Porsche driver feeling it was "too much".
"I do enjoy slipstreaming but if you're fast you should be able to still win a race and today that wasn't the case," he told The Race.
"I felt that Stoffel did a great race for how many laps he led. But poor guy, he was a windbreaker for all of us.
"I'm not sure if I like it. I mean I think it's cool in a way, but this car already provokes this anyway, so this just makes it too much.
"To a degree what we have in the other weekends and races, it's fine, but here it was a bit too much."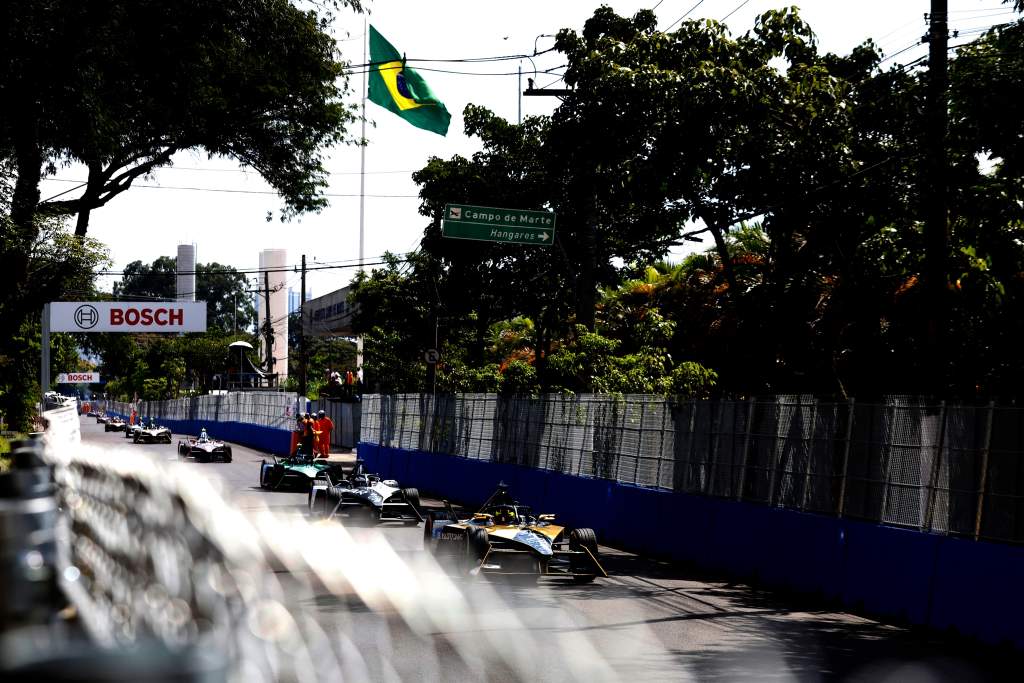 A variety of opinions then, and of that, there is little surprise.
The concertina effect of cars freewheeling and saving eliminated a few and compromised others. The frustration in the midfield was almost tangible.
The proof in the pudding ultimately centres upon the consumers, on TV and at the track. Gasps and whoops of delight could be heard from the grandstands and in the media centre too.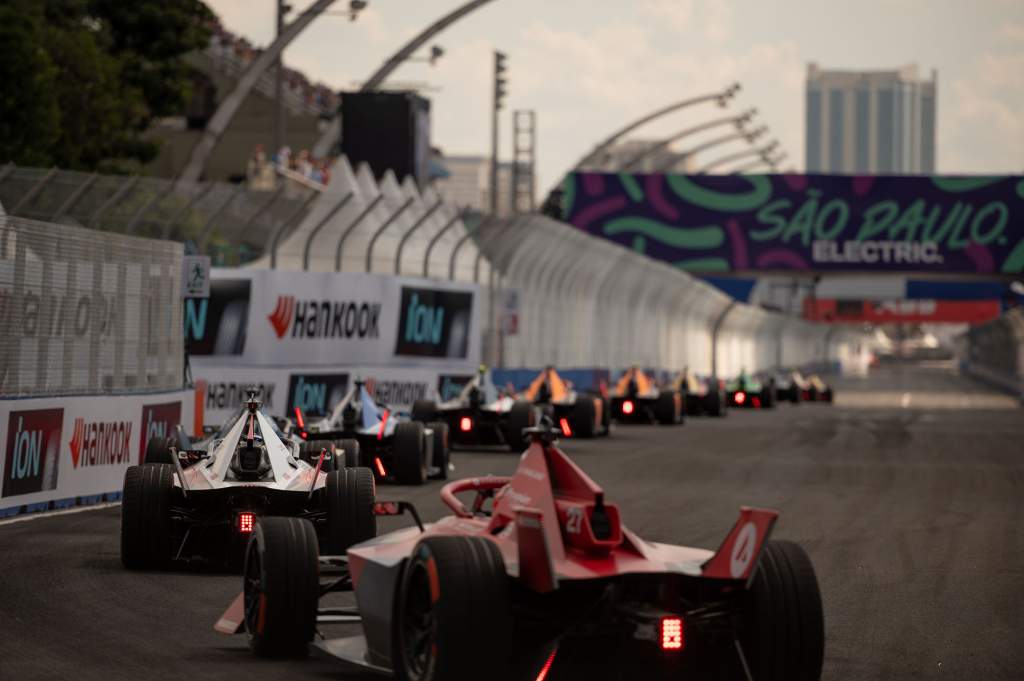 That is what counts most, yet there will have been those watching left frustrated that a field holding back so much was not giving a true representation of what racing spirit should be.
Is that way of looking at the races just a supplement of the tired old tropes about Formula E coming to the surface just in a different guise? Quite possibly.
Pot boilers always blow the lid off in the end. Sao Paulo was a good manifestation of that. But again, it got people talking, which is exactly what the promoters and the governing body want and very much need right now.