Jaguar finally came good at the Sao Paulo E-Prix, underlining its prospects of fighting back from a poor start to the season to challenge Porsche and DS for the 2023 Formula E world championship title.
But its win was hard-fought, strategically challenging and included a major scare. It even had a bizarre ending when winner Mitch Evans stopped just metres after the chequered flag.
THE HEALING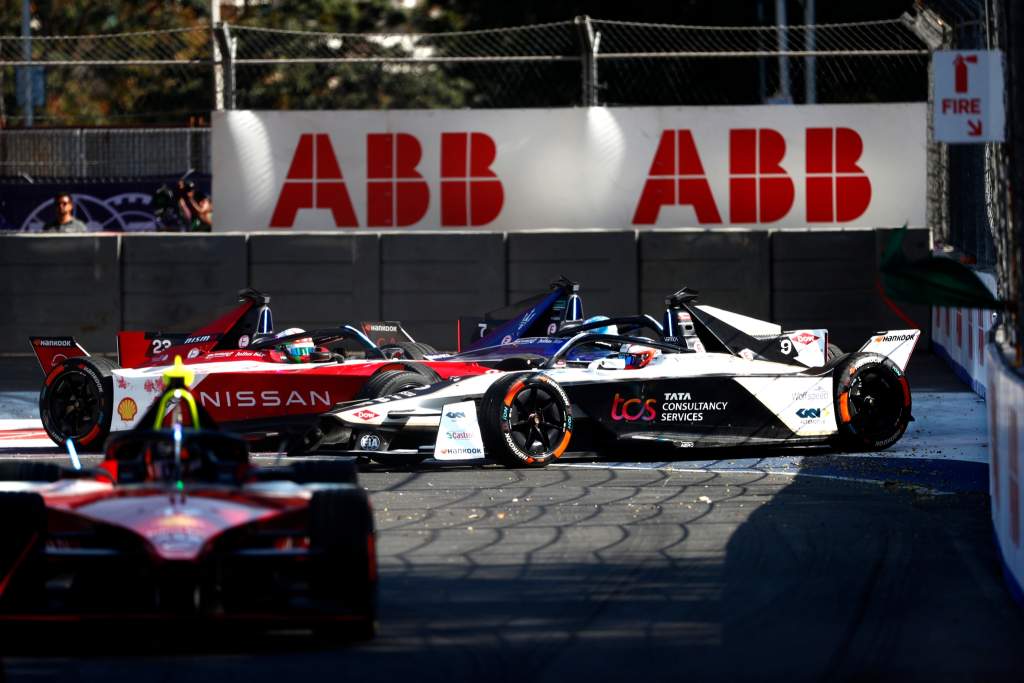 Evans kept his own counsel after the Hyderabad disaster – pictured above – when team-mate Sam Bird inadvertently took both cars out of contention when Evans was running third.
There were no histrionics from Evans over that incident and, if anything, it appears to have even strengthened his relationship with Bird.
Still, there was a huge sense of relief in Sao Paulo when he held off fellow Nick Cassidy to take his first win since last August in Seoul, leading the customer Envision car in a Jaguar 1-2-3 as Bird took third.
"Definitely a lot of relief," Evans told The Race, immediately after a memorable and impromptu ride on a giant snarling jaguar that was part of a fabulous post-race podium carnival flotilla.
"It got to the stage in the championship where I was like 'I'm doing a lot of good stuff, the team is doing a lot of good stuff, the #9 car has been really competitive', but we just couldn't convert.
"I came here without any pressure, to be honest, because I think we're doing some great work, and just had a strong race.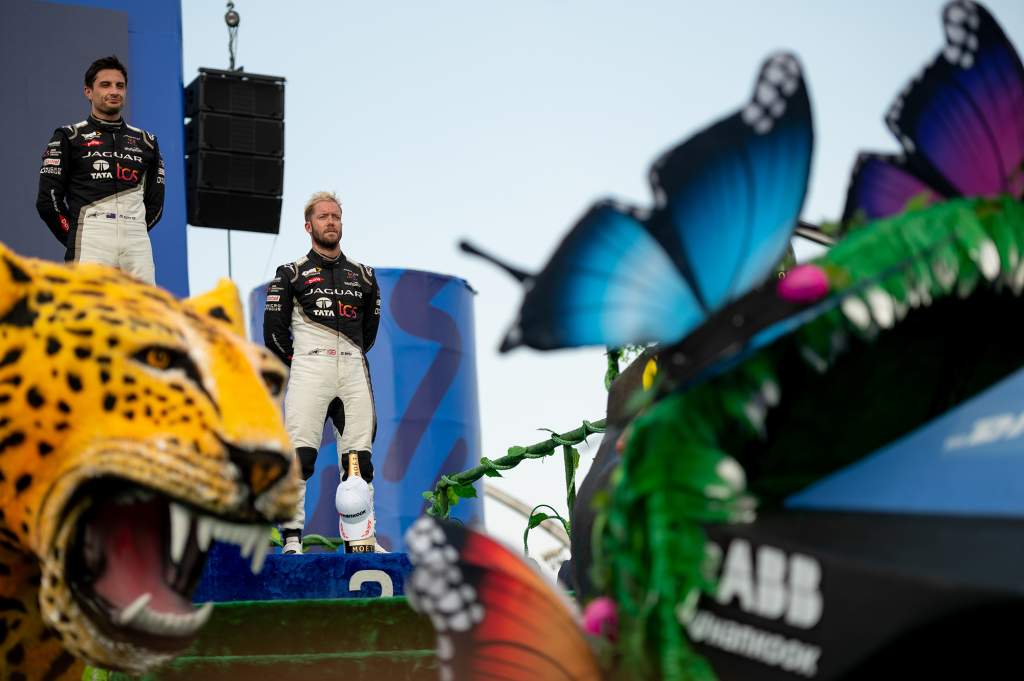 "Obviously this race was extremely hard to manage in terms of playing a different phase of the race with track position and where you want to be, but there has been a lot of work in the background because we knew this track was going to be like this and the team got it amazingly.
"I had to play my card and do my part as well to have that track position fight with Nick at the end and we timed it perfectly, so full credit to the other guys, it could have been Nick's as well today, but this is a solid result to start my season finally."
The hidden scare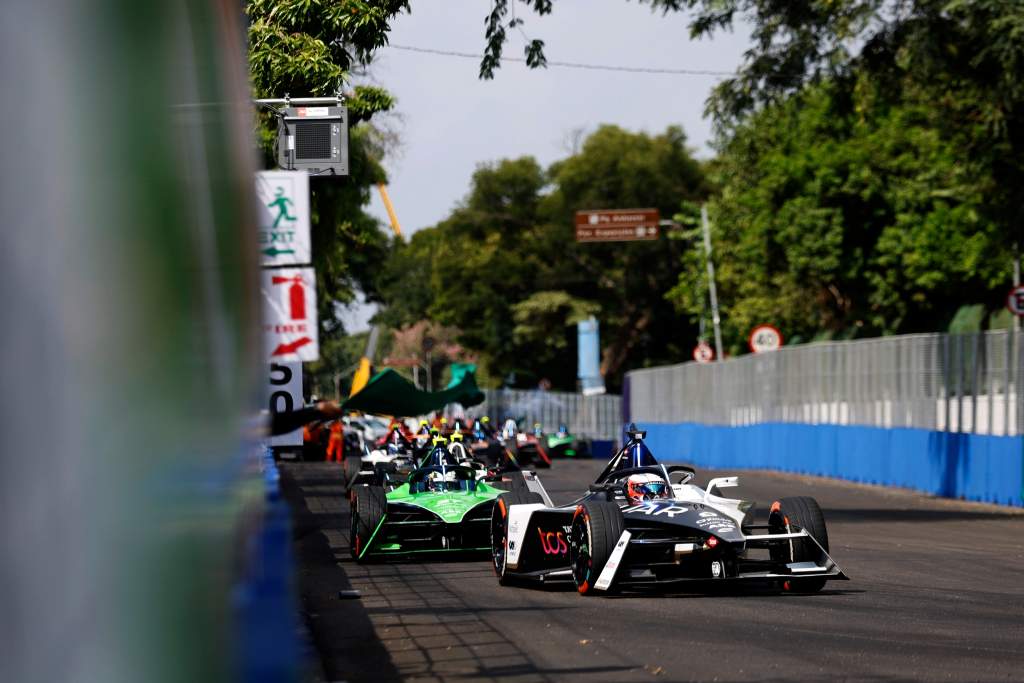 It wouldn't be a Gen3 FE race without a true heart in mouth moment, and Evans's came very early on.
An odd noise in his powertrain sent a tremor through him in the laps just after the safety car, and the spooks and gremlins got a little louder as the race wore on.
"I could hear something in the powertrain. It was like a note change, almost like something was… not grinding but something wasn't happy," Evans said.
"It kind of progressed from the first phase and got a little bit worse and then stabilised.
"I thought at one point I was derating, but I wasn't, maybe I was in clean air so I wasn't getting the tow effect, it was hard to know, but I was quite convinced that there was some sort of problem.
"Luckily it didn't get any worse or hinder the performance."
Jaguar technical chief Phil Charles confirmed that Evans reported to the team that he "felt something early in the race and then it came back under the safety car and in the last few laps as well".
"It's something we'll investigate," Charles continued. "He obviously finished the race strongly, so we don't exactly know what it is, and it'll probably take a little bit of time to work out."
A little bit of fortune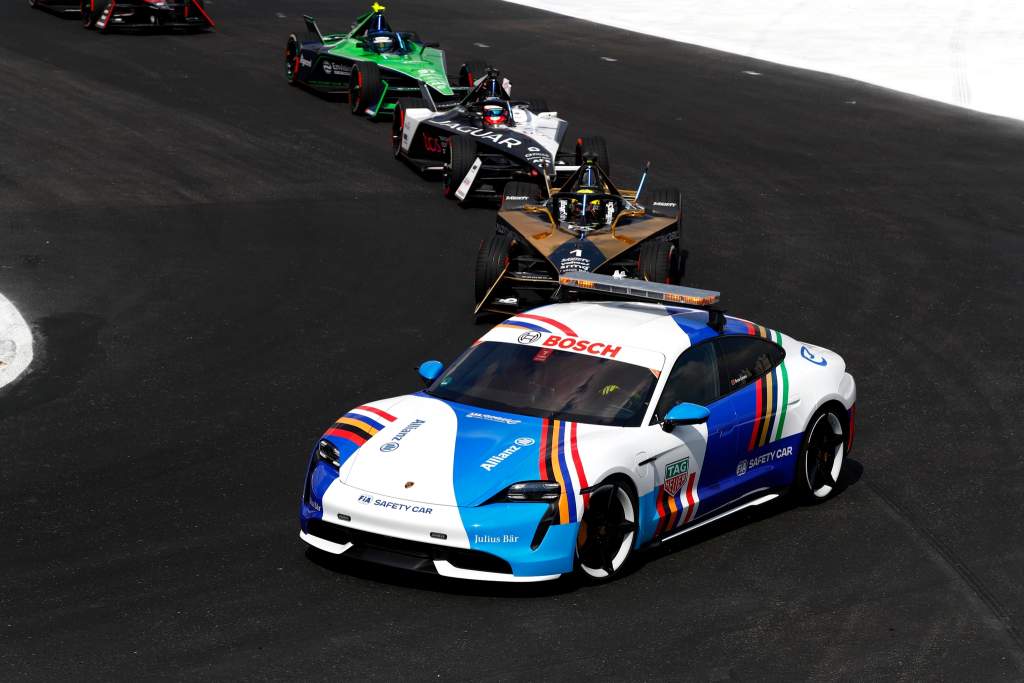 Gen3 races are a strategic dogfight for the teams. The power to grip ratio is an exciting challenge to say the least and the drivers are now getting used to the inadvertently designed new way of driving and trying to set up the car.
With the attack mode not as effective in Gen3 as it was in Gen2 there is now much more focus on exploiting strategy through caution periods and managing the 40kW/h of usable energy permitted.
There were a few factors that were majorly challenging for the teams at the Sao Paulo Sambadrome track.
One was that the percentage energy saving needed was far higher, around 35% more than other races. As an example, the Cape Town E-Prix required approximately 19.8%.
The second factor was the quirky mix of track surfaces that Hankook's Mike Choi described to The Race as "a major challenge for the teams".
"Here we have multiple different types of asphalt installed, "said Choi.
"On the front straight it's actually concrete painted with a grey colour that was actually used for the carnival purpose here. After the first turn it changes into the dark painted concrete and after Turn 2 it's pretty much like newly installed asphalt.
"When I see the status of the newly installed asphalt, the macro and micro of the tarmac is relatively big. So, it will be affecting the wear of the tyre."
Intriguingly the different surfaces had large temperature swings with the 'carnival surface' being "10% cooler than the other surface" according to Choi.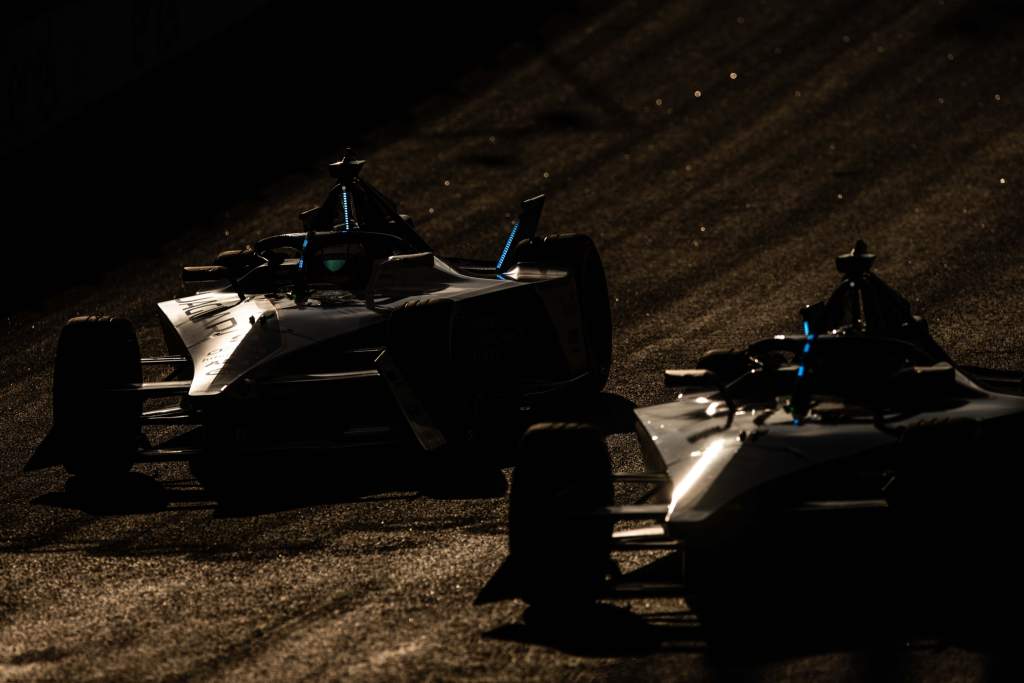 These epic track challenges, in both the nature of its design and the complexities it created, meant the strategy and operations team at Jaguar especially definitely deserved a round of Caipirinhas on Saturday evening.
"In the Gen3 races now, there's a huge amount of strategy and we've got a really good strategy group and so the ops team were heavily involved, our strategy guys on the ground here were really involved in how the race unfolded, but it can be split second decisions," said Charles.
"We got a little bit lucky in the additional laps that were added because they stretched the race at a time we were looking good with energy. So, it all came nicely around the strategy."
Charles knows that it can easily go the other way, though. Cassidy witnessed that starkly in Cape Town last month as he went from nailed on winner to scrabbling around for a podium in the twinkle of Max Guenther's safety car triggering Maserati becoming stranded on track.
"As much as it looks like a really key race to get your attacks in the right place, sometimes the timing of when you attack and drop back if a group then pulls away at that point, then that could put you in trouble," reckoned Charles.
"Sometimes the bad days make you kind of think, 'ugh, what just happened?'
"Today is one of those days where decisions went bang, bang, bang in the right direction."
Strange ending explained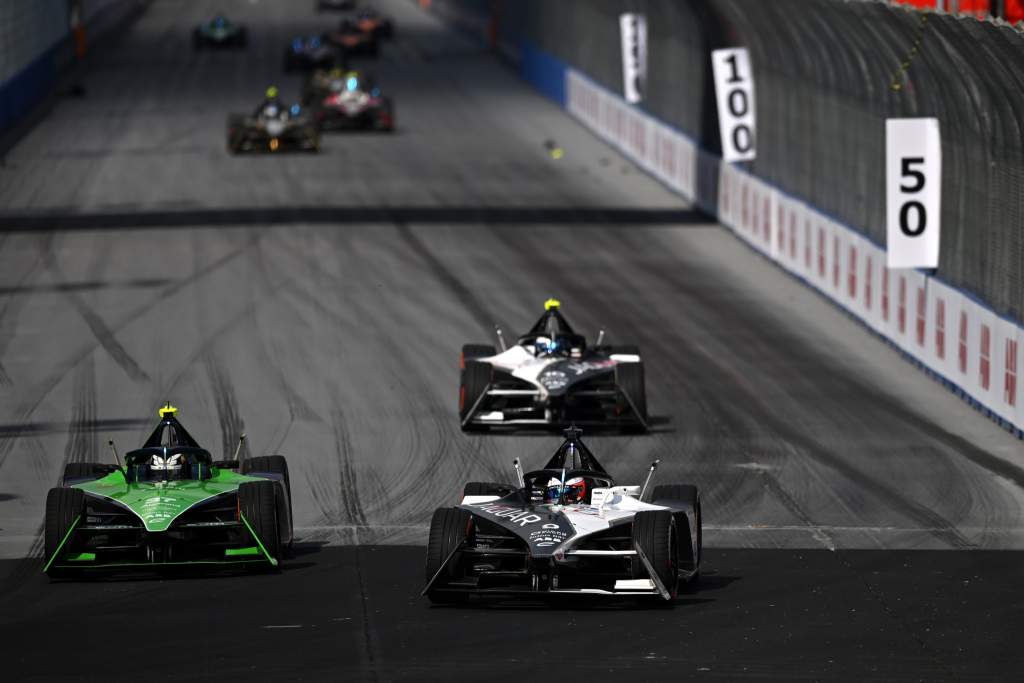 Almost as soon as Evans and Cassidy took the chequered flag both Jaguar I-Type 6s stopped on the track for a considerable time.
While the scurrying podium mandarins started to hyperventilate, Jaguar was in touch with the FIA to try to get its cars home.
The explanation is relatively simple in the sense that in the RESS battery, of which each unit has a different capacity, there is an allowable amount of energy to be used. But within that there is a small amount that is essentially admissible by the FIA.
"We're talking a tiny amount but they do make that FIA-allowable with a little bit of head room, top and bottom," explained Charles.
"Today, as we went over the line with all the cars, we used the FIA allowable energy, and normally you go on to reset your car to say, 'I'm going to ignore the FIA allowable and use the rest of the state-of-charge'.
"Today something in our code got a little bit confused, we don't know why, something specific to this event.
"We've obviously done this a million times so we just need to go back and work out why. Perhaps something we've changed on the steering wheel set-up has now disassociated a button that would have reset our energy to the non-FIA energy.
"The FIA reset the energy for us so we know it's something in our steering wheel set-up that's gone wrong. We've done that process a million times, so it's obviously a little bug in the code that's got a bit confused and our reset button didn't reset."
Will snakes and ladders turn into a springboard?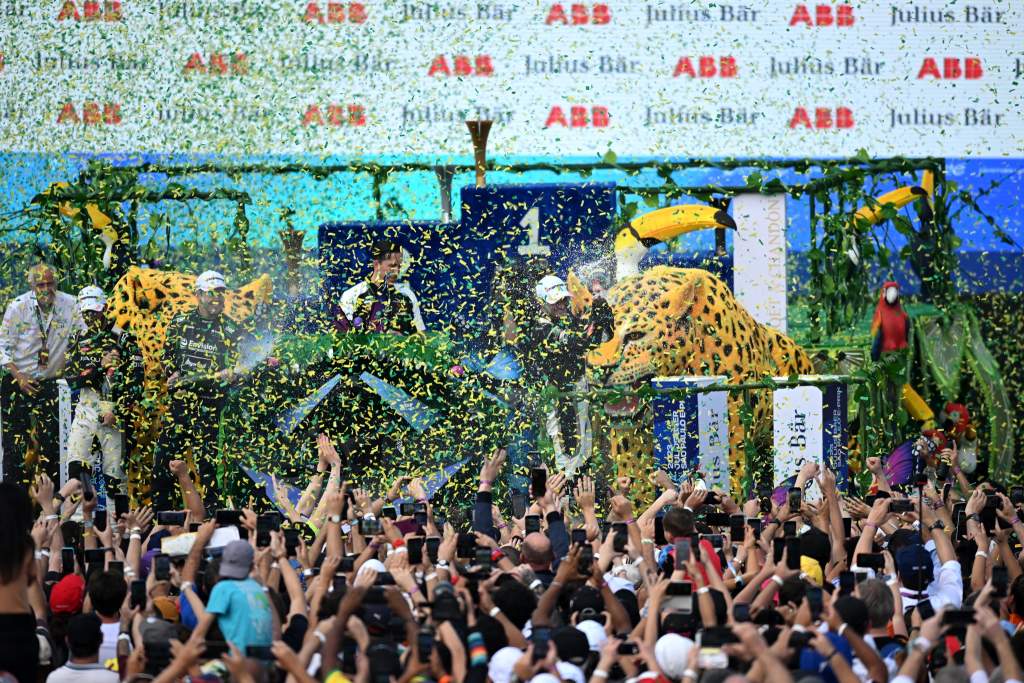 Exactly a year ago Evans sat in a trough with but a point to show for the first three races of the season in Mexico City and Riyadh.
This time around he had 14 points from five races as he hit Sao Paulo. Better but not great. It was plain that in 2023 Brazil was perhaps a final chance to get going for any possibility of mounting a title challenge.
Evans was blunt in his summary of where this result may take him, saying: "I'm still targeting the championship". He's now ninth in the standings, 47 points from leader Pascal Wehrlein.
"We just need a few nice results and a few podiums here and there and we'll be right back in the game," Evans continued.
"We couldn't leave it any later than this. I think this was our breaking point before the rest of the season would have been a little bit too hard to catch up.
"This race I knew I needed something good, so I hope it's the springboard to start our season."
It's a point that Evans' boss James Barclay concurred on, saying "I like to think we've got our lows out of the way at the start and we can now focus on executing well.
"But the reality is, it helps all the more that those who are strong in the championship haven't had a perfect weekend and it just helps close the gap. For the championship I think that's a really good thing.
"We always talk about snakes and ladders, there are days where you step on the snakes and really tumble down, there's days you step on the ladder and move forward and we're looking forward to a few more of those."