Jean-Eric Vergne and Robin Frijns have both criticised how recovery vehicles were used during Formula E's 2022 season-opening Diriyah E-Prix double-header.
DS Techeetah driver Vergne said that the recovery of Edoardo Mortara's Venturi Mercedes in Friday's qualifying session and Alexander Sims' Mahindra in Saturday's race were both conducted without the necessary communication to sufficiently warn drivers of the salvage operations.
Still shocked to see how the end of the race was handled. A Crain on track, a safety car stopping right before it in a blind corner resulting in cars piling up, no informations given to us… seems like people don't learn from past mistakes pic.twitter.com/QtMlkEomDZ

— Jean-Eric Vergne (@JeanEricVergne) January 30, 2022
The missions to retrieve the crashed cars included a snatch-vehicle entering the track.
Mortara's clear-up was conducted under double waved yellow flags, Sims' recovery came under safety car conditions.
Both events came in for some stinging criticism from double champion Vergne who said that the recovery vehicle was "in a completely blind corner, and the safety car stops, and we don't know anything that the safety car will stop" in the Saturday race incident.
"The race director had the opportunity to come on the radio and say, 'the safety car is waiting, you're going to stop in T3', but everybody crashed into everybody. No communication," he fumed.
"OK, we're under a safety car but there are people who crashed into each other because nobody told us that there was a crane on track and that we were going to stop."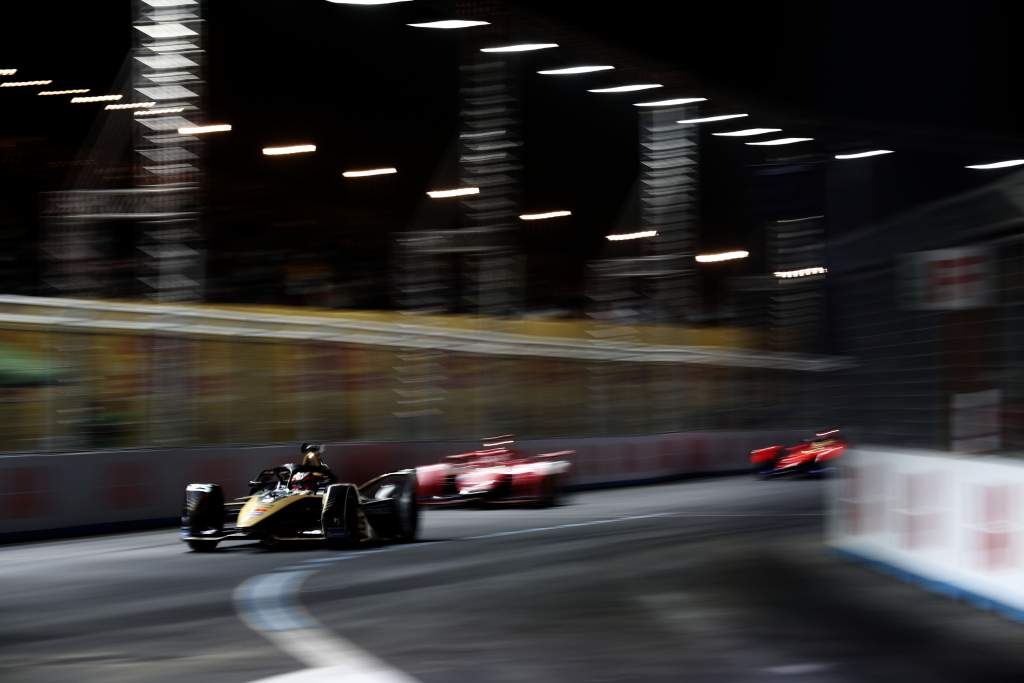 The concertina effect of the field having to negotiate the recovery vehicle caused several cars to lightly contact each other, with Jake Dennis losing a part of his Andretti BMW's front wing in the process.
Frijns also made contact with race leader Mortara's car and described the situation as "quite dangerous" afterwards.
"Obviously I was behind Edo and suddenly the safety car stopped," said the Envision Racing driver.
"I just hit him and then the only thing I hear behind me is carbon fibre cracking.
"Obviously the crane was in the middle of the track and the safety car had to stop.
"I think it was not really well communicated in a way but for me we had quite enough space even if we drive over the marbles, which wasn't ideal as everybody was trying to clean up the tyres because they were thinking that the safety car would come in after two laps or so.
"But I think the safety car was in a very awkward position to get it out of the way."
Formula E race director Scot Elkins explained to The Race that the recovery vehicle stopping on the track had surprised him and had he not been dealing with this situation he would "have been able to talk more and been able to convey more than I did" in the radio channel that gives him a direct link to teams and drivers.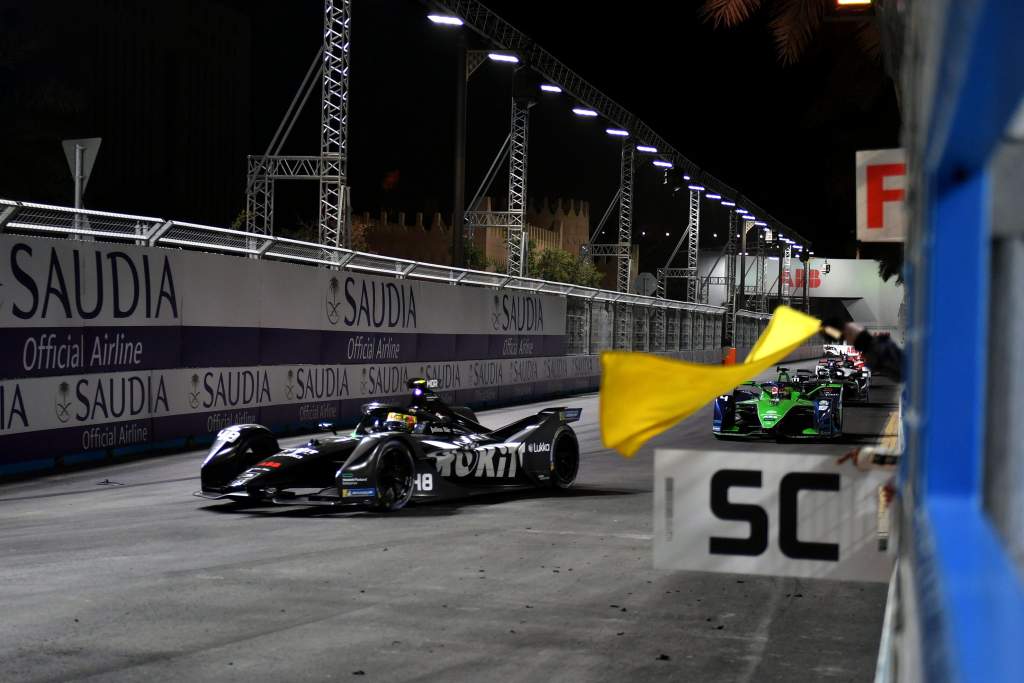 But he acknowledged that the vehicle stopping on the circuit had "changed everything that I did" and that it caused "a kind of domino effect in how we reacted in race control."
The FIA used local Saudi Arabian Motorsport Federation marshals for this year's Diriyah E-Prix meeting after previously using a combination of SAMF and Bahraini volunteers for previous races held there.
"Obviously, it's not on purpose, and obviously there is a lot of communication during qualifying and we talked to everyone, but I think the circumstances were that I was surprised by something and we were trying to deal with it, as opposed to going on [radio] air and telling everybody," Elkins added.
"That's a little bit of a mea culpa that I'll take, I just got involved doing other things and didn't convey the information."