The FIA has given more details of the events that led to the anti-climactic safety car finish to the second race of Formula E's season-opening Diriyah E-Prix weekend.
Most of the last 10 minutes of the race were run behind the safety car due to a slow recovery of Alexander Sims' crashed Mahindra
Race director Scot Elkins told The Race the contentious ending was "just a combination of circumstances; it should have been a four-minute recovery and it ended up being 10 and that's not what we anticipated."
The race had run trouble free until Sims crashed out of 11th place at Turn 6. The scene was initially put under double waved yellows before a safety car was deployed.
YELLOW FLAG as @AlexanderSims stops out on track!

Follow LIVE timing here 👉 https://t.co/NqfsxKU5B4

🇸🇦 2022 #DiriyahEPrix pic.twitter.com/xnTiQ5XR59

— ABB FIA Formula E World Championship (@FIAFormulaE) January 29, 2022
The accident happened with 10 minutes and one lap remaining, with the safety car deployed with 8m27s of race time to go.
Formula E has a new 'extra time' rule for 2022, but this does not come into effect in the final five minutes of the race – as article 37.2 of FE's latest sporting regulations explains: 'If an SC or FCY period extends into or occurs during or after minute 40 of the race, it will not be counted for the "extra time" calculation.'
The slow recovery of the Mahindra extended over that 40 minute cut-off point.
The extra time rule was implemented in response to the infamous Valencia E-Prix finish last April. Under Formula E's previous system, cars had useable energy deducted to account for safety car periods so that energy management remained part of strategy even into interrupted races, but the mishandling of that rule at Valencia led to most of the field running out of energy on the final lap.
The new for 2022 rule works to a coefficient of full minutes under race suspension with 'no partial minutes being calculated' and runs to a 'one minute of FCY or SC equalling 45 seconds' of added time being applied.
Elkins explained to The Race that his intention with the initial timing of the safety car deployment was to "look where the field is, in relation to where the accident is."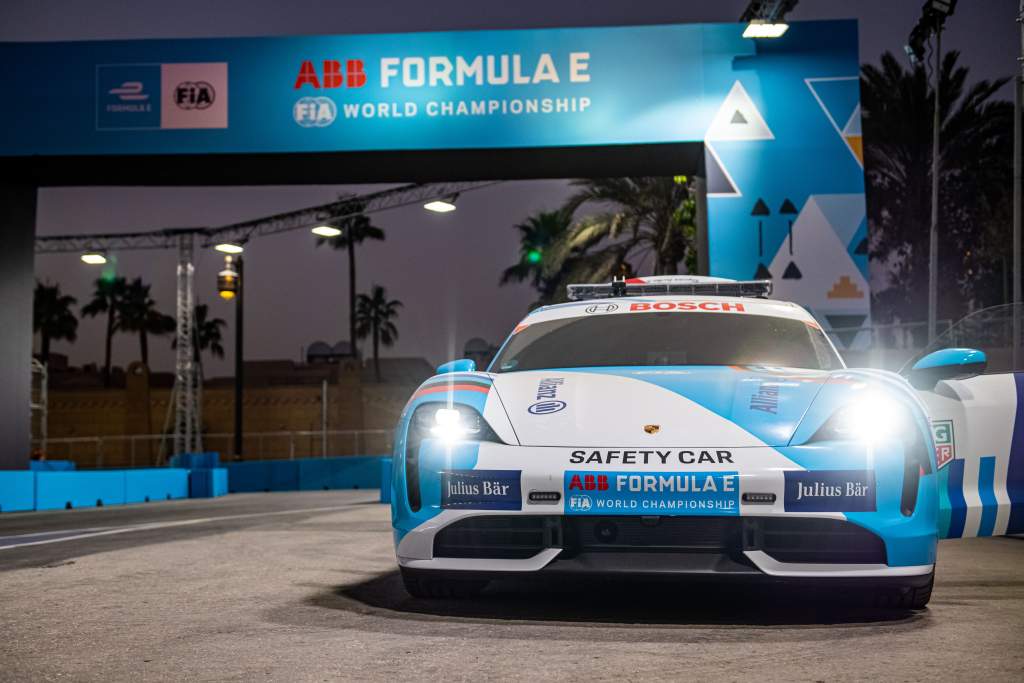 This is designed so that Elkins can wait until the pack goes by scene of the accident to call the safety car so that crews could immediately start recovering it.
"If I call a safety car immediately then everything slows down and we're going around [the lap]," he added.
"We still have to get to the front straight to pick up the safety car and they can pick up the leader.
"In this exact case, and in every case, I'm watching where the field is. The moment the field got past the incident I called a safety car so we could immediately start recovery."
Elkins was candid in his disappointment with how the recovery of Sims' Mahindra unfolded.
"Let's be honest, that's a recovery that should take about four minutes because of the location of where the equipment was, where the car was, where the openings in the wall were," he said.
"Unfortunately, we didn't quite have the response that we wanted.
"We want them to pull out of the hole and stay right tight and go to the incident and for whatever reason this driver drives out and just stops in the middle of the track.
"Obviously, you can imagine I'm not OK with that, and so we're trying to desperately understand what's going on, why is he doing that, get him to move, just going through all these processes of trying to right the wrong, but it took time to do that, and that was time we didn't anticipate."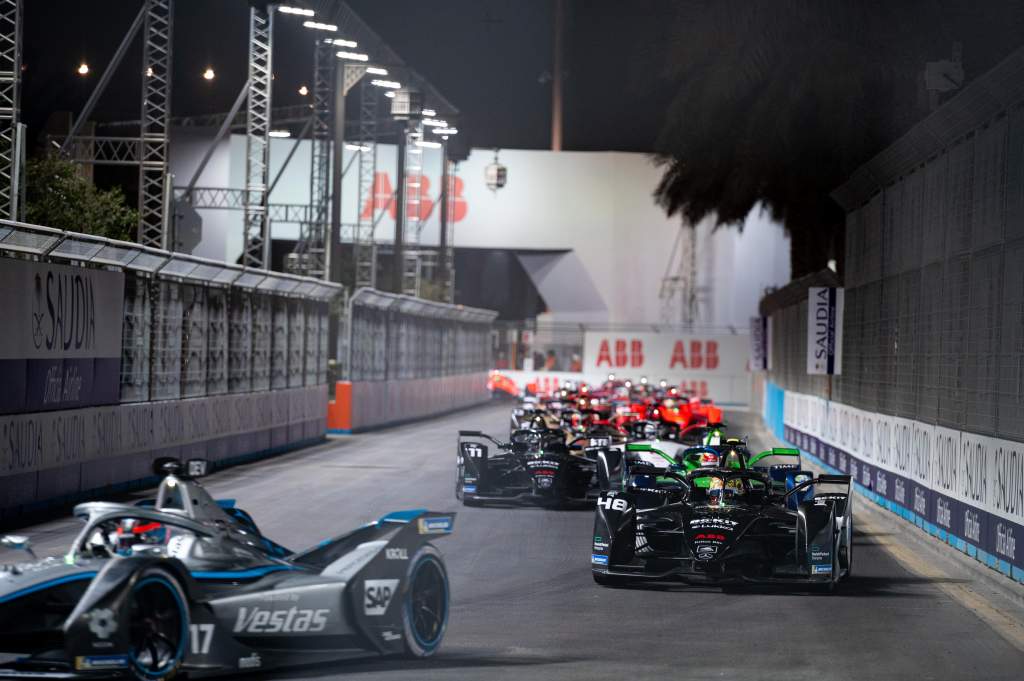 What should have transpired was the recovery vehicle pulling out and picking up the car, and then what Elkins described as "driving it to the next hole, drop it off, go back racing.
"Our goal is to always get back to green flag and try and finish. Unfortunately, the cars weren't able to with the difficulties we had with the telehandler [snatch vehicle] today."
The Diriyah marshals and corner workers are supplied by the Saudi Arabian Motorsport Federation, with many of them having worked at Formula 1's first ever Saudi Arabian Grand Prix in Jeddah last December.
Elkins added that "sometimes it doesn't go the way you expect it to. That's exactly what happened tonight unfortunately."
By the time the recovery process was over, the cars were on the final lap. A 'safety car in this lap' message was shown but as per Formula E protocol the field effectively remained under caution with the safety car pulling off to allow the FE cars to take the chequered flag.
Third place finisher Lucas di Grassi told The Race that he thought the new extra time rule was "good, but it needs to be fine-tuned."
"I don't think there is any reason for the last five minutes not to have an extension," the new Venturi driver added.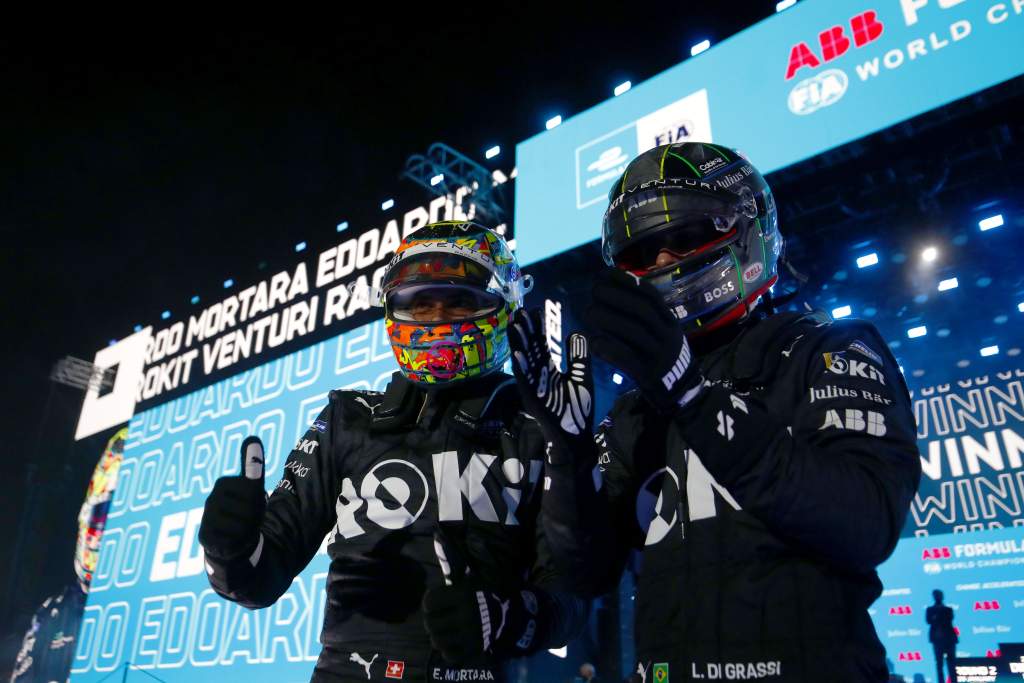 "It's just a matter of calculating how much you need to extend the race so nobody runs out of energy, nobody keeps the same amount of energy, this is easy to calculate, and then you can extend, if needed."
His race winning team-mate Edoardo Mortara had a different view, saying that he believed that while "it could have been good to finish it while pushing" that "it's just that with the rules that we have right now, we couldn't."
Mortara added: "I'm sure that these rules keep on trying to improve and I'm sure they will maybe try to review them.
"In my opinion there is no need to be so dramatic about it. It's just the second race that we have with these rules."
Asked for his take on the extra time rule and in particular the 40-minute cut-off, Elkins said not having it would be "a really late call for teams that are trying to race on strategy, which everybody is in Formula E, trying to find what their energy levels are.
"Truthfully, it's quite difficult for us in race control as well. We run all the same software, we have all the technology, we do everything we need to do, but again, it's still a process we have to go through to make it happen.
"Five minutes may seem like a long time but it's not a long time when we're doing what we're trying to do.
"From a sporting standpoint we're trying to be fair, and I think sticking a stake in the ground and saying that there is not going to be something happening at that point is the most fair way of doing it."