Unless the season finale in Abu Dhabi is somehow crazier, Formula 1's first-ever Saudi Arabian Grand Prix will linger long in memory due to all the title fight drama between Lewis Hamilton and Max Verstappen, Mercedes and Red Bull.
Even outside of that, though, there was an enormous amount going on, with the final podium position decided by a tenth, and two red-flag stoppages that had nothing to do with the title protagonists.
Below are our selections of winners and losers from the inaugural Jeddah Corniche F1 race.
Winners
Lewis Hamilton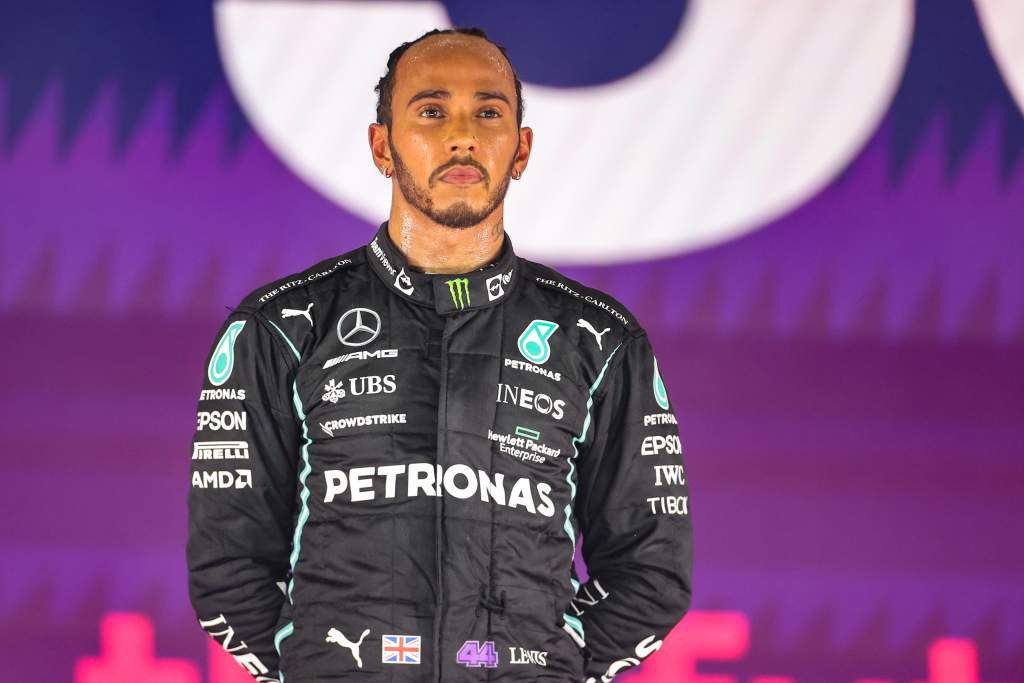 Hamilton kept bouncing back and forth on our provisional winners and losers list throughout this rollercoaster of a race, but he eventually came out on top after his third attempt at repassing Verstappen after their Turn 1 skirmish succeeded.
Thereafter he was relentless in his building of the gap to Verstappen despite possessing a slightly wounded Mercedes.
With a couple of errors like his failure to cover the inside on the second restart, it's probably not Hamilton's best win, but it might well be his most important.
And it's one that really was a must-win race for Hamilton as he turned what could have been a 14-point deficit that would leave him needing Verstappen to have a nightmare in Abu Dhabi, into a winner-takes-all decider.
He'll fancy his chances too after this mighty drive yielded his third successive win and edged him closer to the title record. – Josh Suttill
Esteban Ocon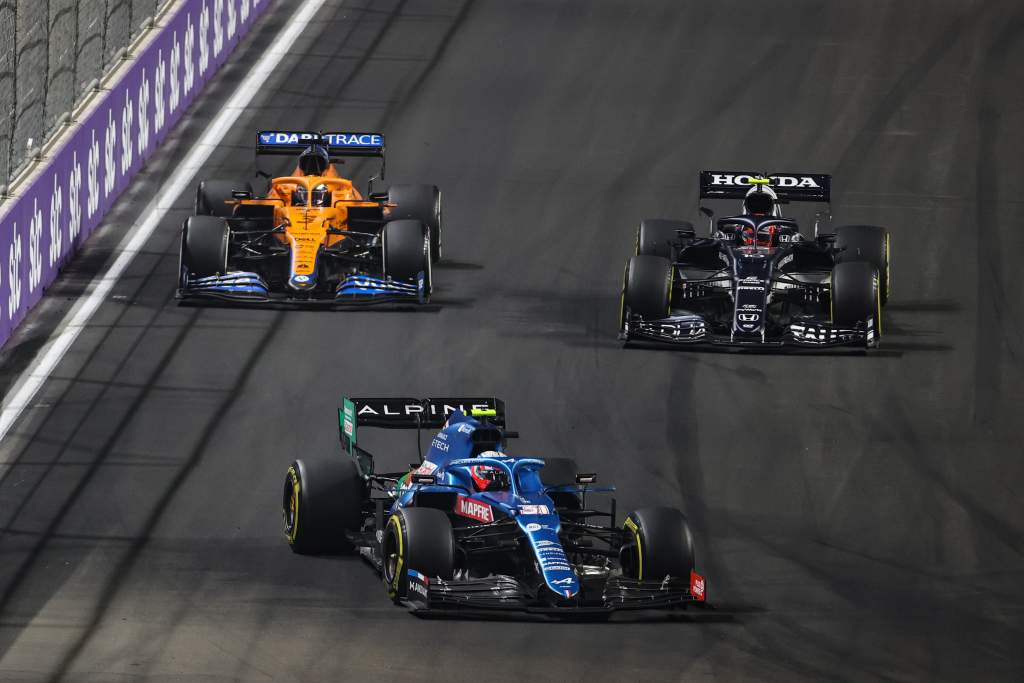 Would it be ridiculous to argue that this Ocon performance was more convincing than his win in the Hungarian GP?
Both were very circumstance-influenced, but in Hungary his advantage over team-mate Fernando Alonso owed so much to circumstance, whereas here it was just the indisputable balance of power.
Yeah, he lost the podium in the end, but Ocon had thumped Alonso in qualifying and held his own in a podium position for so much of the race – while his two-time champion team-mate struggled for pace and eventually went for a spin.
For me, this is the best justification yet for that long-term deal Ocon now possesses at Alpine. – Valentin Khorounzhiy
Mercedes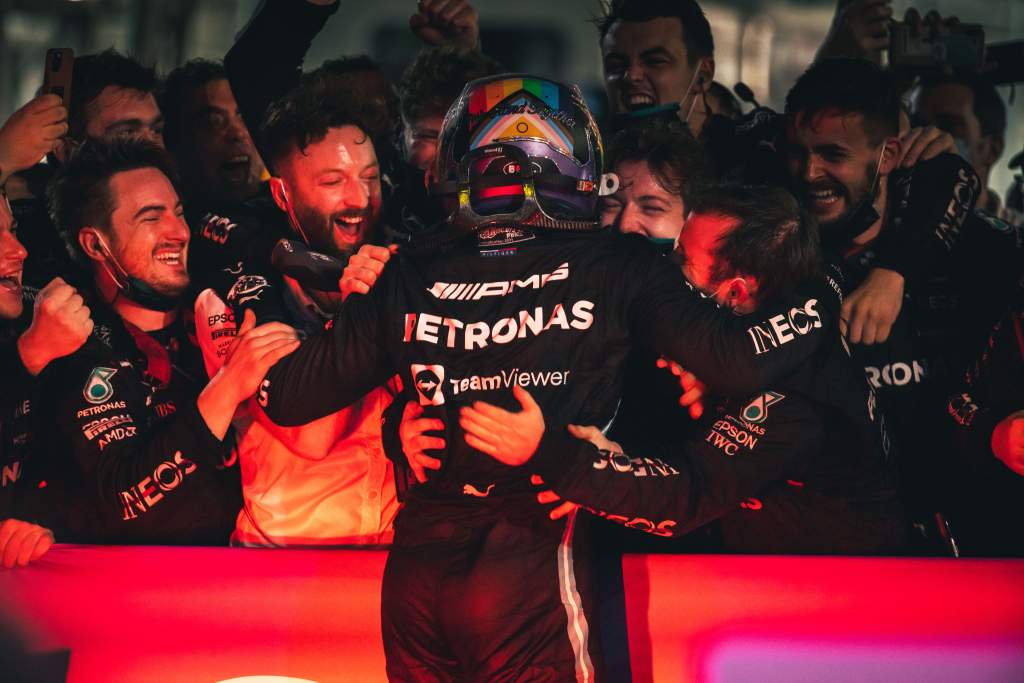 First and third were both snatched in the closing stages of the Saudi GP and it's two results that have given Mercedes a great chance of maintaining its 100% record in the turbo-hybrid era.
It weathered the various restarts and its final tyre call to place Hamilton on the hard rubber proved to be the correct one, as Hamilton would have likely passed the medium-shod Verstappen regardless of their run-in.
And Valtteri Bottas was able to repeat his trick from the 2017 Azerbaijan Grand Prix, in snatching a place just before the line, albeit once again from a car that was significantly slower (Ocon's Alpine today, Lance Stroll's Williams four years ago).
It's all to play for in the drivers' contest, but now Mercedes has emerged as the clear favourite for the constructors' glory. – JS
Daniel Ricciardo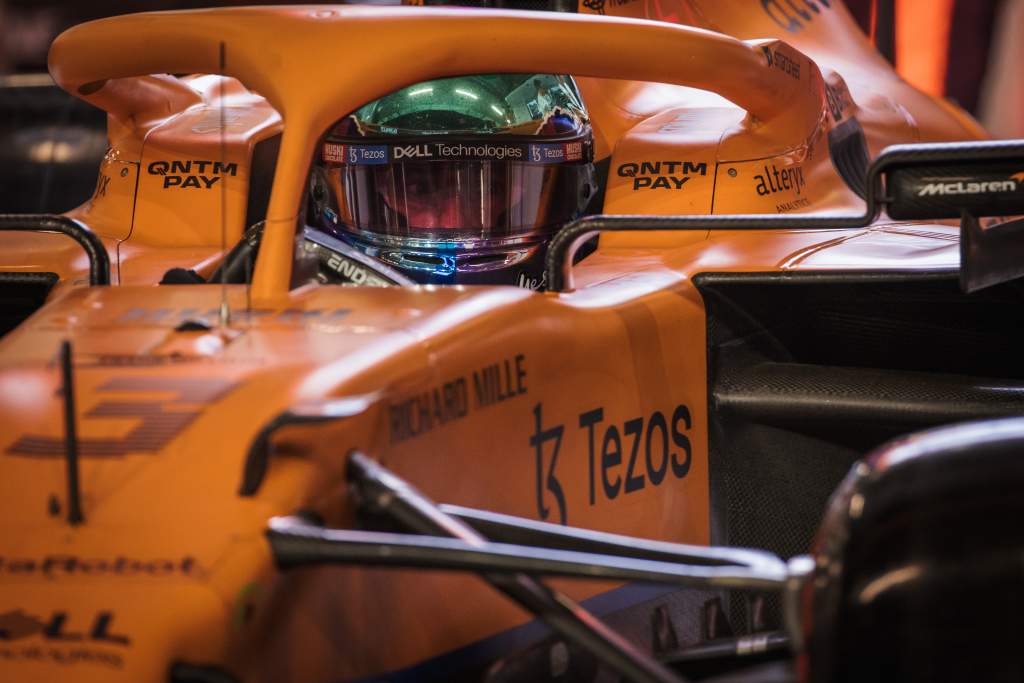 From his first corner Mexico shunt to his unnecessary fuel saving dramas in Qatar, Daniel Ricciardo has been through something of a sour patch in recent races.
But he deservedly had some good fortune in his favour at Jeddah as he picked his way through the early chaos and wisely didn't pit, meaning he was fifth from 11th on the grid at the first red flag.
He was up to fourth by the time of the second restart and only lost a place to Bottas's Mercedes.
To finish ahead of both Ferraris on a weekend where the McLaren looked significantly weaker, is an impressive achievement and one that puts Ricciardo's season firmly back on track. – JS
Antonio Giovinazzi
If this is to be Antonio Giovinazzi's penultimate F1 race weekend, it'll go down as one of his better ones. He did a lot right, not only through Friday and Saturday but in the race too.
After slipping behind Fernando Alonso at the start Giovinazzi uncorked a quality pass around the outside of Turn 1 to repass him and lay foundations for a performance that briefly took him as high as seventh.
Ultimately, the Ferraris came through and seventh became ninth, which is almost certainly not enough for Alfa Romeo to have a realistic chance of overhauling Williams for eighth in the constructors' championship in Abu Dhabi.
But as for Giovinazzi's individual stock, it was a fine ninth place – and shows why he has been a credible, if maddeningly inconsistent, F1 driver during his stint. – VK
Losers
Yuki Tsunoda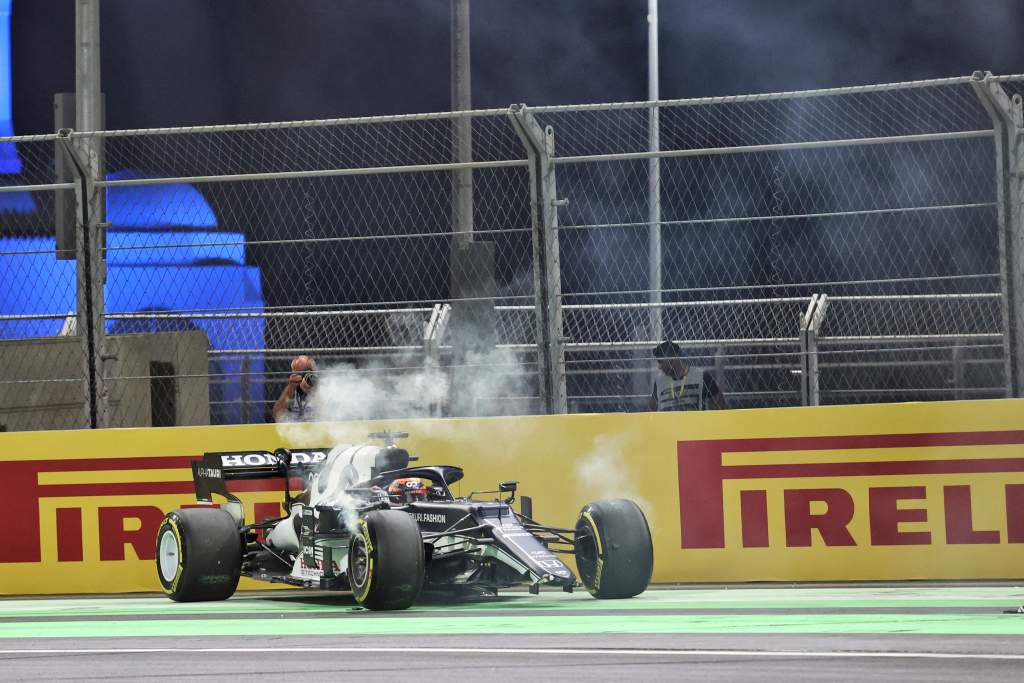 Tsunoda's form on Friday and Saturday suggested he was on the verge of a season-best weekend, and though he got roughed up on the opening lap, a great second restart promised a lot for the rookie – with his overtake on Charles Leclerc around the banked hairpin one for the highlight reels.
The move on Sebastian Vettel, which ended in a clumsy shunt at Turn 2, was also for the highlight reels, albeit ones of a very different kind.
It is way too early to give up on Tsunoda, who clearly has the talent to make it in F1. And there's no indication Red Bull is thinking of giving up. But it's hard to paint his rookie season in a particularly good light. – VK
Mick Schumacher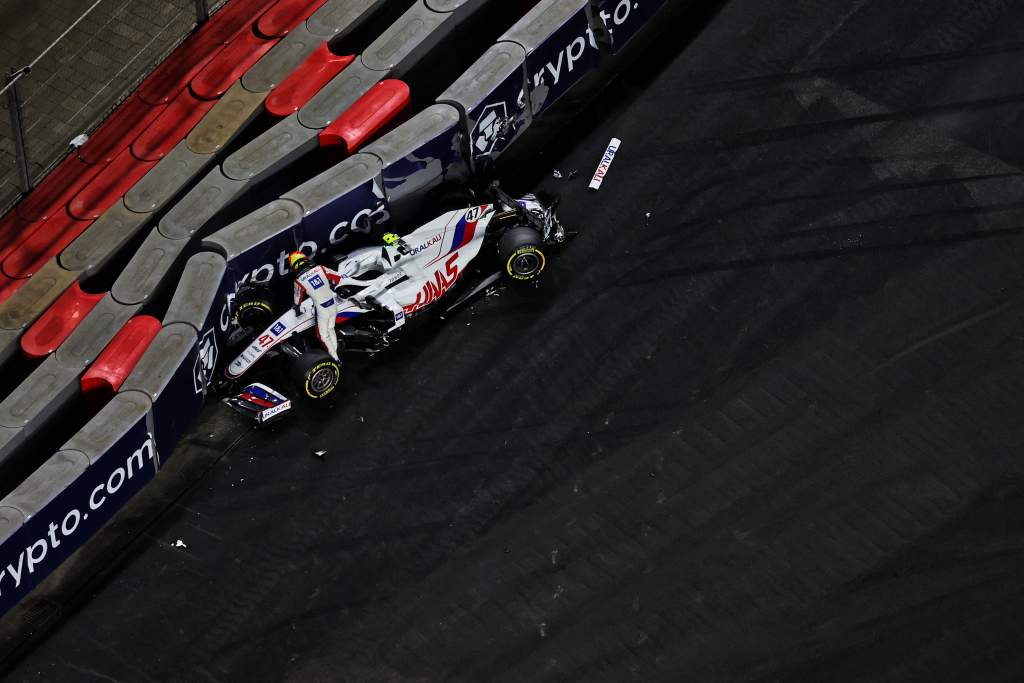 It's all well and good to trounce your team-mate in your rookie season, and Mick Schumacher has done emphatically that in 2021.
But given the VF-21 has been uncompetitive and undeveloped, the only time the Haases are really on TV are when they're being lapped and when they crash – and Schumacher has done more than his fair share of crashing.
Street circuits in particular have been unkind to the German – Monaco, Baku and now Jeddah. It's definitely something for him to look at for when he's fighting fore more meaningful position. – VK
Sergio Perez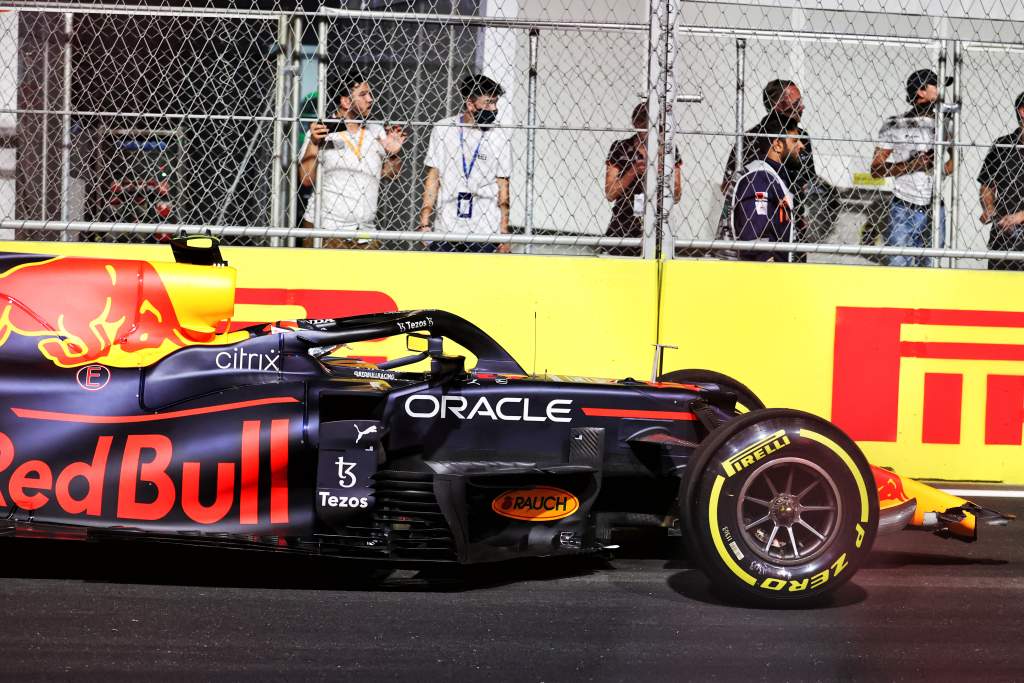 It might be a bit harsh to single out Perez for what looked like a classic case of 'three into one do not go' yet a closer look at the incident shows it was more avoidable.
By the time the collision with Leclerc began to send Perez sideways, it was no longer three-wide.
Pierre Gasly had dropped back, leaving just enough room for Perez to make sure he didn't squeeze Leclerc into the outside wall.
It would've been a split-second matter, but that's F1 for you. Red Bull's constructors' title hopes couldn't afford this kind of thing – and now they look pretty bleak.
There's also the fact that Perez really shouldn't have been there to begin with. If he'd qualified closer to his team-mate, this probably would've been avoided. – VK
Aston Martin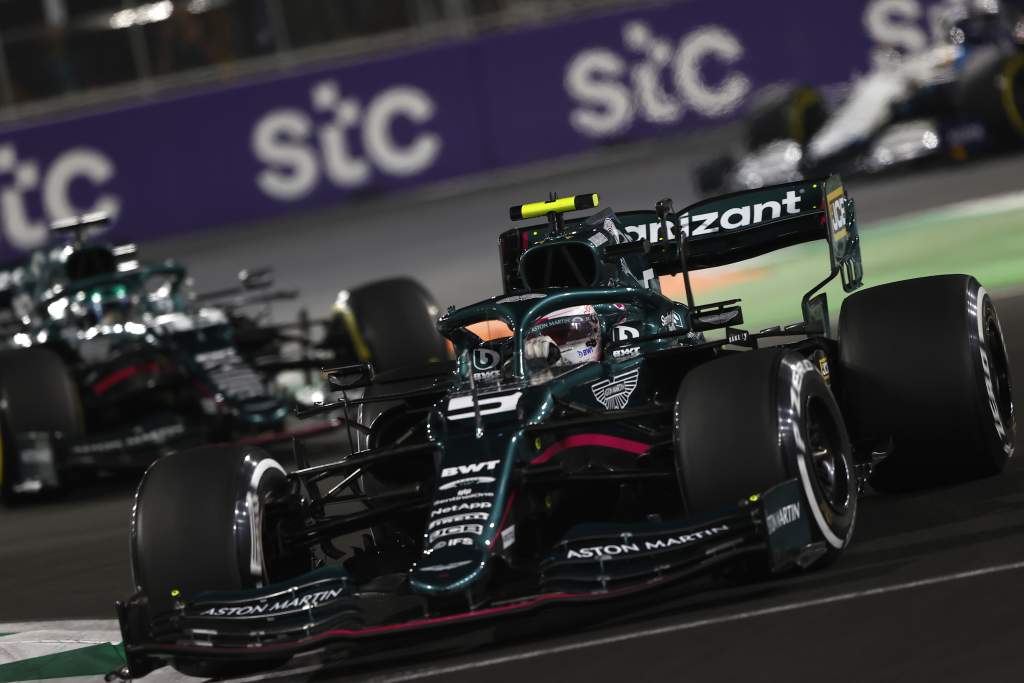 In as uncompetitive a weekend as Aston Martin has had for a long time, it still looked at certain moments that there was a decent result here to salvage – with a double Q1 exit turning into a solid top-10 position for Sebastian Vettel thanks to him not pitting before the red flag.
Ultimately, Tsunoda very quickly put paid to that before the collision with Kimi Raikkonen added salt to the wound.
But it's hard to say how much any of that really mattered, because the car just never looked competitive in the least.
Aston has long looked to pain this campaign as one undone by the downforce-culling off-season changes that have hamstrung the low-rake cars.
But a low-rake car effectively dominated the race – whereas Aston Martin has looked nowhere near its 2020 heights all season. – VK
Ferrari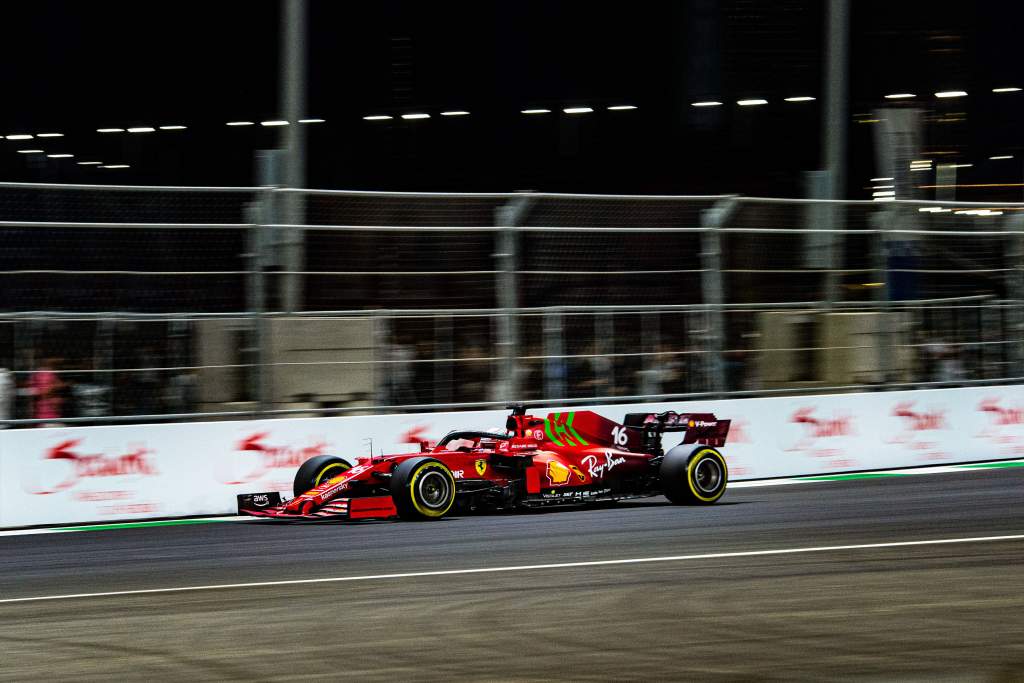 Ferrari didn't quite secure third place in the constructors' here, but it's virtually a formality, barring the most absurd of outcomes at Yas Marina.
And yet it really probably should've made sure here. On Saturday, the top Ferrari outqualified a Red Bull, and as Sunday's race started that same Ferrari successfully fought off that same Red Bull.
And yet, through a combination of strategic shortcomings and seeming restart meekness (both the SF21s were going the wrong way in the classification after that second red flag) the top six ended up Ferrari-free.
We put Ferrari in the winners' list with heavy caveats last time out. This time, it's in the losers' list – but with the caveat that third place is now even less likely to escape Maranello's grasp. – VK
Max Verstappen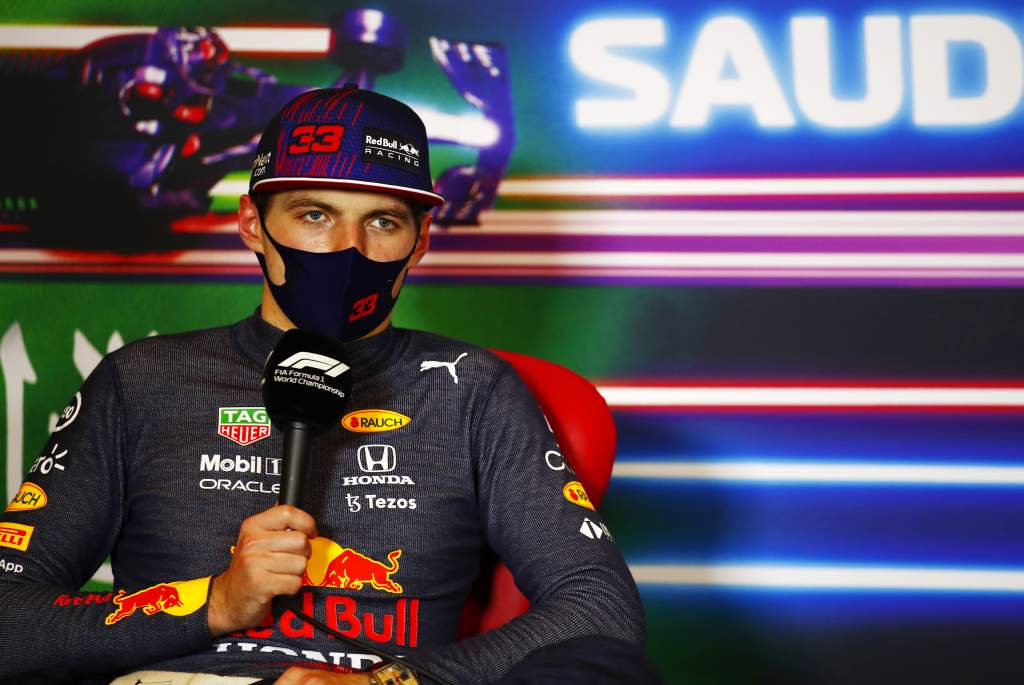 There were some absolutely outstanding moments from Verstappen during the Saudi Arabian GP weekend, and his presence in the Losers section is not a suggestion that he drove poorly, let a win slip or even that he was in the wrong in all the incidents.
But ultimately he can't be a 'winner' in this edition of this feature because he was defeated by his title rival and lost the very last of his championship points cushion going into the finale.
The qualifying error (admittedly at the end of a sublime lap) counts against him too, and some of the… we lose count of how many… incidents he had with Hamilton today were over the line – or at best could be interpreted as taking 'brake late and never back down' counterproductively too far. – Matt Beer