Red Bull has slipped from being Formula 1's benchmark team at pitstops to having the worst average pitstop time since a new FIA technical directive came into force.
To reduce the risk associated with the sub-two-second turnarounds that have become possible in the era of the ultra-fast pitstop, the FIA implemented a new requirement from the Belgian Grand Prix.
Intelligent wheelguns have software that completes a series of automatic checks on whether the wheel is secure before the gun can be released.
They have a button which the operative presses giving a signal after the wheelnut is secure to permit the jack to be lowered but it was possible – and became common practice – for the button to be pressed early in anticipation of the nut being tightened.
The technical directive enforced at Spa, and revised from its original even stricter requirement, stipulates that this jack release button can no longer be pressed before the 'wheelnut tightened' signal is given and must only be pressed in reaction to that signal.
With Red Bull having established itself as F1's quickest and most consistent team at pitstops, it considered the new directive to be an attempt to slow it down.
In the three events since, those fears appear to have been validated. Though Red Bull has still been capable of extremely fast pitstops at Zandvoort, Monza and Sochi, it has become unreliable.
Red Bull's pitstops in 2021
| | | |
| --- | --- | --- |
| | Pre-Spa | Post-Spa |
| Fastest | 1.88s | 2.15s |
| Rank | 1st | 1st |
| Average | 2.58s | 4.56s |
| Rank | 1st | 10th |
Unsurprisingly the fastest pitstop times post-technical directive have slipped slightly but Red Bull is still the benchmark in this regard.
It had the quickest time of anyone at Zandvoort and the second-fastest pitstops at Monza and Sochi.
The concern is that Red Bull's consistency has dropped dramatically. While the sub-2s stops were impressive, Red Bull's error-rate was remarkably low – yielding an average pitstop time of just 2.58s up to and including the Hungarian GP.
But its average pitstop time over the three grands prix since the break is now two seconds slower at 4.56s and the worst of all 10 teams.
That is because of the problems that caused slow stops for Max Verstappen (11.1s) in Italy and Sergio Perez (8.96s) in Russia.
Red Bull admitted the Verstappen problem at Monza, which sent him on a collision course with title rival Lewis Hamilton, was human error and directly the result of the new technical directive.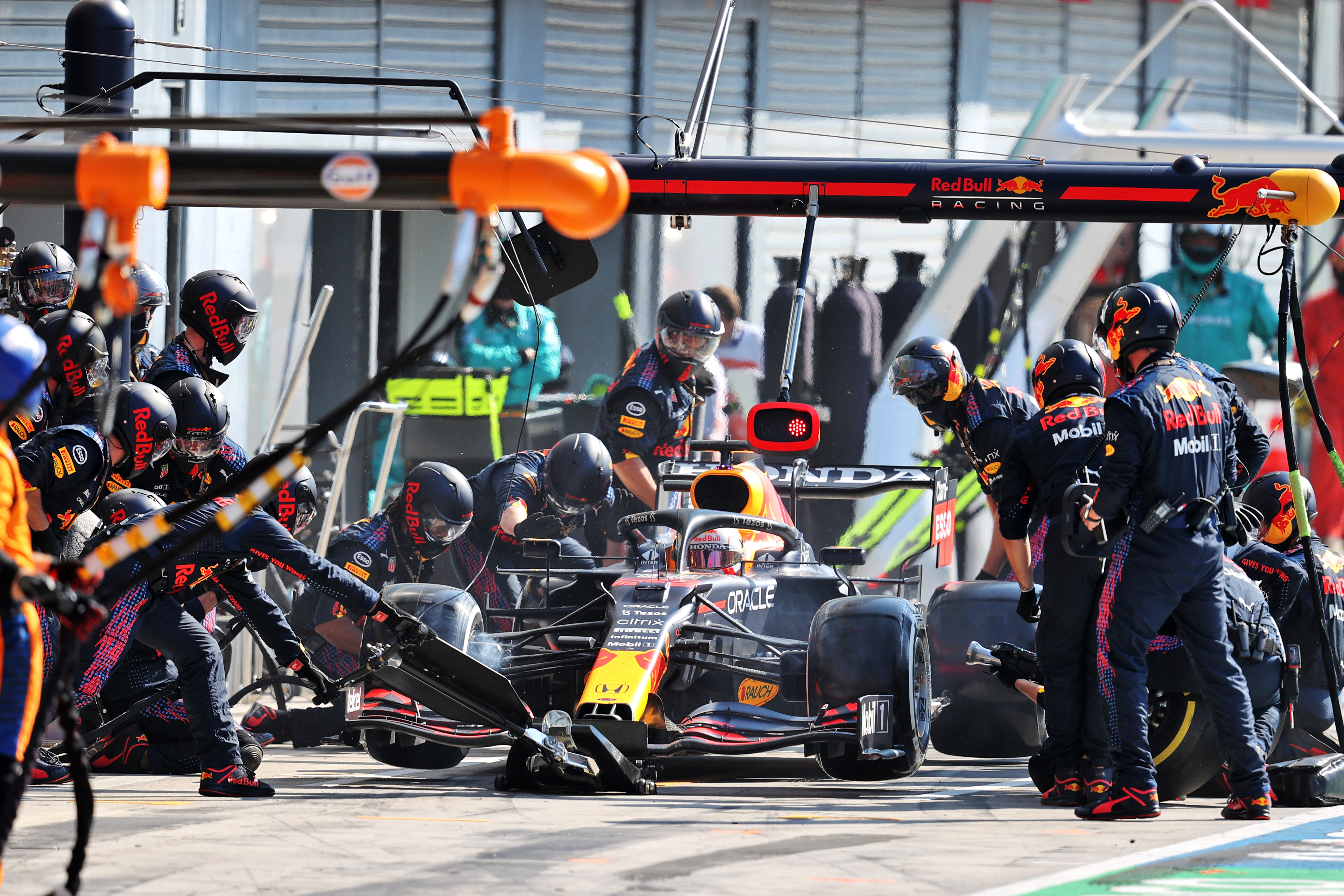 But team boss Christian Horner, who said it was "annoying" to have had protocols changed mid-season, said Perez's issue in Russia was not a result of the technical directive.
"It was, unfortunately, a slight delay in the wheel coming off and then the clutch was released whilst he was on the stand and that's then just compounded the problem," said Horner at Sochi.
Because of the farcical Belgian GP, there have only been three races with the new directive in place which makes the sample set of data to judge its impact fairly limited.
So this is not to say Red Bull is suddenly terrible at pitstops, or condemned to be at a low level for the rest of this season.
However, the early trend is clear. All but three teams have slower average pitstop times since the summer break with AlphaTauri (0.05s), Ferrari (0.03s) and Alpine (0.02s) the only teams to be marginally better according to data compiled by F1 partner DHL, which records every pitstop time.
Red Bull's 2.02s increase in average pitstop times is considerably worse than the next biggest rise (Haas at 0.91s).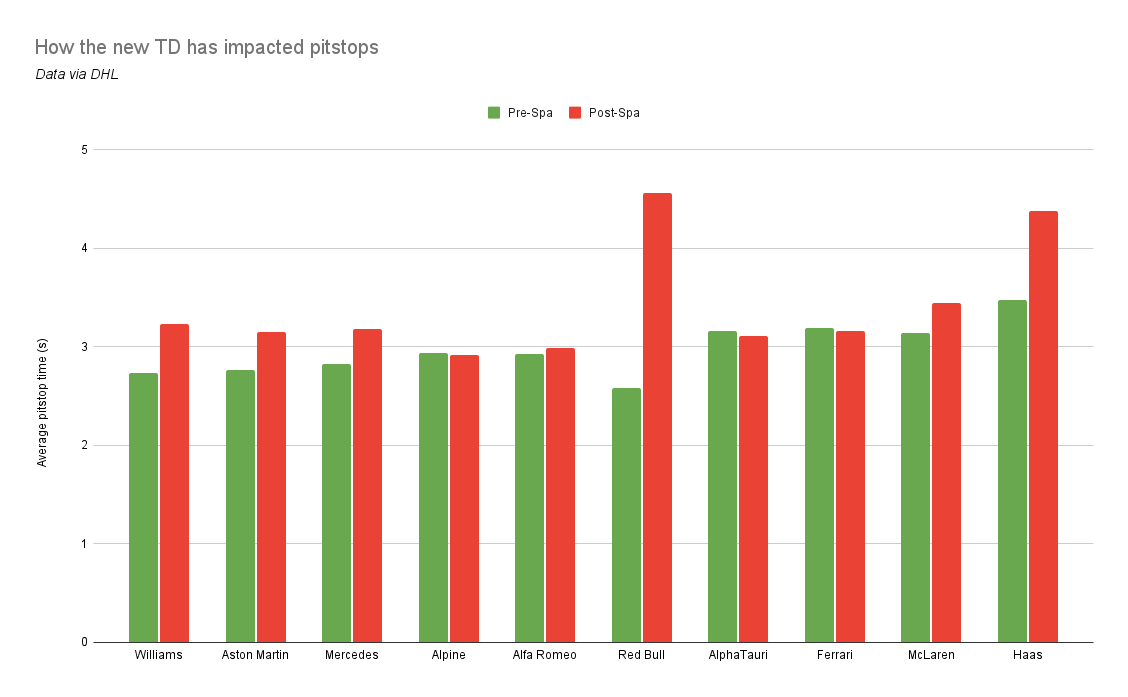 Unless Red Bull suffers more dramatically poor pitstops over the rest of the season, this will inevitably balance out and Red Bull will get closer to its impress pre-summer break average.
And it will undoubtedly continue to post some of the fastest pitstop times of the season.
These numbers will change by the end of 2021 and Red Bull may yet reassert itself as the most consistent team at pitstops – and it will almost certainly win DHL's competition for the fastest pitstops yet again.
But it is clear that Red Bull has suffered an unfortunate setback, even if it is only brief, as it gives the team an issue to get under control in an area it previously had a clear advantage in, because the technical directive is here to stay.
"I doubt it will be reversed," said Horner. "I just think in-season change is never great.
"But it is what it is. It's the same for everybody, so we've just got to get on with it."