Yuki Tsunoda received a reprimand for driving with loosened belts in the Dutch Grand Prix but that was far from the most unusual and controversial part of his day.
Tsunoda had a bizarre exit from the Zandvoort race. He stopped on track after a pitstop, thinking a wheel was not properly fitted, then restarted his car and came back to the pits after being told it was OK.
Upon rejoining, though, he was told to stop the car immediately and retired from the race with what has been confirmed to be a broken differential.
Conspiracy theories have abounded online given Tsunoda's eventual stoppage sparked a virtual safety car that allowed Max Verstappen to pit and retain the lead of the race instead of dropping behind the Mercedes of Lewis Hamilton, who was trying to make a one-stop strategy work.
LAP 48/72

Tsunoda comes back in to the pits for running repairs before coming out again and immediately encountering problems again. He's parked up at the side of the track.

⚠️ VIRTUAL SAFETY CAR ⚠️ pic.twitter.com/iWdoYsfImt

— Formula 1 (@F1) September 4, 2022
Red Bull team boss Christian Horner argued afterwards that the VSC "could not have come at a worse moment" because it forced Verstappen onto the hard tyre instead of extending his stint, rejoining on softs and passing the Mercedes on track.
A full safety car later on changed the dynamic of the race again but the VSC did give a net benefit to Verstappen.
TSUNODA'S UNUSUAL EXIT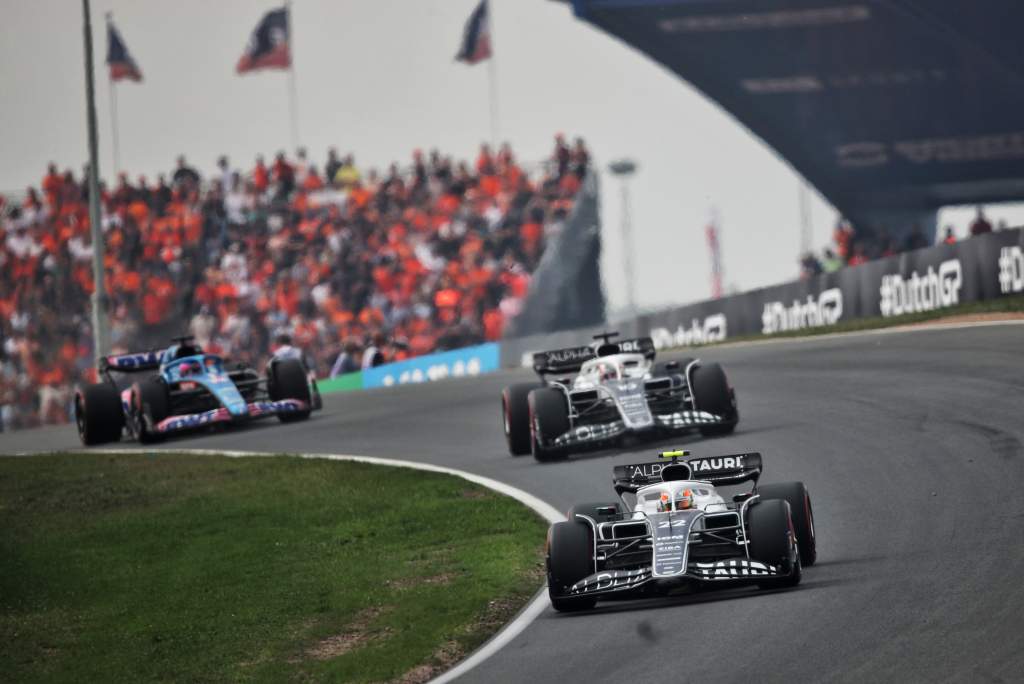 After leaving the pits from a routine stop, Tsunoda felt like the car had a problem.
He later described it as "like I was drifting all the straight, counter steering all the straight – that is why I didn't feel like it was normal".
At the time, Tsunoda quickly radioed the team to say "tyre is not fitted" and was instructed to stop on track in a safe place.
He was very irate at this point, asking the team to confirm the tyre was not fitted and then screaming "tyre is not fitted" again, before pulling over on the right hand side after the banked Turn 3 left-hander, at a point where there was a gap in the fence.
Tsunoda asked why he was stopping and if he was retiring. He was told to start again because the tyres were OK.
After resuming, Tsunoda told the team "something wrong though" and speculated "I think diff or something is broken".
In reply, he was told the team would change tyres in the pits and send him back out. Tsunoda said his seatbelts would have to be tightened again as he had released them after stopping.
After coming into the pits, having his tyres changed and his belts tightened, Tsunoda pulled away slowly and awkwardly.
He reported: "Err, there is something wrong. Something strange at the rear. Something strange. Diff is broken, I think."
This time AlphaTauri replied quickly, telling him to stop the car in a safe place after leaving the pits – as the pitlane exit is too tight.
WHAT HAPPENED?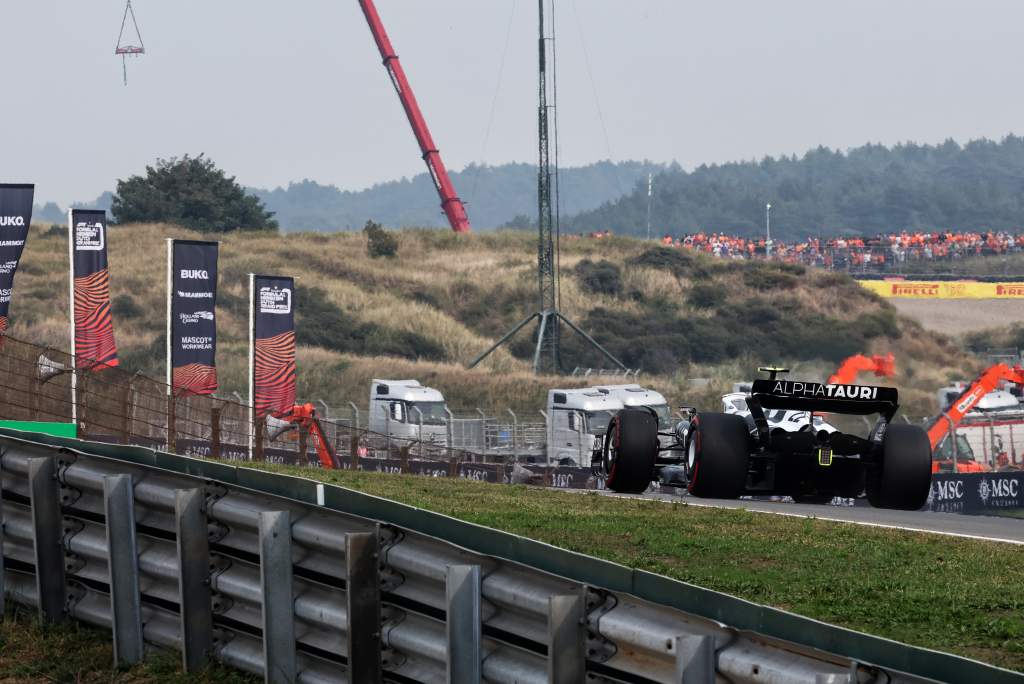 At least one team is understood to be suspicious about the decision from AlphaTauri to send Tsunoda out at all, given he had stated before pitting he thought there was a diff problem but the team only instructed him to stop when he said it again while leaving the pits.
AlphaTauri's initial explanation was vague: "After the pitstop he reported something strange at the rear of the car, we called him in again to change the tyres and immediately after we had a car failure. This is currently under investigation within the team."
The suggestion of a car failure "immediately after" the pitstop does not tally with Tsunoda's warning messages on his inlap.
But it appears that AlphaTauri was just not convinced there was a terminal issue until he pulled away from the pit box.
Whether that is because it doubted Tsunoda's own testimony – given he had already misidentified the problem as a loose wheel – is unclear but the suggestion is there was nothing the data indicating a problem.
"That is why we drove back again to the pits and to fit a new tyre," said Tsunoda.
"After that we saw a clear issue in the data and that's why we stopped."
That car was briefly inspected while the tyres were being changed and belts were being tightened, and there was no visible fault.
It is possible that when Tsunoda pulled away from his pit box, something broke in that moment, or it alerted the team to something it had previously missed.
"We fitted a new tyre again, and I confirmed that the same thing was happening," said Tsunoda.
"I thought first it was wheel spin happening because it was just hard tyre and low grip but I felt a clear issue.
"Something going on with that rear part and engineers confirmed there was an issue and that's why we stopped."
ODD BUT NOT MANIPULATIVE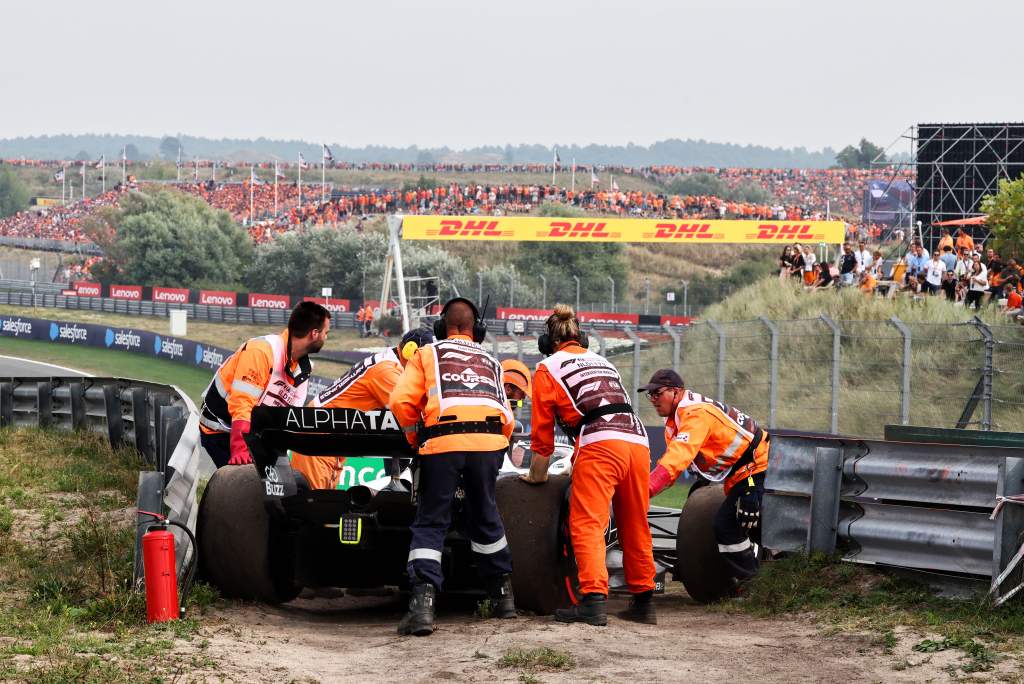 The upshot of the bizarre episode and the impact it had by helping Verstappen retain the lead at the time is that speculation immediately began over whether it was a contrived scenario.
But correlation (an AlphaTauri does something curious and it benefits a Red Bull) does not equal causation (that it was done intentionally).
Given these conspiracy theories come with the implication of attempting to manipulate the outcome of the race, the severity cannot be overstated.
It was certainly an odd sequence of events. Mercedes boss Toto Wolff's incredulity attests to that: "Tsunoda stopping on track, restarting, coming back with seatbelts not on, starting the car up again and breaking down half a lap later… [makes noises] Speechless."
And AlphaTauri's inability to immediately explain it convincingly did little to ease the situation.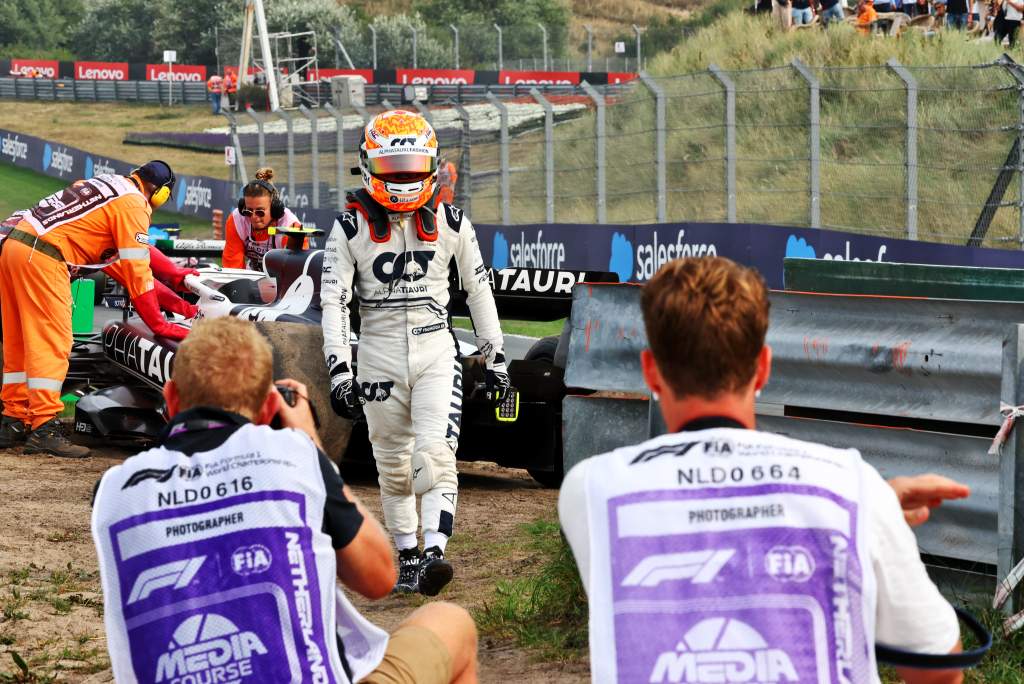 More than likely, this is the result of a poorly-handled retirement – AlphaTauri didn't need to send a malfunctioning car back out, given Tsunoda's race was ruined and the driver had suspicions – and some unnecessary secrecy from the team afterwards most likely caused by the absence of a clear explanation for the fault itself.
It will not be good enough for some, but the FIA has given no indication it has any concerns about the race being manipulated – an offence that would likely result in expulsion from the championship.
All that has been investigated is whether Tsunoda was unsafely released from the first pitstop, which the stewards determined was not the case. They then looked into the fact he drove with his belts loosened and reprimanded him for that. But the subsequent release, which led to the final stoppage, was not investigated.
And while the integrity of the competing teams should also be a major factor in why Tsunoda's bizarre Dutch GP exit should not be attributed to malice, the most convincing argument is probably that it would simply be an absurd risk not worth taking in the slightest.