The race the Zandvoort crowd got, with its hero Max Verstappen ultimately a comfortable winner of a race with ebbing and flowing tides of fortune, pleased it very much.
The race it probably would have got had it not been for a bizarre set of events around Yuki Tsunoda's AlphaTauri would have been a much bigger thrill. It would have seen one-stopping Lewis Hamilton and George Russell running 1-2 but being closed down fast by the two-stopping Verstappen near the end. Imagine the tension and emotion.
But putting aside the vagaries of fortune and how the Tsunoda VSC (and the later safety car for the usual late-race broken-down Alfa Romeo) affected things, putting aside why AlphaTauri sent its driver back out two laps down then instructed him to stop on circuit. Put aside Hamilton's anger with his team in the heat of the moment as an impossible tyre call had to be made. Put all that aside: Verstappen would likely have won this regardless.
Without the randomising breakdowns, he was set to have made his second stop on around lap 50 when a set of softs would have been fitted. This would have given him a tyre advantage over the 20-lap-old hard tyres on the Mercs of over 2s initially. He'd have rejoined the race around 5s behind second place Russell and 7s behind race-leader Hamilton. With 22 laps to go.
That's what Red Bull tells us its plan was before the VSC. A late stop onto softs, using the performance offset of the rubber and its superior straightline speed to chase, catch and pass the two Mercs. The rubber wouldn't have remained 2s faster, of course. But it didn't need to. All that would be required was for it to still be around 1s faster as Verstappen reached Hamilton, probably after around seven/eight laps.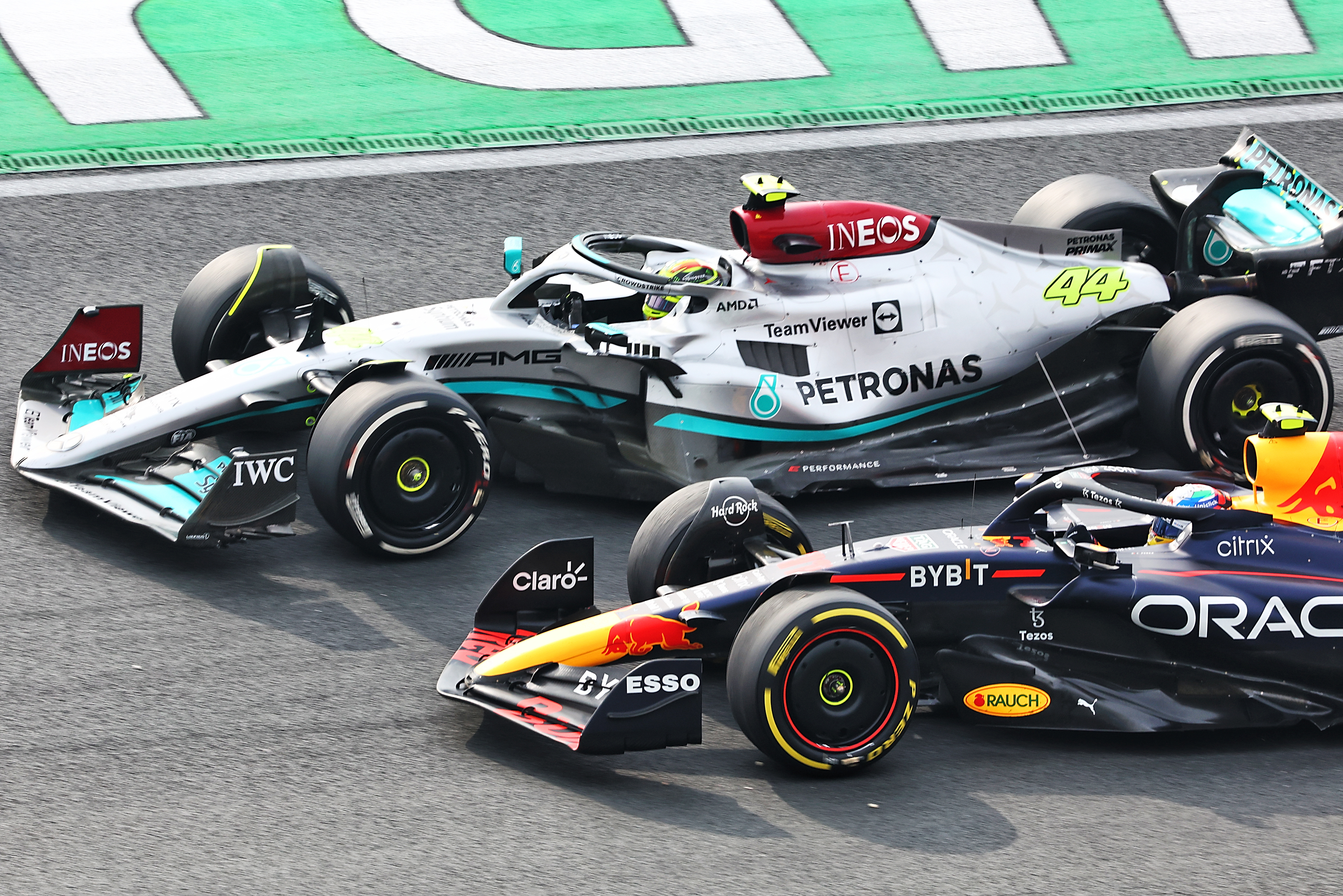 Despite pre-race fears, there was plenty of overtaking. To pass required a lap time advantage of around 1s. Verstappen would have been catching the Mercs at a faster rate than that. It would be thrilling as first Russell, then Hamilton tried to resist his advance and who knows how that would actually have played out, what combination of manoeuvres and incident may that have triggered? But if it all had played out just according to simulated differences in tyre and car performance, Verstappen wins by around 15s.
Would the soft have been OK to do 20+ laps? "Yes, I think so," says Pirelli's Mario Isola. "On low fuel and with the big track evolution we were seeing in the race, degradation was much lower than expected." Even those cars starting the race on the soft, loaded with over 100kg of fuel and on a harsher track surface, had managed up to 18 laps without a problem.
But that's not the race we got of course. Not after lap 48 of the 72, anyway. The first 47 laps were very much as Red Bull and Mercedes had anticipated once they saw each others' starting tyre choices.
Red Bull and Ferrari had opted for softs, with the intention of two-stopping. Mercedes started on mediums intent on one-stopping as part of its high risk/high reward approach, decided upon that morning in response to the W13 being, for once, somewhere close to the pace.
From rows 2 and 3 respectively the Mercs were unlikely to lead from the start, hence there was no real downside to surrendering some startline performance. The one-stop plan was based on Mercedes' confidence that the hard was actually going to be a good race day tyre.
Only Alpine agreed. Everyone else – Red Bull included – had discarded it as a viable tyre. It was too slow, they said. Over 1.2s per lap slower than the medium and remaining slower throughout a stint.
But it had been discarded early on Friday before the quite spectacular ramp-up in grip of the track surface. Merc (and Alpine) figured, correctly as it turned out, that the initial disadvantage would be only around 0.5s and would be similarly quick over a stint. This of course gave a feasible range to one-stop. Red Bull may have arrived at a similar conclusion if Verstappen's car hadn't stopped with a PU/ transmission problem early in FP1. It meant the only meaningful Red Bull running of the hard was done by Sergio Perez – and he's simply struggling for pace at the moment.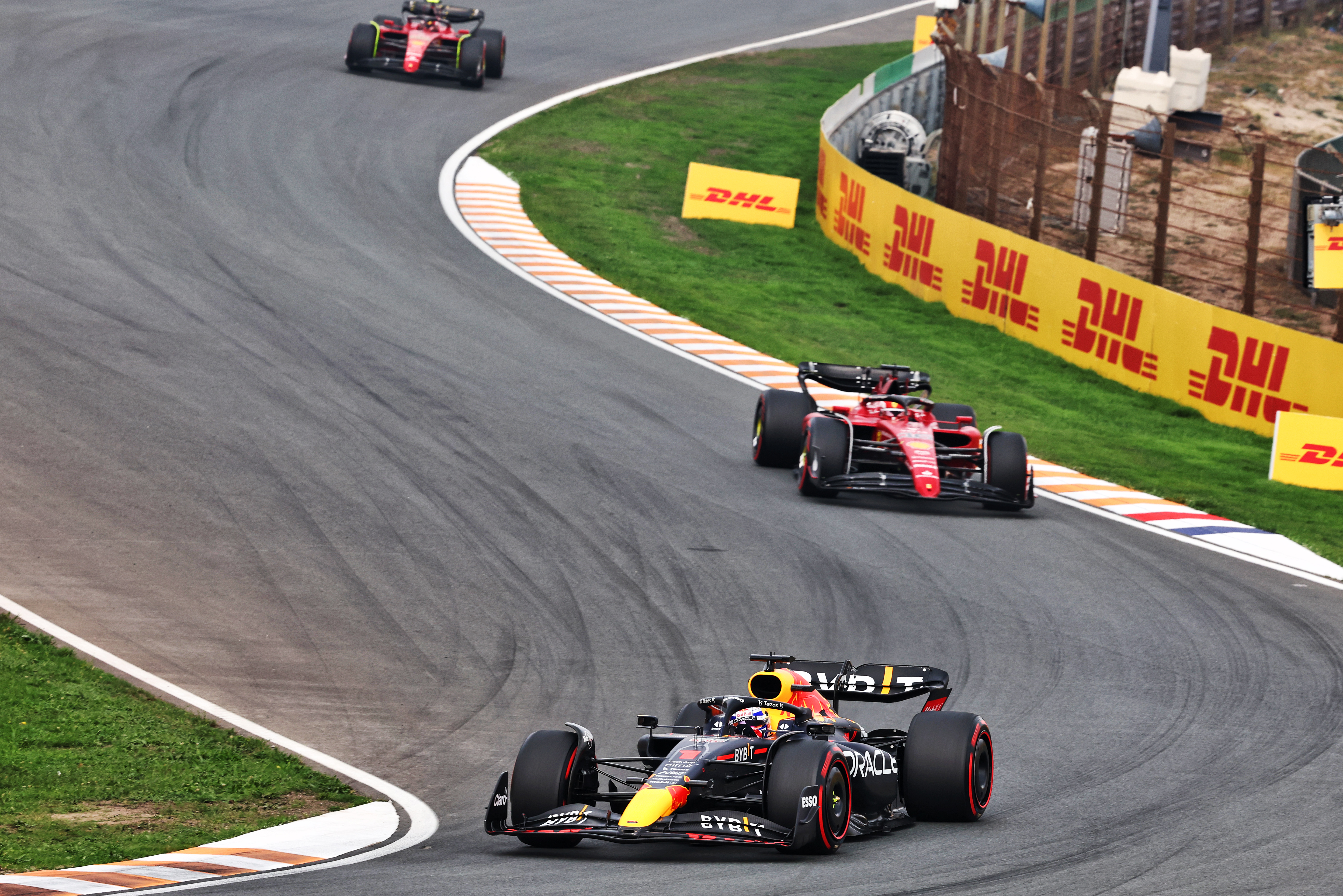 So as Verstappen took off into the lead from the Ferraris of Charles Leclerc and Carlos Sainz, Hamilton was quite happy in fourth, having just failed in a bid to take third from Sainz at Tarzan in the opening seconds which led Hamilton's left front touching Sainz's right sidepod. Perez followed on but presented no threat. Russell lay sixth, once he'd slipstreamed past Lando Norris' McLaren going into the third lap.
The significant part of this stage of the race wasn't so much the yo-yoing gap between Verstappen and Leclerc as they each traded tyre grip against DRS gaps, or even how they both pulled away from Sainz who was into managing rear tyre temperatures almost immediately. No, it was how Hamilton could run at Sainz's soft tyre pace quite happily on the medium tyre and Russell could similarly track the soft-tyred Perez.
Sainz would fall out of contention with a disastrous Ferrari pitstop on lap 14 in which only three wheels were ready. The watching Eddie Irvine (who suffered a similar Ferrari blunder at the 1999 European GP) would probably have felt some empathy with Carlos as he sat there for over 12s. It had been a very late call, triggered by the team observing Red Bull getting ready to bring Perez in and the undercut threat that represented. The mechanics had not been readied for the possibility of such short notice.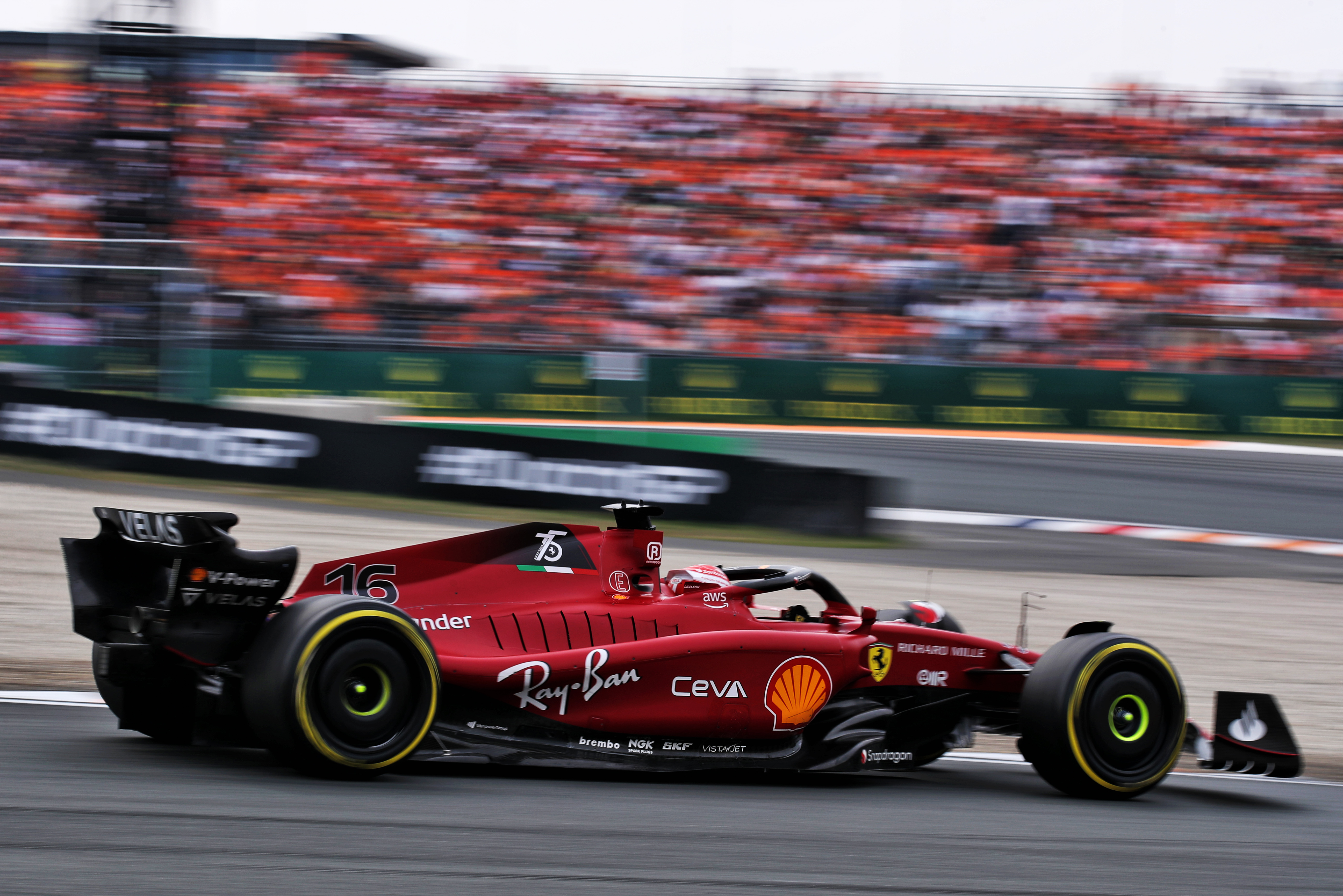 Leclerc was brought in from 4s behind Verstappen for a much smoother Ferrari stop at the end of the 17th lap and switched from softs to mediums. Red Bull responded with Verstappen the following lap to cover him. Hamilton and Russell would be staying out a long time yet and were now running 1-2. They had been a respective 12s and 15s behind the Red Bull before it stopped, and with a pitstop losing you around 21s Max came out on his new mediums only around 6s behind Russell.
Here we saw the difference in pace between new mediums on a Red Bull vs mediums 18 laps older on a Merc. It was in the order of 0.8s over 11 laps. Enough for Verstappen to DRS his way past Russell to wild approval from the crowd. Hamilton was pitted a lap later and fitted with the hard tyres with which to run to the end. Russell followed suit a couple of laps later.
Here's where Merc's combination of strategy and underlying decent pace began to look really good. It was the phase of the race where Hamilton and Russell potentially put themselves ahead of Verstappen and left Leclerc behind. Verstappen was now leading but on 12-lap-old tyres and needing to make another pitstop, with the Mercs initially only just over a pitstop's-worth of gap behind but, on their new hards, going significantly faster than the leader and no more stops to make.
Hamilton had got himself within less than a pitstop behind two laps into his stint. Russell had done the same 11 laps into his stint, after DRS-ing his way past the about-to-pit Perez. When he made his second stop, Verstappen was now set to come out behind both Mercs. When it would have been game on. Verstappen would have had to have taken this win from the Mercs.
Verstappen was lapping in the high-15s by lap 40. He was informed that Russell's previous lap was a 15.4s. There was a pause. "That's pretty quick for a hard…" he replied. The scale of the Merc challenge was now clear. Hamilton was lapping a couple of tenths faster even than that. The hards were working very nicely. So much so that Perez had been put onto them. By lap 47 Verstappen was only 14s ahead and therefore due to come out 7s behind. Just another few laps and he'd be able to get onto the softs.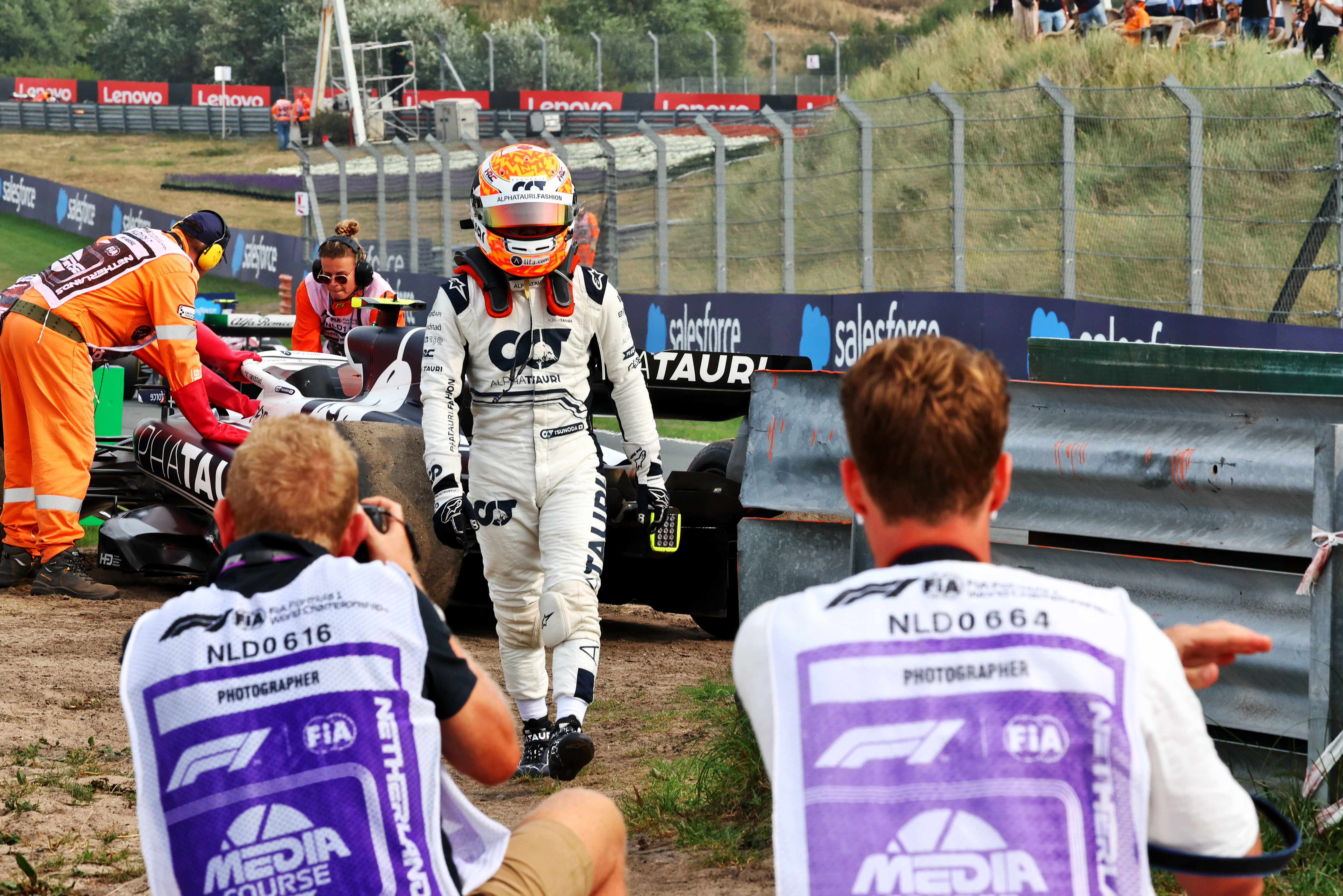 Then Tsunoda. He pitted for fresh rubber but felt the car to be awry as soon as he rejoined. Believing a wheel to have been not tightened and with the steering suddenly offset on the straight, he pulled the car off to the side and prepared to get out. A VSC at this moment would surely hand the race to Verstappen – as the cheap pitstop would see him get out ahead of the Mercs. But then Tsunoda was told there was no problem with the wheel torque and that he should try to bring the car back to the pits so the wheels and tyres could be checked. As he did so, the VSC possibility receded and everyone pressed on.
Nothing readily apparent was found wrong with the AlphaTauri, so Tsuonda's belts – which he'd loosened when he was about to climb out – were re-tightened, the tyres were changed again and he was once more sent on his way. But he immediately reported something was still wrong, at the rear of the car, possibly the diff. Certainly, something sounded very wrong with the car as he pulled away.
Once again, he crawled to a safe place and switched off. Now the VSC came into effect – and Verstappen got his almost-free second pitstop. No need to risk softs now that he'd got ahead of the Mercs anyway, on went a set of hards. But Verstappen had been asking not to have hards fitted. He was still wary of them. And it may have been that the Red Bull still wasn't great on them – or at least not as well suited to them as the Merc.
"I was just surprised that Mercedes were that quick on the harder compounds," he said. "I have to say these tyres are very stiff, you know, the C1, C2. And they just didn't seem to really switch on for us as good as they did for them. That's I think what made it a little bit more complicated for us today."
Because the VSC had already lost Hamilton and Russell their places to Verstappen, they too were brought in so they could at least be given fresh rubber – a set of mediums each. The one-stop plan which had been working so well had been rendered null and void. Instead, they were 15s behind, albeit on an initially-faster tyre. Upon the lap 49 restart, the gap came down as Hamilton and Russell chased down a respective 15s and 21s with only 23 laps left. It wasn't going to be enough.
Hamilton had reduced the gap to 11s by lap 56 (an average of 0.56s per lap). He wasn't going to make that up in 16 laps. But then, what the VSC tooketh away, was a safety car about to give back to Mercedes? Certainly, that 11s gap was about to be wiped out. But there were other complications.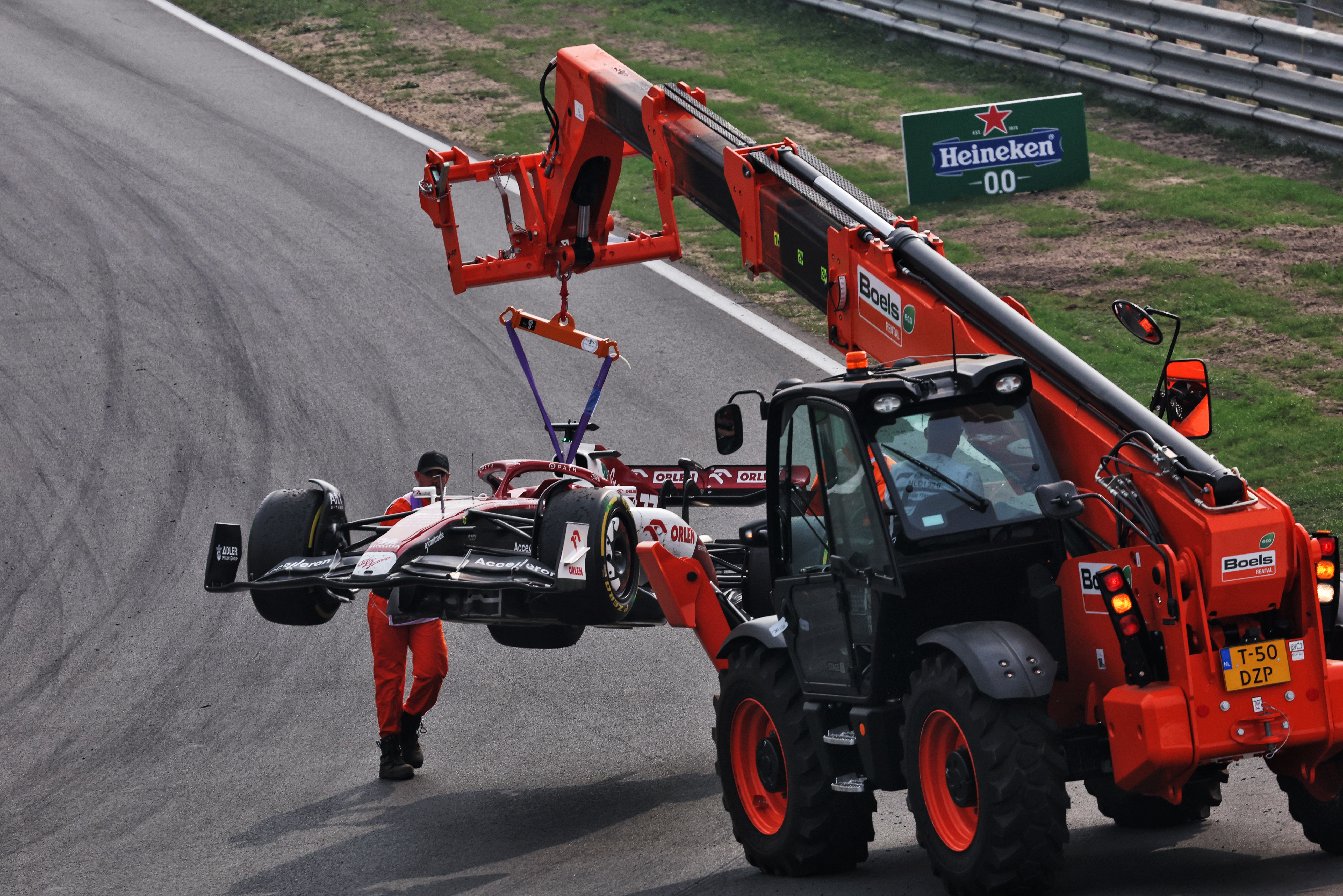 Valtteri Bottas stopped his Alfa with a dead engine at the end of the pit straight (just as the recovering Sainz was mid-manoeuvre in overtaking Esteban Ocon there). The Alfa was in a dangerous place with no nearby place to move it to. The safety car came out and would remain out for the following five laps. As the Alfa was being moved all cars were instructed to drive through the pitlane on lap 57. This made any pitstop super-cheap – and presented both the Red Bull and Mercedes pit walls with a terrible dilemma.
Red Bull and Verstappen did not want to be taking the restart on a set of hards. Had he stayed on them, Mercedes would surely have switched to softs, ready to attack as the race got underway. But stopping to change them entailed surrendering the lead. Whatever it did, Mercedes would be sure to do the opposite, so it believed. For Red Bull, making the restart on the hards against two soft-shod Mercs was felt to be a higher risk than giving up the lead but being on the right tyres.
For Mercedes, keeping Hamilton out, and taking the lead, seemed to be the only possible route to victory. If he could fend off Verstappen as his newish mediums came up to temperature, it might be possible. Taking Verstappen on with the same soft tyres, Mercedes didn't believe it had the straightline speed to have overtaken. But Russell – with less to lose – was insisting they change him to a set of softs. This meant of course Hamilton no longer had Russell as a barrier between him and Verstappen. But now George was at least not defenceless against Leclerc – who did stop for a set of softs. It was an unfortunate situation for the team and even more so for Hamilton. The timing had simply put them in an impossible situation. There was no right answer.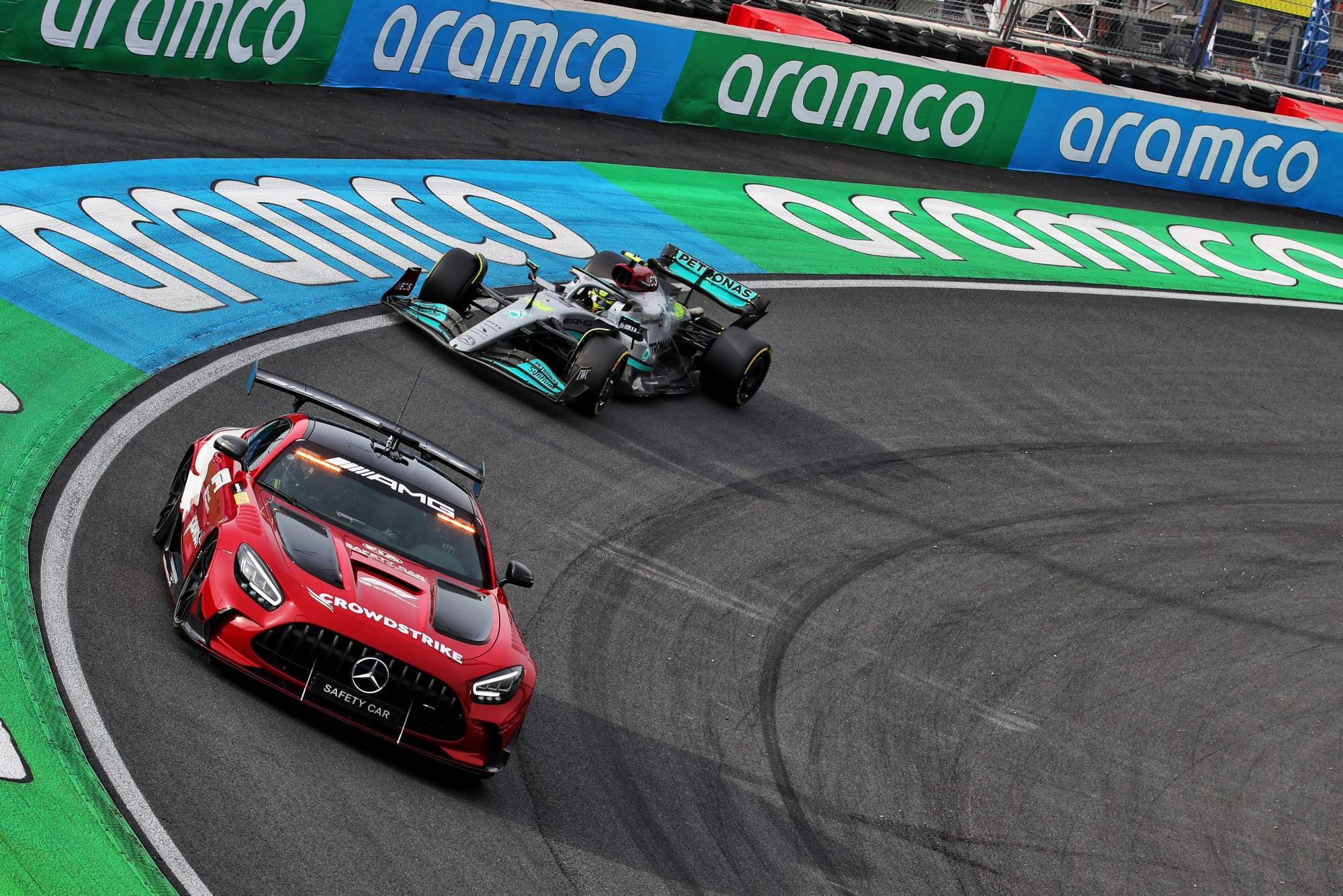 Unfortunately, Hamilton – circling behind the safety car leading but feeling like a sitting duck, deeply hacked off about what had transpired – exacerbated the problem by making an incorrect switch change on his steering wheel which meant he was in the wrong PU mode on the restart. Badly down on power, it was why Verstappen was able to pass him – to the huge roar of the crowd – so early on the straight, without even needing to do much of a slipstream.
Hamilton's older, cold tyres made him defenceless a lap later against team mate Russell – they almost collided as Russell caught faster than expected – and a lap after that against Leclerc. From a possible victory to a subdued fourth, this was a bad day at the office.
Sainz – another to take on new softs under the safety car – had jumped past the medium-shod Perez on the restart to go fifth. But he was given a 5s penalty for an unsafe release, which seemed harsh given that he'd been released with plenty of space before Ocon arrived but had then been slowed in avoiding a McLaren mechanic in the tight pitlane. This dropped him three places.
Fernando Alonso drove a scintillating race from 13th to an official sixth in his Alpine, using a combination of terrific pace on the hard tyre, some aggressive moves and not stopping under the safety car, thereby jumping past Lando Norris who did. Ocon's one-stop attempt was rendered unworkable by the safety car but he still took ninth, just ahead of Lance Stroll's Aston Martin.
But everyone else was just background noise to Verstappen as far as the orange crowd was concerned. "When you're on the grid, you're not thinking about how special everything is," he said.
"I'm focused on what I have to do in the car. You go through all the procedures so it's nice, of course, to see all the crowd and the craziness and I appreciate it a lot but I think also, as a sportsman, you focus on your job, right? And that's what you do throughout the race. And then of course, after the race, you take it all in and of course, this was a very special weekend for me, to see, all of these fans come out and support me. It's been incredible but of course, for those one and a half hours, you are fully focused on the job."