Red Bull Formula 1 driver Max Verstappen says "people have to understand" the 2021 Williams "isn't as bad as people think it is" when assessing George Russell's performances.
Russell, who will move up to Mercedes next year, has repeatedly caught the eye of the wider F1 community by getting the Williams FW43B to positions that its recent predecessors haven't managed to scale – particularly in qualifying.
Though it took him until this summer's Hungarian Grand Prix to get his first points on the board with Williams, all year Russell has been a regular presence either right on the cusp of Q3 or in the pole shoot-out session itself.
And after qualifying on the front row in the wet at Spa – which turned into a maiden podium when the race was effectively rained out – he also managed a top-three qualifying on a drying track this weekend at Sochi.
But when asked how impressed he was with Russell this season in the aftermath of Sochi qualifying, Verstappen – while in no way critical of the Briton – made a point to praise the drivers who qualified ahead of him and said the result showed that the FW43B was underrated.
"Well, first of all, I think Lando [Norris, in first place] did a very good job, and also Carlos [Sainz, in second place]… you know, George for sure he's a very, very good driver, but when you can do these kinds of things, it also shows that the car isn't that bad that people think," said Verstappen.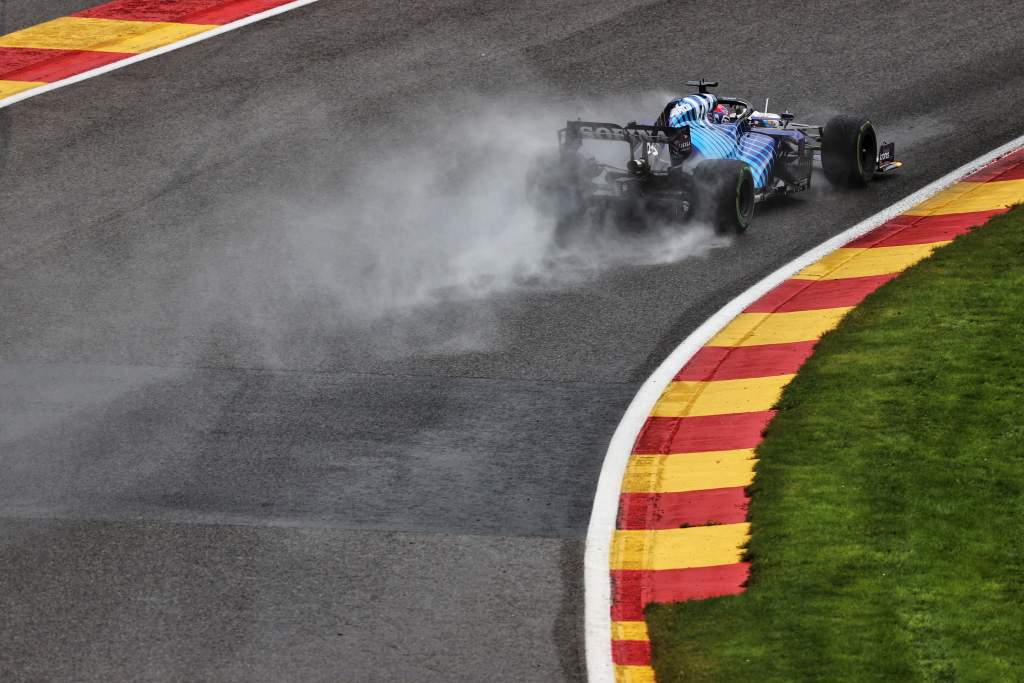 "He scored points and he had [good] qualifyings, and for sure also in Spa – that car is not a Red Bull or a Mercedes but they also run more wing and more downforce, so naturally everything just starts to become a bit closer [in the wet].
"And nevertheless he still did an amazing job, but I think people have to understand that car isn't as bad as people think it is."
Verstappen, who was largely an outside observer in qualifying given he is starting from the back due to grid penalties, was also quizzed on the pitlane entry crash his title rival – and Russell's 2022 team-mate – Lewis Hamilton suffered.
"You know, you've done the pit entry a few times in that time, I think you understand how slippery it is but I don't know what happened, I quickly saw the replay, so I haven't actually fully watched it," Verstappen said, before adding jokingly: "Of course it would be better not to make that mistake, but I guess he knows that himself as well."