Lando Norris says securing his maiden Formula 1 pole position at the Russian Grand Prix gives him "what I missed out on" after crashing at Spa earlier this year.
The McLaren driver topped a soaked Q1 and Q2 at the Belgian GP when F1 returned from its summer break, but he crashed early in Q3 and eliminated himself from a likely run at his first pole.
This became increasingly difficult to stomach as the race at Spa ran for just three laps under the safety car before the race was stopped – meaning the qualifying stars were rewarded with that same finish, albeit with half points awarded.
At Monza last time out, Norris had to play a supporting role to his team-mate Daniel Ricciardo who ended McLaren's nine-year win drought, despite trailing Norris for the majority of the time since he joined the team at the start of 2021.
But at Sochi, it was Norris' time to shine, with a sensational pole position lap in Q3, beating his former team-mate Carlos Sainz, the Williams of George Russell and reigning seven-time champion Lewis Hamilton.
"I don't know if it makes up for Spa," Norris said when asked by The Race if it negates his Spa qualifying shunt.
"It definitely makes me feel much better now, the fact that this is what I feel like I missed out on back then.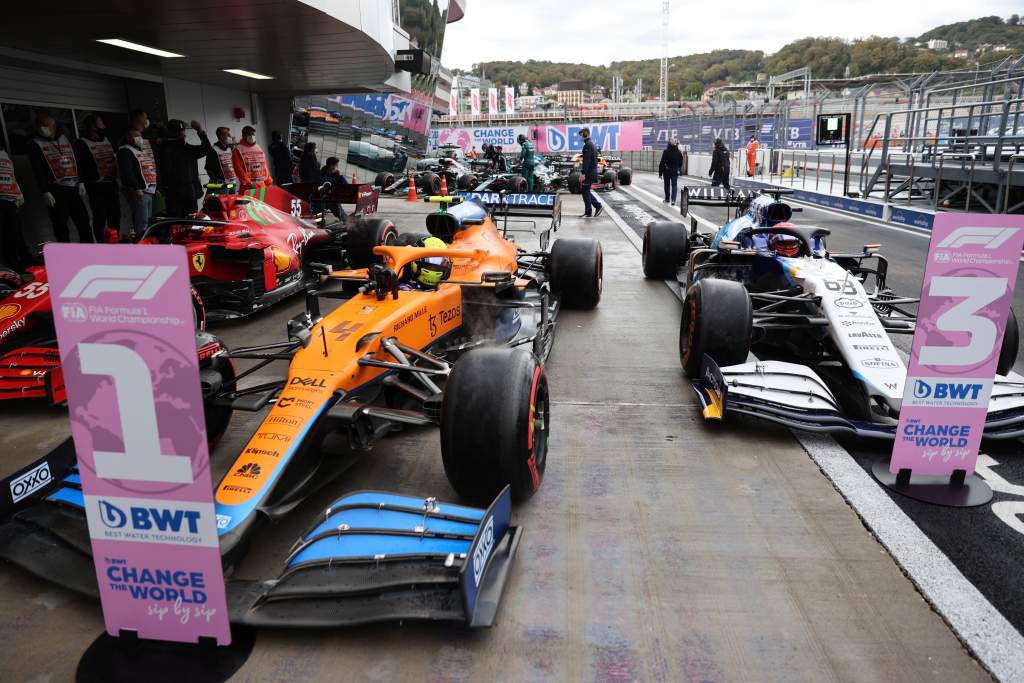 "You don't get these conditions very often, but they are conditions which are very fun and every time they've happened over the past, whether they've been all the way back in karting, they're always conditions that I've liked."
Norris's previous best F1 qualifying was second at the second Red Bull Ring round earlier this year, which he converted into a third place finish after passing a wounded Hamilton.
"It's just an awesome feeling, it just feels like you just qualified well, but it's a pole position which doesn't come around much," Norris said when asked how it feels to secure his first F1 pole.
"Obviously my first one in X amount of races [since the opening round of the 2018 Formula 2 season in Bahrain], and could be my only pole for a while.
"So it feels amazing, especially in these conditions. It's tricky, you have to put a lot of risk on the line and just try to see if it pays off and it did."
Despite his elation, Norris also recognised the jeopardy of the long run to the first braking zone on the circuit at Turn 2.
In previous years – such as 2017, where Valtteri Bottas swept past the front-row starting Ferrari duo from third on the grid – pole position hasn't always been an advantage at Sochi.
"Probably the only place I wouldn't want to be pole is here, especially with the straight down to Turn 2," Norris admitted.