Second practice for the United States Grand Prix at Austin was a bit of an anomaly.
The session was largely dedicated to 2023 Formula 1 tyre testing, hence it was expanded to 90 minutes.
This is the first time there has been what is effectively a group test of the 2023 Pirelli rubber.
The first of these was slated for Suzuka two weeks ago but was abandoned because of the wet weather as Pirelli is only testing its dry compounds. That session was rescheduled for Mexico City next weekend, making Austin the first test.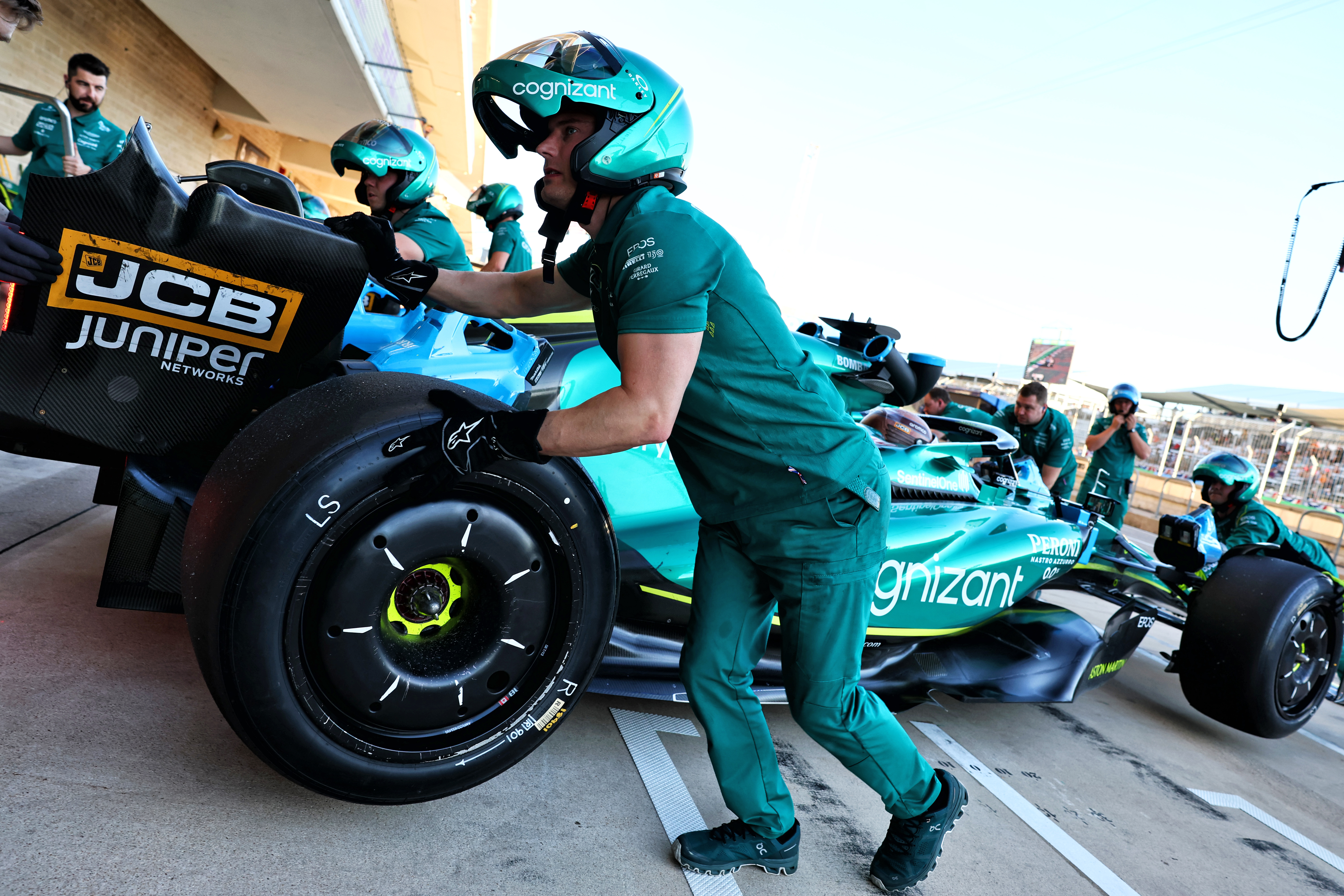 The 2023 tyres are designed to reduce the understeer balance that emerged in this year's low-profile tyres on 18-inch wheelrims. This has been achieved by modification of the construction with the objective of giving more front grip.
The compounds have also been tweaked with the objective to modify the characteristics. This includes an attempt to increase the grip level of the hardest C1 compound so it's closer in performance to the C2. The grip of the C3 compound is also being tweaked to sit more evenly between the C2 and C4 in terms of performance given it's currently more towards the soft end of the spectrum.
The tyres are also conceived to run with the reduced ceiling for tyre blanket temperatures, which drops from 70C to 50C next year as the next interim step before the 2024 tyre blanket ban.
Pirelli dictated the runplans of all the teams in Austin FP2 to ensure it gathers the required data, with the teams testing 'blind' and not knowing exactly what compounds they were running.
That meant that the majority of the running was done using the unmarked prototype tyres, although there were some exceptions.
Those who ran a young driver in FP1 earlier on Friday were allowed some freedom to run their own programme during the session with Charles Leclerc, Valtteri Bottas and Daniel Riccardo all having stints on the 2022 rubber.
And it was an initial early stint on the 2022 softs in which Leclerc's Ferrari set the 1m36.810s lap that stood as the quickest.
Bottas's Alfa Romeo and Ricciardo's McLaren were second and third, with practice one pacesetter Carlos Sainz the fastest of those to only set a time on 2023 prototype tyres in fourth, 1.4s off Leclerc.
Lewis Hamilton hits the kerb HARD 😳

He makes a save and continues on, but that was close! 😯#USGP #F1 pic.twitter.com/8o0U0OlLbi

— Formula 1 (@F1) October 21, 2022
Though the session had a different format and purpose to usual, drivers were still pushing hard enough to make errors – with Lewis Hamilton having a particularly alarming moment over a kerb – and arguing about traffic delays on team radio.
Practice 2 Results
| Pos | Name | Car | Best Time | Gap Leader |
| --- | --- | --- | --- | --- |
| 1 | Charles Leclerc | Ferrari | 1m36.81s | |
| 2 | Valtteri Bottas | Alfa Romeo-Ferrari | 1m37.525s | +0.715s |
| 3 | Daniel Ricciardo | McLaren-Mercedes | 1m37.627s | +0.817s |
| 4 | Carlos Sainz | Ferrari | 1m38.232s | +1.422s |
| 5 | Mick Schumacher | Haas-Ferrari | 1m39.507s | +2.697s |
| 6 | Lando Norris | McLaren-Mercedes | 1m39.547s | +2.737s |
| 7 | Max Verstappen | Red Bull | 1m39.575s | +2.765s |
| 8 | Lewis Hamilton | Mercedes | 1m39.698s | +2.888s |
| 9 | Pierre Gasly | AlphaTauri-Red Bull | 1m39.84s | +3.03s |
| 10 | Sergio Pérez | Red Bull | 1m39.852s | +3.042s |
| 11 | Kevin Magnussen | Haas-Ferrari | 1m40.084s | +3.274s |
| 12 | Yuki Tsunoda | AlphaTauri-Red Bull | 1m40.178s | +3.368s |
| 13 | George Russell | Mercedes | 1m40.562s | +3.752s |
| 14 | Guanyu Zhou | Alfa Romeo-Ferrari | 1m40.664s | +3.854s |
| 15 | Lance Stroll | Aston Martin-Mercedes | 1m40.806s | +3.996s |
| 16 | Esteban Ocon | Alpine-Renault | 1m41.31s | +4.5s |
| 17 | Fernando Alonso | Alpine-Renault | 1m41.334s | +4.524s |
| 18 | Alex Albon | Williams-Mercedes | 1m41.853s | +5.043s |
| 19 | Sebastian Vettel | Aston Martin-Mercedes | 1m41.857s | +5.047s |
| 20 | Nicholas Latifi | Williams-Mercedes | 1m42.317s | +5.507s |