With the second Formula 1 practice session at Austin devoted entirely to testing the 2023 generation of Pirelli tyres, the first session is where we may look for pointers to qualifying and the United States Grand Prix itself.
Crunching the numbers reveals no real surprises, with Carlos Sainz's Ferrari heading the times from Max Verstappen's Red Bull and Lewis Hamilton's Mercedes.
Charles Leclerc was absent from the session, to make way for Ferrari Academy driver Robert Shwartzman, one of five 'junior' drivers taking part, with IndyCar champion Alex Palou in Daniel Ricciardo's McLaren, Theo Pourchaire in Valtteri Bottas's Alfa Romeo, prospective full-time 2023 Williams recruit Logan Sergeant in the car normally piloted by Nicholas Latifi – and a brief appearance from Antonio Giovinazzi, who put Kevin Magnussen's Haas into the barriers and wasn't seen again.
Such was the necessarily compressed programme for everyone that the long runs comprised no more than three or four laps in most cases. Verstappen didn't make a long run at all, that team duty carried solely on the shoulders of Sergio Perez. He averaged a couple of tenths slower than Sainz on the same soft compound tyres – which would tend to imply that Verstappen would be on the Ferrari's pace at the very least.
Long-run averages
| | | | |
| --- | --- | --- | --- |
| Driver | Soft (C4) | Medium (C3) | Hard (C2) |
| Sainz | 1m42.388s | | |
| Perez | 1m42.550s | | |
| Hamilton | | 1m42.776s | |
| Russell | 1m43.318s | | |
| Palou | | 1m43.370s | |
| Alonso | 1m43.580s | | |
| Ocon | | 1m43.637s | |
| Vettel | 1m43.840s | | |
| Zhou | 1m43.870s | | |
| Stroll | | | 1m43.900s |
Hamilton looked to have found a better balance for his Mercedes than team-mate George Russell and was closer than normal to the Ferrari/Red Bull pace, though his long run was on the medium tyre and therefore not directly comparable. Russell's soft-tyre long run was a full second adrift of Sainz's.
Not for the first time this year, Aston Martin was quick in the single laptimes – Lance Stroll going fourth-quickest – but 2022 history would suggest that simply to be a reflection of a different base fuel weight.
In the long runs it was less impressive and looking, as usual, to be some way adrift of Alpine and McLaren.
Palou was impressive in his consistency as he assumed long-run responsibility for McLaren. He calmly reeled off a six-lap sequence of a faster average than that of Esteban Ocon's Alpine on the same tyre. AlphaTauri and Williams appeared to be running significantly lighter than the rest on the long runs if we are to assume they are not, in reality, the fastest two cars.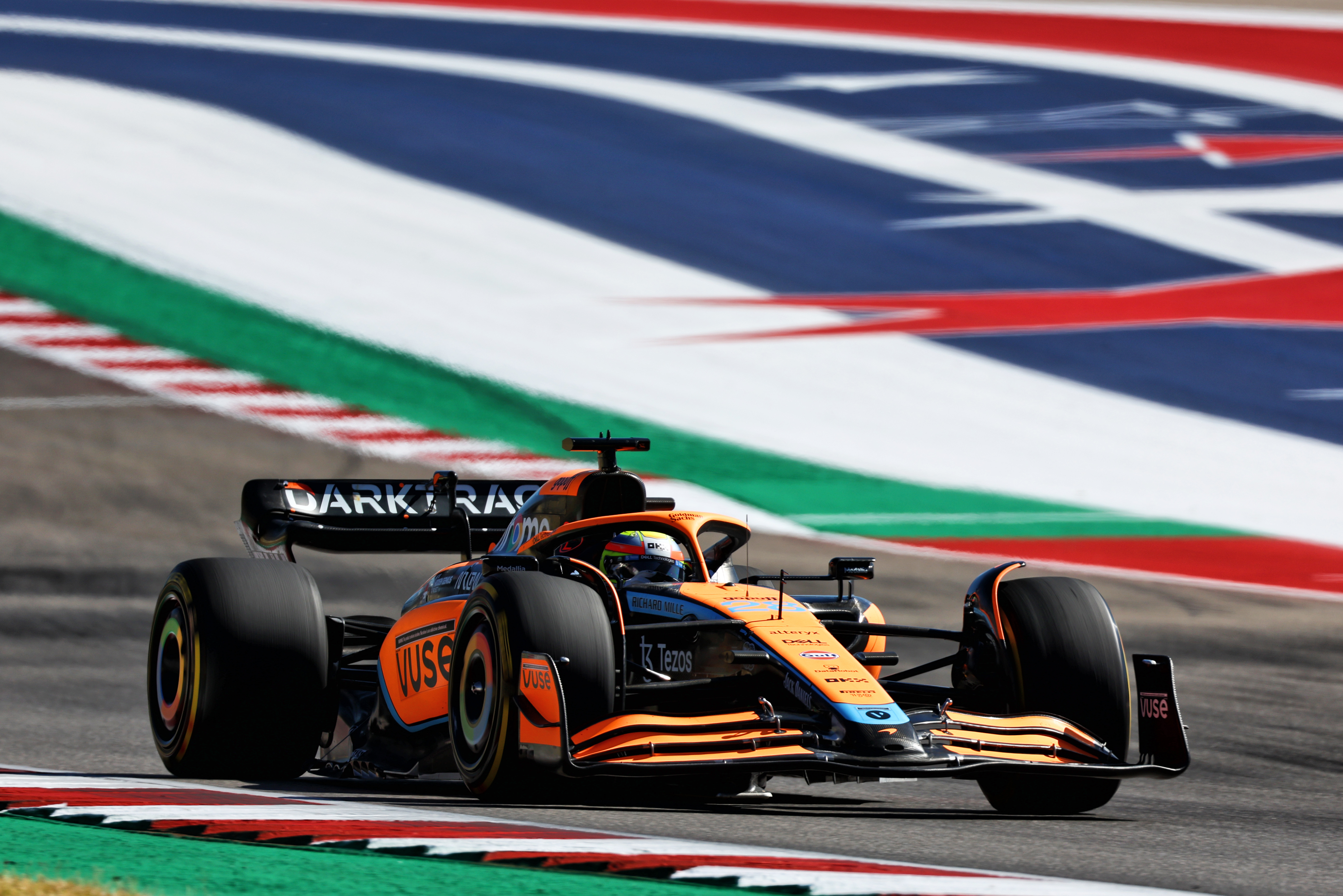 Schwarzman didn't put a quick lap together in the Ferrari and it was Palou who was definitely standout of the rookies.
This race is traditionally a two-stopper because of the high tyre degradation but it's not clear from the short duration of the runs whether a one-stop would be feasible. Expect considerable strategic variation and variable performance phases within stints as teams choose to either front-load or rear-load their stints with the tyres.
Practice 1 Results
| Pos | Name | Car | Best Time | Gap Leader |
| --- | --- | --- | --- | --- |
| 1 | Carlos Sainz | Ferrari | 1m36.857s | |
| 2 | Max Verstappen | Red Bull | 1m37.081s | +0.224s |
| 3 | Lewis Hamilton | Mercedes | 1m37.332s | +0.475s |
| 4 | Lance Stroll | Aston Martin-Mercedes | 1m37.46s | +0.603s |
| 5 | Sergio Pérez | Red Bull | 1m37.515s | +0.658s |
| 6 | Fernando Alonso | Alpine-Renault | 1m37.713s | +0.856s |
| 7 | George Russell | Mercedes | 1m37.802s | +0.945s |
| 8 | Pierre Gasly | AlphaTauri-Red Bull | 1m37.81s | +0.953s |
| 9 | Lando Norris | McLaren-Mercedes | 1m37.856s | +0.999s |
| 10 | Sebastian Vettel | Aston Martin-Mercedes | 1m38.041s | +1.184s |
| 11 | Esteban Ocon | Alpine-Renault | 1m38.102s | +1.245s |
| 12 | Guanyu Zhou | Alfa Romeo-Ferrari | 1m38.276s | +1.419s |
| 13 | Alex Albon | Williams-Mercedes | 1m38.422s | +1.565s |
| 14 | Yuki Tsunoda | AlphaTauri-Red Bull | 1m38.898s | +2.041s |
| 15 | Mick Schumacher | Haas-Ferrari | 1m38.922s | +2.065s |
| 16 | Robert Shwartzman | Ferrari | 1m38.951s | +2.094s |
| 17 | Alex Palou | McLaren-Mercedes | 1m39.911s | +3.054s |
| 18 | Théo Pourchaire | Alfa Romeo-Ferrari | 1m40.175s | +3.318s |
| 19 | Logan Sargeant | Williams-Mercedes | 1m40.325s | +3.468s |
| 20 | Antonio Giovinazzi | Haas-Ferrari | 1m43.063s | +6.206s |