If anyone, even Mattia Binotto himself, thought for a moment that Mercedes might be somewhere for him to land after his exit from Ferrari's Formula 1 team, that option has been emphatically ruled out.
Binotto is a Ferrari man through-and-through but will formally leave at the end of December after four seasons as team principal, following what has been widely interpreted as a breakdown in trust with the company's most senior management figures.
Where a Ferrari 'lifer' turns to after Maranello is always hard to guess but as a renowned engineer and someone who rose to the top technical position at Ferrari before his team principal move, Binotto has a lot of skills that would appeal to many F1 teams.
Mercedes, though, is not one of them. Team boss Toto Wolff said on F1's Beyond the Grid podcast this week that there is "too much porcelain broken between us over the last few years" for this to be possible.
That's a reference to a feud that has been easy to forget thanks to Ferrari's huge and sudden slump in competitiveness in 2020.
In 2019, Mercedes quite easily saw off a flawed Ferrari title challenge with a commanding first half of the season. After the summer break, though, Ferrari became an incredibly difficult-to-beat rival on a race-by-race basis – with a run of six consecutive pole positions.
This brought accusations about the legality of the Ferrari power unit to the surface, and even governing body the FIA was suspicious Ferrari might be circumventing fuel-flow or oil-burning rules (or both), so undertook its own investigation behind-the-scenes.
This would eventually come to light months later with the FIA concluding it couldn't prove anything, but it did reach a private settlement with Ferrari.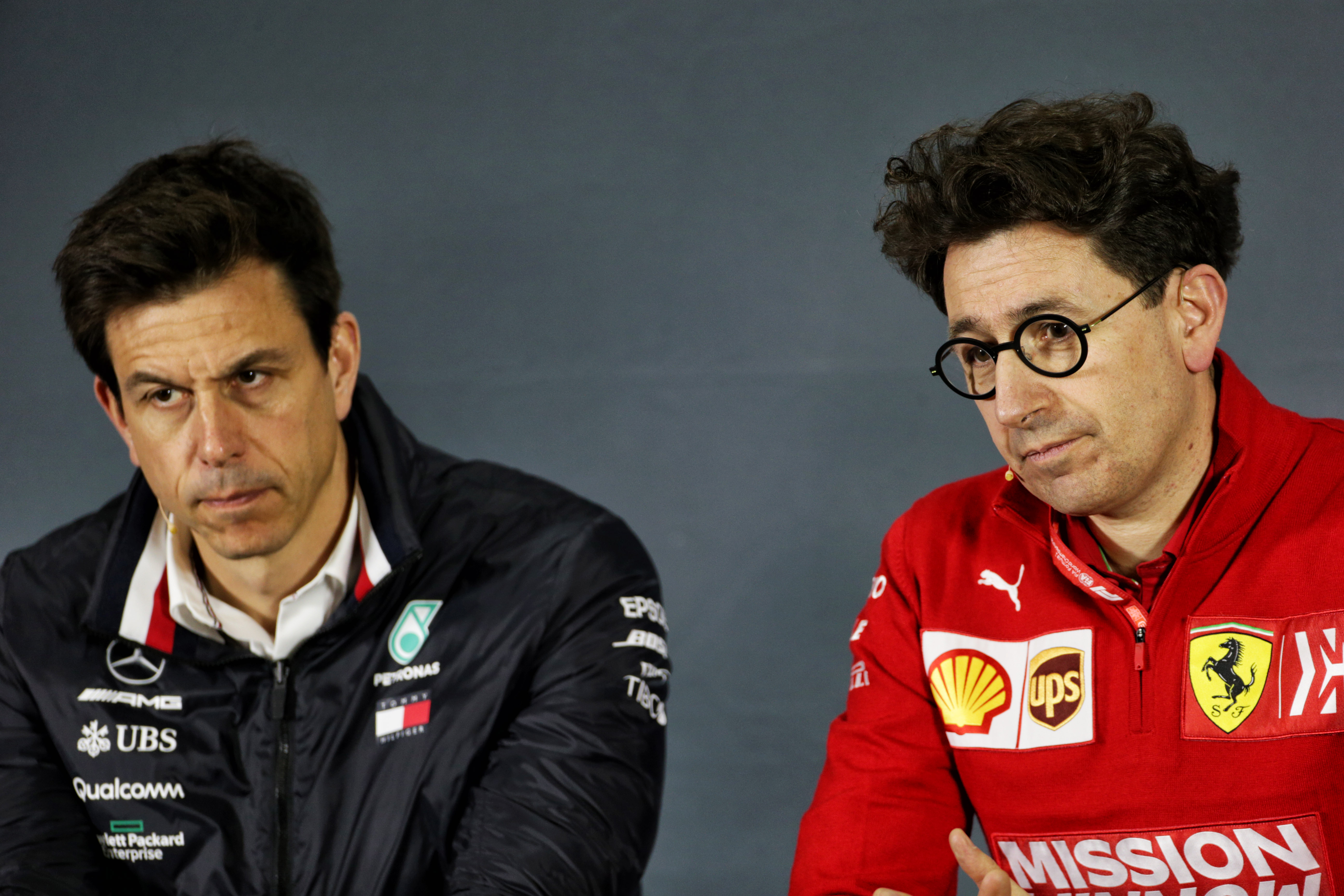 In the meantime, though, Wolff was getting increasingly irate about what Ferrari was up to – and remember, this was in Binotto's first year as team boss after heading its technical department. So Binotto was unquestionably the subject of Wolff's ire.
It upset Wolff so much that his usual calm and measured presence in front of the media was regularly tested and spikes of emotion were evident. Wolff told us in an interview in early 2021 that "there are some that have lost my respect forever over the last few years" and it would not be a surprise at all if, certainly at the time, Binotto was on that list.
Especially as Wolff would go on to talk about the impact that Ferrari's actions had on Mercedes and its High Performance Powertrains division, pushing the organisation close to burnout as it tried to combat what it saw as underhand tactics. There were even hints that this is what ultimately drove Mercedes HPP guru Andy Cowell out the door.
The FIA's response to the Ferrari engine saga was to implement technical directives that clarified issues around the areas of suspicion and suddenly Ferrari had a huge performance shortfall in 2020, one that it partially recovered from in 2021 but only really rectified this year.
As Ferrari returned to race-winning form, Mercedes slumped at the beginning of the 2022 technical regulations. That means after a fiery rivalry in 2019, Wolff and Binotto have never really gone head to head again since.
Perhaps that played a part in Wolff and Binotto apparently making good progress in developing a more civil relationship this year.
Still, the fallout from 2019 was so severe that there is still ultimately too much bad blood for the two to ever actually be colleagues.