When Sochi joined the Formula 1 calendar in 2014, it immediately gained a reputation for relatively mundane races with little overtaking, something that doesn't appear to bode well for championship contender Max Verstappen.
The Red Bull driver is slated to start 20th on the grid thanks to taking a fresh power unit, a move that actually always seemed logical at Sochi and was only made even more so by the three-place grid penalty he was given at Monza.
History gives us plenty of examples of drivers who have managed to salvage good results from unpromising begins in the Russian Grand Prix.
Verstappen, who himself has experience of coming through from the back at Sochi, can take at least some inspiration from these drivers who produced strong performances despite unpromising beginnings.
2014 – NICO ROSBERG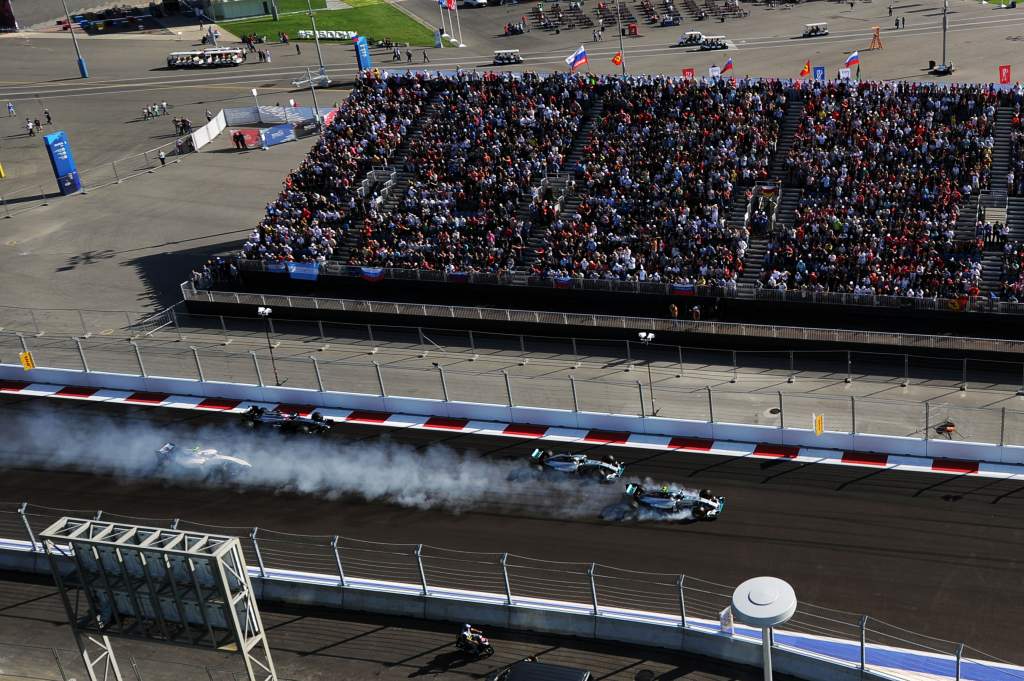 Mercedes driver Nico Rosberg started Sochi's inaugural F1 race second on the grid and got alongside polesitting Mercedes team-mate Lewis Hamilton into the first corner.
But a huge lock-up, which resulted in him cutting across the run off, meant that Rosberg had to head for the pits immediately and dropped to last.
Rosberg had the medium Pirellis (the harder of the two available compounds) bolted on and thanks to the fresh and unabrasive track surface he was able to make it to the end of the race without another stop.
He rejoined 20th, ahead only of Williams driver Felipe Massa who stopped at the same time, but recovered to finish second – a gain of 18 places.
Eleven of those places were gained with on-track moves, although nine of those were on drivers who finished outside the points – with his passes on Ferrari's Kimi Raikkonen, who finished ninth, and Williams driver Valtteri Bottas, who finished third, the most significant moves.
Therefore, the key to his successful recovery was the fact he could run to the end by completing 52 laps on his set of mediums.
While Rosberg's precedent is superficially encouraging for Verstappen, who could attempt a similar strategy in the case of a first-lap safety car, Pirelli F1 boss Mario Isola does not believe a similar strategy can work this year thanks to a combination of the grip levels at the track rising as the surface has aged and the compounds available.
"No, because the Tarmac is different compared to the first edition of the race," said Isola when asked if a repeat might be possible.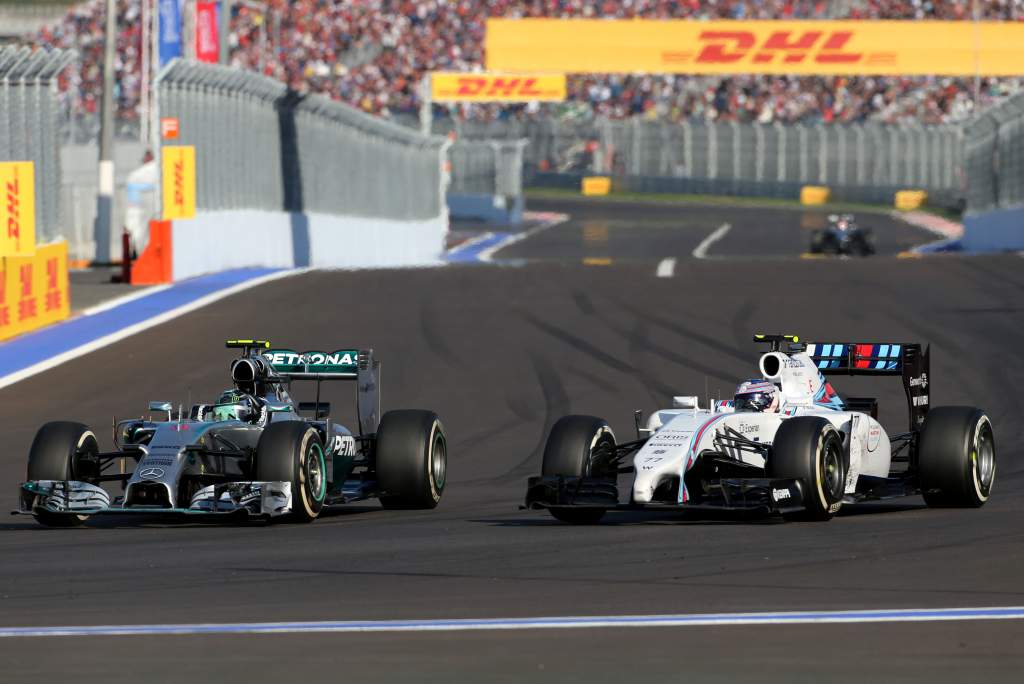 "We have a Tarmac that is a lot more mature, without the bitumen on top, and we can see from our measurement of the track roughness that it is different from the first time that we came here.
"I cannot imagine that if you pitted on lap one you can run all the race with the hard tyre. The hard tyre here is the C3, so it's the compound in the middle of the range because we allocated the three softest compounds.
"So I believe that it is really above the limit to make a strategy where [if] there is a safety car on lap one you can change the tyres and go to the end."
2015 – CARLOS SAINZ & FERNANDO ALONSO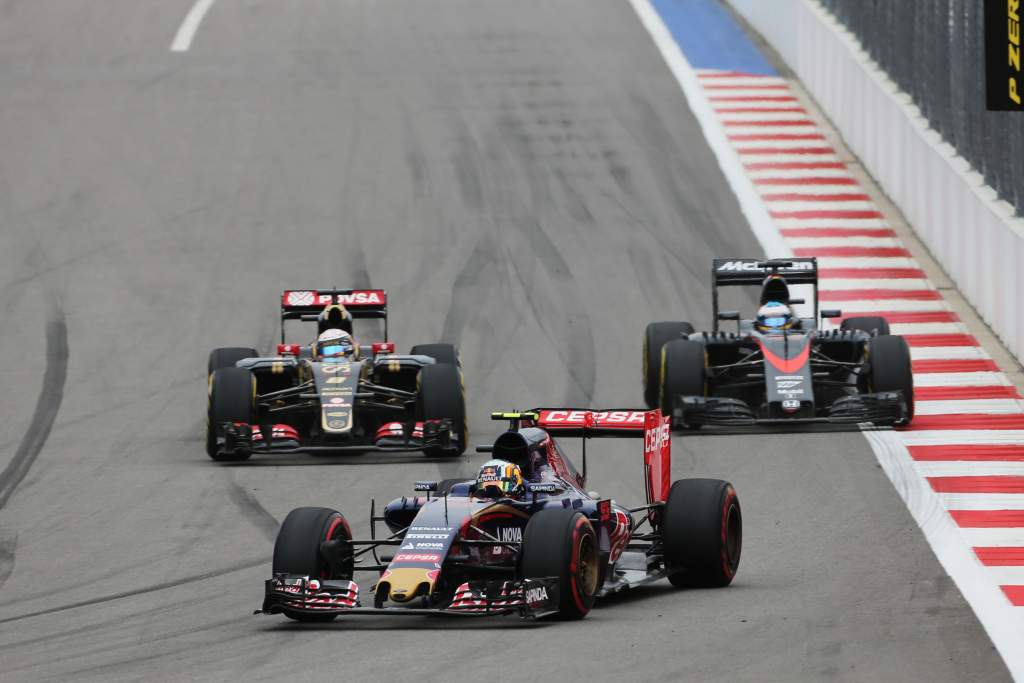 Toro Rosso driver Carlos Sainz and McLaren's Fernando Alonso were hardly frontrunners in 2015, but shared the back row in the 2015 Russian Grand Prix thanks to grid penalties.
Sainz, who suffered a 46g impact in a Turn 13 crash during FP3, climbed to 11th early on, aided by Nico Hulkenberg and Marcus Ericsson's lap-one crash and several early stoppers.
He then pitted under the second safety car at the end of lap 12 with a view to running to the end. The strategy was ideal and he held seventh place when a problem with his left-side brakes led to him spinning before retiring.
Alonso adopted a similar strategy in a less competitive McLaren-Honda but finished 10th on the road, only to lose his point to a five-second penalty for exceeding track limits.
2016 – DANIEL RICCIARDO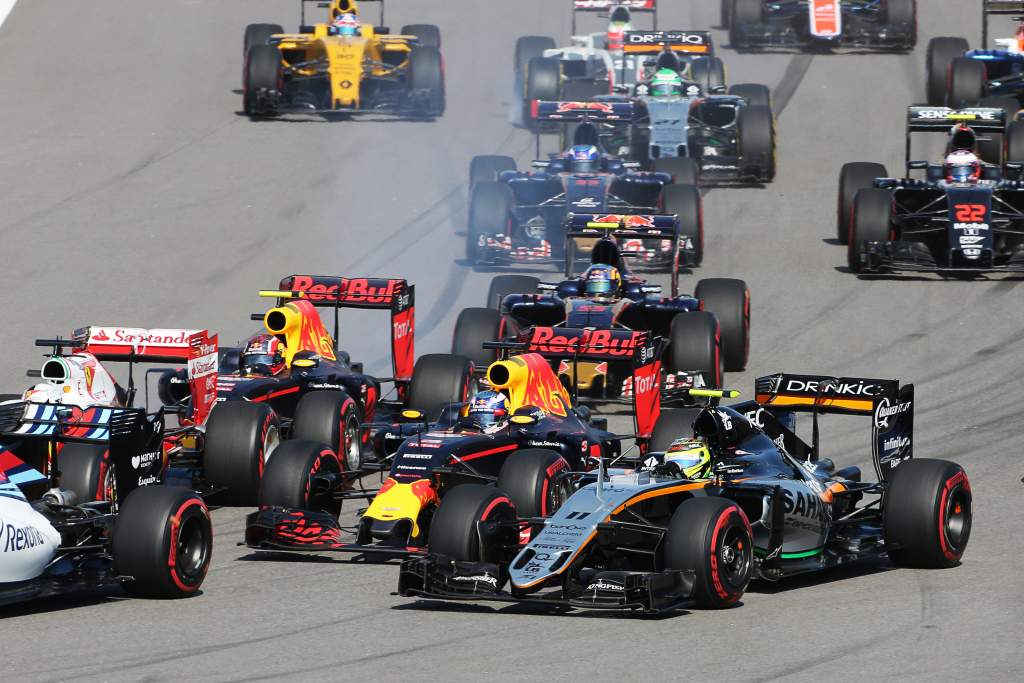 Daniil Kvyat hitting Sebastian Vettel at Turn 2 on the first lap of the 2016 Russian Grand Prix is one of the most famous Sochi moments, but it's often forgotten that he also compromised Red Bull team-mate Ricciardo's race.
While Ricciardo's recovery to only 11th place after his first-lap pitstop – he made a second stop on lap 29 – doesn't appear to offer much encouragement to Verstappen, there is a caveat to this. He finished within eight seconds of the points in a car that carried damage, showing a lot more was possible in normal circumstances. And this in a car that was a massive 1.7s off the pace in qualifying already.
2018 – MAX VERSTAPPEN & DANIEL RICCIARDO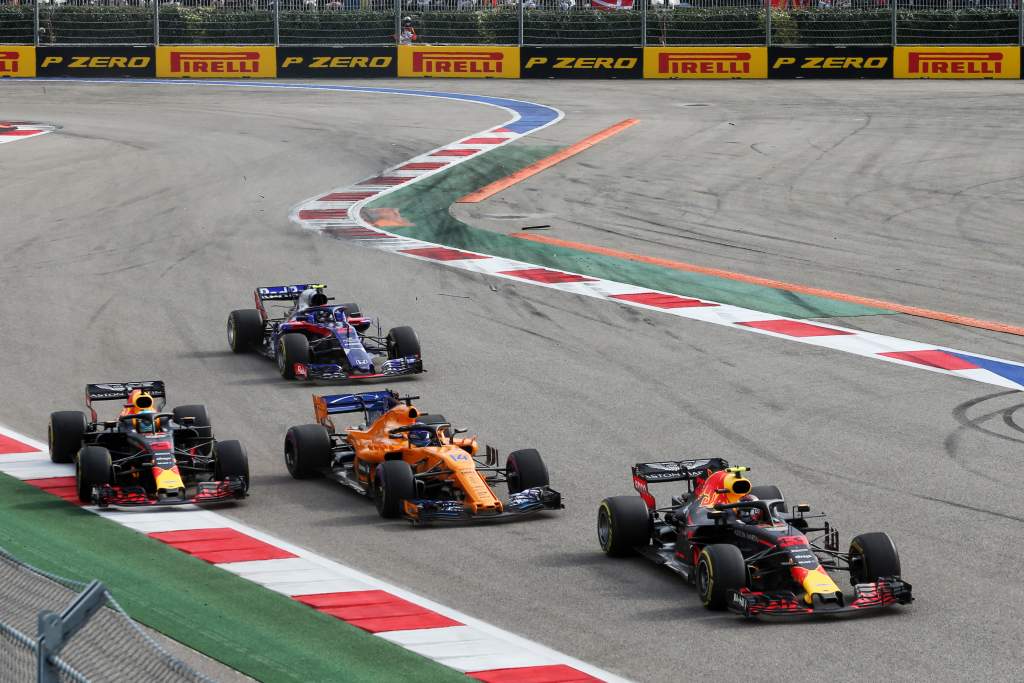 Thanks to a plethora of power unit component changes to introduce fresh 'Spec B' Renault engines that would be required for the high-altitude of Mexico later in the season, Ricciardo started 18th and Verstappen 19th at Sochi in 2018. They recovered to finish fifth and sixth, with Verstappen ahead.
Both started on fresh soft rubber, although Ricciardo's progress was slowed by picking up damage on the first lap – meaning he finished 49.435s behind his team-mate.
But Verstappen ran long and was the last to make a pitstop with 10 laps left. With fifth place secured but the top four out of reach, he had a conservative run to the chequered flag, finishing 31 seconds behind winner Lewis Hamilton.
2019 – ALEX ALBON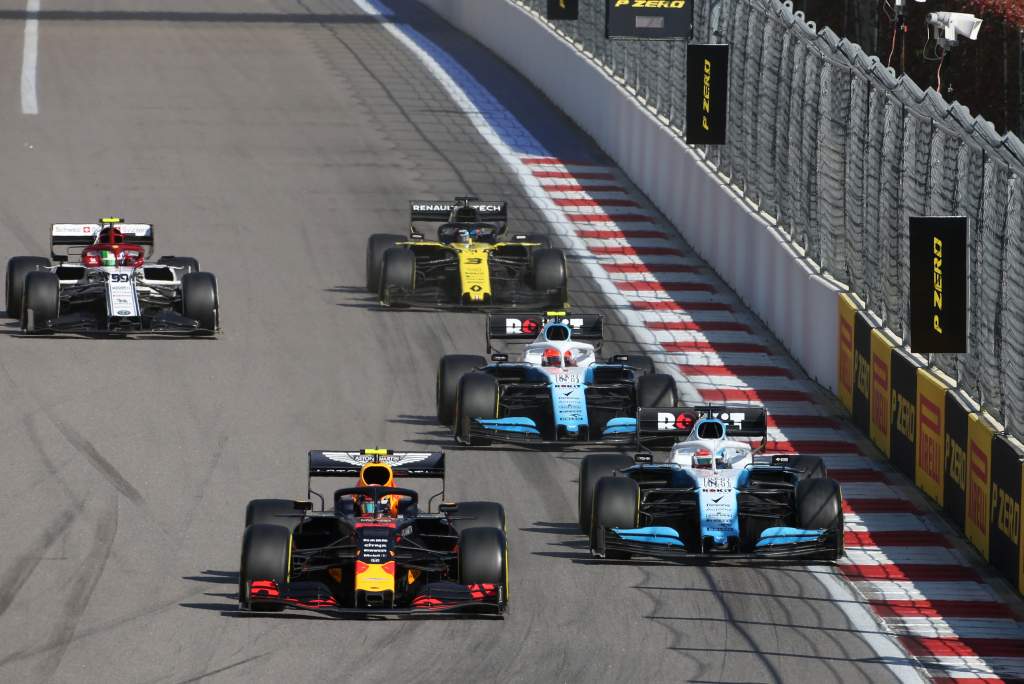 Albon started from the pits after crashing during Q1 at Sochi in 2019 and taking some fresh power unit components. He made progress early on, passing Kvyat, Pierre Gasly and George Russell before stopping under the safety car. That got him up to 10th.
In the run to the finish, he made five more overtakes on Lance Stroll, Sergio Perez, Lando Norris, Kevin Magnussen and Sainz to salvage fifth place, finishing one spot behind team-mate Verstappen – albeit with a 14s deficit.
Albon also started 15th last year thanks to a combination of a poor qualifying performance and a grid penalty, but only finished 10th.